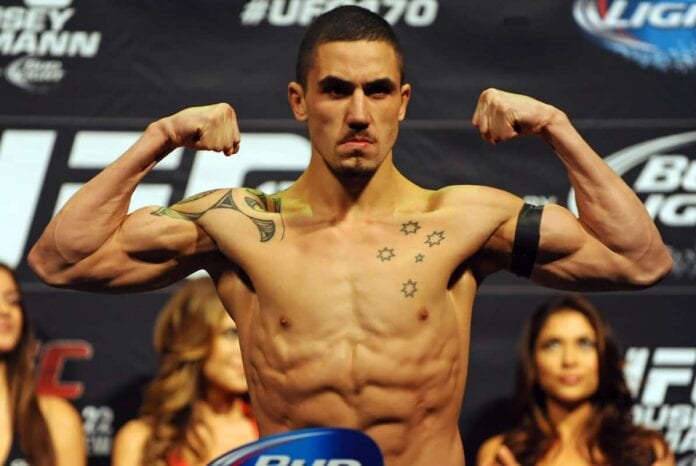 This past Saturday's (May 9, 2015) UFC Fight Night 65 from the Adelaide Entertainment Center in Adelaide, Australia, featuring a long list of exhilarating finishes, and none was perhaps more impactful than Australian middleweight Robert 'Reaper' Whittaker's powerful 44-second starching of previously No. 14-ranked Brad Tavares.
The shocking win helped Whittaker make a thunderous debut on the latest official UFC rankings today, where he stole Tavares' No. 14 spot. After struggling with inconsistency during his UFC run welterweight, TUF: The Smashes winner Whittaker looks to be an up-and-coming force in the stacked middleweight division thanks to his rediscovered power.
On the opposite side of Whittaker, heavyweight fan favorite Mark Hunt fell to No. 6 for his absolutely brutal fifth round stoppage loss to No. 4 Stipe Miocic, a fight that many felt should have been called off in the relentless third round. Pounded into a bloody mess after allegedly coming to the cage severely dehydrated after one of his now-infamous massive weight cuts, the 41-year-old Hunt's fighting future is currently in doubt.
In unrelated movement, Anderson Silva took over the No 4 spot at middleweight ahead of Lyoto Machida for reasons unbeknownst, and the flyweight division saw Henry Cejudo continue his climb up the rankings when he overtook Zach Makovsky at number eight.
Here are the full updated rankings from the UFC's official website:
POUND-FOR-POUND
1 Jose Aldo
2 Demetrious Johnson
3 Chris Weidman
4 Ronda Rousey
5 Cain Velasquez
6 TJ Dillashaw
7 Rafael dos Anjos
8 Robbie Lawler
9 Anderson Silva
10 Anthony Pettis
10 Renan Barao
12 Fabricio Werdum
13 Johny Hendricks
14 Vitor Belfort
15 Dominick Cruz
FLYWEIGHT
Champion: Demetrious Johnson
1 John Dodson
2 Joseph Benavidez
3 Ian McCall
4 Jussier Formiga +1
5 John Moraga -1
6 John Lineker
7 Kyoji Horiguchi
8 Henry Cejudo +1
9 Zach Makovsky -1
10 Chris Cariaso
11 Dustin Ortiz
12 Wilson Reis +1
13 Timothy Elliott -1
14 Chico Camus
15 Brad Pickett
BANTAMWEIGHT
Champion: TJ Dillashaw
1 Renan Barao
2 Dominick Cruz
3 Urijah Faber
4 Raphael Assuncao
5 Michael McDonald
6 Eddie Wineland
7 Takeya Mizugaki
8 Aljamain Sterling +1
9 Johnny Eduardo -1
10 Bryan Caraway
11 Francisco Rivera
12 Iuri Alcantara
13 Frankie Saenz
14 Thomas Almeida +1
15 Erik Perez -1
FEATHERWEIGHT
Champion: Jose Aldo
1 Chad Mendes
2 Frankie Edgar
3 Conor McGregor
4 Ricardo Lamas
5 Max Holloway
6 Cub Swanson
7 Dennis Bermudez
8 Nik Lentz
9 Charles Oliveira
10 Clay Guida
11 Jeremy Stephens
12 Dennis Siver
13 Darren Elkins
14 Hacran Dias
15 Dustin Poirier
LIGHTWEIGHT
Champion: Rafael dos Anjos
1 Anthony Pettis
2 Khabib Nurmagomedov
3 Donald Cerrone
4 Gilbert Melendez
5 Michael Johnson
6 Benson Henderson
7 Edson Barboza
8 Myles Jury
9 Josh Thomson
10 Eddie Alvarez
11 Bobby Green
12 Tony Ferguson
13 Al Iaquinta
14 Beneil Dariush
15 Jorge Masvidal
WELTERWEIGHT
Champion: Robbie Lawler
1 Johny Hendricks
2 Rory MacDonald
3 Tyron Woodley
4 Carlos Condit
5 Matt Brown
6 Demian Maia
7 Tarec Saffiedine
8 Dong Hyun Kim
9 Jake Ellenberger
10 Kelvin Gastelum
11 Rick Story
12 Thiago Alves
13 Gunnar Nelson
14 Ryan LaFlare
15 Neil Magny
MIDDLEWEIGHT
Champion: Chris Weidman
1 Luke Rockhold
2 Jacare Souza
3 Vitor Belfort
4 Anderson Silva +1
5 Lyoto Machida -1
6 Yoel Romero
7 Gegard Mousasi
8 Tim Kennedy
9 Michael Bisping
10 Thales Leites
11 CB Dollaway
12 Costas Philippou
13 Tim Boetsch
14 Robert Whittaker *NR
15 Roan Carneiro
LIGHT HEAVYWEIGHT
1 Anthony Johnson
2 Alexander Gustafsson
3 Daniel Cormier
4 Rashad Evans
5 Ryan Bader
6 Glover Teixeira
7 Ovince Saint Preux
8 Jimi Manuwa
9 Mauricio Rua
10 Rampage Jackson +1
11 Rafael Cavalcante -1
12 Antonio Rogerio Nogueira
13 Fabio Maldonado
14 Patrick Cummins
15 Jan Blachowicz
HEAVYWEIGHT
Champion: Cain Velasquez
1 Fabricio Werdum (Interim Champion)
2 Junior Dos Santos
3 Travis Browne
4 Stipe Miocic
5 Josh Barnett +1
6 Mark Hunt -1
7 Andrei Arlovski
8 Alistair Overeem
9 Ben Rothwell
10 Frank Mir
11 Roy Nelson
12 Matt Mitrione
13 Antonio Silva
14 Stefan Struve
15 Mirko Cro Cop
WOMEN'S STRAWWEIGHT
Champion: Joanna Jedrzejczyk
1 Carla Esparza
2 Claudia Gadelha
3 Jessica Penne
4 Rose Namajunas
5 Tecia Torres
6 Randa Markos
7 Paige VanZant
8 Maryna Moroz
9 Joanne Calderwood
10 Felice Herrig
11 Aisling Daly
12 Heather Clark
13 Juliana Lima
14 Angela Hill
15 Valerie Letourneau
WOMEN'S BANTAMWEIGHT
Champion: Ronda Rousey
1 Cat Zingano
2 Miesha Tate
3 Alexis Davis
4 Sara McMann
5 Jessica Eye
6 Sarah Kaufman
7 Bethe Correia
8 Amanda Nunes
9 Liz Carmouche
10 Holly Holm
11 Marion Reneau +1
12 Julianna Pena -1
13 Jessica Andrade
14 Germaine de Randamie
15 Raquel Pennington
Photo Credit: Stephen R. Sylvanie-USA TODAY Sports