Jose Aldo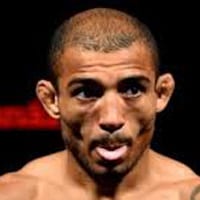 DOB: September 9th, 1986
Birthplace: Manaus, Brazil
Nickname: Junior
Gym: Nova Uniao, Ruas Vale Tudo
Style: Jiu Jitsu, Muay Thai
Weight Class: Featherweight, Bantamweight
Championships: 2x UFC Featherweight Champion, WEC Featherweight Champion
Aldo seeks out martial arts
Before Jose Aldo wanted to become a fighter, he wanted to be a professional futbol player. Although after getting beat up in multiple street fights, he wanted to learn to defend himself.
The first martial art Aldo trained in was capoeira. After school everyday, he would go train in the streets with other practitioners.
One day a local Jiu JItsu instructor saw Aldo training and offered to teach him Jiu Jitsu. Aldo immediately grew a passion for Jiu Jitsu and wanted to dedicate his time to training.
Jose decided he needed to move if he wanted to chase his dream. So he took everything he had and moved to Rio de Janeiro and began training MMA at Nova Uniao.
Aldo's early MMA career
Aldo made his professional debut at 17 years old and won the bout by KO 16 seconds. In his next 6 bouts, Aldo continued to have success stopping all of his opponents in the first round.
Then he came up short in his next bout for Jungle Fight losing by RNC. Not deterred by the loss, he would bounce back winning his next 3 fights on smaller promotions.
Aldo in the WEC
Jose's first step into stardom started when he was offered a contract to fight for the Zuffa owned WEC. He fought 8 times in the WEC and he decimated every opponent he faced.
Probably the most famous KO of his career happened in the WEC. Aldo knocked out Cub Swanson with a flying knee just 8 seconds into the fight.
His next fight was for the featherweight title against Mike Thomas Brown. He finished Brown with strikes in the 2nd round to win the title.
After that fight, he battered Uriah Faber's legs with leg kicks and KO'd Manny Gamburyan in the last WEC card. His belt was turned into the UFC Featherweight title when the UFC absorbed the company.
Aldo in the UFC
When the featherweight division was brought into the UFC it was business as usual for Aldo. He went on to defend his title 7 times in the next 4 years.
Beating numerous top fighters in the division from Kenny Florian, Chan Sung Jung, and Chade Mendes twice.
Aldo vs Mcgregor
Since McGregor came into the UFC, he had begun playing mind games with Jose Aldo. McGregor would call Jose out every chance he got following him to press events to taunt him.
After a year of trying to put the fight together, the grudge match was set for UFC 194. Conor shocked the champion, knocking him out in the first 13 seconds of the 1rst round.
The loss devastated Aldo and he didn't fight again for the year.
After the McGregor loss
Aldo bounced back beating Franky Edgar in his returning match after the McGregor loss. Winning back the featherweight title.
He would unfortunately lose the title again to Max Holloway and  also lose the rematch by TKO. Jose would bounce back winning his next 2 fights, but lose toAlexander Volkanovski  in his last featherweight bout.
Aldo moves to bantamweight
After losing Aldo switched weight classes going down to bantamweight. Aldo lost a controversial split decision in his debut to Marlon Moraes. Later losing to Peter Yan by TKO for the vacant bantamweight title.