Daniel Cormier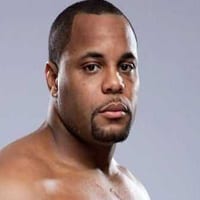 DOB: March, 20th,1979
Birthplace: Lafayette, Louisiana
Nickname: DC
Gym: American Kickboxing Academy
Style: Wrestling
Weight Class: Light Heavyweight, Heavyweight
Championship: UFC Light Heavyweight Champion, UFC Heavyweight Champion, Strikeforce Heavyweight Grand Prix Champion
Cormier's amateur wrestling career
Daniel Cormier was an outstanding wrestler in high school. He won the Louisiana state championship 3 times only losing twice by injury after 9th grade.
At 16 years old, Cormier won a bronze medal in the Greco Roman Wrestling World Championship.
After high school, he attended Colby Community in College in Kansas winning the Jr college championship twice. Going undefeated in those 2 years
Cormier then transferred to Oklahoma State University gaining a record of 53-10 in 4 years. 6 of those losses were to all-time great Cael Sanderson.
When he graduated from OSU, he switched to freestyle wrestling winning 6 national championships. He also made the Olympic team twice, but didn't compete in 2008 due to kidney failure.
Cormier's early MMA career
After accomplishing everything he could in wrestling, Cormier decided to try MMA. He began training at American Kickboxing Academy in San Jose, California. Training alongside Cain Velasquez and Jon Fitch.
A year into his MMA training, Cormier would make his debut on Strikeforce winning by TKO in the first round. He came back to the promotion in March of 2010 and won again by KO.
In July, Daniel then traveled to Australia to fight for the Xtreme MMA heavyweight title winning by TKO in the 1st round. Two weeks later, he fought for the King of the Cage championship submitting Tony Johnson for that title.
After winning that title, he fought for Strikeforce again and traveled back to Australia to defend the XMMA title.
The Strikeforce Heavyweight GP
Before going to the UFC, Cormier would have his next 4 fights in Strikeforce. Two of which were in the Strikeforce Heavyweight Grand Prix.
He would stop Antonio "Big Foot" Silva by KO and win a decision against Josh Barnett to win the GP. DC also fought in one more Strikeforce fight, winning by TKO.
Cormier's early UFC run
With the UFC buying Strikeforce, Cormier was one of the biggest acquisitions. He'd win his first 4 fights in the UFC to move his record to 15-0.
Those included wins over 3 former MMA champions to set him up for his first UFC title shot.
Jones vs Cormier
DC would meet reigning champ Jon Jones UFC 182 winning some rounds, but coming up short. Losing his first MMA fight and title fight.
Although due to Jone's legal troubles, he was stripped of the belt and Cormier would fight for the belt again.
Cormier's 1st title
Cormier would meet Anthony Johnson for the vacant title and submit him in the 3rd by RNC. Winning his first UFC championship.
He would defend the title 3 more times before rematching Jon Jones at UFC 214.
Jones vs Cormier 2
Bad blood had formed between the 2 fighters as Cormier questioned Jones' integrity for his actions in public. The rematch would be more one sided for Jones as he finished DC by head kick.
The loss devastated Cormier, but due to a failed drug test, the win was ruled a no contest. Cormier retained the title. Daniel would defend the title one more time before moving to heavyweight.
Cormier's heavyweight run
With the desire to be a 2 division champ, DC moved up to fight heavyweight champion Stipe Miocic. He shocked the champion, knocking him out in the 1st round to become a 2 division champion.
DC would defend the title against Derrick Lewis before rematching Stipe. The former champion returned the favor and stopped Cormier by strikes in the 4th round
They would rematch for their 3rd match a year later and Miocic would win a decision. After the fight, DC announced his retirement.