Holly Holm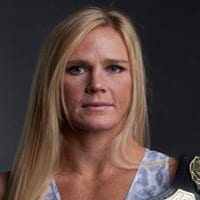 DOB: October 17th, 1981
Birthplace: Albuquerque, New Mexico
Nickname: The Preacher's Daughter
Gym: Jackson Wink MMA Academy
Style: Boxing/Kickboxing
Weight Division: Bantamweight
Championships: 16 Boxing Titles in 3 Weight Classes, UFC Women's Bantamweight Champ
Holm's beginning in martial arts
The preacher's daughter was the daughter of a preacher from Albuquerque, New Mexico. She started taking cardio kickboxing classes at coach Mike Winkeljohn's martial arts school.
Winkeljohn saw that Holm had the potential to compete in kickboxing and convinced her to start training more competitively.
After 4 years of training, Holly won the IKF Amateur Welterweight Championship at a national tournament in Kansas City, Missouri. She fought twice winning the first by KO and a decision in the championship fight. Her amateur record was 6-0-2.
Holm's boxing career
Holly would turn to professional boxing after her successful amateur career. She would go on to be one of the most decorated female boxers in the history of the sport.
Compiling  record of 33-2-3 in her 11 year boxing career. Defending her titles 16 times within 3 different weight classes during her career. While also winning Ring Magazine's Female Fighter of the Year twice.
Holm's early MMA career
In Holm's 11 year boxing career, she accomplished everything she could and then turned to MMA. It was a natural transfer since her coach Mike Winkeljohn is one of the top coaches in the sport.
There was a lot of hype around Holly's entry into MMA and she did not disappoint. Before getting into the UFC, Holm went 7-0 finishing 6 of her opponent's by TKO. Setting her up for her UFC debut.
Holm's UFC debut
With the UFC's women's bantamweight division being new and with her pedigree she was an obvious choice for the UFC. She would debut against Raquel Pennington winning a split decision and another decision over Marion Reneau.
Rousey vs Holms
With 2 straight UFC this set up the huge matchup against Ronda Rousey for the bantamweight championship. Rousey was the face of women's MMA and was assumed that she would win the fight easily like with her others.
Although MMA experts knew that Holly was a very dangerous opponent and could expose Rousey's weak striking game. 
From start to finish Holly controlled the fight landing hard shots and finally landing a devastating head kick to KO the reigning champ. Winning Holm's her first UFC title.
Holm's UFC run post title
Knocking out Ronda Rousey was the height of Holly Holm's MMA career. Although after the win, her career has had mixed results.
In her only title defense against Meisha Tate, Holm would be choked unconscious in the 5th round by Tate. Losing her title without any defenses.
This loss would be followed by 2 more losses to Valentina Schevchenko and Germaine de Randamie. She would however bounce back with a KO win over Bethe Correia.
Winning this fight set her up for a featherweight title fight against Cyborg Santos that she would lose by decision.
In her next 3 fights after the loss she would go 3-1. Including a TKO loss to Amanda Nunes in an attempt to win back the bantamweight title.