Chris Weidman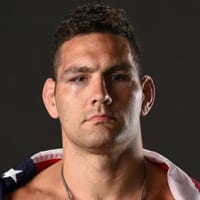 DOB: June 17th, 1984
Birthplace: Baldwin, New York
Nickname: The All American
Gym: Serra/Longo Fight Team, Renzo's, and Ricardo Almeida BJJ
Style: Wrestling
Weight Class: Middleweight
Championship: UFC Middleweight Champion
Weidman's amateur wrestling career
Chris Weidman grew up in Long Island, New York, where he competed in wrestling from a very young age. He would become county and state champion when he attended Baldwin Senior High School.
Weidman would then transfer to Nassau Community College and wrestle for the school. There he would become the first jr. college champion to be a NYS collegiate champion before transferring to Hoftra.
At Hofstra, Chris would become a two time All-American and place at the national championship twice.
Weidman's trains Jiu Jitsu
Chris's friend from Hoftra invited Weidman to go train with him at Matt Serra's BJJ academy near the school. He was absolutely hooked after his first training session and began training BJJ the same time as wrestling.
In only 3 months of training, Weidman won Grappler's Quest East Coast in his division and absolute. Submitting all 13 of his opponents.
He also qualified for the 2009 ADCC championship with only a year of formal training.
Weidman's early MMA career
From 2009-2010, Weidman fought exclusively with New Jersey based MMA promotion Ring of Combat. Weidman would go 4-0 and win the promotions middleweight championship in his 3rd fight and defend it one time.
Weidman's early UFC run
With just 4 professional fights, Chris was offered a UFC fight against Alessio Sakara in 2011. He controlled the fight with his wrestling to win his UFC debut.
Weidman would win his next 4 fights that included wins over BJJ champ Demian Maia and also Mark Munoz. In the Munoz fight, he landed a hard elbow splitting Munoz's head open before finishing the fight with strikes.
The Weidman vs Silva fights
After 5 straight UFC wins and at only 9-0 this put Weidman up for a title fight. He would face the legend Anderson Silva that hadn't been beaten in almost a decade.
Silva seemed to take Weidman lightly doing exaggerated movements that he hadn't done in previous fights. 
In the 2nd round as Silva was trying to do a stylish defense, Weidman rocked him hard with a right hand. Putting Silva out cold and shocking the MMA world to win the title.
They would have an immediate rematch at the end of the year. In the fight, Weidman checked multiple kicks damaging his leg and on the last check, Anderson's leg shattered.
It was one of the most gruesome injuries in MMA history. Weidman retained his title.
Weidman's title defenses
Chris would go on to defend the middleweight title 3 times during his reign. With other wins over Lyoto Machida and Vitor Belfort.
Weidman's losing streaks
After going 13-0 and defending the title 3 times, Weidman lost his title and undefeated record to Luke Rockhold.
Things wouldn't get easier for Weidman as his next fight would be against division boogeyman Yoel Romero. Yoel would land a devastating flying knee in the 3rd to put Weidman out cold.
He'd take another hard loss to Gegard Mousasi before bouncing back with a win against Kelvin Gastellum.
But Chris would take 2 bad KO losses after this win against Jacare Souza and Dominick Reyes at light heavyweight. Although, he has since moved back to middleweight and won a decision against Omari Akhmedov.