Quinton "Rampage" Jackson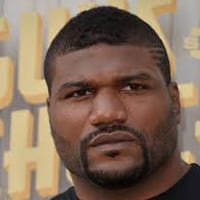 DOB: June 20th, 1978
Birthplace: Memphis, Tennessee
Nickname: Rampage
Gym: Rampage Fitness Academy
Style: MMA
Weight Division: Light Heavyweight
Championships: UFC Light Heavyweight Champion, Unified UFC and Pride Championships, Bellator Season 10 Light Heavyweight Tournament Champion
Rampage's tough upbringing
Quinton "Rampage" Jackson had a hard childhood in the bad part of Memphis, Tennessee. He would get into gang activity at a young age selling drugs, robbing people, and getting into many fights.
As a freshman at Raleigh-Egypt High School, Jackson first saw amateur wrestling and wanted to participate. Being a natural athlete, Quinton excelled at wrestling and it became an outlet for him.
He would finish 5th in state with only a couple years of wrestling experience. While wrestling in high school, he befriended future Bellator fighter Jacob Noe.
Noe practiced karate and taught Jackson striking techniques in exchange for wrestling techniques.
Jackson's early MMA career
For a brief time Jackson would try wrestling at the collegiate level at Lassen Community College in Susanville, California. Though after getting into a fight with a teammate, Jackson was kicked off the team.
Although Jackson at the same time discovered MMA and another door opened for Jackson. He moved to Las Vegas and began training with fighter Lewis Rumble.
Jackson immediately went pro and won 10 of his first 11 fights. Using his wrestling and street fighting experience to slam his opponents and land vicious strikes.
Jackson's Pride run
After fighting on small pro shows in the US, Quinton got a fight offer from Pride Fighting Championship in Japan. At the time, they were the biggest MMA promotion in the world having fights in from a sold out Tokyodome.
His first would be against the legend Kazushi Sakuraba. Quinton would lose to RNC, but gained fans from his explosive style and raw power.
Jackson's run in Pride would last 6 years that included some of the most memorable moments in the promotions history. Probably most notable is his KO slam of Ricardo Arona.
Rampage enters the UFC
After gaining a huge following in Japan, Rampage signed with the UFC in 2007. He would have a lot of success at the beginning of his UFC run.
Rampage would win his first three matches in the UFC. Including winning the light heavyweight title from Chuck Liddell and unifying the Pride title with a win against Dan Henderson.
In his 2nd title defense, Rampage would lose a decision against TUF winner Forrest Griffin. After this, Jackson would go 4-4 before exiting the company in 2013.
Rampage moves to Bellator
Unhappy with how he was being treated in the UFC, Rampage moved to Bellator for more money. Jackson would win his first three fights in Bellator to win the light heavyweight tournament.
Although after winning the tournament, he did return to the UFC for one more fight. Winning a decision against Fabio Maldonado before going back to Bellator.
When Rampage went back to Bellator, he wasn't as motivated as he once was. Now at heavyweight and a little older, he wasn't training hard as when he was younger.
Jackson would go 2-3 in his last 5 fights in Bellator to finish his contract. Bellator president Scott Coker would not renew his contract after this.