Robert Whitaker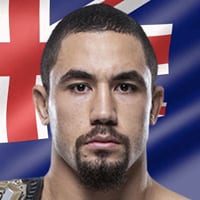 DOB: December 20th, 1990
Birthplace: Auckland, New Zealand
Nickname: The Reaper/Bobby Knuckles
Gym: PMA Super Martial Arts Centre
Style: Karate/MMA
Weight Division: Middleweight
MMA Record: 22-5
Championships: UFC Middleweight Champion
Whitaker's early years
Robert Whitaker is an Australian native that first started practicing karate at the age of 7 with his brother. After training 8 years, he would earn his blackbelt in karate, he would take up hapkido under Henry Perez.
Not long after the switch Perez switched his school to an MMA school and Whitaker decided to stay and train. At this time Robert was a little more than 15 years old and became fully immersed in MMA training everyday.
Whitaker pro MMA debut
At nineteen years old, Whitaker would make his pro MMA debut at XFC 14  winning by TKO in the 1st round. 
He would go on to win his first 7 fights all by finishes in the first round. Robert would lose his next fight in China, but would continue fighting around Australia. 
TUF: The Smashes
At this time, Robert was also working part time as a bricklayer to support his fighting career. He would do this until he got the call to be on The Ultimate Fighter: The Smashes. A foreign version of the original  TUF series.
Whitaker would go on to reach the finals and make his UFC debut on FX. Bobby Knuckles would go on to win a decision against Brad Scott earning a contract with the UFC.
Whitaker's rocky start
When Whitaker first entered the UFC, he was fighting at welterweight. Cutting quite a large amount of weight to make the limit.
After his TUF win, he would go 1-2 at welterweight. Losing a split decision to other TUF winner Court McGee and a devastating KO loss to Stephen "Wonderboy" Thompson.
The move to middleweight
With his back to the wall and career on the line, Whitaker made the decision to move to middleweight. Bulking up and not draining himself anymore by trying to cut to welterweight.
At middleweight, Whitaker looked like a completely different fighter. Winning 6 fights in a row and knocking out multiple top 10 fighters within the division. Including TKO wins over Brad Tavares, Derek Brunson, and Jacare Souza.
Championship matches against Yoel Romero
After winning 6 fights in a row, Whitaker was set to face Yoel Romero. The most feared fighter in the division.
Their first fight took place at UFC 213 and Whitaker edged out Romero in a close decision. Winning the title and fight of the night honors.
Although in the fight, Whitaker would severely injure his knee and would defend his title again until a year later. He would go on to win the match by split decision, but severely injure his knee again. Putting him on the shelf again
Unfortunately in his return Whitaker would suffer a KO loss losing his title to Israel Adesanya. 
Whitaker's bounce back
After losing his title, Whitaker won two straight fights. Beating former welterweight title contender Darren Till and dominating Jared Cannonier in a #1 contender eliminator match.