Eddie Alvarez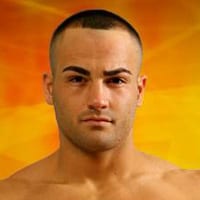 DOB: January 11th, 1984
Birthplace: Philadelphia, Pennsylvania
Nickname: The Underground King
Gym: Nick Catone MMA/Ricardo Almeida BJJ
Style: Wrestling/Boxing
Weight Division: Lightweight
Championships: UFC Lightweight Champion, 2x Bellator Lightweight Champion
Alvarez's early years
Eddie "the underground king" Alvarez grew up in Philadelphia and took up boxing when he was 8 years old. He was trained by his father and coach Frank Kubach.
When he was 11, Eddie took up wrestling and would continue training until he finished high school. 
Alvarez's early MMA career
Since there was no sanctioned MMA in Pennsylvania or New York, Eddie would fight in unsanctioned bouts. While there records of them, Eddie claims that he had fought in over 100 unsanctioned bouts before going pro.
His first pro fight was in New Jersey based promotion Ring of Combat in 2003 for $250. He would compile a 10-0 record and go on to win multiple titles including the Bodog Fight welterweight title.
Eddie was rather small for a welterweight and while he won his first 10 fights he would lose his 11th fight. Losing to UFC veteran Nick Thompson by TKO, who was quite larger than Alvarez.
After the loss, he would drop weight and go 5-1 before making his Bellator debut at their 1st event.
Eddie's Bellator run
Alvarez was from Bellator from the start of the promotion and was their prized fighter. He would win the inaugural Bellator lightweight tournament to win the lightweight title.
Eddie would go on to win his first 7 Bellator fights before losing by RNC to rival Michael Chandler.
With 3 fights left on his contract, Eddie would win all 3. Including avenging previous losses to Shinya Aoki and Michael Chandler in his last Bellator match.
Eddie enters the UFC
At the time being one of the biggest free agents in MMA, Eddie decided to sign with the UFC. Wanting to add UFC lightweight champion to his resume.
His debut would be spoiled as he would lose a decision to tough veteran Donald Cerrone. After the loss, Eddie would bounce back winning two straight fights and getting a shot at the title.
Eddie would upset the champion Rafael dos Anjos stopping him with strikes in the first round. Winning his first and only UFC championship.
He wouldn't be champion very long as he would drop the belt to Conor Mcgregor in his next fight.
With 3 fights left on his UFC contract, he would have three great fights. A no contest against Dustin Poirier, a KO win over Justin Gaethje, and a TKO loss to Poirier in the rematch.
Eddie goes to One Championship
Once again Eddie would be offered a large contract and move to another organization. This time with the up and coming One FC that is the #1 promotion in Asia.
Eddie's first fight in One would be a devastating upset loss to Timofey Nastyukin. Getting his eye badly damaged in the fight.
Not deterred by the loss, Eddie would bounce back and win his next fight against Filipino MMA star Eduard Folayang.