Demetrious Johnson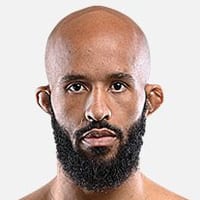 DOB: August 13th, 1986
Birthplace: Madisonville, Kentucky
Nickname: Mighty Mouse
Gym: AMC Pankration
Style: MMA
Weight Division: Flyweight
Championship: UFC Flyweight Champion/One FC Flyweight Champion
Johnson's high school years
Demetrious "mighty mouse" Johnson grew up in Washington state. While in high school he participated in wrestling and also track and field.
His main passion was in wrestling, while he only participated in track and field to help his cardio in wrestling. Although Johnson was an excellent athlete and made it to state in both sports.
Johnson's entry into MMA
After finishing his wrestling career, Demetrious made the natural transition to MMA. He fought 3 amateur fights before making his professional debut in 2007, where he won the fight by KO.
For the next 3 years, Johnson stayed busy fighting throughout promotions in Washington winning them all.
His last two fights before getting on the WEC were with the Alaskan Fighting Championship. He won both fights by knockout and punched his ticket to debut for the WEC against Brad "one punch" Pickett.
Johnson would lose the fight by decision snapping his undefeated streak as a pro. He would quickly bounce back winning his next two fights before the promotion was absorbed by the UFC.
Johnson's early UFC run
Since the flyweight division didn't exist yet, Johnson fought at bantamweight. At UFC 126, he made his promotional debut against Norifumi Yamamoto winning by decision.
In his next fight, Johnson would win another decision against former WEC champ Miguel Torres. Setting up a bantamweight title fight against division favorite Dominick Cruz.
Johnson fought well, but Cruz used his size advantage and striking to win a decision and win the bantamweight championship.
The flyweight division
After losing the title fight, the UFC announced a new men's flyweight division. There would be a 4 man tournament to see who would win the first UFC flyweight title.
In the first round, Johnson fought Ian McCall to a majority draw. They would immediately have a rematch and Johnson would win a decision.
With that win in the semifinals it set Demetrious up against Joseph Benavedez. A match he would win by split decision starting his historic ran as the first UFC flyweight champion.
Mighty Mouse's title reign
Mighty Mouse would defend his title a record 11 times in a 6 year reign as champion.  During his reign he finished 7 of 11 of his opponents that won him numerous bonuses.
Johnson beat top fighters like John Dodson, Wilson Reis, and Olympic gold medalist Henry Cejudo by KO. In his last defense, he would hit a suplex to an armbar on Ray Borg. A move which by many is considered the highlight of his illustrious career.
After 6 years without being beat and considered by many the P4P best in the world his reign would end. Johnson would lose a highly disputed split decision to Henry Cejudo.
Traded to One FC
In a historical first between companies, Johnson was traded to One FC for Ben Askren. After being traded, Johnson was entered into an 8 man tournament for the One FC flyweight title.
Demetrious was the favorite of the tournament and as expected he would win. Beating three of the promotions top flyweights to be the promotion's first flyweight champion.