Frankie Edgar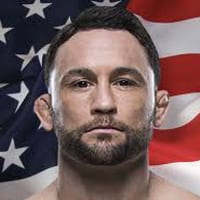 DOB: October 16th, 1981
Birthplace: Toms River, New Jersey
Nickname: The Answer
Gym: KHK, Ricardo Almeida BJJ
Style: Boxing, Wrestling
Weight Class: Lightweight, Featherweight, Bantamweight
Championships: UFC Lightweight Champion, Strikeforce Bantamweight Champion
Edgar's amateur wrestling career
Frankie Edgar began wrestling in 7th grade under the guidance of coach Steve Rivera. Coach Rivera would actually continue training with Rivera throughout his MMA career.
In high school, Frankie made it to the New Jersey State wrestling championship on three occasions. Also during his senior year making it to nationals, where he took 2nd place.
At Clarion University, Edgar continued to wrestle. Qualifying for nationals all 4 years he was in school. After finishing school, he would become the assistant wrestling coach at Rutgers University.
Edgar begins his MMA career
After Edgar finished wrestling, he took up MMA first training with Rhino Fight Team in New Jersey. He immediately started fighting around the tri-state area in a few different MMA promotions.
While fighting for these promotions, Edgar improved his record to 6-0. Including a win over future UFC vet Jim Miller.
Edgar enters the UFC
Edgar first tried to get on The Ultimate Fighter reality series, but wasn't picked by Dana White. Although a short time after the audition, Frankie received a fight offer from the UFC.
They asked if he would like to fight another undefeated fighter in Tyson Griffin. Frankie gladly accepted the fight that was set for UFC 67.
He would fight out of a locked in kneebar by Griffin to grind out a unanimous decision win. With his first UFC win down, Edgar would go on to win his next two fights to go to 9-0.
His undefeated record would be broken in his next fight losing a unanimous decision to TUF vet Gray Maynard.
Frankie would get back to winning, beating his next 3 opponents. Setting him up for his first title fight in the UFC.
Franky wins the title
The Answer met MMA legend and the champ BJ Penn at UFC 112 for the lightweight title. Edgar would shock the champ controlling the fight with solid boxing and wrestling to win the title.
They had an immediate rematch and it was the same as the first fight. Franky dominated nearly every moment of the fight.
The Gray Maynard rematches
At lightweight, Edgar is probably most known for his back to back wars with Gray Maynard. In their first fight, they both dropped each other multiple times with the fight ending in a draw.
For the 2nd fight, they would have another war, but this time Edgar won by KO in the 4th round.
Edgar loses the title
In his next fight Edgar would lose his title to Benson Henderson. They would have a rematch, but he would also lose that fight.
Edgar moves to featherweight
After losing the title and rematch, Edgar would go down to featherweight and fight for the title. He would lose a decision to champ Jose Aldo.
In his next 12 fights, he would bounce back and forth between featherweight and lightweight. Going 8-4 in those bouts and coming up short in another featherweight title bout against Aldo.
Edgar moves to bantamweight
Franky was always small for the divisions he fought in and after a tough loss, he decided to drop to bantamweight. At 39 people were skeptical of this move, but Edgar won a split decision and FOTN honors.