Stipe Miocic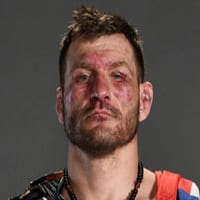 DOB: August 19th, 1982
Birthplace: Euclid, Ohio
Nickname: N/A
Gym: Strong Style Fight Gym
Style: Boxing/Wrestling
Weight Division: Heavyweight
Championships: 2x Heavyweight Champion
Stipe's early years
Stipe Miocic is the son of Croatian immigrants who is a proud Ohio native from the small town of Euclid. With his parents being immigrants it was instilled in Stipe to work hard for everything he wants in life. 
They also encouraged Stipe to participate in sports and he excelled at everything he did.
Before even discovering MMA, Stipe was a high school all american in football, baseball, and wrestling at East Lake High School.
He was so talented in baseball that he received a scholarship to play at Cleveland State University. Also two other universities during his college years and was scouted by Major League Baseball to play professionally.
Stipe gets involved in combat sports
Since Stipe also wrestled while in school, he caught the eye of Strong Style Fight Gym head coach Marcus Marinelli. With Stipe's size and wrestling background, he was asked to be a training partner for pro fighter Dan Bobish.
He first started training in MMA, but switched to boxing, where he again excelled at an amateur level. With only 8 months of training, he was a Golden Gloves champion and made it to the quarter finals of Nationals.
Stipe's early MMA career
After excelling at amateur boxing, Stipe switched to MMA and quickly became a professional. Competing almost exclusively for Ohio based MMA promotion the North American Allied Fight Series(NAAFS).
There he would finish his first 6 opponents by KO/TKO and win the promotion's heavyweight title.
Stipe signs with the UFC
After going undefeated in his first 6 bouts, Stipe caught the eye of the UFC and was quickly signed to a contract.
He debuted at UFC 136 and won a decision against tough veteran Joey Beltran. Miocic would win his next two fights by TKO and then lose his first fight against Stefan Struve.
After tasting defeat for the first time, Stipe would go on to win 3 in a row before losing to former champion Junior Dos Santos.
Stipe's first heavyweight title
After losing a contested decision to Dos Santos, Stipe went on an insane streak. Winning by KO/TKO in his next to fights to earn a title shot against Fabricio Werdum.
Miocic shocked the world by knocking out the champ in the first round to secure his first world title.
Stipe would go on to defend his belt 3 times including a spectacular performance against Francis Ngannou. A fight that many thought he'd lose, but dominated for 5 rounds to win a decision.
Stipe vs Cormier trilogy
After beating Ngannou, Stipe would meet his toughest fight against then light heavyweight champion Daniel Cormier.
Cormier would stun Stipe by knocking him out for the first time in his career to take his title he defended for a record 3 times.
They would have their rematch next year, where Stipe got the upset victory stopping Cormier in the 4th round.
In the final bout in their trilogy, Stipe would come out on top to win a decision and retain his title.