UFC Rankings Update: TJ Dillashaw Continues Move Up Pound-For-Pound List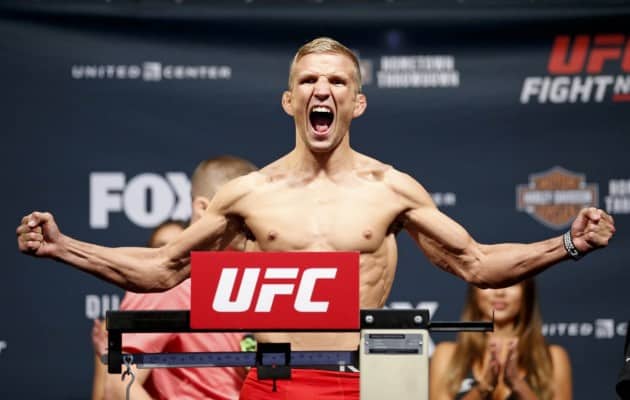 The official UFC rankings have been updated following last weekend's (Sat., July 25, 2015) UFC on FOX 16 from United Center in Chicago, Illinois, and not surprisingly, bantamweight champion TJ Dillashaw has moved up a spot to No. 5 in the pound-for-pound rankings for his dominant fourth round stoppage of former champion Renan Barao.
For his second loss to 'The Viper,' Barao has fallen out of the pound-for-round altogether, boosting the ranks of Anderson Silva, Conor McGregor, and Frankie Edgar by one spot while allowing former welterweight champion Johny 'Bigg Rigg' Hendricks to make his way back to the list at No. 15.
Bantamweight saw a decent amount of shakeup, as Bryan Caraway moved up an impressive six spots to No. 6 for his unanimous decision victory over Eddie Wineland, tying Aljamain Sterling, who moved up one spot. Wineland dropped four spots down to No. 10 for the loss.
Women's strawweight saw a flip-flop at the top, with Claudia Gadelha taking over the top spot from injured former champion Carla Esparza. Gadelha will face former World Series of Fighting (WSOF) women's strawweight champion Jessica Aguilar, who made her debut on the UFC rankings at No. 15, at this weekend's (Sat., August 1, 2015) UFC 190 from Rio de Janeiro.
The Ultimate Fighter (TUF) 20 alum Rose Namajunas also swapped places with Jessica Penne, rising up to No. 3 while sending the recent title contender down to No. 4.
Finally, women's bantamweight saw a lot of action thanks to Miesha Tate's unanimous decision win over previously No. 5-ranked Jessica Eye. For the title shot-sealing win, Tate moved up to No. 1 in the rankings and sent Cat Zingano down to No. 2. Heading into her title shot against dominant undefeated champion Ronda Rousey in the main event of UFC 190, Brazilian challenger Bethe Correia rose two spots to No. 5 when Eye dropped one spot to No. 6 for the defeat. TUF 18 winner Julianna Pena also moved up two spots to No. 11, forcing Marion Reneau to drop one spot to No. 12 after her one-sided decision loss to Holly Holm.
Here are the full updated rankings courtesy of UFC.com:
POUND-FOR-POUND
1          Jose Aldo
2          Chris Weidman
3          Demetrious Johnson
4          Ronda Rousey
5          TJ Dillashaw+1
6          Fabricio Werdum-1
7          Robbie Lawler
8          Rafael dos Anjos
9          Cain Velasquez
10        Daniel Cormier
11        Anthony Pettis
12        Anderson Silva+1
13        Conor McGregor+1
14        Frankie Edgar+1
15        Johny Hendricks *NR
FLYWEIGHT
Champion : Demetrious Johnson
1          John Dodson
2          Joseph Benavidez
3          Jussier Formiga
4          Ian McCall
6          John Moraga
7          Kyoji Horiguchi
8          John Lineker
9          Zach Makovsky
10        Chris Cariaso
11        Dustin Ortiz
12        Wilson Reis
13        Chico Camus
14        Ray Borg
15        Justin Scoggins
BANTAMWEIGHT
Champion : TJ Dillashaw
1          Renan Barao
3          Raphael Assuncao
4          Urijah Faber
5          Michael McDonald
6          Aljamain Sterling+1
6          Bryan Caraway+6
8          Takeya Mizugaki
9          Johnny Eduardo
10        Eddie Wineland-4
11        Thomas Almeida
12        Francisco Rivera-2
13        Iuri Alcantara
14        Frankie Saenz
15        Erik Perez
FEATHERWEIGHT
Champion : Jose Aldo
1          Conor McGregor (Interim Champion)
2          Frankie Edgar
3          Chad Mendes
4          Ricardo Lamas
5          Max Holloway
6          Cub Swanson
7          Charles Oliveira
8          Jeremy Stephens
9          Dennis Bermudez
10        Nik Lentz
11        Clay Guida
12        Hacran Dias
13        Tatsuya Kawajiri
14        Darren Elkins
15        Dennis Siver
LIGHTWEIGHT
Champion : Rafael dos Anjos
1          Anthony Pettis
5          Michael Johnson
6          Benson Henderson
7          Edson Barboza
8          Myles Jury
9          Tony Ferguson
10        Bobby Green
11        Al Iaquinta+1
12        Josh Thomson-1
13        Beneil Dariush
14        Nate Diaz
WELTERWEIGHT
Champion : Robbie Lawler
1          Johny Hendricks
2          Rory MacDonald
4          Carlos Condit
5          Matt Brown
6          Demian Maia
7          Dong Hyun Kim
8          Tarec Saffiedine
9          Stephen Thompson
10        Rick Story
11        Gunnar Nelson
12        Jake Ellenberger+1
13        Neil Magny-1
14        Thiago Alves
15        Kelvin Gastelum *NR
MIDDLEWEIGHT
Champion : Chris Weidman
2          Jacare Souza
3          Yoel Romero
5          Lyoto Machida
6          Anderson Silva
7          Gegard Mousasi
8          Tim Kennedy
10        Thales Leites
11        CB Dollaway
12        Dan Henderson
14        Roan Carneiro
15        Derek Brunson
LIGHT HEAVYWEIGHT
Champion : Daniel Cormier
1          Anthony Johnson
2          Alexander Gustafsson
3          Ryan Bader
6          Ovince Saint Preux
7          Jimi Manuwa
8          Mauricio Rua
10        Rafael Cavalcante
11        Antonio Rogerio Nogueira
13        Fabio Maldonado
14        Patrick Cummins
15        Ilir Latifi *NR
HEAVYWEIGHT
Champion : Fabricio Werdum
1          Cain Velasquez
2          Junior Dos Santos
4          Andrei Arlovski
5          Travis Browne
7          Ben Rothwell
9          Alistair Overeem
10        Frank Mir
11        Roy Nelson
12        Antonio Silva
13        Matt Mitrione
14        Alexey Oliynyk
15        Stefan Struve
WOMEN'S STRAWWEIGHT
Champion : Joanna Jedrzejczyk
1          Claudia Gadelha+1
2          Carla Esparza-1
3          Rose Namajunas+1
4          Jessica Penne-1
5          Tecia Torres
6          Randa Markos
7          Maryna Moroz
8          Paige VanZant
9          Joanne Calderwood
10        Michelle Waterson
11        Felice Herrig
12        Juliana Lima
13        Aisling Daly
14        Heather Clark
15        Jessica Aguilar *NR
WOMEN'S BANTAMWEIGHT
Champion : Ronda Rousey
1          Miesha Tate+1
2          Cat Zingano-1
3          Alexis Davis
4          Sara McMann
5          Bethe Correia+2
6          Jessica Eye-1
7          Sarah Kaufman-1
9          Holly Holm
10        Liz Carmouche
11        Julianna Pena+2
12        Marion Reneau-1
13        Jessica Andrade
14        Germaine de Randamie
15        Lauren Murphy