Nate Diaz News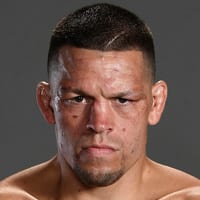 DOB: April 16th, 1985
Birthplace: Stockton, California
Nickname: N/A
Gym: Cesar Gracie Jiu Jitsu, Perez Boxing
Style: Boxing, Jiu Jitsu
Weight Class: Lightweight, Welterweight
Championships: N/A
Diaz's childhood
Nate had a tough upbringing just like his brother Nick. Raised by a single mother on the rough side of Stockton, California.
To try and keep the brothers out of trouble, their mother would enroll them in martial arts from an early age. He would train in everything that his brother Nick did before training MMA at Caesar Gracie's school.
Nate Diaz's early MMA career
Nate would make his professional MMA debut when he was 19 fighting for the WEC. He would go on to win his pro debut by triangle choke.
Diaz would then travel to Japan to fight in Pancrase and lose a decision to Koji Oishi. After his first loss, he would go on a 4 fight win streak before losing the WEC title to Hermes Franca.
The Ultimate Fighter
After his title loss, Nate would get the call to be on the UFC reality series, The Ultimate Fighter 5. He would fight on Jens Pulver's team and win all 3 exhibition matches to get to the finals.
In the finals, he would face teammate Manny Gamburyan and would win due to Manny injuring his shoulder. Earning Diaz a contract with the UFC.
Nate's early UFC career
Nate started his UFC run in 2007 and has been fighting for them ever since. He would win his first 5 fights with the promotion winning by submission in 3 of 5 of the wins.
Diaz would hit a rough patch after his great start going 3-5 in his next 8 fights from 2009-2011. During these fights, Diaz would fight a few times at welterweight before moving back to lightweight.
He would then go on a 3 fight streak after his move back to lightweight. Winning against Takanori Gomi, Jim Miller, and Donald Cerrone.
Diaz's title fight and after
After his 3 fight win streak, Diaz would have his only title shot against then champ Benson Henderson. He would lose a decision to Henderson and then get stopped with strikes in his next fight by Josh Thompson.
Diaz would then bounce back with a KO of the night performance against Gray Maynard. Then taking another loss to future lightweight division champ Rafael dos Anjos afterward.
He would bounce back from the loss in his next fight beating Michael Johnson by decision.
Diaz vs McGregor fights
Rafael dos Anjos was set to fight Conor McGregor for the lightweight title, but had to pull out due to injury. The obvious replacement to fight Conor was Nate Diaz after calling McGregor out after his last fight against Johnson.
It was a big fight atmosphere, where we saw Diaz upset Conor giving the Irishman his first UFC loss. They would rematch in one of the biggest UFC fights in history 5 months later that McGregor would win by decision.
Nate would go on a 3 year hiatus after the loss to Conor.
Nate's comeback and the BMF title
Diaz would make his long awaited return to fighting taking on the former lightweight champ Anthony Pettis. Nate would have the best performance of his career beating Pettis in all aspects of the fight.
In his next fight, he would face Jorge Masidal. Both had been politicking to face each other online for a belt they made up called the Bad A** MFIN Title.
Dana White gave in and made them a belt making them the main event of UFC 244. Masvidal would win via doctor stoppage due to multiple cuts around Diaz's eye.