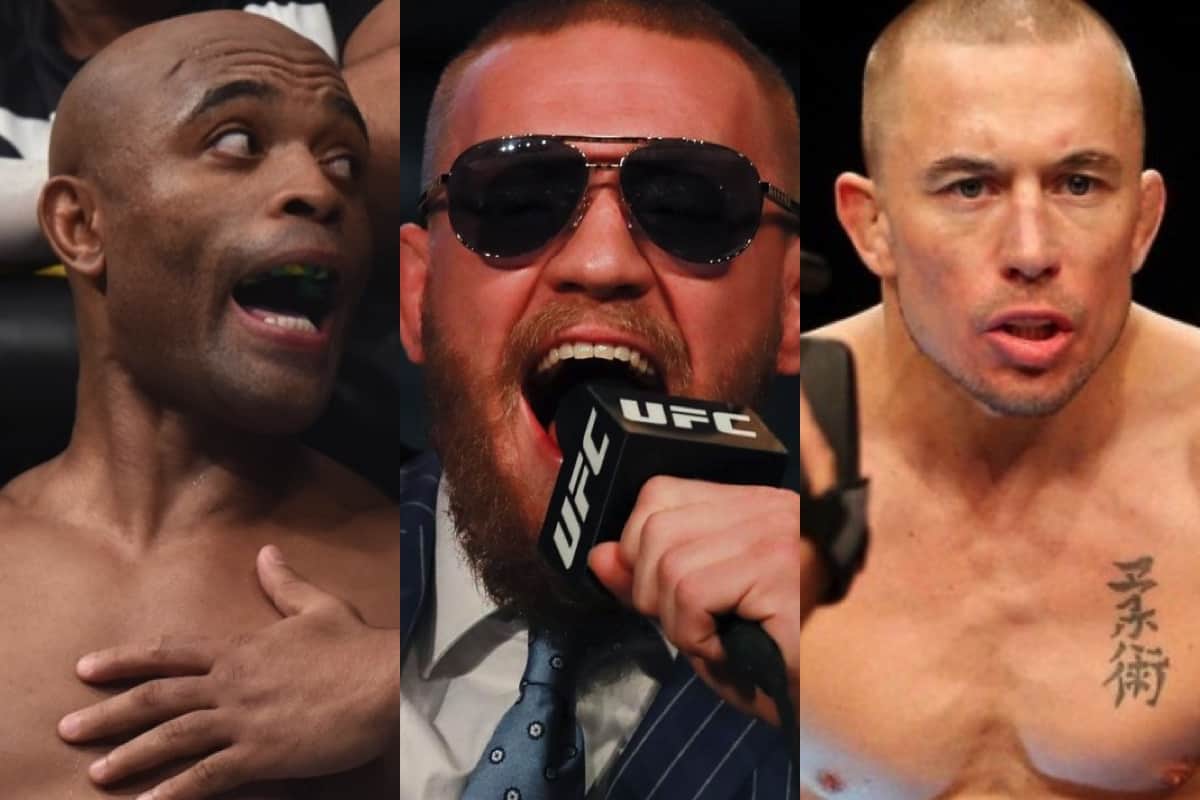 Dream fights are a huge part of being a mixed martial arts (MMA) fan, and almost every fan fantasizes about watching two of their favorite brawlers going toe-to-toe inside a MMA cage. The sport is full of big stars and fan favorites, and the discussions of 'super fights' continue to flood MMA discussions, despite rarely – if ever – taking place.
We here at LowKickMMA are suckers for super fight talk, and have responded by compiling a list of some of the most requested bouts that MMA fans are dying to see. So without further ado, let's dive into the top 10 fights MMA fans want to see, but sadly, most likely never will……
After the conclusion of their second meeting in the main event of UFC 204 last month, Dan Henderson and Michael Bisping now each hold one win over each other in their professional mixed martial arts (MMA) careers and a rubber match is much-needed for the two rivals.
The pair initially met on the historical UFC 100 pay-per-view (PPV) event back in July of 2009, where Henderson delivered one of the most brutal knockouts in UFC history to Bisping in the second round of their contest. 'Hendo' followed it up with a huge shot for good measure after 'The Count' was clearly out cold.
Fast forward over seven years later and Bisping now holds the middleweight title and the two are set to meet once again in the main event of UFC 204 with the 185-pound throne on the line, with Henderson making his final appearance in the Octagon before retiring from the sport.
Despite Henderson knocking the British champ down multiple times with his signature 'H-Bombs', Bisping cruised to a unanimous decision win over his rival, getting vengeance in the process for the nasty knockout he suffered the first time around.
Why we'll never see it:
With Henderson nearly being a middle-aged man currently sitting at 46-years of age, his retirement seeming to be final, and the fact that he is currently the No. 13-ranked middleweight in the UFC, a rematch between the two men does not seem likely for the foreseeable future.

One of the most stunning moments in MMA history was when Irish star Conor McGregor flatlined longtime 145-pound champ Jose Aldo in only 13 seconds in their awaited match-up at UFC 194 last December.
McGregor and Aldo were initially scheduled to meet in the main event of UFC 189 in July of 2015, but unfortunately the Brazilian champ was forced out of the contest due to an injury sustained in training camp. Instead 'Notorious' would meet Chad Mendes in the card's main event, and McGregor would win the contest via R2 TKO to secure the interim featherweight strap.
Aldo and McGregor would finally get their time to go to war at UFC 194 in Vegas, but 'Scarface's' decade of dominance would be taken away by the heavy-hitting Irishman with a counter left hand only 13-seconds after the opening bell.
Why we'll never see it: McGregor has since embarked on two welterweight tours against Nate Diaz since his last fight at 145-pounds, putting on some massive muscle in the process, and will now attempt to become the first fighter in UFC history to hold two titles in different weight classes at the same time when he challenges Eddie Alvarez for the lightweight title.
Aldo, who defeated Frankie Edgar at UFC 200 for the interim featherweight title, has since contemplated retirement after being denied his rematch with McGregor multiple times now. With speculation going around that 'The Notorious One' can no longer make the grueling cut to 145 pounds, we'll never get the chance to see these two guys throw down inside the Octagon for longer than it takes to heat up a Hot Pocket.
8. Cain Velasquez vs. Jon Jones
Jon Jones and Cain Velasquez once ruled their respective divisions for a sizable amount of time before being dethroned, but at the height of their dominance over the fight world a pairing between the two monsters was much discussed amongst hardcore MMA fans.
Jones is the most physically gifted athlete the UFC has ever seen take center Octagon, with his ridiculous reach of 84.5 inches to go along with his towering height of six-foot-four inches; 'Bones" unorthodox style of striking has been the downfall of all that have stood in his way.
Velasquez ruled the UFC's heavyweight division when he defeated Brock Lesnar at UFC 121 in October of 2010 to secure the heavyweight title with a first round TKO victory. Although he lost the title in his first defense to Junior dos Santos in the first round via KO, he bounced back with a four-fight win streak in which he reclaimed his title and redeemed himself against 'JDS' with two lopsided wins.
At one point it seemed as though Velasquez and Jones had cleared out any potential contenders in their divisions, and a contest between the two mega stars began to find itself in the discussions of MMA fans. The intrigue of how Jones would handle the amazing wrestling, cardio, and striking ability of Velasquez, as well as how the Mexican would handle 'Bones" ridiculous athleticism and skill would make for quite the stylistic match-up between the two.
Why we'll never see it: With Velasquez now embarking on his road back to the title after having again lost the title to Fabricio Werdum, and new contenders beginning to emerge in the heavyweight division, Velasquez simply does not have the time to step aside from the title picture to take a super fight with Jones at this time.
Not to mention that Jones has become somewhat unreliable to show up on fight night after having been pulled from two fight cards now due to issues out of the cage, the clash of titans scrap between these two will most likely never see the inside of the Octagon.
7. Dominick Cruz vs. Demetrious 'Mighty Mouse' Johnson II
Two of the most dominant champions in UFC history met in the main event of UFC Live back in October of 2011, and at the time, we didn't even know it.
Dominick Cruz was the reigning, defending, undisputed UFC bantamweight champion who was coming off of two consecutive successful title defenses over Scott Jorgensen and Urijah Faber. 'Mighty Mouse' was riding a four-fight win streak that earned him the shot at Cruz, just one fight before embarking on the tournament that would make him into the dominant flyweight champion he is today.
After being out-classed by Cruz in a 25-minute contest, Johnson would next take center Octagon against Ian McCall in his first bout at 125 pounds. 'Mighty Mouse' would go on to win the UFC's inaugural flyweight title after dominating the tournament, by defeating Joseph Benavidez at UFC 152 via split decision.
Now that both men have dominated the majority of worthy contenders to their respective thrones, a super-fight between the two technically sound champs is a fight that has been on fans' radar for some time now.
Why we'll never see it: With Johnson remaining adamant on conquering Anderson Silva's record of 10 consecutive title defenses before any discussions of super fights begin, and Cruz now having to clean house once more against newfound contenders such as Cody Garbrandt and John Lineker, the chances of this fight happening seem slim to none for now.
6. Cain Velasquez vs. Fedor Emelianenko
When the discussion of 'Greatest Heavyweight Of All Time' arises in the conversations of MMA fans, two names that are almost always included are Mexican Superstar Cain Velasquez, and Russian legend Fedor Emelianenko.
Velasquez is one of the most dominant UFC heavyweight champions of all time, making his debut in the promotion after just two professional fights in California and Russia. 'Cardio Cain' has finished all but two of his contests under the UFC banner with 10 of his 12 wins coming via knockout, making him one of the most feared strikers in the UFC's heavyweight division.
Emelianenko is one of the most dominant heavyweight brawlers of all time in his own right, as the Pride FC and Strikeforce veteran racked up a historical 27-fight win streak over names such as Antonio Rodrigo Nogueira, Kevin Randleman, Mirko Cro Cop, Mark Hunt, and Andrei Arlovski.
One thing that the two dominant champions have in common, however, is their respective reigns of terror met an untimely end via the agonizing submission skills of Fabricio Werdum.
Why we'll never see it: With it looking more and more unlikely that Emelianenko will ever find his way to the UFC, and the fact that the Russian is now 40 years of age and arguably close to retirement after the wars he's been a part of, a matchup between Velasquez and 'The Last Emperor' may never happen.
Two of the most loved and dominant champions the UFC has ever seen, former welterweight phenom Georges St-Pierre and former middleweight king Anderson 'The Spider' Silva, have been long rumored to meet inside the Octagon for nearly a decade now.
Silva made a fierce presence in his Octagon debut against Chris Leben with a vicious first round knockout in under a minute's time. 'The Spider' would go on to win the middleweight title with another first round knockout of Rich Franklin, before embarking on a 14-fight win streak that included three 205-pound tenures and 10 successful title defenses.
St-Pierre ruled the UFC's 170-pound division after having regained his title from Matt Serra in 2008, going on to successfully defend his title nine times against the likes of BJ Penn, Nick Diaz, Carlos Condit, and Johny Hendricks.
During Silva and St-Pierre's heyday the interest in how Silva would handle the Canadian's elite wrestling ability, and how St-Pierre would match-up with the Brazilian's unorthodox style of striking, was exceedingly high bringing interest to a potential collision between the two inside the Octagon.
Why we'll never see it: With St-Pierre's potential return to action facing multiple roadblocks leaving his future in the sport up in the air and Silva reaching the end of his historical career, the hope for a bout between the two legends continues to diminish with each passing second.
4. Jon Jones vs. Anderson Silva
Two men who we have already been discussed earlier in this list are former light heavyweight champion Jon 'Bones' Jones, and former middleweight king Anderson 'The Spider' Silva.
During the beginning of Jones' emergence as one of the most dominant combatants of all time, the similarities between him and the man who ruled the weight class below him in Silva, in the way the two utilize their lengthy frames to capitalize on their unorthodox style of striking was staggering.
While the two dominant champs ruled their respective divisions they were also finishing their fights with a mixture of impressive knockouts and submissions between the pair of athletes. Fans began to clamor for the 'dream fight' between the two, something that UFC President Dana White once said he 'has to make happen".
Shortly after the now-former UFC 185-pound champ Chris Weidman brutally knocked out Silva for the first time in his career, however, those talks began to shut down.
Why we'll never see it: Now that Silva has been dethroned from middleweight royalty (not having won a fight inside the Octagon in four years now), and the fact that Jones hasn't finished a fight since he TKO'd Chael Sonnen in 2013, the two friends will most likely never do battle inside the UFC's Octagon.
Without a shadow of a doubt the two most dominant female mixed martial artists of all time are 'Rowdy' Ronda Rousey and Cris 'Cyborg' Justino, and a clash between the two legends is near the top of nearly all MMA fans' fantasy fight lists.
Rousey and Cyborg each were known for getting rid of their opponents quickly and violently when they took center Octagon, making them two of the most must see fighters in all of MMA. Rousey reigned as the UFC's women's bantamweight champion from 2012 to 2015, having finished all of her contests in the UFC via first round stoppage with the exception of her third round submission victory over Miesha Tate in 2013.
Cyborg would instead dominate the likes of Strikeforce and Invicta FC combatants, who remains on a scary 11-fight knockout streak since downing Hitomi Akano in the third round of their 2009 meeting.
Bad blood between the two women exists in the worst of ways, as the two have exchanged harsh words through the media at one another with Cyborg turning it up a ton after Rousey's first career defeat to Holly Holm at UFC 193 in November of 2015.
Why we'll never see it: The shine of having the two stars meet while being on their respective undefeated streaks has lost its luster after Rousey's loss to Holm at UFC 193. Cyborg has since made her UFC debut and now holds two UFC knockouts under her belt, but has struggled in the weight cut to the 140-pound catchweight she competes at under the promotion's banner.
With Rousey once again returning to attempt to reclaim her title and Cyborg's inability to make the 135-pound weight cut to Rousey's championship weight class, a match between the two is highly unlikely due to the fact that Rousey seems a bit unwilling to move up to 140 pounds for the super fight.
One of the biggest upsets in MMA history went down on November 15, 2015, when former female kickboxing champion Holly Holm picked apart Ronda Rousey in their bantamweight title meeting, before brutally shutting her lights out in the second round.
The Holm win would also be the first loss in the legendary and dominant career of Rousey, who dominated the world of women's MMA before meeting 'The Preacher's Daughter' in the UFC 193 main event.
Prior to the contest Holm had only had two Octagon appearances that she won via unanimous decision, and the pair of victories did little to impress fans once the match-up between Holm and Rousey was officially announced. When the opening bell sounded, however, Holm put on the performance of her life and made history in the process.
Not only had Holm done the unthinkable by defeating Rousey in such a lopsided fashion, but she also put the future of the former bantamweight champion's MMA career in question as Rousey retreated into the shadows after the heart-breaking loss.
Why we'll never see it: Since her coming-out party against Rousey, Holm has seen a major drop off after being choked out by Miesha Tate to lose the title in her first career defense, followed by a decision loss to Valentina Shevchenko in July.
Now Rousey's return to action is set in an immediate title opportunity against current champ Amanda Nunes at UFC 207 in December, while Holm will have to work her way back up into the title contention conversation. With Rousey's future in the sport being questioned pending the result of her 207 match-up with Nunes and Holm's sudden decline, MMA fans will most likely never see a rematch of the biggest upset in MMA history.
The two most massive stars in the history of the sport of MMA may just be former welterweight kingpin Georges St-Pierre and current UFC featherweight champion Conor McGregor.
St-Pierre's utter dominance inside the Octagon is unparalleled to most that we've seen fight in the UFC, as his amazing ability to out-class nearly everyone he steps in the cage against has made him one of the most dominant champions in the history of the sport.
McGregor's sheer skill and ability inside the Octagon are quite the sights to witness when the Irishman comes to fight, and it is complemented by his unique ability to accurately predict the outcome of his bouts. 'The Notorious One's' handiness on the mic has also been a huge motivating factor why he is both the most loved and hated fighter in MMA today.
The appeal in seeing two of the most massive stars battle it out inside the Octagon is certainly interesting, as McGregor has competed at welterweight twice now in his rivalry with Nate Diaz at UFC 196 and 202. St-Pierre has also openly stated that he believes he could make the weight cut to 155 pounds if he needed to as well.
If these two men were to ever bang it out inside the eight sides of the UFC Octagon, some serious money would obviously come the UFC's way.
Why we'll never see it: With St-Pierre's future in the UFC up in the air due to his ongoing contract disputes with the promotion, it is currently unclear if the Canadian phenom will ever return to action inside the Octagon.
McGregor is currently chasing history in attempt to become the first dual-weight champion in UFC history when he takes on Eddie Alvarez at UFC 205 next month (November 12, 2016), where he is expected to make a big announcement after the conclusion of the bout.
With speculation running rampant that the Irishman is considering taking an extensive amount of time off, and the window on St-Pierre's ability to compete closing, a McGregor vs. St-Pierre mega-fight is likely to never take place.