Fedor Emilianenko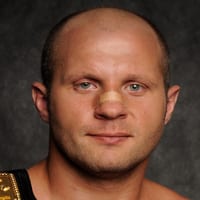 DOB: September 28th, 1976
Birthplace: Rubizhne, Luhansk Oblast, Ukranian SSR, Soviet Union
Nickname: The Last Emperor
Gym: Red Devil Sport Club
Style: Sambo
Weight Division: Heavyweight
Championships: Pride Heavyweight Champion, Pride 2004 Grand Prix Heavyweight Champion
Fedor's early years
Fedor grew up within the USSR with his brother Aleks and discovered judo/sambo when he was 11. He would train in a basics class under Vasily Ivanovich Gavrilov.
A year later, he would be permitted to train in the sport class under Vladimir Voronov. Voronov said Fedor at first was not a stand out talent, but became great through perseverance and hard work.
Throughout his teen years Fedor would continue to train and also during his time in the Rusian military. 
In 1997, he received his Masters of Sports in combat sambo and got on the national team. While competing in MMA, Fedor was also active in sambo winning 11 championships during his sambo career.
Fedor enters MMA
Due to a lack of money, Fedor started looking for opportunities within MMA. He would begin his MMA career in the promotion Rings, where he would have his first 11 fights.
In his first 11 fights, Fedor would bounce between fighting in Russia and Japan. Winning 10 of those fights with only one loss by doctor stoppage due to a bad cut.
Fedor signs with Pride
After going 10-1, the Japanese promotion Pride expressed great interest in signing the Russian fighter. At the time Fedor had already gained a following in Japan fighting there for most of his fights. His signing to at the time the biggest promotion in the world was all but inevitable.
From his first fight winning a decision against K1 champion Semmy Schilt, everyone knew he was going to be great. Emelianenko would become the greatest fighter in the promotion's history.
In his 5 years with the company, Fedor was never beaten within the company. He would win the Pride championship in just his 3rd fight with them against all time great Antonio Rodrigo Noguiera.
Then again he would beat Minotauro for the Pride Heavyweight Grand Prix Championship. Holding both titles until the company closed.
Emilianenko would go on to have some of the best fights in the history of MMA within Pride. Stopping a number of all-time great fighters from Noguiera, Cro-Cop, Randleman, Coleman, and Hunt.
After Pride
With Pride shutting down in 2007, Fedor would go on to fight on multiple promotions. Including winning the heavyweight title for the short lived Affliction MMA promotion. Beating top heavyweights Tim Sylvia and Andrei Arlovski.
Fedor in Strikeforce
In 2009, Fedor signed with San Jose based MMA promotion Strikeforce. He would win his first fight against Brett Rogers and then be put in the Strikeforce heavyweight grand prix.
His first fight would be against Jiu Jitsu world champion and UFC vet Fabricio Verdum. The MMA world would be shocked as Fedor would suffer his first submission loss by triangle choke.
After this loss, Fedor would have the first losing streak of his career. Losing his next two fights to Antonio Silva and Dan Henderson.
Fedor's later years
With Strikeforce being bought by the UFC, Fedor went back to fight in promotions within Russia and Japan. Winning 5 fights in a row before signing with Bellator MMA.
Fedor would drop his first fight with the promotion against Matt Mitrione and then be a part of their heavyweight tournament. He would go on to beat Chael Sonnen and Frank Mir in the semis before losing by KO to Ryan Bader. 
Although not deterred by the loss, Fedor would win his next fight by TKO.