Top 10 Old School MMA Legends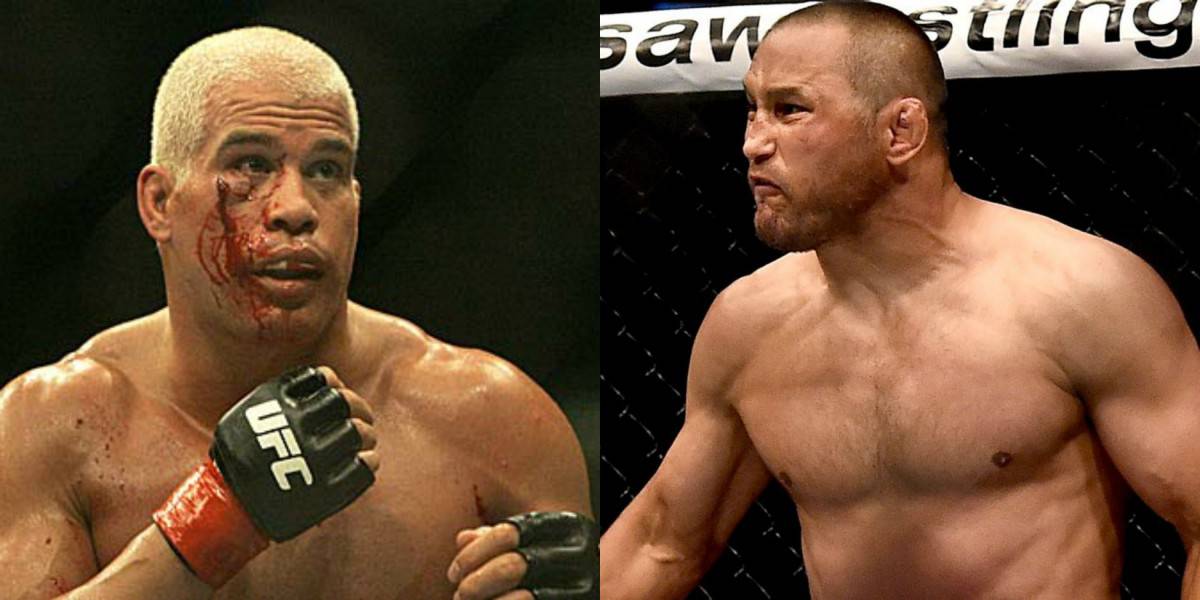 Mixed martial arts (MMA) has come a long way. Titles have changed hands, promotions have died, disciplines have transformed, and fighters have evolved in just a short period of time.
The state of today's sport is one jam-packed with skill, high-level expertise, highlight reel finishes, brutal blood fests, and international opportunity for prospects around the world. It is the product of promotional development, eager bank accounts, and the sport as a whole being absorbed by the mainstream.
But in order to truly appreciate where MMA is today, the pioneers of the sport must be the recognized. From former champions to trend-setting pathfinders, from ground-and-pound wizards to one-punch knockout artists, the cage has played host to an assortment of memorable and equally influential characters.
In accordance with championships won, life-time victories, everlasting footprints around the sport, and downright barbaric tendencies, here are the Top 10 old school legends in MMA history.

10) Mark Coleman
While the highlight reel may show Mark Coleman getting his faced kicked in by Pete Williams at UFC 12, the former UFC light heavyweight champion should certianly be remembered in a more positive light.
As a former NCAA Division I and Olympic freestyle wrestling standout, Coleman made a living out of dragging opponents to the mat and beating them relentlessly. His revolutionary success as strictly a wrestler in a mixed martial arts setting left Coleman with the nickname, "The Godfather of Ground & Pound."
The 51-year-old's 16-10 professional record isn't anything to call home about, but his 2000 Pride FC Openweight Grand Prix championship and early onslaught as an imposing UFC tournament contender easily lands him on this list.
9) Pat Miletich
UFC Hall of Famer and former welterweight champion Pat Miletich is one of the best all-around fighters of the old school era.
With a high-level submission game to call his own and a deep background in boxing, "The Croatian Sensation" offered the ability to finish a fight wherever it may go. This included blistering head kicks and shoulder chokes.
What makes Miletich ever more memorable is the fact that his in-cage antics have carried over through elite trainees like Matt Hughes, Robbie Lawler, Tim Sylvia, and Jens Pulver.

8) Ken Shamrock
Ken Shamrock may be more well-known across this land from his stint as a professional wrestler, but "The World's Most Dangerous Man" was choking necks well before he called Vince McMahon his boss.
Leading back to his early days as a Pancrase standout, Shamrock was wildly considered one of the best ground specialists in the world while submitting guys like Bas Rutten, Matt Hume, and Maurice Smith. He would also go on to win the UFC Superfight Championship by tapping Dan Severn at UFC 6.
Shamrock's career is currently being dragged through the mud amidst matchups with Kimbo Slice and Royce Gracie, but the 49-year-old remains one of the most recognizable names from the sport's old school days.
7) Bas Rutten
Besides his movie appearances, television analysis, and online self-defense videos, Bas Rutten can easily be considered the King of Pancrase.
Having solidified a 25-4-1 record under the Pancrase banner between 1993-1998, Rutten was as feared a fighter as there was in MMA during those years. Not to mention he incorporated relentless striking and brutal submissions into each and every one of his fights.
Rutten would go on to win the UFC heavyweight championship when he beat Kevin Randleman at UFC 20 and ended his career in 2006 having never been knocked out.

6) Dan Severn
With 101 professional MMA wins, Dan Severn arguably had the most effective career in the history of the sport. His mere 19 losses through 18 years of competition further cements his legacy.
Having made his professional debut inside of the UFC's Octagon, Severn was forced to dispose of the best fighters in the world from the get go. He would win the UFC 5 tournament and the UFC superfight championship over Ken Shamrock in 1996.
At one point, "The Beast" was unbeaten for 24 fights spanning just three years.
5) Dan Henderson
As the only name on this list to be an active UFC fighter, Dan Henderson is still getting it done after 18 years of competition.
While Henderson's knockout power and world-class striking are beginning to dwindle against more athletic foes, the 45-year-old has done enough throughout his career to warrant legendary praise. Along with winning two Pride championships (welterweight and middleweight) and the Strikeforce light heavyweight title in 2011, "Hendo" has scored memorable finishes over Fedor Emelianenko, Wanderlei Silva, Renzo Gracie, Akihiro Gono, and Michael Bisping at UFC 100.
He remains one of the most popular fighters of all time, and an Olympic wrestler who sported the most feared strike of his time (the "H-Bomb").

4) Tito Ortiz
The fire that fueled Tito Ortiz's long-lasting career may be finally fizzling out, but that doesn't take away from his legendary appeal.
As one of greatest UFC light heavyweight champion of all time, "The Huntington Beach Bad Boy" defended his 205-pound strap five times before Chuck Liddell and Rand Couture prevented him from regaining gold. During that time, Ortiz was considered to be one of the best ground-and-pound practitioners in the world, offering a ferocious top game that took the sport to another level.
The Team Punishment founder's in-cage antics and trashtalking ability further solidified his role as the face of the organization and mainstream MMA movement.

3) Randy Couture
As one of the most recognizable MMA names throughout the world, former UFC heavyweight and light heavyweight champion Randy Couture deservedly belongs on the sport's Mt. Rushmore.
With a background in boxing from his days in the Army to his world-class Greco-Roman wrestling, "The Natural" offered a blue collar skill set that fans could connect with. He wasn't flashy, he wasn't the quickest, and he wasn't the most technically skilled.
But his hard-nosed work ethic, pressure, natural strength, and intangible skill set allowed him to become one of only two fighters to ever capture UFC gold in two different weight classes (B.J. Penn being the other). He holds notable finishes over Chuck Liddell, Pedro Rizzo, Kevin Randleman, and Vitor Belfort twice.

2) Chuck Liddell
At the pinnacle of his career, no other fighter possessed the knockout ability and overall ferocity of Chuck Liddell.
With notable finishes of Randy Couture, Tito Ortiz, Alistair Overeem, Kevin Randleman, Guy Mezger, Renato Sobral, and Jeremy Horn, "The Iceman" remains one of the most heavy-handed strikers to ever enter the cage. His reign as UFC light heavyweight champion not only offered four-straight title defenses all by way of knockout, but it helped carry the promotion through it's most critical growth spurt.
Many people consider Liddell the best light heavyweight fighter of all time, while others might mention him as the most dominant striker in UFC history.

1) Royce Gracie
Without Royce Gracie, MMA would not be where it is today. You've heard that many times over, but it's the truth.
As a pioneer who challenged substantially heavier foe with the idea that grappling can solve all issues presented during a fight, the Brazilian submission expert took the world by storm back at UFC 1. He not only won the first ever tournament, but he submitted fellow ground specialist Ken Shamrock, world-class Karate expert Gerard Gordeau, and boxer Art Jimmerson along the way.
Gracie's efforts helped display the effectiveness of Brazilian Jiu-Jitsu and has shaped the sport into the dynamic and unpredictable entity it is today.