Chuck Liddell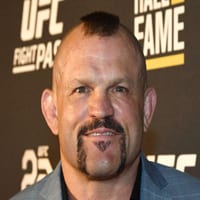 DOB: December 17th, 1969
Birthplace: Santa Barbara, California
Nickname: The Iceman
Gym: The Pit
Style: Karate, Wrestling
Weight Division: Light Heavyweight
Championships: UFC Light Heavyweight Champion
Liddell's early martial arts experience
Chuck Liddell grew up in Santa Barbara, California and was raised by his mother and grandfather. His grandfather first introduced him to martial arts training teaching Chuck and his siblings boxing techniques.
Later when Liddell was 12, he took up Koei Kan Karate becoming a black belt. While he continued his karate training, Liddell also excelled at football and wrestling in high school.
He would later earn a scholarship to wrestle at Cal Polytech State University. Also earning a degree in business/accounting from the university.
All while doing this, Chuck competed in kickboxing. Gaining an amateur record of 20-2 and a pro record after college of 22-0 with 18 KOs.
Liddell's early UFC career
Chuck started his MMA training after college moving to Las Vegas and training BJJ under John Lewis. He made his MMA debut at UFC 17 winning a decision over Noe Hernandez.
In his second fight, he would travel to Brazil to fight in a bare knuckle Vale Tudo rules MMA match. Liddell would face a great Brazilian fighter in Jose "Pele" Landi-Jones winning a decision when he was a heavy underdog.
He would drop his 3rd match to Jeremy Horn by submission, but go on a 10 fight win streak after. Beating numerous MMA legends by KO including Kevin Randleman, Murilo Bustamante, Vitor Belfort, Guy Mezger, Jeff Monson, and Renato Sobral.
His win streak was stopped by UFC hall of famer Randy Couture after stopping Liddell by TKO. Winning the UFC light heavyweight title.
Liddell enters Pride FC
After his title fight loss, Liddell had a short stint in Pride be part of the 2003 middleweight grand prix. He would KO Allistair Overeem in his first bout and lose by corner stoppage in the 2nd round to Rampage Jackson.
Iceman wins the UFC title
The Iceman would then go back to the UFC and have one of the best runs at light heavyweight ever. First he would KO his arch rival Tito Ortiz in his returning bout and then Vernon White after.
With those 2 wins, he was set for a rematch against the natural Randy Couture for the title. Liddell would avenge the loss, winning by KO and earning the light heavyweight title.
Chuck would go on to defend the belt for a then record of 4. Avenging his first loss to Jeremy Horn and beating Couture, Sobral, and Ortiz in rematches.
After the title
In a rematch with Rampage Jackson, Liddell would drop the title to his rival losing by KO. He would also lose a split decision in his next fight with Keith Jardine,
Chuck would get his last ever UFC win in his next fight winning a brawl with the legend Wanderlei Silva. Unfortunately after this fight, he would lose 3 straight and go into his first retirement.
Liddell returns
After 8 years of retirement and against the wishes of many, Liddell attempted a comeback at 48. Fighting Tito Ortiz for a 3rd time in the only Golden Boy promoted MMA event. Ortiz would win the 3rd matchup by KO in the first round.