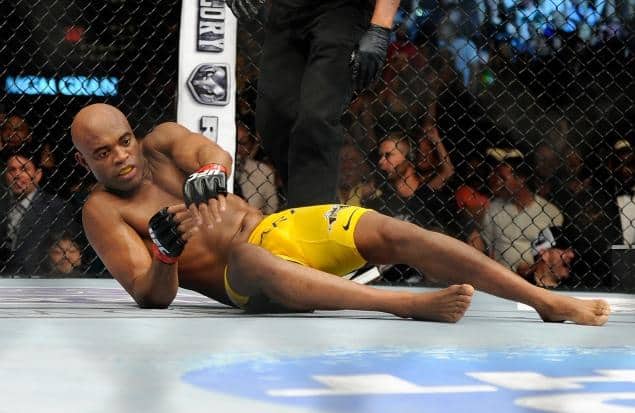 For 22 years now the UFC (Ultimate Fighting Championship) has provided top level MMA (mixed martial arts) entertainment for the world to see. 1993 was the first UFC event, televised by SEG in partnership with WOW Promotions, the dark ages of the promotion was more often freak show fights than anything else, but times have certainly changed considerably.
With the sport becoming more mainstream, and the UFC having bossed the market from the millennium onwards, the gates have opened to hoards of television shows, media coverage and reality TV shows such as TUF (The Ultimate Fighter). One constant that has remained throughout the UFC journey is that when you put fighters, and sometimes even commentators and announcers, in front of the camera, you should expect an epic fail somewhere down the line.
Of course organizations such as Bellator MMA, Strikeforce and many others have provided some classic bloopers in their time too, some more baffling than others, as you'll see in this list.
Whether it's flunking a simple line, calling the wrong winner at the end of a fight, or something far worse, over the years we've seen hilarious, silly, controversial and confusing fails from the world of MMA and the UFC.
We've taken the time to compile some of these flubs for your enjoyment, so check out the Top 10 UFC & MMA Fails…..

Although the modern day Wanderlei Siva is more of a youtube sensation and polarizing figure than an active fighter, there was a time that he was hot property in the UFC. Coming in as the ex-Pride champion, and a very dominant one at that, 'The Axe Murderer' had the world at his feet in the new number one fight organization.
Entering the octagon on the night of Chuck Liddell's UFC 66 TKO win over Tito Ortiz, Silva hit a language barrier in his calling out of 'The Iceman"". Rather ironic that the now staunch opposer of the UFC continues to use words Dana White doesn't want to hear, but none are anywhere near as hilarious as that night in December 2006.
Enjoy Wanderlei Silva's cringe-worthy entry on the top 10 fails list below:

9. Joe Rogan and Mike Goldberg moments
The unlikely combination of Joe Rogan and Mike Goldberg as UFC commentators both works and doesn't in so many ways. The truth is that they have become a staple of the organizational image and promo cutting voice-overs, but they also hold a more than notable amount of fails during their time in partnership.
The following videos contain some serious hilarity and epic fails from Rogan and 'Goldie', and speak far more than any words I could possibly conjure. Take a look, and prepare for more fails….

8. No kissing before fighting
There was a time in MMA history that Waco, Texas-born Heath Herring was a legitimate heavyweight force. 'The Texas Crazy Horse' competed for a large chunk of his career under the Pride FC banner in the heavyweight division, and had reached the heights of competing for the heavyweight title against Antonio Rodrigo Nogueira.
Victories over Igor Vovchanchyn and Mark Kerr made Herring a huge favorite going in to his K-1 Premium 2005 bout against Yoshihiro Nakao, but what happened on fight night was far from what anyone had expected. As the two convened in the centre of the ring for the traditional pre-fight staredown, the unbeaten (4-0-1 NC) Nakao got a little too close for comfort. For some unknown reason, perhaps it was just the heat of the moment, Nakao dropped a little kiss on Herring's lips.
Weird turned to violent when a shocked 'Texas Crazy Horse' reacted with a huge right hook that put his opponent out for the count. All this led to a bizarre end to the fight before it had even started, and it was later ruled a no-contest.
The video became a re-circulated viral video for years, and can be viewed in all it's fail-filled glory below:

7. Brock Lesnar's UFC 100/UFC 121 antics
This is a two part placement for WWE (world wrestling entertainment) and MMA crossover Brock Lesnar, who ironically saw the biggest highs and most embarrassing lows at many stages during his brief foray in to the world of combat sports. It all started at UFC 81, when a debuting Lesnar would face Frank Mir in his first fight under the Zuffa banner. 1-0 at this stage, the wrestling superstar would learn the hard way that it takes more than sheer size and brutal strength to win a fight, but it was his UFC 100 promo cut when watching highlights of the loss to Mir that would go down in the history books as one of the more epic fails ever:
Then came UFC 121, where defending heavyweight champion Brock Lesnar would take on Mexican top contender Cain Velasquez, and the result was one of the more hilarious GIF's/viral video fails ever. Dominated throughout the single round he faced Velasquez for, Lesnar was rocked and wobbly and came out of a clinch to create a classic all-time MMA fail. Check it out:

6. I will beat you in to a living death
Another classic MMA fail from the vaults, and it featured one of the most prominent pioneers in the sport during his biggest ever rivalry. Ken Shamrock fought three times with his arch nemesis Tito Ortiz, with well a well publicized feud all starting prior to their first bout.
At a pre-fight press conference in Las Vegas, 'The World's Most Dangerous Man' made one of the most notorious threats in MMA history, and left Ortiz and the rest of the combat sports world in fits of laughter.
'The Huntington Beach Bad Boy' giggled like a schoolgirl and perfectly rounded off one of the biggest fails in MMA history.
Check out the video below, and click on for more epic MMA fails….

5. Tito Ortiz commentary fails
Titor Ortiz makes an entry on the list with his set of failed experiments in the world of MMA commentary. At Affliction: Day Of Reckoning, the former UFC light-heavyweight champion decided he would try his hand on the mic, and provided some seriously botched and side-splitting commentary and post-fight interviews in the ring.
Here are some of the best quotes, and check out the videos of Ortiz's funnies straight after:
Barnett/Yvel
Well, here we go, we, here we go we got Josh Barnett, with a dominating fashion.
"Well, alright, we're gonna go ahead show some some action from around one right here. I want you to walk me through and how do you feel as you went through this stuff? Keep it up, let's see the winner tonight, you'll be next in line."
"Well, you showed what type of champion you really are. Everybody lets give a hand to Josh Barnett, the baby-faced assassin, continuing his win career."
Belfort/Lindland
"Matt the Lindland Law…The Law Lindland."
"Well, Belfort, we saw you with an astonishing left hand, that's the left hand that I used to see you knock people out time and time again, we're gonna go ahead and go over it. Walk me through it, show me exactly what you seen with this."
""Well, like I said, you show your hand-speed time and time again Vitor, 185 pounds, lady and gentlemen, let's give Vitor Belfort a round of applause, an awesome 105 pounder, you just beat the number two guy in the world, buddy, you're on top of the world tonight!""
"Wow! That's all I got to say. Vitor at 185 pounds. I don't know. I see him beating the, uh, what was it, Anderson Silva. I see him picking him apart because you have two great boxers, and, man, that was amazing. That was the old Vitor Belfort that we all want to see. Him at 131 years old. He's back for vengeance."
Just….wow.

4. Nick Diaz's hit list
Notorious Stockton bad boy and UFC/Pride FC and Strikeforce veteran Nick Diaz has been at the forefront of MMA media for many years. His fighting style has been fun to watch, and a brief stint as Strikeforce welterweight champion saw Diaz fulfill some of his seemingly massive potential. That being said, the 209 bad boy has been the perpetrator in some of the biggest MMA fails of all time, a brief rundown:
Not only has Diaz no-showed multiple media obligations, he has failed two UFC post-fight drug tests in the wake of his UFC 143 loss to Carlos Condit, and again after losing a decision to Anderson Silva at UFC 183. Also in Pride, Diaz had arguably the greatest win of his career to that date, a submission over the lightweight terror of JMMA Takanori Gomi, overturned when he got popped for marijuana. The fact that Pride 33 took place in Las Vegas is the only reason that the athletes were tested.
There's the no-show of his Brazilian Jiu Jitsu fight against Braulio Estima, and of course the infamous Strikeforce Nashville brawl between all of the Cesar Gracie camp and Jason 'Mayhem' Miller.
Diaz admitted he would have failed a drug test after fighting Georges St-Pierre, he has also given us some of these classic quotes:
"For the record, right now, I think someone needed to come out and say it: I think smoking pot is good for mixed martial artists. It's a new day and age, this is, uh, the year…f*** year is it? I don't know, because I've been training and smoking pot like I should, instead of paying attention to other bulls***, which I don't do."
"Fighting in Stockton is going to be great for me. Stockton is a great fight town because if you drive long enough on some of these roads, you'll probably see a pretty good street fight."
"See if people are gonna hate just cause I say the word motherf****, then f*** them, I don't have time to worry about marketing and s***. in my last fight my hair looked like s*** cause all I did was train…I have other letters but i'm not that good of a reader."
To round it off, check out this classic Strikeforce interview with Ariel Helwani of MMAFighting.com:

3. Dana White's slow descent in to insanity
UFC president Dana White has proved to be one of the most controversial figures in combat sports history, and that's a difficult thing to do in times like these. The front-man of the world's biggest fight promotion is often involved in heated social media beefs with just about anyone who is willing to ask questions of the UFC, and at times it can get very ugly.
He was always a sharp-witted character, but it seems that his patience is wearing much thinner, and a lot quicker in 2015. The man that once labelled Fedor Emelianenko a 'bum', and Brock Lesnar the 'Baddest man on the planet', is no stranger to putting his foot in his mouth.
Check out some of Dana's best quotes, as well as some of his less than savoury exchanges with media:
"Dan Hardy's stand up is perfect" Dana White's pre UFC 111 comments
"Fedor Hasn't Beaten No One Since The 90's"
Fedor made his MMA debut in 2000……….
"This ain't (explicitive) Survivor where we (explicitive) vote him off, we'll beat him off."
"Hey, I don't want this to be seen as a joke, and it's not like Herschel Walker or Canseco or any of those guys. James Toney is a fighter. The worst thing anyone can ever say to me is that they were watching one of my fights and they changed the channel. That's why I'll never put [expletive] fights on."

2. Reebok jersey fails
Perhaps the Reebok Jersey flubs made the number two on the list because of how hilarious the errors were during their 'big' kit reveal earlier this year (2015). Maybe it's the fact the apparel giant had received so much negative press that the expectation was a very professional and polished product, or it could just be the hoo-haa that surrounded the event and the theatrical undertones of the day itself. Whatever the case, Reebok really dropped the ball on this one.
'Giblert Melendez', 'Thomas Lawlor', 'Rebecca Rawlings' and 'Marcio Lyoto Machida' highlighted what was a huge fail for the reveal landmark UFC-Reebok partnership, images of which can be seen below:
Eh….spellcheck #gogiblert @MMARoasted pic.twitter.com/uvsnIYFIuv

— stephen davoren (@bailldogg) June 30, 2015
@MMARoasted Go Márcio! pic.twitter.com/gy9MH2IvSY

— Dave Ratchet (@worldhero) June 30, 2015
Reebok, unwittingly, have now coined the phrase 'I made a Reebok', which can be used to describe any sort of fail at a pivotal moment, or simply a grammatical error.

1. Anderson Silva at UFC 162
Not only was UFC 162′ main event result one of the most shocking moments of all time, it was elevated in notoriety by the absolute disregard that Anderson Silva had for Chris Weidman's striking. You may ask why this earth-shaking KO is topping this list of epic MMA fails, well, it's as simple as this; look at how much was at stake that night, and then weigh that against how 'The Spider' acted on fight night.
Let's not take anything away from 'The All-American', he did his job exactly how he was supposed to, keep calm while Silva clowns away and look for that one opening to capitalize on. The undisputed UFC middleweight championship that the Brazilian boss had held for years was the reward, his legacy as one of the greatest fighters of all time, and millions of fans worldwide watching all played a massive role in this monumental faceplant.
'The Spider' got caught acting the fool, and paid the ultimate price for it; a stunning left hook connected to the jaw just seconds after Silva had given the age-old 'wobbly leg' taunt, only this time Silva's legs really did give out. As his eyes rolled in the back of his unconscious skull, and Weidman bounced his nugget off the canvas, the MMA world wondered how Silva would ever bounce back from this shameful and humiliating loss. Truth be told, he never really did.
The second fight with Weidman landed Silva at the top of another list you never want to be included in, and he went on to fail a UFC 183 post-fight drug test after defeating Nick Diaz.
Check out the video of the shocking finish at UFC 162, and accept our thanks for checking out the Top 10 UFC & MMA fails list!
Credits
UFC.com, Sherdog, Bleacher Report, Cage Potato, Youtube, MMAFighting.com, Twitter, wikipedia, Google and my memory banks