Earlier today (Tues., May 8, 2018), news broke from Dana White that legendary former UFC champion Georges St-Pierre was rumored to meet fan favorite Nate Diaz at August 4's UFC 227 from L.A.
In a year devoid of many true top-level pay-per-view draws in the UFC, matching two of their biggest names up for a so-called "super fight" seems to make all the sense in the world for the accountants at Endeavor. The fight would probably sell somewhere in the neighborhood of 600,000-900,000 buys, marking a rousing success based on today's lowered standards of UFC PPV buys.
But while the bout is a high-profile match-up on paper, the news left many wondering just what the point of it was, and perhaps even why the UFC would essentially use up two of their very few PPV draws in one fight when they could both conceivably headline their own respective events and do big numbers twice.
In those terms based purely on business, the fight didn't make a ton of sense, and there are other reasons to subscribe to that school of thought. First, the fight was said to be contested at 155 pounds, a class Diaz hasn't fought at since December 2015 and one St-Pierre, while frequently teasing a cut down to the weight class, has never fought in after fighting his last fight at 185 pounds. He won the middleweight belt from Michael Bisping last November and vacated it hardly a month later, citing digestive issues stemming from the increased food intake he required to bulk up to 185.
Unless that was a convenient excuse, you'd have to think cutting down not one but two entire weight classes would also be extremely taxing on the system. The controversial, outspoken Stockton slugger also fought his last two fights at welterweight, splitting the most popular rivalry in UFC history with nemesis Conor McGregor at UFC 196 and UFC 202. He can certainly make the cut back down to the weight class he's competed at most frequently, but if he was going to face the longtime welterweight and onetime middleweight champion GSP, doing so would seem a little unnecessary for both.
St-Pierre also already dominated Diaz' older and larger brother Nick at UFC 158 in March of 2013, so the prospect of the younger Diaz, who has had problems with much smaller wrestlers in the past, wouldn't predict to match up well with one of the best mat technicians the sport has ever seen.
What's more, there are some intriguing fights for both men in their normal divisions, and signing on for those still wouldn't rule out a St-Pierre vs. Nate Diaz fight down the road. St-Pierre could face welterweight champion Tyron Woodley for his once-held belt in what would be a historic fight to find out who the best welterweight of all-time truly is. Diaz, meanwhile, could meet any one of the top-ranked lightweights between Eddie Alvarez, Dustin Poirer, and Kevin Lee, and a win for him would put him close to a lightweight title bout.
Finally, the lightweight division is already clogged up enough. It is probably the most talented division in all of MMA. Yet the inactivity of champion Khabib Nurmagomedov until November or December and the fact former champion Conor McGregor may never return has the top of the weight class in a logjam. Introducing St-Pierre and Diaz back into that mix against each other brings a fight that would bring a ton of hype, but the winner would have to be deserving of the next title shot.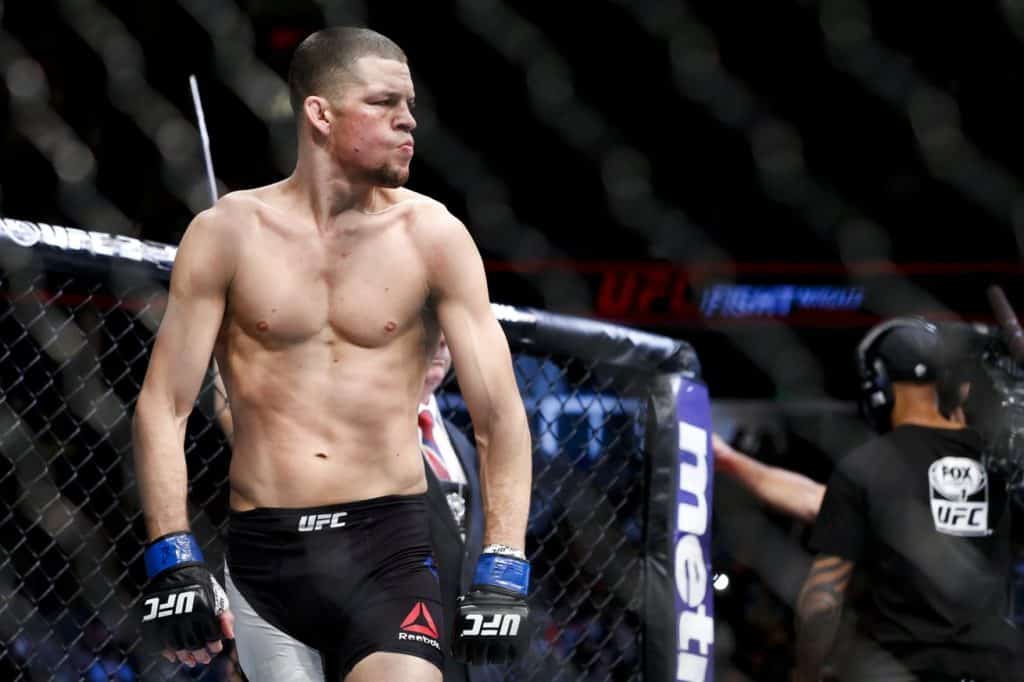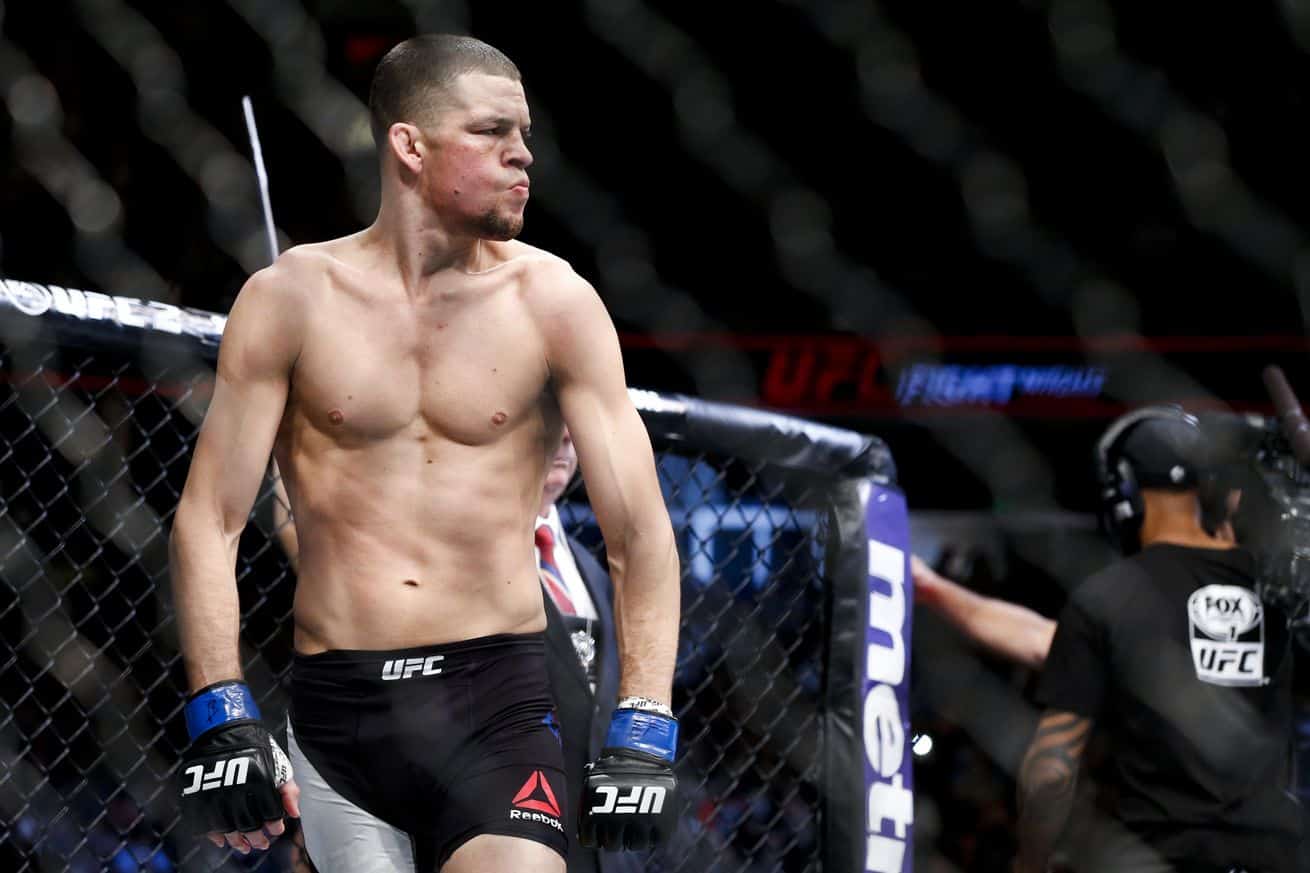 That means they would have to wait for 'The Eagle' to presumably fight McGregor, and then the winner of GSP vs. Diaz would need to leapfrog both returning former interim champion Tony Ferguson and all the aforementioned top lightweights later this year.
It's a mess, and clogging it up further with a match-up of a fighter who has never fought in the division and one who left it in 2015 is not the way to solve it, even if it would bring some big box office in the short term.
Now, there is a flipside of that, however.
The UFC could be planning a long-term solution by booking St-Pierre vs. Diaz at 155 pounds in the hopes that McGregor clears up his assault charges and returns to fight Khabib, with the winner of that bout meeting the winner of GSP-Diaz in an absolutely massive fight sometime in 2019. That, I cannot deny, would possibly be the biggest fight in UFC history if it involved McGregor, although his oft-discussed match with Khabib might be that fight. St-Pierre vs. McGregor is a dream match-up that could smash every pay-per-view record.
So regardless, there is a chance that St-Pierre vs. Diaz would pave the way for some truly historic bouts, but a lot would have to fall into place, and we've seen how well that works out the last two years.
If it did, the next year could be a whirlwind of huge matches at 155 pounds the likes of which we've never seen.
Overall, St. Pierre vs. Nate Diaz just doesn't make a ton of sense, however. It will almost assuredly be billed as a "super fight," yet neither man has a title right now. There are other fights to make that could allow the UFC to cash in on St-Pierre and Diaz multiple times. That's not really how UFC owners Endeavor have booked their fights recently, so the cash grab strategy of the fight could propel it into reality, just like the possibility of the bouts it creates could as well.
To me, it's just too much of a gamble that forces a ton of scenarios to break just right while relying on GSP who has fought once in the last four years, and Diaz, who has fought twice in the last two-plus, to return for future match-ups, something that's far from guaranteed. And based on Nick Diaz' performance against St-Pierre, it simply seems like Nate would have to reach new heights his brother didn't – and then some – to even compete with St-Pierre's wrestling.
What do you think?
Is St-Pierre vs. Nate Diaz a fight you want to watch, or would it be a mismatch that just doesn't make much sense as of now?