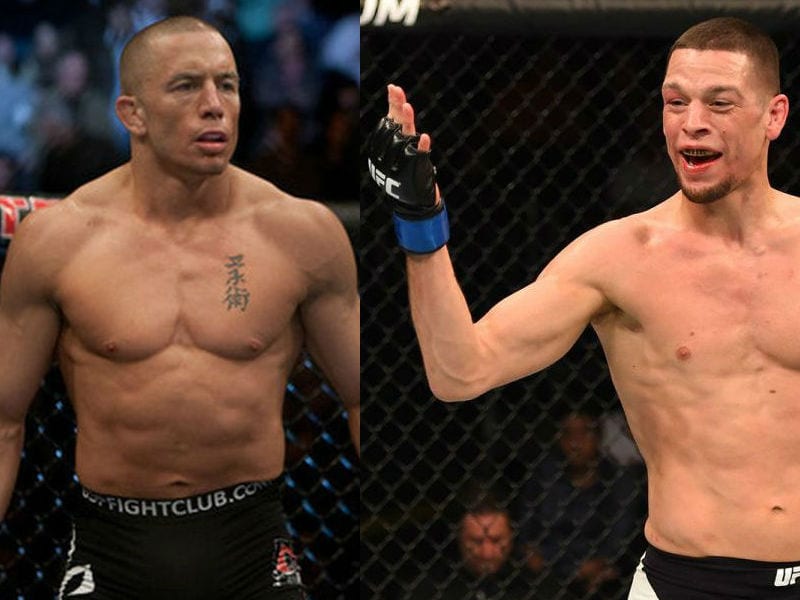 UFC President Dana White dropped some major news on the latest episode of UFC Unfiltered.
During this podcast, White confirmed the rumors of a Nate Diaz versus Georges St-Pierre fight that has been making the rounds online as of late.
He noted that this fight, as well as a potential light heavyweight fight between Luke Rockhold and Alexander Gustafsson, are being targeted for the upcoming UFC 227 pay-per-view event.
Diaz has not been seen in the Octagon since his rematch with McGregor back at UFC 202 when he suffered a majority decision loss which came five months after Diaz submitted McGregor in their first bout at UFC 196.
St-Pierre returned to competition in November after four years away from the sport to win the middleweight title with a submission victory in the third round over Michael Bisping at UFC 217. However, shortly after the fight, he had to vacate the title as he is dealing with colitis.
"It is true, and they would fight at 155-pounds," White said regarding St-Pierre vs. Diaz (transcript courtesy of mmanytt.com at the 70:00 mark). "There are rumors, what did I see? That we were doing Gustafsson and Rockhold, that is true, but that's not for the interim title, that's false. It might be LA, I'm targeting LA."
UFC 227 is set to take place on August 4, 2018, at the Staples Center in Los Angeles, California. The main card will air on pay-per-view at 10 p.m. ET while the preliminary card will air on FOX Sports 1 at 8 p.m. ET and the promotion's streaming service, UFC Fight Pass.
This event will be headlined by a bantamweight title fight pitting champion TJ Dillashaw against Cody Garbrandt in a rematch. White noted in this interview that GSP vs. Diaz would serve as the co-main event since it's a non-title bout.
"In my perfect world, if everything goes perfect, and nothing ever goes perfect in this world, [it will be] Dillashaw vs. Garbrandt, GSP vs. Diaz would be the co-main, Gustafsson vs. Rockhold and Brunson vs. Antonio Carlos Jr. It's very interesting."