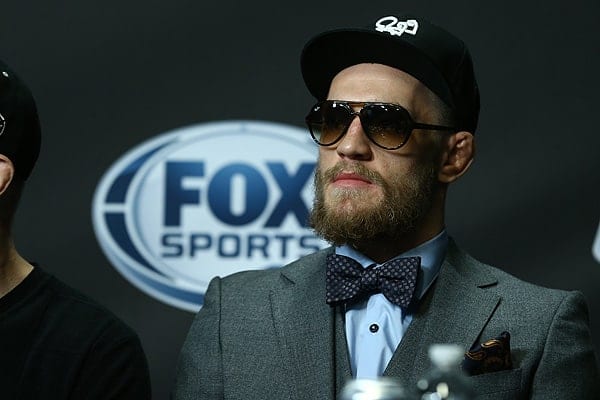 UFC 178 went down last Saturday (September 27, 2014) live from the MGM Grand Garden Arena in Las Vegas, Nevada. After an exciting night of fights, some of the combatants have made notable jumps in the rankings.
After returning from a three year layoff, former bantamweight king Dominick Cruz had an extremely impressive performance, knocking out Takeya Mizugaki in the very first round. Cruz jumped up eight spots in the rankings and now sits at No. 2.
After a third round knockout over Tim Kennedy, Yoel Romero jumped up four spots and is now ranked No. 6 in the middleweight division.
Many considered UFC 178 to be the night that Irish phenom Conor McGregor would face his first real test. ""Notorious" predicted a first round knockout over Dustin Poirier and that is exactly what he did. McGregor is now the No.5-ranked featherweight in the world.
Despite losing a three-round war to Donald Cerrone in his UFC debut, Eddie Alvarez also went up four spots. The former Bellator champion is now ranked No. 10 in the lightweight division.
Check out the full rankings below:
POUND-FOR-POUND
1. Jon Jones
2. Jose Aldo
3. Demtrious Johnson +1
4. Cain Velasquez -1
5. Chris Weidman
6. Anthony Pettis
7. Anderson Silva
8. Ronda Rousey
9. Johny Hendricks
10. Renan Barao
11. T.J. Dillashaw
12. Vitor Belfort
13. Daniel Cormier +1
14. Alexander Gustafsson -1
15. Dominick Cruz *NR
FLYWEIGHT
Champion: Demetrious Johnson
1. John Dodson
2. Joseph Benavidez
3. Ian McCall
4. Jussier Formiga
5. John Moraga
6. John Lineker
7. Ali Bagautinov
8. Chris Cariaso
9. Zach Makovsky
10. Timothy Elliott
11. Brad Pickett
12. Dustin Ortiz
13. Kyoji Horiguchi
14. Louis Gaudinot
15. Scott Jorgensen
BANTAMWEIGHT
Champion: T.J. Dillashaw
1. Renan Barao
2. Dominick Cruz +8
3. Urijah Faber -1
4. Rafael Assuncao -1
5. Michael McDonald -1
6. Takeya Mizugaki -1
7. Eddie Wineland -1
8. Iuri Alcantara -1
9. Johny Eduardo -1
10. Bryan Caraway -1
11. Francisco Rivera
12. Erik Perez
13. Alex Caceres
14. Mike Easton
15. Joe Soto
FEATHERWEIGHT
Champion: Jose Aldo
1. Chad Mendes
2. Cub Swanson
3. Frankie Edgar
4. Ricardo Lamas
5. Conor McGregor +4
6. Chan Sung Jung
7. Dustin Poirier -2
8. Dennis Bermudez -1
9. Nik Lentz -1
10. Jeremy Stephens
11. Dennis Siver
12. Clay Guida
13. Darren Elkins
14. Charles Oliveira
15. Tatsuya Kawajiri
LIGHTWEIGHT
Champion: Anthony Pettis
1. Gilbert Melendez
2. Khabib Nurmagomedov
3. Rafael dos Anjos
4. Donald Cerrone +1
5. Benson Henderson -1
6. Josh Thomson
7. Bobby Green
8. Miles Jury
9. Jim Miller
10. Eddie Alvarez +4
11. Michael Johnson -1
12. Edson Barboza -1
13. Jorge Masvidal -1
14. Rustam Khabilov -1
15. Nate Diaz *NR
WELTERWEIGHT
Champion: Johny Hendricks
1. Robbie Lawler
2. Rory MacDonald
3. Tyron Woodley
4. Carlos Condit
5. Matt Brown
6. Hector Lombard
7. Jake Ellenberger
8. Demian Maia
9. Tarec Saffiedine
10. Dong Hyun Kim
11. Kelvin Gastelum
12. Gunnar Nelson
13. Jordan Mein
14. Ryan LaFlare
15. Mike Pyle
MIDDLEWEIGHT
Champion: Chris Weidman
1. Anderson Silva
2. Jacare Souza
3. Vitor Belfort
4. Lyoto Machida
5. Luke Rockhold
6. Yoel Romero +4
7. Tim Kennedy -1
8. Gegard Mousasi
9. Michal Bisping -2
10. C.B. Dolloaway -2
11. Thales Leites -1
12. Costas Philippou -1
13. Tim Boetsch
14. Mark Munoz
15. Francis Carmont
LIGHT HEAVYWEIGHT
Champion: Jon Jones
1. Alexander Gustafsson
2. Daniel Cormier
3. Rashad Evans
4. Glover Teixeira
5. Anthony Johnson
6. Phil Davis
7. Ryan Bader
8. Dan Henderson
9. Mauricio Rua
10. Ovince Saint Preux
11. Jimi Manuwa
12. Rafael Cavalcante
13. Vitor Belfort
14. Antonio Rogerio Nogueira
15. Fabio Maldonado
HEAVYWEIGHT
Champion: Cain Velasquez
1. Fabricio Werdum
2. Junior Dos Santos
3. Travis Browne
4. Stipe Miocic
5. Mark Hunt
6.Josh Barnett
7. Andrei Arlovski
8. Antonio Silva
9. Roy Nelson
10. Ben Rothwell
11. Alistair Overeem
12. Gabriel Gonzaga
13. Frank Mir
14. Stefan Struve
15.Matt Mitrione
WOMEN'S BANTAMWEIGHT
Champion: Ronda Rousey
1. Cat Zingano
2. Miesha Tate
3. Sara McMann
4. Alexis Davis
5. Sarah Kaufman
6. Jessica Eye
7. Liz Carmouche
8. Bether Corriera +1
9. Amanda Nunes -1
10. Jessica Andrade
11. Julianna Pena
12. Germaine de Randamie
13. Leslie Smith
14. Raquel Pennington
15. Holly Holm *NR