Top 10 Most Exciting MMA Fights Of 2016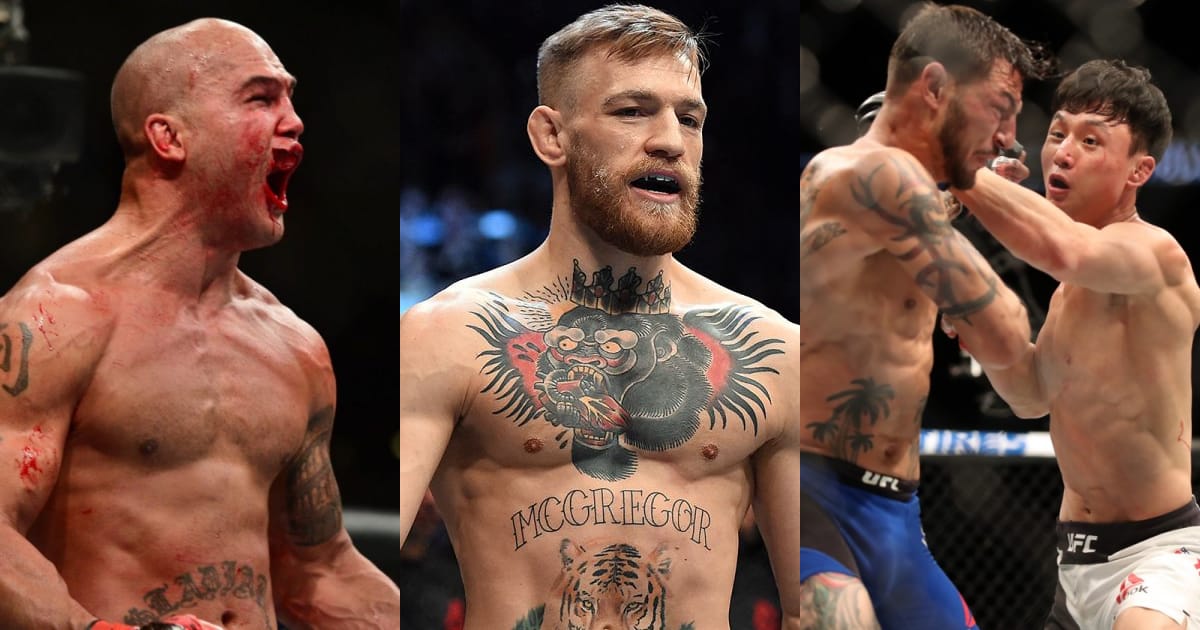 With another year coming to a close, everyone embarks on their annual year-end traditions. Many gather with family and friends at this festive time of year, exchanging gifts and holiday cheer. Some concoct a new strategy for keeping their New Year's resolution, for real this time. Others overindulge in delicious food and drink too much egg nog.
But fight fans are different. Now is the time to look back and reflect on the past 12 months, and then argue about who had the best knockout, submission, or fight of the year. In this installment of the annual year-end awards from LowKickMMA, we pick and rank the ten best scraps of 2016.
From title shots and super fights with sky-high stakes to undercard tussles that unexpectedly turned into thrilling wars, these were the all-time classics of 2016. Read on for the must-see list of brawls to show that uninitiated family member this holiday season.
https://www.youtube.com/watch?v=Ld9lqapjQiU
UFC 204 on October 8, 2016 – Manchester, England:
"The Count" began his unlikely title reign with a most unlikely defense, and it turned into one of the best fights of the year. Many fans and pundits – and other top contenders – maligned Henderson getting a title shot after going 3-6 in his previous nine fights. But the story was too good to pass up.
Bisping sought revenge on the man to hand him his most devastating loss, the infamous, brutal knockout at UFC 100. "Hendo" had been hinting at retirement for some time, and when the fight was announced, he claimed that it would be his swan song. The narratives were set: would Bisping redeem himself or suffer another humiliating loss to his greatest rival? Would Hendo finally capture the UFC belt that had eluded him during his hall of fame career and go out on top?
The bout was extremely tense from the outset. The stakes could not be any higher, a loss for either man a crushing blow. As many expected, the champion had success with his diverse and high-volume kickboxing, while the challenger had his bazooka right hand cocked. Toward the end of the first round, Henderson detonated his famed "H-Bomb" on Bisping's chin, but the Brit hung on, clinging to consciousness as his American counterpart hammered him relentlessly.
The pattern repeated in round two. Bisping got out to a lead before being felled by another massive right hand. Again, he refused to go away. Henderson failed to connect with a third "H-Bomb" and thus saw his lead slip away over the final three rounds. Observers were split as to who should emerge with the victory, many even scoring the fight a draw. When the judges' scores were announced, it was Bisping who escaped with his title reign intact.
https://www.youtube.com/watch?v=eTgnmp8lr_w
9. Angela Lee vs. Mei Yamaguchi
One Championship 42: Ascent to Power on May 6, 2016 – Singapore:
19-year-old Angela Lee was known only to hardcore MMA fans prior to challenging for the inaugural One Championship atomweight title. That changed following this fight.
The young prospect showed real signs of promise, winning her first five professional fights by submission. "Unstoppable" combined a black belt Taekwondo striking pedigree with a venomous submission game. But she faced her toughest test in the grizzled Yamaguchi. The Japanese veteran had nearly five times the professional experience of her Canadian-American foe and had won championships in the Valkyrie and Deep organizations. Yamaguchi had also never been finished.
The two warriors traded submission attempts throughout the 25-minute battle. The entire fight was a dizzying sequence of scrambles, reversals, tight armlocks, and escapes. Lee threatened with a guillotine in the first. She went for armbars in the second, while Yamaguchi looked for a mounted guillotine at the end of the frame.
The Japanese fighter dropped Lee with a massive overhand right to open the third round and looked to have an armbar locked up soon after, but Lee reversed to mount and nearly finished an arm-triangle and then a brabo choke. The submission attempts came fast and furious throughout the championship rounds as well, turning the fight into an instant classic.
Lee emerged from the wild fight the victor and became One's new atomweight champion.

8. TJ Dillashaw vs. Dominick Cruz
UFC Fight Night 81 on January 17, 2016 – Boston, Massachusetts
Dominick Cruz had not struggled with an opponent since his only loss to Urijah Faber almost nine years previously. But knee injuries held "The Dominator" back by limiting him to only one fight in four years and leading the UFC to strip him of his undisputed bantamweight title.
Dillashaw, meanwhile, dethroned the seemingly unstoppable Renan Barao and finished him again in their rematch. The victories cemented him as the new champion. His battle with Cruz was intriguing also because Dillashaw seemed to mimic, albeit with a few tweaks, the flummoxing footwork that Cruz had pioneered.
When the cage door closed, a violent chess match ensued. Cruz utilized his patented movement for masterful defense to keep Dillashaw swinging at air, but the champion was undeterred. Cruz hit some hard counters, but Dillashaw connected on the harder shots throughout. Four well-timed takedowns could have swung the pendulum in the challenger's favor, as Cruz reclaimed his title in a contentious split verdict.
The entire fight was a masterclass in technique, where tiny adjustments made the difference between victory and defeat. A rematch seems like an inevitability, and a welcome one.
7. Michael Chandler vs. Benson Henderson
Bellator 165 on November 19, 2016 – San Jose, California
Henderson was a big-ticket free agent when he moved to Bellator in early 2016. A former WEC and UFC lightweight champion, Henderson figured to factor in as a draw for Bellator. He entered the promotion on the heels of back-to-back victories at welterweight and immediately challenged Andrey Koreshkov for the Bellator 170-pound title. He was roughly turned aside by the Russian title-holder, forcing 'Bendo' back down the scale to 155 pounds.
After winning a number-one contender's match against Patricio Freire (albeit in controversial fashion), Henderson went into his challenged promotional mainstay Michael Chandler. Henderson sought to win an MMA Triple Crown, becoming the first person to win WEC, UFC, and Bellator titles.
The bout unfolded as so many of Henderson and Chandler's fights had before: back-and-forth, tough to call, but featuring lots of action. Chandler landed a gorgeous belly-to-back suplex in the first round, but the challenger was miraculously unfazed. The champion mixed takedowns and hard standing-to-ground punches with power punches on the feet throughout the 25-minute affair. Henderson answered with thudding kicks to the head, body, and legs, and the occasional takedown of his own.
Behind on the scorecards entering the final frame, Henderson swung for the fences and his best success on the mat, taking Chandler's back. He even pushed referee John McCarthy out of the way to get in one last flurry just before time expired. But his efforts were for naught, as Chandler retained his title by split decision.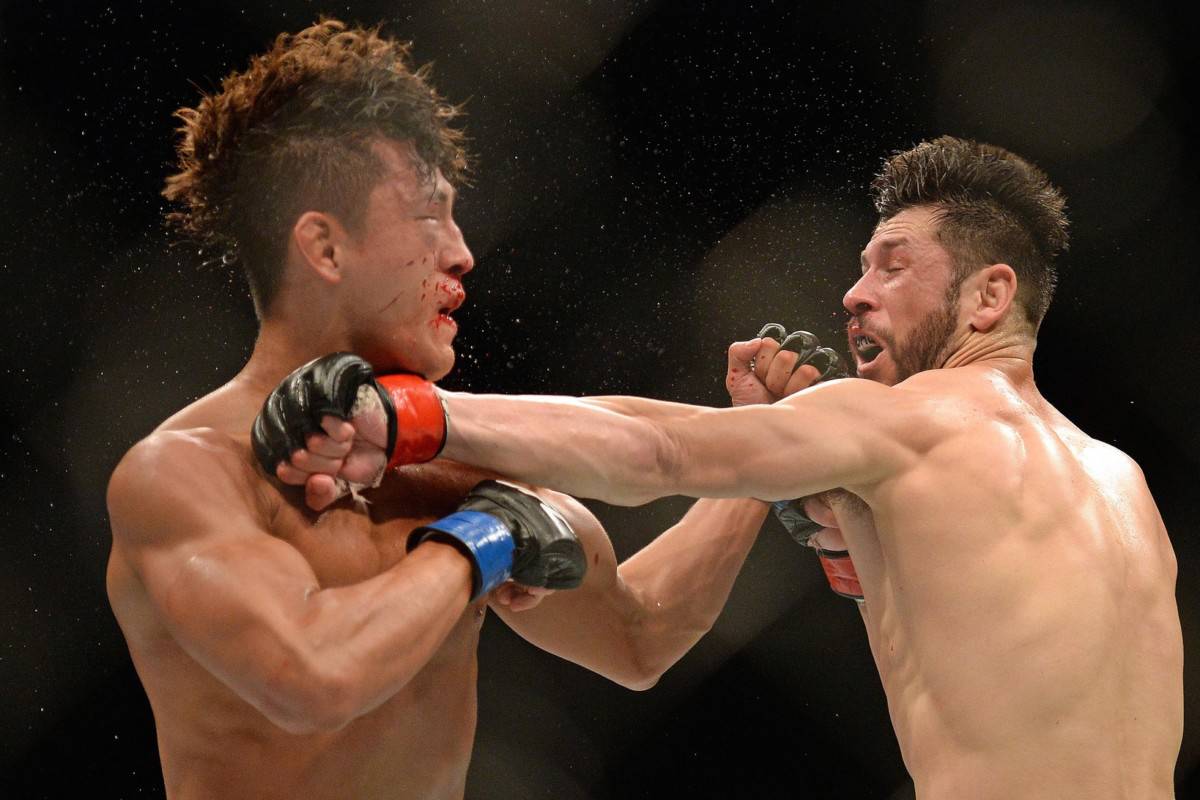 6. Marco Polo Reyes vs. Dong Hyun Kim
UFC 199 on June 4, 2016 – Inglewood, California
While everyone was looking forward to UFC 200, what was supposed to be the most monumental event in company history, UFC 199 unexpectedly became an Event of the Year frontrunner. There was Michael Bisping's shocking and historic upset of Luke Rockhold in the main event, the epic last ten seconds of the Max Holloway vs. Ricardo Lamas fight, Dan Henderson's ridiculous back elbow knockout of Hector Lombard, and a slew of other scintillating finishes. But the show-stopper was the very first fight through the curtain.
Relatively unheralded lightweights Marco Polo Reyes and Dong Hyun Kim were known for a willingness to throw down but lacked the nuances of striking defense. It turned out to be brilliant matchmaking.
Reyes and Kim set the tone for the night by landing an insane combined 218 significant strikes in under 12 minutes of fight time. Reyes scored a knockdown in the first and another in the third, but Kim was game until the very end. The two warriors traded bombs, rocking each other on multiple occasions, but through the first two rounds, neither could polish off his hurt opponent. Finally, Reyes' second knockdown left Kim too dazed to continue, and referee Mike Beltran brought the thrilling slugfest to a close.
Those fortunate enough to tune into Fight Pass to see it live knew they had just witnessed a Fight of the Year contender.
https://www.youtube.com/watch?v=brsvwO_lONY
5. Sean O'Connell vs. Steve Bosse
UFC Fight Night 89 on June 18, 2016 – Ottawa, Ontario, Canada
Not every fight on this list featured top fighters in their respective weight classes. Like the Reyes-Kim scrap, when Sean O'Connell and Steve Bosse threw down, it was just a good old-fashioned donnybrook.
Light heavyweights O'Connell and Bosse were competitors from other sports known for their toughness, Bosse in hockey and O'Connell in college football. Their chins were on full display in their three-round barnburner.
"The Real OC" repeatedly scored with left hooks, and three successive ones sent Bosse crashing to the canvas in the first round. The former hockey enforcer returned the favor with two blistering rights in round two. They played rock-'em-sock-'em for the entire fight, astounding onlookers with their toughness. Bosse emerged with the unanimous decision victory, but O'Connell's stock was definitely raised as well.
https://www.youtube.com/watch?v=hMvoBc1OB8A
UFC 196 on March 5, 2016 – Las Vegas, Nevada
It was the one that started one of the most heated – and most lucrative – rivalries in MMA history.
Newly minted featherweight champion Conor McGregor sought to become the first simultaneous two-division champion by jumping the lightweight line and challenging Rafael dos Anjos. But it was not to be this time around, as RDA was forced to pull out two weeks before their fight with a broken foot. All manner of fighters threw their names out to fight the "Notorious" one on short notice, seeking to land the elusive "Red Panty Night". But Nate Diaz had already done what he needed to set up a match with McGregor.
Diaz returned from a year-long layoff to impressively batter the surging Michael Johnson a mere week after McGregor wrecked Aldo at UFC 194 to become champion. In his post-fight interview, Diaz unleashed a now-legendary torrent of insults and expletives at McGregor, putting himself in prime position for a battle with the Irishman down the line. It came sooner than most expected.
With only 10 days to prepare, the fight was booked at 170 pounds. Diaz claimed in the lead-up that he had been training for a triathlon and was in shape, but it came out afterward that he had been vacationing in Cabo when he got the call. The abbreviated build-up also produced classic trash talk from two of the very best in the sport, particularly the "touch-butt with that dork in the park" line from Diaz.
When the fight began, McGregor was his typical swaggering, head-hunting self, while Diaz looked like a man who hadn't had adequate time to prepare. "Notorious" battered the younger Diaz brother over a fairly one-sided first round, opening up cuts on the typically grim Diaz mug. But Diaz's legendary chin held out, absorbing shots that surely would have put down the featherweight contenders McGregor was used to beating up.
The second began much like the first, but two minutes into the round, Diaz turned the tide on a visibly fatigued McGregor. A flush 1-2 for Nate irreversibly turned the tide in his favor. He stalked the Irishman, taunting him as he walked through his punches to deliver his own. Soon McGregor was shooting for a takedown, and that spelled doom against the Cesar Gracie-trained Brazilian jiu-jitsu black belt.
Diaz ensnared McGregor in a guillotine and swept to top position when the braggadocious Irishman looked to counter. Diaz soon moved to mount, sunk in his hooks when McGregor gave up his back, and punched his arm under his foe's chin to lock up a fight-ending rear-naked choke. It was McGregor's first defeat in the Octagon, and a stunning finish of a seemingly unstoppable force.
https://www.youtube.com/watch?v=m_uH81pv4u8
UFC 202 on August 20, 2016 – Las Vegas, Nevada
McGregor wanted this one back. The biggest star in the sport wasn't used to losing and with the power he wielded, he decided he would get his revenge on Diaz post-haste. While there was a delay in the plans – the two were supposed to rematch at UFC 200 – the two met a month later at 170 pounds once again. Conor wanted everything the same as the first go-round, in an attempt to completely erase the memory of the first fight.
Their second battle looked much the same as their first through eight minutes, with the Irishman having even greater success. McGregor again went to work with powerful punches, knocking Diaz down three times. Diaz's chin again held up. And just like the first time, he started to find his rhythm and take advantage of the tiring featherweight champion. Despite suffering two knockdowns in the second, Diaz had clearly seized the momentum after ten minutes.
The Stockton native poured it on McGregor in the third, punishing his rival with 49 significant strikes in that round alone. Conor went back to his corner looking befuddled and defeated. That made what followed even more impressive.
McGregor somehow stemmed the tide in the fourth, overcoming fatigue and a confident Diaz to take the crucial, deciding round. Nate came back to win the final stanza, but he never came close to finishing the Irishman again. McGregor escaped with a majority decision, free to once again pursue the two-division championship.
https://www.youtube.com/watch?v=Xnghchybhb4
2. Cub Swanson vs. Dooho Choi
UFC 206 on December 10, 2016 – Toronto, Ontario, Canada
The 25-year-old "Korean Superboy" was a 14-1 prospect who had already garnered three first-round knockouts on the sport's biggest stage. Meanwhile, the flashy Swanson found himself on a modest two-fight winning streak after consecutive losses to Frankie Edgar and Max Holloway saw him bounced from featherweight title contention.
Their matchup served as a main-card action fight, but it was also an example of a classic combat sports archetype: the rising prospect taking on the established veteran. Would the prospect pass his toughest test and climb to the next level, or would he receive a rude awakening at the hands of his more experienced foe? The result was a classic slugfest with something of both outcomes for Choi.
The Korean Superboy" got out to an early lead in the first, slamming Swanson with power punches and knees to the head and body from the clinch. Swanson returned the favor in the second, turning up the pressure with haymakers and head kicks. He staggered Choi twice in the round, swinging for the fences trying to finish his dazed opponent. But Choi's chin proved as granite as his fists. With the scorecards even, the two men engaged in an all-action final round, but Swanson got the better of it with accurate punches and a beautiful head-and-arm throw.
Swanson emerged with a decision victory, telling everyone watching never to doubt him again. Choi's stock rose too, even in defeat, as he was cheered as much as Swanson by an appreciative crowd.
1. Robbie Lawler vs. Carlos Condit
UFC 195 on January 2, 2016 – Las Vegas, Nevada
Welterweight killers Lawler and Condit locked up the best fight of 2016 on just the second day of the year. Lawler's previous two contests with Rory MacDonald and Johny Hendricks were Fights of the Year from many outlets, and Condit was an opponent who seemed destined to produce another. They did not disappoint.
An elbow from Condit sent the champion sprawling on the canvas inside the first five minutes, but he popped back up with an evil grin on his face. He returned the favor in the second, dropping the reckless challenger at his feet with a huge right hand. "The Natural Born Killer" took over in rounds three and four, using his high-output and diverse kickboxing attack to keep Lawler on the defensive. While Condit was not landing a high percentage of his strikes, he was throwing at a much higher clip than "Brutal Bob".
Lawler thundered out of his corner in the fifth and final round looking murderous. He hunted for the finish the entire time, rocking and nearly finishing Condit at the end of the round. But for most of the last five minutes, Condit stood his ground and matched Lawler punch for punch.
While 15 of 20 media scorecards saw the fight for the Jackson-Wink product, two of the three cageside judges had it for Lawler. It was a disappointing result for Condit, but it was the crowning jewel in one of the most action-packed and fan-friendly careers in MMA history.