One & Done: 12 Disastrous UFC Debuts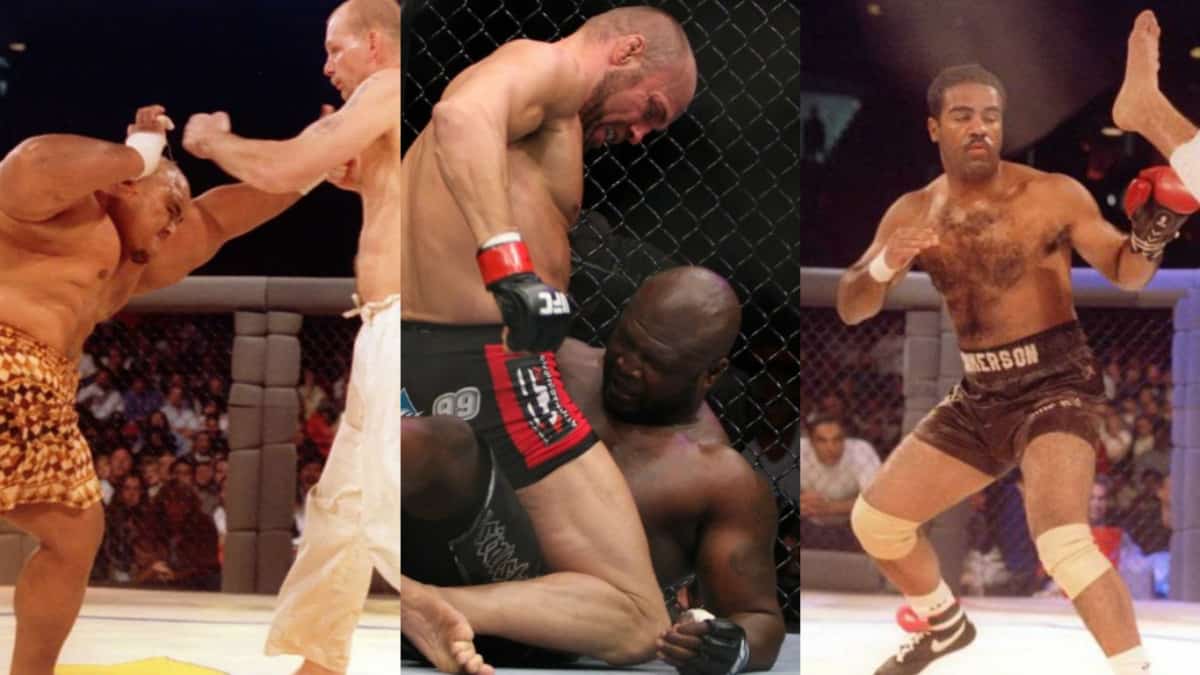 The UFC's Octagon has always been a cruel and merciless mistress.
If a fighter doesn't have what it takes to compete in the sports ultimate proving ground then they are generally weeded out in short order, more often than not in violent, and occasionally downright humiliating fashion.
In this article we'll go on the hunt for 12 of the most disastrous debuts in UFC history, from the earliest years of the sport right through the present day.
These were performances so woefully inept or downright devastating that either the fighter was immediately shown the exit door, or they themselves came to the conclusion that the fight game was not for them after all.
So, without further ado, let's take a look at 12 ex-UFC fighters who are members of a small, exclusive group that no-one wants to be part of – the 'one and done' club.

Telia Tuli
The opening bout of the historic UFC 1 pay-per-view was a quintessential 'David Vs Goliath' battle, with the 216lb Gerard Gordeau being matched up against the 440lb sumo wrestler Telia Tuli in a no holds barred fight.
Tuli charged straight at his opponent in the opening moments of the fight, but Gordeau kept his cool and backed up throwing counter strikes, then pushed his top-heavy adversary off-balance to the mat.
As Tuli attempted to get back up, Gordeau unleashed a vicious kick to his face that sent one of the Hawaiian's teeth flying into the crowd, while another reportedly became lodged in the Dutchman's foot.
Confusion reigned at that stage as the referee called a time-out in order for a doctor to check the still dazed and bloodied Tuli, who showed his heart by struggling back to his feet, indicating his willingness to continue.
In the end his corner decided he'd had enough though, and with just 26 seconds of cage time and a few missing teeth to show for it, that would prove to be the end of Tuli's aspirations of competing in MMA.

Fred Ettish
Fred Ettish's only fight in the UFC turned out so badly that he'd be mercilessly taunted about it for years afterwards by fans of the sport.
Ettish had served as an alternate for UFC 2 and found himself being matched up with Johnny Rhodes on just 10 minutes notice. Despite his karate background, Ettish looked tentative and unsure of himself in the early striking exchanges and was soon dropped by an uppercut.
It quickly became apparent that Ettish had nothing to offer on the ground as he opted to scoot around throwing ineffectual leg kicks, then covered up in a ball and occasionally flailed around in desperation when he was attacked with ground and pound that began to turn his crisp white Gi crimson.
"Psychologically, mentally, I had pretty much checked out," Ettish admitted years later in a short documentary directed by Bobby Razak. "I was unable to focus, unable to concentrate."

The bizarre spectacle lasted several minutes before Ettish was submitted by a rear-naked choke, but his pain had just begun as fans relentlessly mocked his performance and coined the phrase 'Fetal Fighting' to describe his ground game.
Ettish has since achnowleged that the continual abuse took a toll on him, but he found redemption some 15 years later at the age of 53 when he took another MMA fight with a much younger opponent and defeated him by TKO in the first round.

Emmanuel Yarborough
Standing 6′ 8″ tall and weighing over 600 pounds, sumo wrestler Emmanuel Yarborough held a world record for being the world's largest athlete, yet he was paired up with 5′ 11″, 200 pound karate fighter Keith Hackney at UFC 3 in September of 1994.
Proving that size isn't everything after all, Hackney was able to knock down Yarborough with his first strike of the fight, though 'Manny' did then get back up and literally shoved Hackney out through the Octagon door.
Returning to the cage, Hackney kept his distance, starting to gradually chip away at Yarborough's gargantuan gut with kicks from range, then stepped in with another overhand strike that again toppled the man mountain.
As Yarborough struggled to stand, Hackey swarmed on him with ground and pound punches until the referee stopped the fight at 1.59mins of the first round.
Once again, David had overcome Goliath, and Yarborough's time in the UFC came to an abrupt halt.

Joe Son
A few years before he appeared on the big screen as 'Random Task' in 'Austin Powers: International Man Of Mystery', and over a decade prior to being sentenced to life in prison for his involvement in a gang rape, Joe Son first came to light competing in the early days of the UFC.
Son had first appeared as Kim Leopoldo's cornerman at UFC 3, but then stepped into the Octagon himself at UFC 4 to fight Keith Hackney.
The 5′ 4″, 235-pound Son was able to get Hackney to the mat early in their bout and eventually sunk in a guillotine choke as his opponent rose back up.
Son marched him over to the cage while still cranking on the submission, but Hackney was able to get him down and then began administering some eye-watering payback, taking full advantage of the lack of rules in the sport in those days by repeatedly punching his opponent in the groin.
Given Son's later conviction for rape after DNA evidence linked him to an attack on a woman back in 1990, this humiliating ground and pound assault on his family jewels seemed particularly appropriate, and the karma continued as Hackney then choked him unconscious with just his fingers around his throat.

John Matua
John Matua's UFC career lasted all of 20 seconds, and saw him become the unwilling victim for one of the most infamous highlight reel KO finishes in the history of the promotion.
The 400-pound Matua made his debut at UFC 6 against another newcomer to the organization, brash barroom brawler Tank Abbott, and from the opening bell he was in all sorts of trouble.
Abbott's first punch of the fight dropped Matua, and he was tagged several more times as he tried to get back up. On unsteady legs, Matua then ate several right hooks from Tank, with the final one knocking him unconscious to the canvas.
Before referee John McCarthy could intervene, Abbot landed one final thunderous blow, then casually mocked the unconscious Matua's alarming body spasms that left his arms outstretched in front of him and his legs convulsing for some time afterwards.
That fight would make Abbott and instant star and Matua the newest member of the 'one and done' club.

Paul Herrera
Paul Herrera made his only UFC appearance at UFC 8 in 1996, and it's fair to say that he won't have fond memories of his fight with Gary Goodridge, assuming he can recall anything at all about it.
When the fight began, Herrera immediately tried to take down his significantly larger opponent, but not only did Goodridge stuff the attempt, he then proceeded to lock him up in a crucifix style position on the mat.
With both of Herrera's arms trapped wide apart he was left unable to defend himself as Goodridge blasted the side of his head with powerful elbows.
It appeared that the first elbow knocked him unconscious, but he took seven more savage blows in succession before referee 'Big' John McCarthy was finally able to intervene and stop the fight.
The particularly brutal highlight-reel KO had come just 13 seconds into the fight and left Herrera with a bad concussion, a broken cheekbone and a clear indication that it was time to pursue a new career.

Chris Condo
Little is known about Tennessee grappler Chris Condo, who seemed to arrive out of nowhere at UFC 20, weighing in at 336 pounds of pure flab.
Condo's fighting skills were every bit as unconvincing as his rotund physique, and so Ron Waterman didn't even break a sweat as he easily took him to the mat and finished up the job with ground and pound in just 28 seconds.
That was the last anyone saw of Condo, who disappeared from the sport as quickly as he had arrived.

Sean Gannon
A Boston police officer, Sean 'The Cannon' Gannon put his name on the map when he defeated infamous backyard brawler Kimbo Slice in an unsanctioned bareknuckle battle back in 2004.
Despite the sloppy nature of the fight, the fact that he'd become the first man to beat the YouTube sensation led to him being offered an opportunity to fight at UFC 55 in October of 2005.
Gannon was paired up with another heavyweight newcomer to the promotion Branden Lee Hinkle, who had considerably more experience in the cage.
Hinkle would go on to make short work of the brawler, taking him down in the opening minute and then passing his guard with ease as he worked for submission attempts and then just settled for feeding him a steady diet of ground and pound.
A little over four minutes into the fight Gannon's face was a bloody mess and he appeared on the verge of quitting when the referee stepped in to end his misery.
Gannon's brief moment of fame was over, and Hinkle also struggled to make his mark in the Octagon after that, losing his next two fights before being shown the exit door.

Jesse Taylor
Jesse Taylor only had one fight in the UFC, but even that almost didn't happen due to his goofball antics during The Ultimate Fighter Season 7.
Taylor fought his way to the final of the show in 2007, then pressed the self-destruct button by running amok in Las Vegas after filming for the season ended, with CCTV footage capturing him kicking out the window of a limousine he was in, then terrorizing staff and guests at a nearby hotel.
A furious Dana White banned Taylor from competing in the final and booted him out of the UFC. However, a few months later, 'JT Money' convinced the UFC president that he'd turned his life around and was given a second chance to prove himself.
Taylor was then scheduled to fight CB Dolloway, who had replaced him in the final of TUF 7. It was a huge opportunity to get his career back on track, but it could scarcely have gone worse, with Dolloway managing to submit him with a Peruvian Necktie in the first round, the first time the ultra-rare submission had ever been successfully executed in the UFC.
Taylor was released from the promotion soon afterwards, and while he continues to compete to this day, he's never been invited back to the Octagon.

Marcus Jones
A former NFL player, the 6′ 6″ Marcus 'The Darkness' Jones certainly looked the part when he was enlisted as a heavyweight competitor for The Ultimate Fighter Season 10, and he proved to be one of the more likable characters in the house too.
Jones won his first two fights on the show before losing to Brendan Schaub in the semi-finals, and was then granted his wish to fight his rival on the show, Matt Mitrione, at the season finale.
Calling out Mitrione proved to be a huge mistake though, as just 10 seconds into the second round 'Meathead' brutally knocked Jones out cold with a right hook, sending him crashing face-first to the canvas.
It was a devastating loss and Jones opted to retire from the sport with immediate effect.

Rolles Gracie Jr
As a member of the famous Gracie family, Rolles Gracie Jr had a lot to live up to when he made his debut against Joey Beltran at UFC 109 in February of 2010, but his performance that night would go down as one of the worst in the history of the UFC.
Gracie started out ok, taking Beltran down and mounting him, but the BJJ black belt was then embarrassed when the heavyweight slugger reversed him and stood back up.
It was all rapidly downhill from there for Gracie, who's gas tank seemed to empty half-way through the round, while his sloppy attempts at striking and increasingly desperate attempts to get the fight back to the mat failed to pay off.
By the second round Gracie was completely spent and Beltran ended up battering him with ground and pound for a TKO finish, bringing a swift end to his UFC career.
""It was embarrassing," Gracie Jr's cousin and cornerman Renzo Gracie admitted to Gracie Fighter afterwards. "I can tell you he wasn't in that bad of shape. Fact is the nerves drained him of his energy. His stand up and ground work looked bad, nothing at all like he was doing in training leading up to the fight and it was if he couldn't hear what I was telling him. I think the pressure he put on himself overwhelmed him."

James Toney
A former three-weight boxing champion, James Toney became fixated with the idea that he could walk into the UFC's Octagon and clean house, and so he began harassing UFC President Dana White to give him a fight.
White eventually caved in to the 42-year-old's relentless demands and put him up against a fellow grizzled veteran, 47-year-old UFC star Randy Couture in the co-main event of UFC 118 in the summer of 2010.
The first clue that this wasn't going to end well for 'Lights Out' came in his initial sit-down meeting with White, in which he boasted that he'd already been working on his MMA skills.
"Front kick, back kick….side check kick….all that," Toney bluffed, apparently already inventing new moves as he was going along.
Toney talked a ton of trash in the build-up to the event, but just 15 seconds into the fight Couture already had him flat on his back, and after toying with the boxer like a new-born baby for a few minutes, he effortlessly forced him to submit with an arm-triangle choke.
Toney hadn't even been able to land a glove on 'The Natural', and the boxer's night went from bad to worse when his $500,000 fight purse was seized by the IRS who were investigating his tax returns at the time.