Four months after the inaugural UFC event, they would come back with their second event. UFC 2: No Way Out was held on March 11th, 1994 once again in Denver, Colorado, but this time at Mammoth Gardens.
Due to many seeing the first event on home video, there was more buzz around the second UFC tournament. This time even more spectators would buy the pay per view to watch the action at home. Here is our review of UFC 2: No Way Out.
Changes to UFC 2
Originally UFC 2 was called The Ultimate Fighting Championship Part 2. But the owners wanted a catchier name and instead went with UFC 2: No Way Out.
There were also a few other changes made to this event from the previous tournament. The biggest being the grand prize for winning the tournament had gone up from $60k from $50k in the first tournament.
The second change made in UFC 2 was the tournament doubles in size. Going from an 8 man tournament to a 16 man tournament, which turned 3 fights in 1 night to 4 fights.
Then the third change to the format of the fights was the rounds of the fights. In the first UFC tournament, there were unlimited 5 minute rounds with 1 a minute rest in between each round. UFC 2 fights would have no time limits and would go on until a competitor was beaten or quit.
Big John McCarthy
UFC 2 would mark the officiating debut of legendary MMA referee Big John McCarthy. Big John was a police officer and student of Rorion Gracie. His large stature and law enforcement background made him the perfect person to oversee the action in the cage.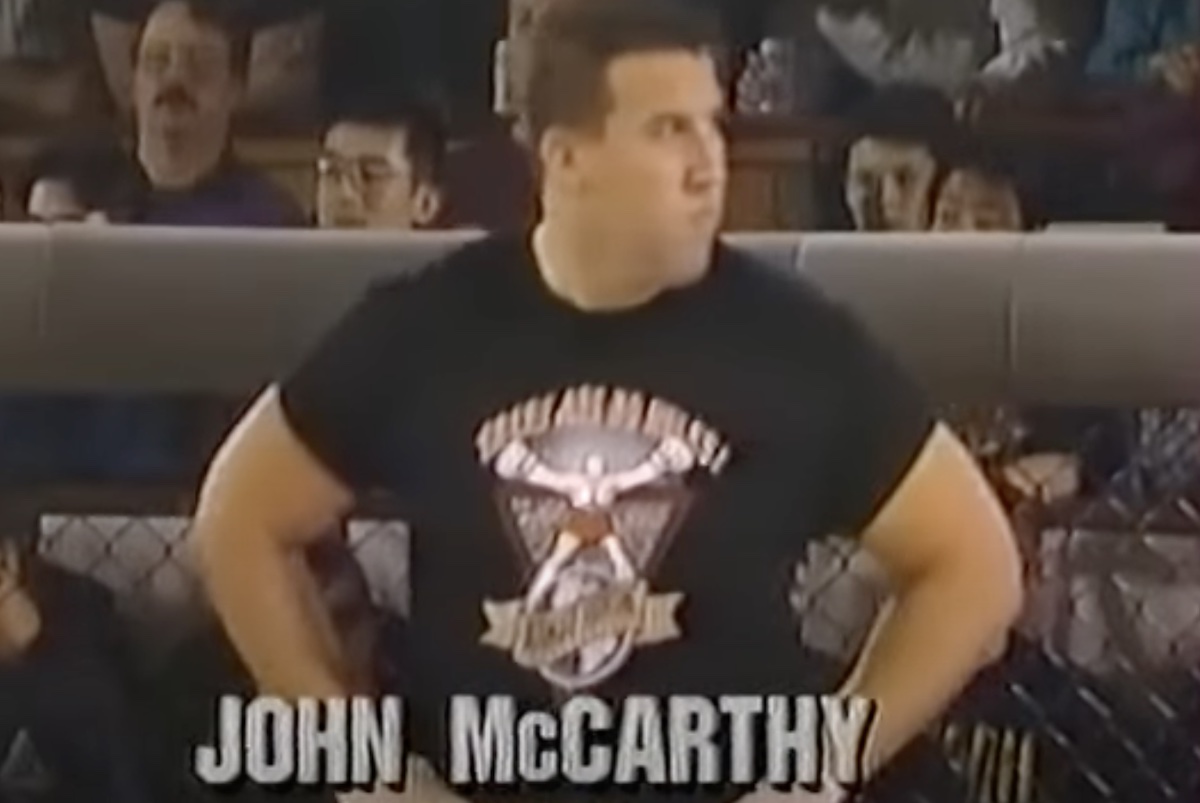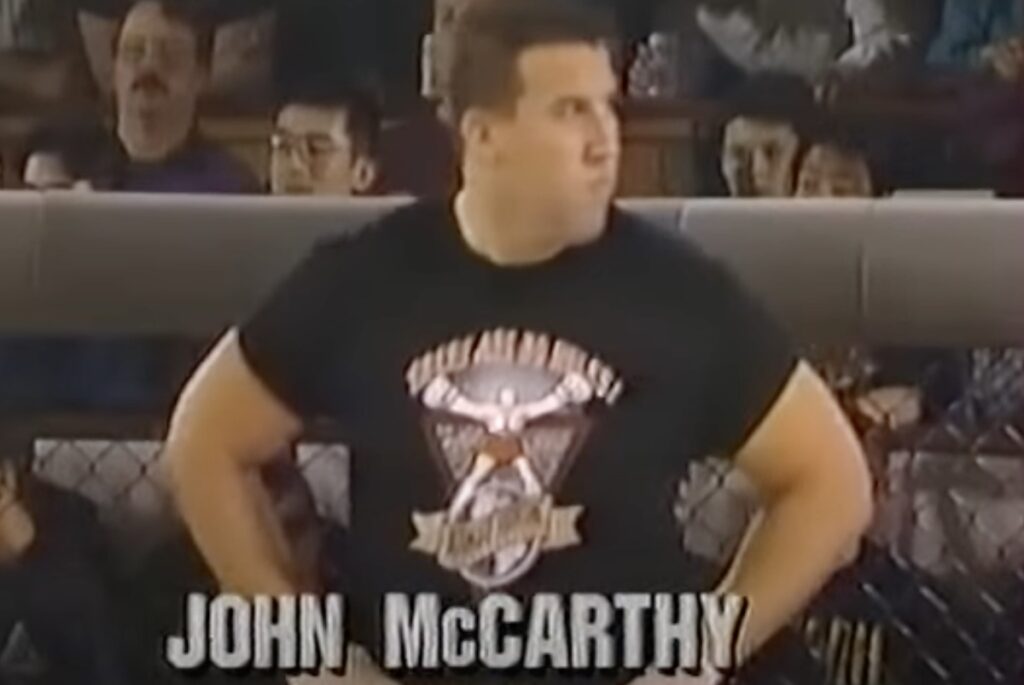 The Fighters
Royce Gracie
The reigning and defending champion, Royce Gracie was back to defend his title at UFC 2. In the inaugural tournament, Gracie came into the event as an unknown fighter and left as the world's best.
At UFC 2, Royce would have his work cut out for him as he would need 4 wins that night to win the tournament.
Patrick Smith
The striking expert made his second UFC appearance at the 2nd tournament. In UFC, Smith would lose his opening bout by submission to Ken Shamrock. Patrick would look to bounce back and have a better performance in the UFC 2 tournament.
Jason Delucia
Delucia was the third competitor that competed in the first UFC event. Although he was in the alternate bout, Jason easily won his bout with a submission in the first minute. His performance would earn him a spot to prove himself in this tournament.
Minoki Ichihara
Minoki Ichihara was a Japanese Karate expert that specialized in Daido Juku Karate. He would look to prove the strength of his Karate style in the tournament.
Scott Baker
Scott Baker was a kickboxer going into the UFC 2 tournament. He would have one more MMA fight after his only UFC appearance and go 1-1 in his career.
Alberto Cerra Leon
Alberto Cerra Leon was an expert in Pencak Silat. His appearance at UFC 2 would be his only fight in MMA.
Remco Pardoel
Remco Pardoel was a Dutch Judo national champion and winner of the first world Ju Jitsu world championship in 1993. He was also responsible for helping introduce Brazilian Jiu Jitsu to Europe through relationships he built with Brazilian BJJ black belts.
Ironically enough, BJJ was first introduced in his hometown of. Oss, Netherlands. Pardoel would go on to have a long MMA career going 10-6-1 and 2 no contests.
Robert Lucarelli
Robert Lucarelli was another kickboxer fighting out of New York. UFC 2 would also be his one and only MMA fight.
Orlando Wiet
Orlando Wiet was a French world champion kickboxer that specialized in Muay Thai. Wiet would go 1-1 in his MMA career and have it cut short by a severe leg injury.
Thaddeus Luster
Thaddeus Luster was a San Soo practitioner that competed at UFC 2. This would be his one and only fight in MMA.
Frank Hamaker
Frank "The Freak" Hamaker was a Sambo practitioner that competed in the tournament. He would win his fight, but suffered an injury and never fought in MMA again.
David Levicki
David Levicki was a Wing Chun expert that fought in the UFC 2 tournament. After the tournament, Levicki would fight 3 more times including a bout against Rickson Gracie.
Johnny Rhodes
Johnny Rhodes was a Karate expert that competed at UFC 2. He would have two more bouts in MMA and end his fighting career with a record of 2-1.
Ray Wizard
Ray Wizard was a specialist in Kenpo Karate. This would also be his one and only appearance in MMA.
Sean Daugherty
Sean Daugherty was another Karate expert, who fought in the UFC 2 tournament. He would fight one more time after the event and go 0-2 in his fighting career.
Scott Morris
Scott Morris was a Ninjistu expert, who fought in the UFC 2 tournament. He would have 3 MMA fights in his career and go 2-1.
UFC 2 Opening Round
Scott Morris vs Sean Daugherty
The opening bout of the UFC 2 tournament would be a long one. Morris met Daugherty in the middle of the cage and locked on a guillotine choke. Morris would submit Daugherty by guillotine choke at 20 seconds into the fight to advance to the next round.
Patrick Smith vs Ray Wizard
Patrick Smith would make the same mistake as he did in his debut bout in UFC 1. This time he was ready.
Smith would lock hold of Wizard and put the Karate expert in a guillotine choke. Wizard would submit at 58 seconds into the round for Smith to advance to the next round.
Johnny Rhodes vs David Levicki
This was by far the longest match of the night, which would last until the 12:30 mark of the round. As the fight went on, Rhodes began to get the better of Levicki.
Rhodes would begin landing multiple unanswered fights and Levicki would submit.
Frank Hamaker vs Thaddeus Luster
This would be a clash between a Kung Fu practitioner and a Sambo practitioner. Like most other early UFC bouts, the two threw wild shots, but ended up grappling.
Hamaker would end up breaking his hand striking Luster, but was able to get him to the ground. There Hamaker would submit Luster with an armlock at 4:52 of the round to move on to the quarter finals.
Orlando Wiet vs Robert Lucarelli
Wiet vs Lucarelli would be a battle between Karate and Muay Thai. In this bout Wiet's Muay Thai would prove to be the more effective of the two striking styles.
Wiet would overwhelm Lucarelli with powerful strikes until his corner was forced to stop the match. Ending the match via TKO at the 2:50 mark of the round to advance to the next round.
Remco Pardiel vs Alberto Cerra León
The Dutch Judoka would waste no time getting the Spanish Silat specialist to the mat. Once on the mat, Pardiel would have a dominant position throughout the fights.
Landing various strikes on the Silat expert until driving his forearm into León's neck. Cutting off his air and forcing the tap at the 9:51 mark.
Jason Delucia vs Scott Baker
Delucia's knowledge of the ground game would give him the edge over Scott Baker. After exchanging strikes, Delucia would get the kickboxer to the ground.
Once on the ground Delucia would lock up the first triangle choke in UFC history. Forcing Baker to submit at the 6:41 mark of the round to move on to the quarter finals.
Royce Gracie vs Minoki Ichihara
Royce's opening bout at UFC 2 would be a repeat performance of his previous fights. He would quickly cut the distance and take the Karate champion down with a double leg and go to the mount.
Gracie would stay in the mount for almost 5 minutes throwing rabid shots as Ichihara held him. Ichihara would then turn his back and Royce would take an armlock to finish the bout at the 5:08 mark. Advancing to the next round to face Jason Delucia.
UFC 2 Quarter Finals
Patrick Smith vs Scott Morris
The quarter finals would be some of the most brutal finishes from UFC 2. Starting with Patrick Smith vs Scott Morris.
Morris would lock up with Smith, but ended up getting mounted by Smith. Patrick would then lay down a vicious barrage of ground and pound that knocked Morris out cold.
Scott's corner threw in the towel and Patrick Smith would advance to the semifinals.
Johnny Rhodes vs Frank Ettish
Dutch fighter Hamaker would have to pull out due to a hand injury in the opening round. Alternate Frank Ettish would take his place against Johnny Rhodes.
Rhodes would make easy work of Ettish and force him to submit at the 3:07 mark of the round. Johnny Rhodes would go on to meet Patrick Smith in the semifinals.
Orlando Wiet vs Remco Pardoel
This would be another brutal finish that would be included in numerous early highlight reels. Pardoel wasted no time getting the Muay Thai fighter to the ground and controlling him.
He had Wiet in a pseudo side control and began raining down 12-6 elbows until Wiet was unconscious. Remco Pardoel would move on to the semifinals with a devastating knockout.
Royce Gracie vs Jason Delucia
Jason Delucia would make the mistake of trying to grapple with Royce Gracie in their quarter final match. In this match, Royce would actually pull guard to get the fight to the ground.
He would immediately sweep Delucia and take the mount. Once there, Royce would quickly lock in a tight armbar.
Delucia would tap multiple times, but the referee was out of place and would get his arm broken. Royce would move on to the semifinals to meet Remco Pardoel.
Semi finals
Patrick Smith vs Johnny Rhodes
The first semi final match of the night would put Patrick Smith up against Johnny Rhodes. Smith was the fresher of the two fighters and finished his first two matches rather quickly.
Both started out hesitant faking strikes. Rhodes would land a right hand and rush in to grab Smith and leave his head open.
Smith would quickly lock up a standing guillotine and Rhodes would quickly submit at the 1:07 mark. Punching his ticket to the finals.
Royce Gracie vs Remco Pardoel
This seemed like it would be Royce Gracie's biggest challenge of the tournament. Facing another grappler, who was quite larger than the young Brazilian.
The match would start and Royce Gracie would shoot in for a takedown and move to Remco's back. He would trip up the large Judoka and gain control of his back
Wearing his Judo Gi would turn out to be a bad idea for Pardoel. Royce would grab onto Pardoe's lapel and begin locking in a lapel choke and the Judoka would submit.
Gracie gets the win at just 1:31 in the round. Once again Royce Gracie advances to another UFC tournament final with relative ease.
UFC 2 Finals
Royce Gracie vs Patrick Smith
The fourth and final fight of the night was set between Patrick Smith and Royce Gracie. The two would fight to see who would become UFC champion and earn the $60k dollar prize.
As the round starts, Royce quickly cuts the distance and grabs Smith in a body lock. Gracie was tenacious with his takedown and get Smith to the ground and quickly get the mount.
Royce dropped a few hard strikes that would force Patrick Smith to submit. Once again Royce Gracie would become the UFC tournament champion.
Not only would Royce win the grand prize, but set the UFC record with most wins in one night with 4.
The Reception to UFC 2
UFC 2 was held in a smaller venue that sold out with an attendance of 2000 spectators. Although the event triples the buy rates of UFC 1 with 300,000 PPVs purchased. Many more watched the event on home video just like the previous event.
UFC 2's financial success would allow for UFC 3 to be set up later in the year.