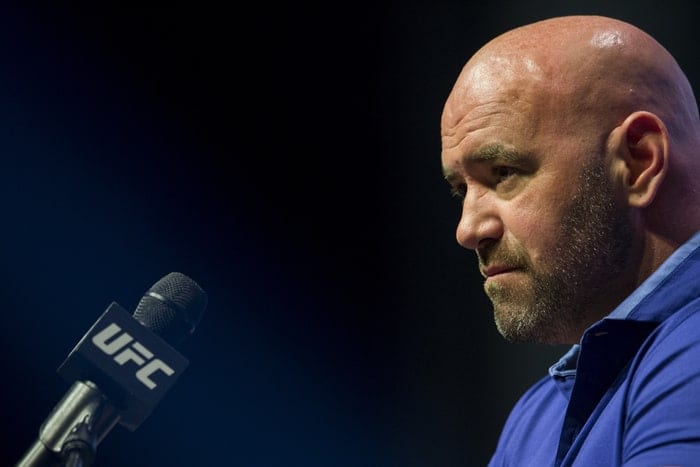 It's no secret that the UFC is having a tough run in the first seven months of 2017.
After a banner year in 2016 with multiple pay-per-view (PPV) events eclipsing the coveted one-million buy threshold, new owners WME-IMG are finding out just what it's like to run the world's biggest MMA promotion in a time of downward-trending PPVs without flagship stars Conor McGregor and Ronda Rousey anywhere close to the octagon.
True, McGregor will return to the ring against Floyd Mayweather, on August 26, but that could be hurting the UFC's actual numbers more than helping them. We'll get to that shortly.
Regardless, both the preliminary card television ratings and pay-per-view buyrates for July 8's UFC 213 from Las Vegas were recently revealed, and the numbers ultimately amounted to some of the most dismal overall viewership turnouts the UFC has ever seen. Now, women's bantamweight champion Amanda Nunes' extremely late withdrawal from her championship bout versus Valentina Shevchenko most definitely caused the lack of buys, but the numbers are concerning nonetheless.
Things didn't get better two weeks later when UFC on FOX 25 aired live from the Nassau Coliseum on July 22. Despite former middleweight champion Chris Weidman securing an emotional headlining win over Kelvin Gastelum in his hometown, the card had the lowest-ever ratings for a UFC on FOX event in overnight ratings, a number that rose to "only" the third-worst of all-time when the time slot spillover numbers for the main event were factored in.
That continued a disturbing decline for big FOX-aired cards in 2017, but those numbers are also simply indicative of the overall trend of the year, where pay-per-view rates have went down drastically in addition to TV-aired events and PPV prelim numbers.
There are several big underlying factors for this sharp and disturbing decline. On the eve of the biggest pay-per-view of the year, let's take at the five most impactful.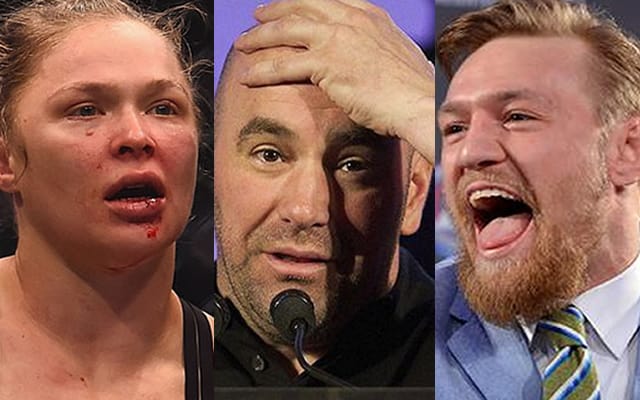 Promoting Only McGregor & Rousey:
The UFC enjoyed their most lucrative two-year stretch in history from 2015-2016, a time when their biggest-ever crossover stars in Rousey and McGregor were winning big fights in dominant fashion. Rousey was being called the most dominant fighter in MMA, and McGregor won both the featherweight and lightweight titles while becoming the sport's biggest star.
But that time period simply couldn't be sustained, as Rousey infamously lost the belt to Holly Holm at UFC 193, following it up with another unsuccessful title fight in her 48-second loss to Nunes at 2016's UFC 207, after which it appears Rousey may never fight in the UFC again.
McGregor is not gone; at least not in the same sense as Rousey. He's obviously involved in his hyped-up boxing match with Floyd Mayweather, and while the UFC will obviously get a ton of attention and hype from that massive spectacle, it brings up one vital, overarching point – the UFC simply promoted only their top two stars in recent years, and while it clearly worked in that regard, it left them much too dependent on McGregor and Rousey for success, because their other fighters just aren't bringing in any numbers at all.

If they ever want to get back to the level where they have their big draws and their mid-level stars; say in the time of dominant champions Anderson Silva and Georges St-Pierre where mid-level stars like Rashad Evans and Rampage Jackson could still sell an in-between card for 350-400,000 buys, they're going to have to diversify their promotional strategy.