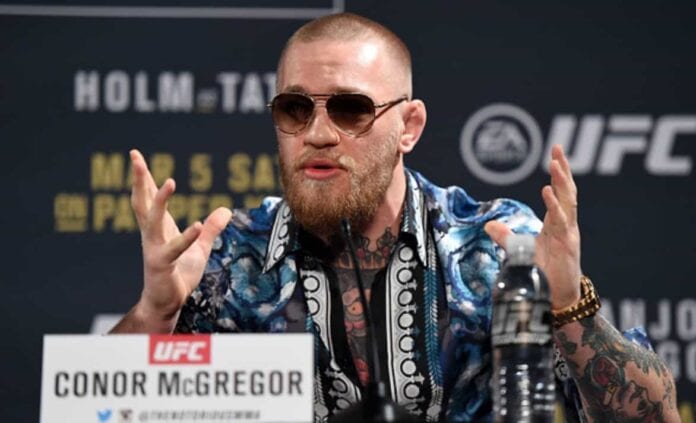 It's not official just yet, but signs are pointing to Conor McGregor finally making his Octagon return in what could be the biggest MMA fight of all-time against lightweight champ Khabib Nurmagomedov.
The path to the anticipated title fight becoming official was cleared substantially last week when McGregor resolved his legal issues for the assault charges gained by throwing a metal dolly through a bus containing Nurmagomedov days prior to April's UFC 223; the Irish former champ avoided jail time and will serve community service along with a few other minor stipulations.
The rumored match-up is supposedly headed for October's UFC 229 from Las Vegas, an event that only this week McGregor openly discussed as the frontrunner for his return. Another possible date and location is November 3's UFC 230 from Madison Square Garden in New York City; it was at that exact venue where McGregor last fought in the UFC by winning the lightweight title from then-champion Eddie Alvarez in 2016.
But no matter where and when McGregor does return, it will be perhaps the most-needed jolt that the UFC has ever begged for, and certainly the most crucial of new owner Endeavor's tenuous two-year period of running the world's MMA leader. The UFC hit a new low in terms of ratings with last week's UFC on FOX 30 from Calgary despite the fact that the main and co-main events featured two jaw-dropping knockouts in fights with serious backstories, an ominous sign for a company that has seen steadily declining ratings since 2017 began.
Pay-per-view sales are hitting new lows as well, with July 7's packed UFC 226 only bringing in around 400,000 buys despite a historic championship win by Daniel Cormier that made him only the second-ever simultaneous UFC champion other than McGregor. By comparison – and it's really not one – McGregor brought in three separate pay-per-views that brought over a million buys in 2016 alone. That's why the UFC is willing to overlook the concerning streak of outside events McGregor has exhibited since making a reported million to box Floyd Mayweather last summer, they need a big star more than ever and he's their biggest of all-time.
McGregor's return could push for the record of the biggest UFC PPV buyrate ever, it will remain to be seen if a UFC event can sell that well anymore. If it does, it will show just how vital "The Notorious" is to their success, and at this point, that's shaky ground to stand on. It was uncertain he would ever return to the UFC last year, and even though it's looking more likely with each day, how long will they really be able to bank on the Irish superstar? He's often stated his intentions to get rich and get out with his health, and he's already beyond rich.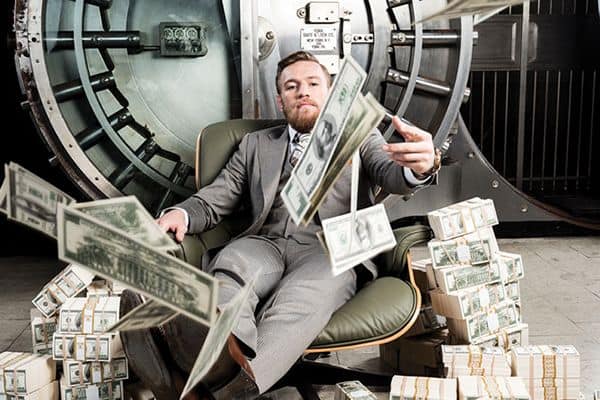 True, his lavish spending would drain almost anyone's account, so he may need one more blowout fight to refill his reserves a bit. It all depends on if he loses to "The Eagle" as well – if he wins, expect to see him back one or two more times, if he loses, he may retire. Regardless, the UFC can't count on magical years like 2016 where McGregor blew the roof off the record books with three all-time great PPV cards.
So while he will probably save an otherwise dismal 2018 for Endeavor, the problems that currently plague it right now will still remain. They've been discussed over and over again, with the oversaturation of events being pointed to as the main culprit -while it is true to some degree and fans are simply exhausted, the UFC won't stop putting on event after event if it's profitable. They have a $4.2 billion loan to pay back and at the end of the day, this is a business – big business.
Another not-always-discussed point that I think is highly relevant was brought up by Marc Raimondi and Shaun Al-Shatti on their live chat on MMA Fighting today, the concern that fighters being forced to wear essentially the same monotone Reebok clothing every time out to the cage is diminishing (or outright negating) their personal connection to the fans. They put it in the terms of wondering if Chuck Liddell would have been as big a star without his trademark blue Iceman shorts, or if Tito Ortiz would have resonated as a heel so much without his own flame-adorned outfits.  They said they would have been big stars but not as much and I tend to agree.
This level of personalization was all but ripped from the UFC when the Reebok deal went into effect, and while the uniforms have evolved somewhat over the past two years, they haven't really gotten to the point where they make one high-profile fighter or another stand out from the crowd. Along those lines, fans are perhaps also growing wise to the UFC's brutal business practices of paying fighters incredibly low wages compared to other professional sports, and the issue of labeling them 'independent contractors' rather than employees while they're forced to wear one company's apparel remains, and will until fighters finally unionize – if they ever do.
So in summation, McGregor's return to the Octagon will save 2018 for the UFC just like his boxing loss to "Money" did for 2017, and that will mask the huge gaping problems they have staring them in the face.
The real question is, how much longer can they count on McGregor to fix the issues they clearly don't know how to mend without him?