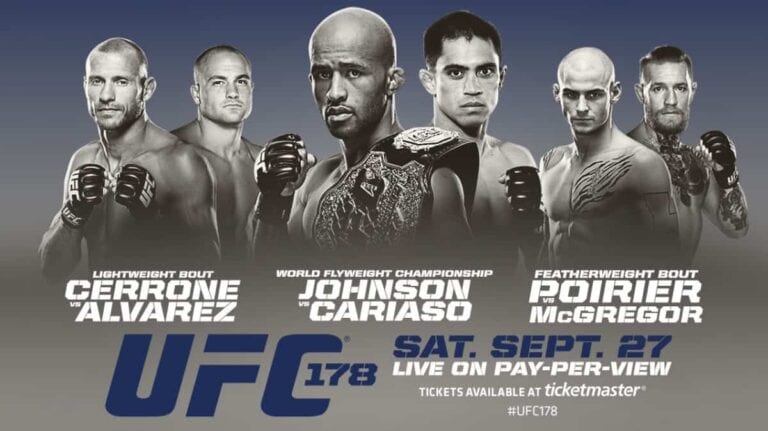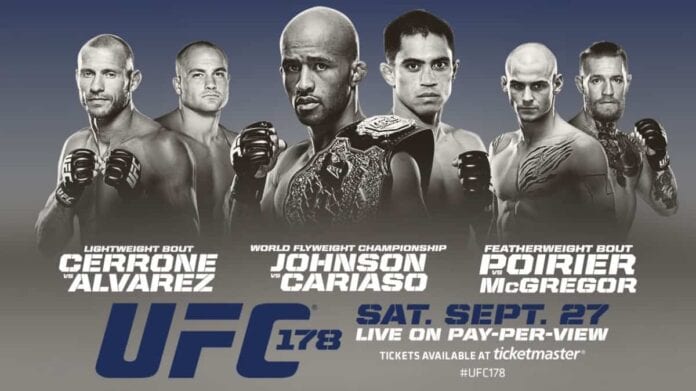 LowKick.com UFC 178 main card results and play-by-ply recap
UFC 178 went down tonight, Saturday September 27th, and had a host of huge fights going down on the main card. Check out the round by round action throughout the exciting five fight main card, skip down below the recaps for the full play-by-play UFC 178 main card results. The flyweight championship match between Chris Cariaso and Demetrious Johnson was the evening's main event.
"Mighty Mouse" took on "Kamikaze" in the main event, and it was a predictably one-sided affair. DJ dropped Cariaso early in the fight, and continued in to the second to finish a beaten man by kimura. Great defense of his flyweight title by Johnson.
Eddie Alvarez and Donald Cerrone have a huge lightweight shoot out scheduled in the co-main event, and this was a great scrap. Both guys rocked the other, but it was Cerrone who really found his rythm in this fight. "Cowboy" will have his sights set on a title fight for sure now.
Conor McGregor looks to continue his streak against dangerous top 10 staple Dustin Poirier in the featherweight division, and boy did he do that. McGregor smashed "Diamond" like it was nothing. A shot behind the ear saw Poirier slump face first and the follow up shots were enough for the ref. Great TKO win for McGregor.
Yoel Romero vs Tim Kennedy was next at middleweight, and this was a great bid for fight of the night. Both men were close to being finished more than once, and "Soldier Of God" won with a trademark TKO finish in the last round. The crowd booed, but god knows why.
Cat Zingano vs Amanda Nunes was announced as the fight that would get CZ a title shot. Zingano was getting smashed in round one, but rallied in the second to make this a last-round fight. What a performance for Zingano, as she scores the TKO win in the last round.
Thanks for joining us here at LowKickMMA.com for the UFC 178 Main Card results, here is the PbP breakdown:
Play-by-play UFC 178 main card results
UFC 178 Main Event
125 lbs.: UFC Flyweight Champion Demetrious Johnson def Chris Cariaso by submission (kimura) round 2
Round 1: Low kicks by DJ, Cariaso jabbing, Johnson stalks with more kicks. DJ switches up, low kicks again, Cariaso yet to land one punch. Good jab that time by CC, DJ is moving so well though. Huge right hand and chained take down for DJ, in to "Kamikaze's" guard. CC is clearly not up to this. Johnson cutting through the guard, in to side control, now back to guard. Elbows by DJ, knee to the gut as they stand for Johnson, Cariaso has no answer here. Great bodywork by DJ as Matt Hume instructs him. Rogan quote of the evening: 'They are just making noise with their face'. A huge knee drops CC on the buzzer! One sided 10-9 for DJ
Round 2: Head kick by DJ, Cariaso slips and Johnson jumps on him. "Mighty Mouse" is just so technical everywhere. In to half guard now with the elbows and straight in to crucifix, more nasty elbows to the head of CC. DJ just smashing him on the ground. DJ on to a kimura, and Cariaso is done, he tapped it's all over, Johnson remains flyweight champion by way of second round submission
UFC 178 PPV Main Card (10 PM ET start time):
Co-main event
155 lbs.: Donald Cerrone def Eddie Alvarez by unanimous decision
Round 1: Here we go! Counter knee by Cerrone, Alvarez light on his feet. Low kick by "Cowboy", Alvarez patient. Counter left by Cerrone is on point, and Alvarez fires back. Cerrone with a body kick, low kicks exchanged. Check knee by "Cowboy", Cerrone with a kick, but Alvarez grabs a clinch and rocks him with at least 20 uppercuts and hooks. "Cowboy" is OK though, Cerrone counters with straight shots, but Alvarez is winging punches. Body kick again for Cerrone. Alvarez shoots but gets stuffed, Cerrone with a nice 1-2 headkick, and now a takedown for "Cowboy". Close round but Alvarez with the 10-9
Round 2: Cerrone with some jabs, Alvarez working the body. Great body kicks by Cerrone, Alvarez troops on. A huge knee to the chest by Cerrone, is Alvarez tiring slightly? Another huge knee to the gut by "Cowboy", and again. Wow, Cerrone has nasty Muay Thai skills. More kicks by Cerrone, Alvarez may be in trouble here and a leg kick. "Cowboy" softening him up here and "The Silent Assassin" is hurt and wobbling. HUGE kicks, and Alvarez's eye is swollen badly. Alvarez in defensive mode right now, another leg kick and a head kick by DC. Huge bruising on Alvarez's right leg, spinning back fist for Alvarez as the round ends. Great fight! 10-9 Cerrone
Round 3: All on this round, Alvarez shoots, stuffed, and Cerrone with a knee to the gut, and a body kick. Another leg kick, Alvarez is clearly hurting here. Cerrone rocked by a huge right, but he just stands and counters. A knee to the belly for Cerrone, right uppercut grazes EA. Another leg kick, Cerrone is pounding Alvarez's limbs. Now some huge straight shots and Alvarez is nearly done right now, "Cowboy" fighting smart and being patient. Low kick for DC, and a huge headkick 1-2 combo. Alvarez has a great chin man! Cerrone bitch slapping Alvarez all over the place, body kicks again, low kicks and Alvarez is done, why isn't McCarthy finishing this, Alvarez can't even stand up? Cerrone jumps in to his half guard for some reason, and lands some g'n'p, this has gotta be a 10-8 for Cerrone. UD for "Cowboy"
145 lbs.: Conor McGregor def Dustin Poirier by TKO (punches) round one
Round 1: McGregor is clowning before they even start. Hook kick by McGregor, and again, now a kick to the body. Leg kick by Poirier, and a 1-2 combo. Dustin moving well, another 1-2 for McGregor. Low kick by Poirier, and now he lands a right hand. McGregor is loos and lands a left that wobbles "Diamond" and a spinning head kick, now an uppercut, and Dustin is out cold!! Wow, a knockout win with ease for McGregor HOLY CRAP!
185 lbs.: Yoel Romero def Timm Kennedy by TKO (punches) round three
Round one: Romero stalking, Kennedy kicks to the body. Another to the gut, "Soldier of God" shoots and misses, head kick whiffs for Kennedy now and he gets tagged by a straight left. HUGE left now by Romero, Kennedy shakes it off but he is cut. Knee kick by "SOG", and a leg punch. A leg hammer fist now, head kick for Romero, body kick for Kennedy in response. Punch to the nuts by Romero, Kennedy lands a takedown and Romero reverses. Massive takedown from Romero, they stand, Kennedy bleeding heavily from his nose. 10-9 Romero
Round 2: They exchange high kicks, Romero dodges well but gets stuffed on his shot for a single. High kick misses for Kennedy, he feeds an overhand right, but gets popped to the nose. Front kick to the gut for Kennedy, but Romero bashes his with a right hook, Kennedy looking off his game here. Big uppercut for Romero, but Kennedy rocks him back with three in the clinch. Kennedy slowing and gets flopped to the mat, looks for a choke but Romero pulls out. Head kick for Romero, huge back fist for TK now. YR looking a bit faded now, close round. Romero rocking Kennedy now, he responds by smashing YR, he barely survives the round! 10-9 Kennedy
Round 3: Romero opens the round with a huge combo, the left hook now, and Kennedy is in BIG trouble. A flurry of huge uppercuts now, Kennedy is flat out and Romero has busted TK up, and the ref steps in for the TKO finish in round three. Huge win for Romero
135 lbs.: Cat Zingano def Amanda Nunes by TKO (punches and elbows) round three
Round 1: "Alpha" gets hit hard, drops to her back with Nunes in her half guard. Nunes controlling Zingano well, "Alpha" struggling to get up here, but she locks up an armbar. Nunes stacks and escapes. Nunes rocks Zingano with a HUGE right hand, she's hurt. "Alpha" toughs it out, what a fight!A big elbow by Nunes now, careful you don't gas out now! Hell of a jaw on Cat, but she needs to cover up. Now "Alpha" on top, what a war! Big elbow now from CZ, they stand now, and a DDT slam takedown by Zingano, holy WWE batman! This is crazy! 10-9 Nunes
Round 2: Elbow from Zingano and a perfect slam to side control, g'n'p now from "Alpha" as she man handles Nunes. AN looks tired, and Zingano whips the leg kicks before jumping back in to guard. Insane fight, Nunes throwing up her legs and twisting the hips, but CZ just passes to half guard. Zingano looking for the choke now, grinding Nunes with elbows and punches. I think Nunes blew her wad in round one, and now Zingano turns it up and grabs a foot lock. They engage in a figure four exchange, and Zingano in to guard. Great round for CZ. 10-9 for Zingano
Round 3: They clinch and dirty box to open the third, and another slick headlock takedown by "Alpha". Nunes is getting owned here, as Zingano easily gets the mount. Body shots now, and Nunes looked done. "Alpha" is just smothering her, and pounding her head in to the mat, and that is it, TKO win for Zingano, and now a title shot!
*Friendly reminder; push refresh button to update UFC 178 main card results*