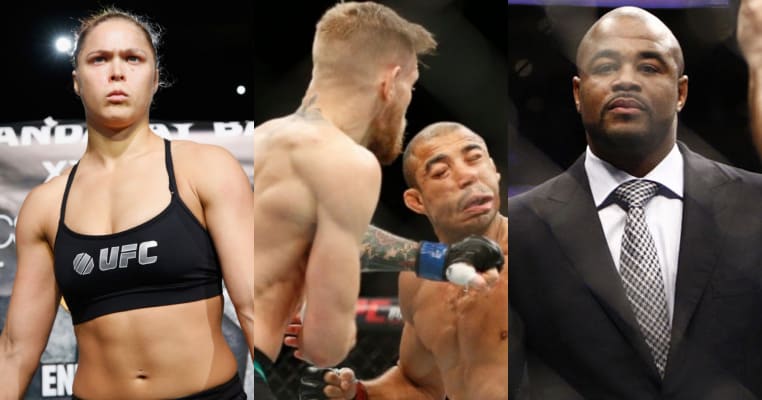 The Ultimate Fighting Championship (UFC) always likes to end their year with a bang. It seems like every year-ending pay-per-view (PPV) put on by the world leader in mixed martial arts (MMA) is stacked. So much so that you'll have to go back to UFC 141 in 2011 to find the last UFC PPV that ended the year without a title fight.
The final UFC event of 2016 will keep the streak going unless a last minute incident ruins those plans. Current UFC women's bantamweight champion Amanda Nunes will defend her title for the first time against former 135-pound queen Ronda Rousey. It'll be the fifth straight year-ending UFC PPV to close with a title bout.
LowKickMMA.com has a list of the top five UFC PPVs that ended the year in exciting fashion.
Let's hop into it.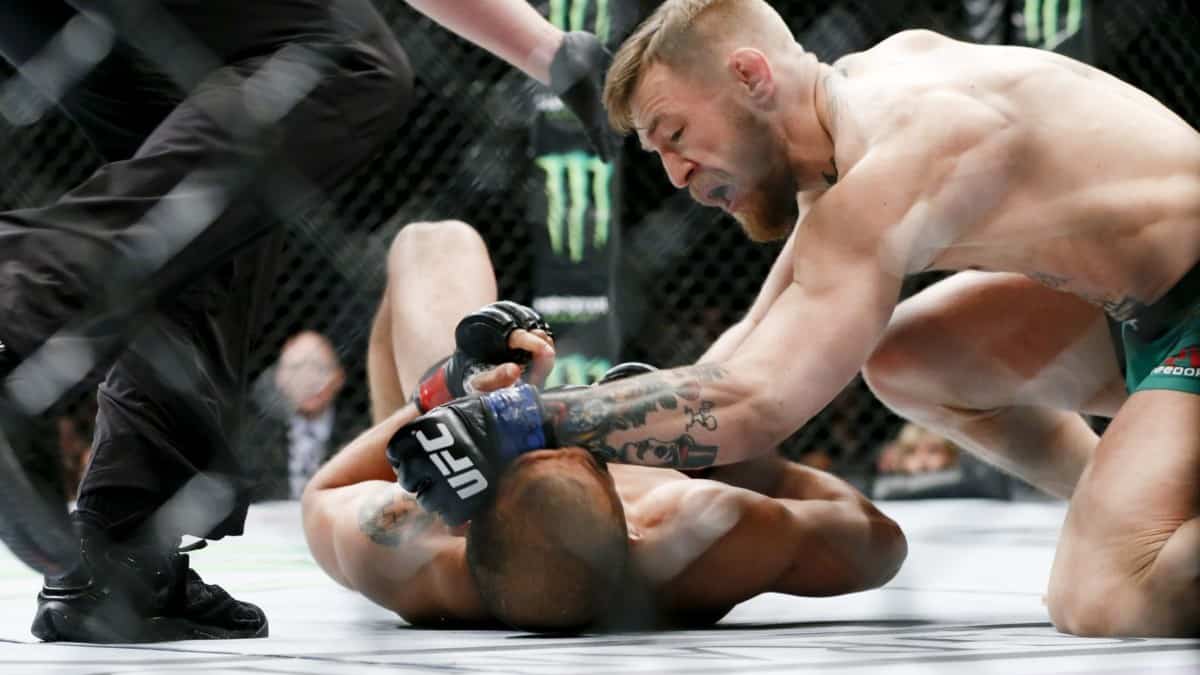 5. UFC 194: Aldo vs. McGregor
The final PPV card of 2015 had a ton of hype surrounding it. UFC 194 was headlined by a featherweight title bout between champion Jose Aldo and Conor McGregor. The two were initially set to meet at UFC 189, but Aldo pulled out with an injury. "Notorious" knocked out Chad Mendes on the PPV to capture the interim 145-pound title.
McGregor blasted Aldo countless times going into the fight, even going as far as saying, "I love you like my bitch." In one of the most shocking title finishes in the history of the sport, McGregor slept Aldo in just 13 seconds with a left punch.
The co-main event featured a middleweight title bout between champion Chris Weidman and Luke Rockhold. Weidman had successfully defended his title against Anderson Silva, Lyoto Machida, and Vitor Belfort. Rockhold earned his shot by winning four straight bouts.
Weidman's fate was all but sealed in the third round when he threw a sloppy wheel kick that allowed Rockhold to take him to the ground. The champion had no answer for Rockhold's ground assault and Weidman was a bloody mess at the end of the round. The challenger picked up where he left off in the fourth round and finished Weidman to become the new 185-pound kingpin.
Here are the rest of the results:
Yoel Romero def. Ronaldo "Jacare" Souza via split decision (29-27, 28-29, 29-28)
Demian Maia def. Gunnar Nelson via unanimous decision (30-26, 30-25, 30-25)
Max Holloway def. Jeremy Stephens via unanimous decision (30-27, 30-27, 29-28)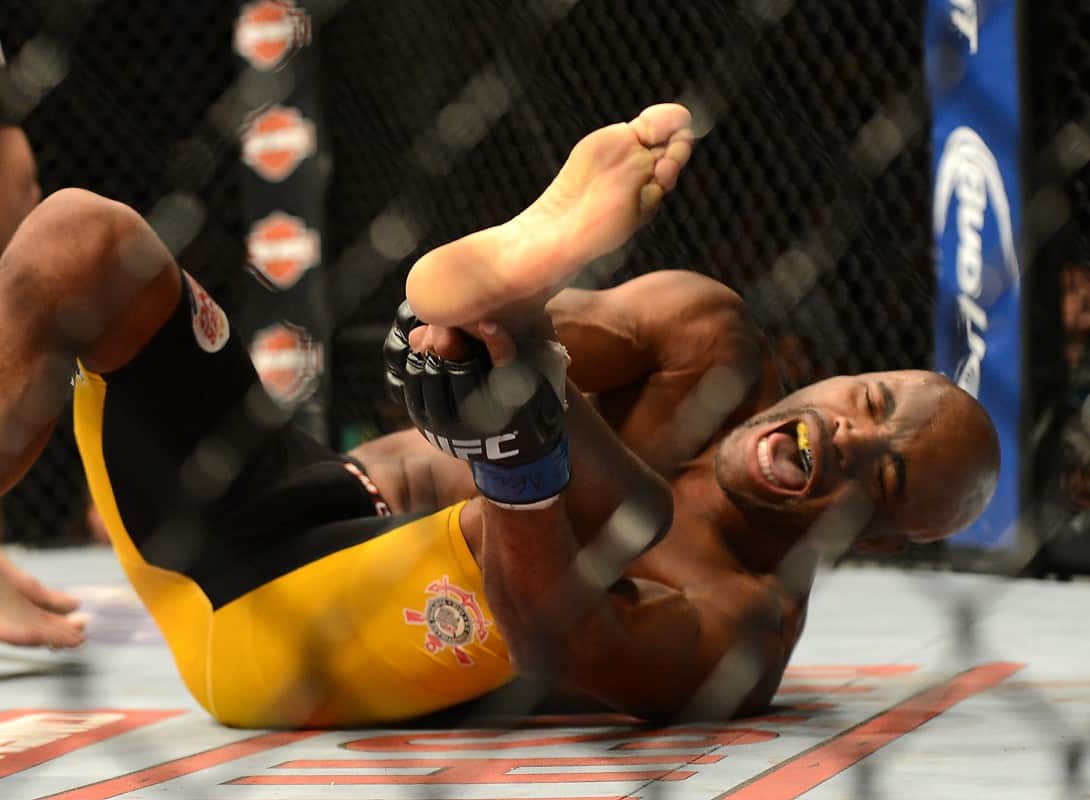 4. UFC 168: Weidman vs. Silva 2
Chris Weidman shocked the world at UFC 162 when he knocked out Anderson Silva to become the new middleweight champion. Silva was regarded as the pound-for-pound best fighter at the time and hadn't lost since early 2006 via disqualification.
The rematch was set for UFC 168. Weidman was in control of the opening round, knocking "The Spider" down and having solid control on the ground. In a shocking and gruesome turn of events, Silva broke his left fibula and tibia off a checked leg kick in the second round. He dropped to the canvas holding his leg in pain and the fight was stopped.
The main event wasn't the only rematch on the card. Ronda Rousey defended her women's bantamweight title against Miesha Tate. Rousey submitted Tate to become the Strikeforce women's 135-pound title holder back in March 2012. There was no love lost between the two going into their rematch.
"Rowdy" was in control most of the fight, although Tate fought hard and made it past rounds one and two. Rousey got the armbar finish in the third round. "Cupcake" extended her hand to Rousey when the fight was over, but the champion looked at her and walked off.
Below are the rest of the results:
Travis Browne def. Josh Barnett via KO (elbows) – R1, 1:00
Jim Miller def. Fabricio Camoes via Submission (armbar) – R1, 3:42
Dustin Poirier def. Diego Brandao via KO (punches) – R1, 4:54
3. UFC 79: Nemesis
Four of the five main card bouts on UFC 79 ended with a submission or knockout. The only bout that went the distance is considered to be one of the best fights in MMA history.
UFC 79's main event was supposed to be a welterweight title bout between champion Matt Serra and Matt Hughes. Serra was forced off the card with a back injury. Georges St. Pierre took his place and battled Hughes for the interim 170-pound championship.
"Rush" and Hughes had met twice prior to UFC 79. In their first encounter, Hughes submitted St. Pierre with an armbar. St. Pierre got his revenge with a TKO win over Hughes to become the welterweight champion for the first time in his career.
On this night (Dec. 29, 2007), St. Pierre emerged victorious in his final bout with the UFC Hall of Famer. "Rush" locked in an armbar in the second round, which forced his opponent to verbally submit. St. Pierre would go on to unify the welterweight title at UFC 83 when he thrashed Serra and avenged the second loss of his career.
The co-main event of UFC 79 would go down in history as one of the best fights ever in combat sports. In a long anticipated bout, Chuck Liddell and Wanderlei Silva finally went toe-to-toe. The fight couldn't have come at a more pivotal time for both men. "The Iceman" had lost two in a row including an upset courtesy of Keith Jardine. "The Axe Murderer" also lost two straight to end his Pride FC career.
Liddell and Silva swung for the fences for three rounds. Silva had his moments and even knocked Liddell down in the second round. In the end, it was Liddell who looked to come closest to earning a knockout and he earned a unanimous decision win thanks to his striking and takedowns.
Here are the rest of the results:
Eddie Sanchez def. Soa Palelei via TKO (punches) – R3, 3:24
Lyoto Machida def. Rameau Thierry Sokoudjou via Submission (arm-triangle choke) – R2, 4:20
Rich Clementi def. Melvin Guillard via Submission (rear-naked choke) – R1, 4:40
2. UFC 66: Liddell vs. Ortiz 2
The MMA world was buzzing when a championship bout between Chuck Liddell and Tito Ortiz was announced. "The Iceman" and "The Huntington Beach Bad Boy" were considered the best light heavyweights in the sport. Ortiz was knocked out by Liddell at UFC 47 and looked to get his revenge in the rematch.
Ortiz fell victim to Liddell's counters once again.
The first round looked like a disaster for Ortiz. Liddell landed a left hook that dropped his opponent. Ortiz survived the round and bounced back nicely in the second frame, even taking Liddell's back at one point. A counter left hand in the third round stopped any hope Ortiz had of winning the fight as it led to a TKO win for "The Iceman."
UFC 66 also saw an upset in the co-main event. The Ultimate Fighter (TUF) season one winner and fan favorite Forrest Griffin took on Keith Jardine. "The Dean of Mean" pelted Griffin with an uppercut followed by a left hand that floored him. Some ground and pound forced referee "Big" John McCarthy to step in and call an end to the fight.
Below are the rest of the results:
Jason MacDonald def. Chris Leben via Submission (choke) – R2, 4:03
Andrei Arlovski def. Marcio Cruz via KO (punches) – R1, 3:15
Michael Bisping def. Eric Schafer via TKO (punches) – R1, 4:24

1. UFC 92: The Ultimate 2008
The final UFC PPV of 2008 lived up to the hype. UFC 92 featured two title fights and a heated rivalry that came to an end in brutal fashion.
It's no secret that a title bout between fan favorites Forrest Griffin and Chuck Liddell would've made UFC president Dana White and the Fertitta brothers happy. Rashad Evans had other plans as he knocked "The Iceman" out cold at UFC 88 to become the number one contender for Griffin's belt.
Griffin had some success in the first two rounds. He used his reach and tagged "Suga" a few times, especially in the second stanza. The tide turned when Evans caught a kick and sent Griffin to the canvas in the third round. Evans then unloaded on some ground and pound to get the stoppage win and become the light heavyweight champion.
The co-main event was nothing short of stunning. Frank Mir challenged Antonio Rodrigo Nogueira for the interim heavyweight title. Nogueira earned interim gold when he submitted Tim Sylvia at UFC 81. Nogueira was on a three fight winning streak, while Mir had won two straight.
Many expected Nogueira to emerge victorious and go on to a unification bout with champion Brock Lesnar. Not only did Mir win the fight, but he became the first fighter to finish Nogueira. Mir was dominant from beginning to end, outstriking the Brazilian. He finished the fight in the second round by TKO.
Quinton Jackson and Wanderlei Silva have had a history of bad blood. Silva knocked "Rampage" out twice in Pride FC. Both fights ended thanks to devastating knee strikes. Heading into their third encounter, heated words were exchanged and "The Axe Murderer" even pushed his foe at the weigh-ins.
Many fans and experts wondered if the memory of two devastating knockouts would be a detriment to Jackson mentally. They got their answer when "Rampage" knocked Silva out cold in the first round. It was a counter left hook that made Jackson the winner this time.
Here are the rest of the results:
CB Dollaway def. Mike Massenzio via TKO (punches) – R1, 3:01
Cheick Kongo def. Mostapha Al Turk via TKO (punches) – R1, 4:37