The UFC has proven to be a perfect breeding ground for the weird and wonderful both inside and outside of the Octagon since its inception 25 years ago.
However, some events, in particular, have gone above and beyond the call of duty and proven to be magnets for madness.
In this article, we'll look back in chronological order at the 10 strangest shows in UFC history. Check them out: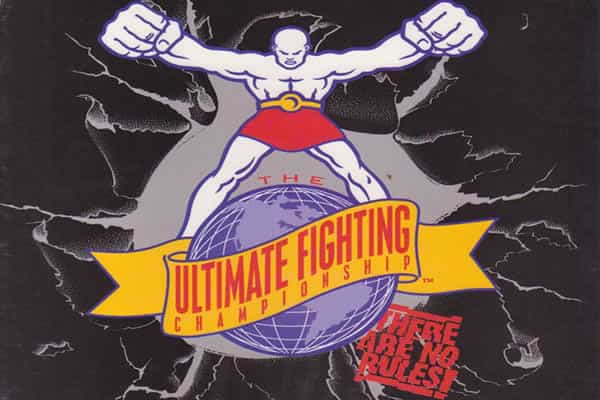 UFC 1
Lead commentator Bill 'Superfoot' Wallace set the tone for the UFC's first-ever event in 1993 when he unintentionally burped and mistakenly called the promotion, 'The Ultimate Fighting Challenge' during his opening monologue.
In the opening fight, Gerard Gordeau gave 400-pound plus sumo wrestler Teila Tuli some free dental work when he kicked him flush in the face, sending one tooth flying into the crowd and leaving his foot cut badly enough that it would later hospitalize him for several days due to a serious infection.
The 6′ 4″, 265-pound Kevin Rosier had looked athletic in his audition photos, but showed up on fight week at a portly 300 pounds, fresh from having had root canal surgery and unashamedly eating pizza and swigging Heineken while working out at a local gym.
Nonetheless, Rosier won his opening round fight, then Art Jimmerson bizarrely fought Royce Gracie wearing a single boxing glove and proceeded to tap out following a takedown before the BJJ expert even had a chance to lock up a submission.
During the final, Gordeau bit Gracie on the ear, claiming later that he wanted to give the Brazilian something to remember him by, and in response, Gracie intentionally held onto the fight-ending choke for several seconds longer than he should have.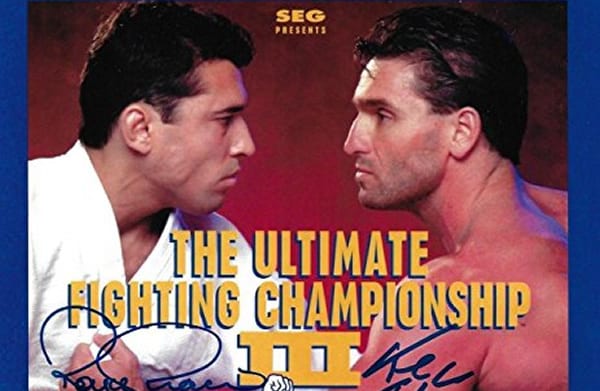 UFC 3
Everyone expected Royce Gracie and Ken Shamrock to make it to the final at UFC 3 in 1994, but fate had other plans that night.
Gracie's opening fight saw him fight Kimo Leopoldo, who walked to the octagon carrying a giant cross on his back, with the name 'Jesus' tattooed across his midsection and proceeded to give the favorite his toughest fight to date with the Brazilian emerging victorious, but having to be carried from the octagon afterward.
The world's heaviest athlete, 6′ 8″, 616-pound American sumo wrestler Manny Yarbrough, towered over the 5′ 11″ Keith Hackney outweighed him by over 400 pounds, yet was floored by one punch and then TKO'd in less than two minutes.
However, Hackney broke his hand while beating up Yarbrough, leaving him unable to fight Ken Shamrock, who instead defeated late replacement Felix Mitchell.
Gracie was supposed to fight Harold Howard, but his corner threw in the towel just before the fight began as he was too exhausted and dehydrated to continue, prompting Kimo to get back into the cage to celebrate as if he'd won their previous bout.
With Gracie out, Shamrock also withdrew, so the debuting Steve Jennum, who claimed to be a ninja, was drafted in out of nowhere as a late replacement and proceeded to tap out Howard due to strikes in 87 seconds to win the tournament.
However, the fight is most remembered for the mulleted Howard's comical attempt to execute a front flip kick that resulted in him flopping harmlessly onto his back.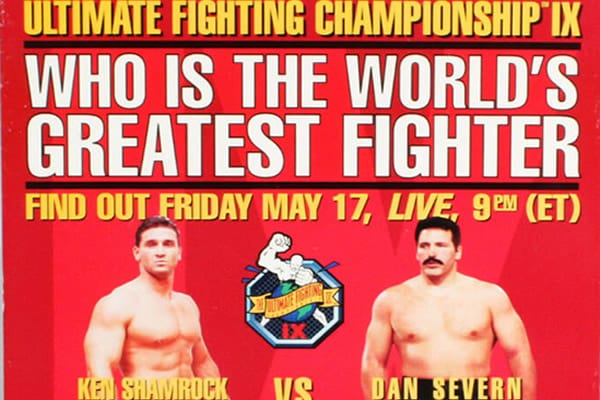 UFC 9
There was a political storm brewing around the time of UFC 9 in Detroit, Michigan, back in 1996 as Senator John McCain campaigned to have the sport banned, describing it as 'human cockfighting.'
That led to the UFC owners battling in court right up until 4:30pm on the day of the event to allow the show proceed, and in the end, they agreed to a modified rule set, which along with banning headbutts would absurdly also outlaw punches with closed fists.
"I didn't say there wasn't going to be any punching," UFC Bob Meyrowitz told bemused UFC ref, 'Big' John McCarthy afterward. "I just said I'd make it illegal. When they punch, you're going to tell them, 'That's illegal.' And you're going to have to fine them eventually. When they have to pay that fine, only God knows."
Despite the constant warnings, the first six of the seven fights on the cards would still be finished by TKO due to strikes.
However, in the main event against Dan Severn, Ken Shamrock decided to set a good example for his students by vowing not to break the rules in his fight and instead opted for open-hand slaps only.
What followed has often been cited as one of the worst fights in UFC history as Shamrock and Severn circled each other for the vast majority of the 30-minute encounter, before 'The Beast' was declared the winner by split decision, even though most of the handful of blows he had landed were technically illegal.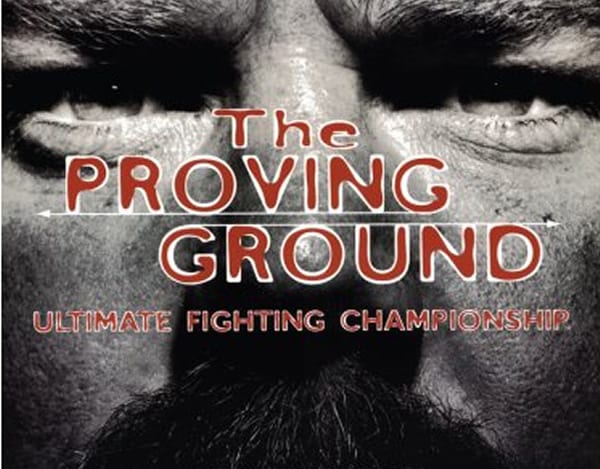 UFC 11
UFC 11 showcased an eight-man tournament featuring the likes of Mark Coleman and Tank Abbott, with two alternate fights on-board to cover for any potential injuries.
The most memorable moment of the quarter-finals occurred when John McCarthy barged in too aggressively to end Brian Johnson's brutal ground and pound beating of Reza Nasri and accidentally burst the fighter's nose open.
Johnson was still able to continue into the semi-finals, but after a long delay, it emerged that Jerry Bohlander was out of the other semi-final and so Scott Ferrozzo was drafted in to fight Tank Abbott instead and proceeded to beat him by decision.
Despite a vigorous post-fight celebration, Ferrozzo was then left unable to continue due to dehydration, while the other alternate, Roberto Traven was briefly drafted in to replace him in the final, only to then pull out with a broken hand.
The broadcast team awkwardly attempted to fill time during an excruciating 70-minute delay while all this played out until Coleman finally walked to the Octagon, where he was anti-climactically declared the winner by default.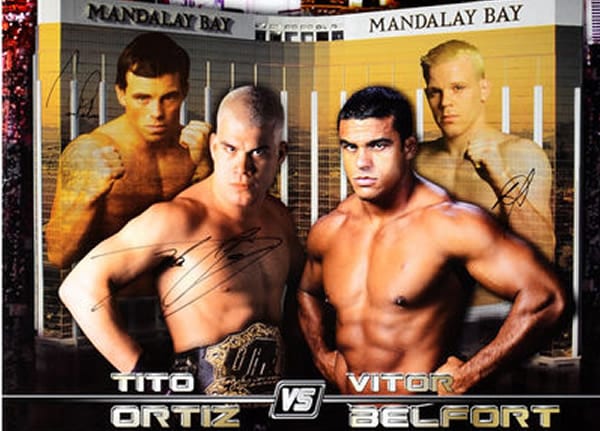 UFC 33
UFC 33 in September of 2001 was the promotion's first event back on pay-per-view after a long absence and they went all out with three title fights, but Dana White has frequently referred to it since as, "the worst show we've ever had."
Vitor Belfort was supposed to fight Tito Ortiz for the 205-pound title in the headliner but injured his arm, so Vladimir Matyushenko was brought in on short notice instead.
The first two fights on the main card went to a decision. Next up was Chuck Liddell, fresh off two KO victories in the Octagon, but 'The Iceman' left the crowd cold after an underwhelming decision win over Murilo Bustamante.
It was down to the three title fights to deliver the big thrills and spills, but continuing the theme of the evening, they proved to be snoozers that all dragged on for the full five rounds, with Ortiz vs. Matyushenko and Jens Pulver vs. Dennis Hallman, in particular, being two of the worst title fights of all-time.
Adding to the misery, due to all the decisions, the event over-ran and the PPV was cut by several cable companies midway through the main event.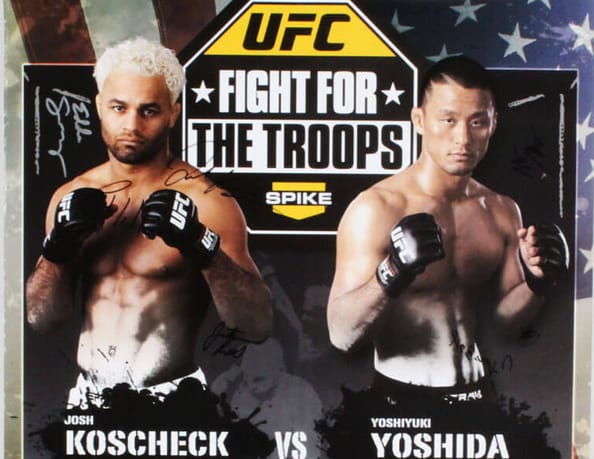 UFC Fight For The Troops 1
In 2008, the promotion rebranded UFC Fight Night 16 as a 'Fight For The Troops' event to raise money for wounded military soldiers, but on the night there was an unusually high casualty rate in the octagon.
In front of an arena full of military personnel, the second fight of the evening delivered one of the worst UFC injuries of all-time as the lanky Corey Hill gruesomely broke his leg after kicking his opponent's shin.
Next up, Ben Saunders would land what Joe Rogan described as "an unprecedented number of knees" to Brandon Wolff's head, leaving him with a freakishly huge hematoma on his forehead.
The carnage continued on the main card, with Nate Loughran suffering a broken rib, while Razak Al-Hassan's arm being broken by a Steve Cantwell armbar.
Jonathan Goulet then had to go to the hospital for a brain scan after being KO'd by Mike Swick in 33 seconds, while in the main event Yoshiyuki Yoshida was taken out on a stretcher after a devastating knockout against Josh Koscheck.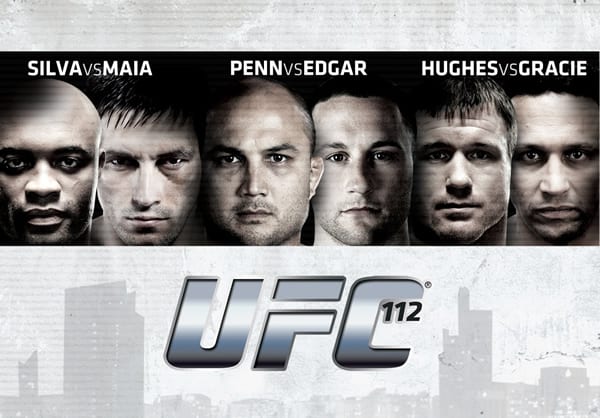 UFC 112
UFC 112 in April of 2010 marked the promotions first-ever visit to Abu Dhabi – a welcoming party for Zuffa's new partners from the region, Flash Entertainment.
Even before the event took place it was an oddity given that it was the first to take place at an open-air venue, with the 11,000 seat stadium being built just three weeks before the show and then immediately disassembled again.
Given the unusual setting, heat, humidity, wind, and sand all proved to be problematic on the night, but the real issue was the fights themselves.
A friend of Flash Entertainment, Renzo Gracie was brought in to fight Matt Hughes, even though he was 43 and had been out of action for three years, which led to him becoming exhausted and being completely outmatched before being TKO'd by leg kicks.
In the co-main event, lightweight champion BJ Penn would unexpectedly lose his title to Frankie Edgar by a controversial unanimous decision despite the majority of media outlets having scored it in 'The Prodigy's' favor.
Anderson Silva then defended his 185-pound title against Demian Maia in a truly bizarre headliner, with the champion investing more time showboating and provoking Maia than actually fighting, leading to a massively anticlimactic 25-minute title bout.
A fuming Dana White publicly apologized to fans afterwards and threatened to cut Silva if he ever fought like that again.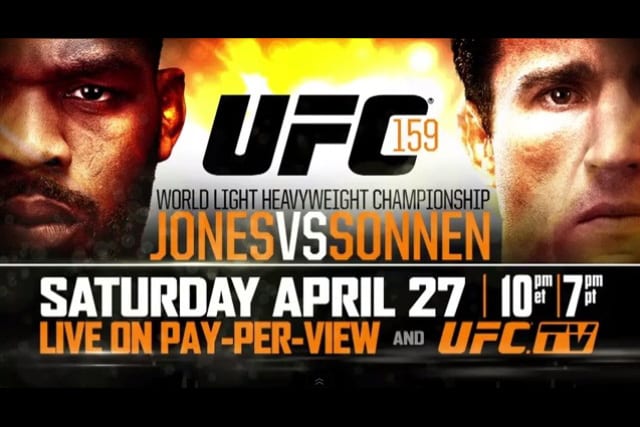 UFC 159
"It was a very weird night," White admitted after UFC 159 in 2013. "It started out weird and ended even weirder."
Firstly, a 205-pound fight on the preliminary card was forced to end prematurely when Ovince Saint Preux eye poked Gian Villante, injuring him to the point he was unable to continue.
The final prelim also came to an abrupt end midway through the first round after Yancy Medeiros badly dislocated his thumb while falling to the mat.
In the main card opener, Pat Healy tapped out Jim Miller in the third round, only for Octagon announcer Bruce Buffer to mistakenly declare Miller the winner.
Healy won a whopping $130,000 in 'Fight Of The Night' and 'Submission Of The Night' bonuses on the night, then tested positive for marijuana post-fight and was promptly stripped of his winnings.
The co-main event was the second fight to end in a technical decision before the final bell after Michael Bisping's finger strayed into Alan Belcher's eye, forcing a premature stoppage.
To cap off a crazy night, Jon Jones would TKO Chael Sonnen in the first round. During his octagon interview with Joe Rogan suddenly realized that he'd broken his big toe so badly that it was stomach-churningly twisted towards the ceiling with the bone sticking out, meaning Sonnen would have been the champion if he had made it out of the first frame.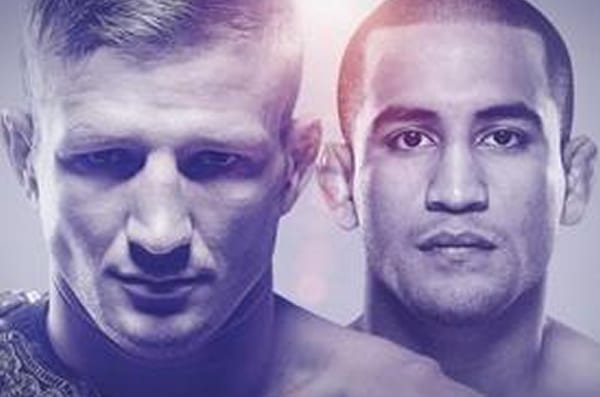 UFC 177
Billed as "the haunted card" by Joe Rogan, UFC 177 in the summer of 2014 saw fighters dropping like flies before the event.
It came at a time when UFC 176 had just been canceled and further bad news followed as UFC 178's headliner between Jon Jones and Daniel Cormier crashed and burned due to injury.
As such, UFC 177's planned co-main event flyweight title fight between Demetrious Johnson and Chris Cariaso was suddenly assigned to UFC 178 instead.
Days later Ruslan Magomedov and Richard Odoms was scrapped and then Justin Edwards was forced off his main card fight with Yancy Medeiros.
On weigh-ins day the event at the Sleep Train Arena threatened to completely derail after headliner Renan Barao KO'd himself in a bathtub, ruling him out of his title fight with TJ Dillashaw.
In desperation, the UFC turned to Joe Soto, who had been scheduled to make his promotional debut in the prelims, but was now thrust into a headlining title fight against Dillashaw.
Meanwhile, hotly tipped prospect Henry Cejudo also had to drop out of his debut due to a botched weight cut.
As a result, UFC 177 limped on with just eight fights remaining, making the event one of the smallest and least enticing in the modern era, and it proved to be a major flop on pay-per-view.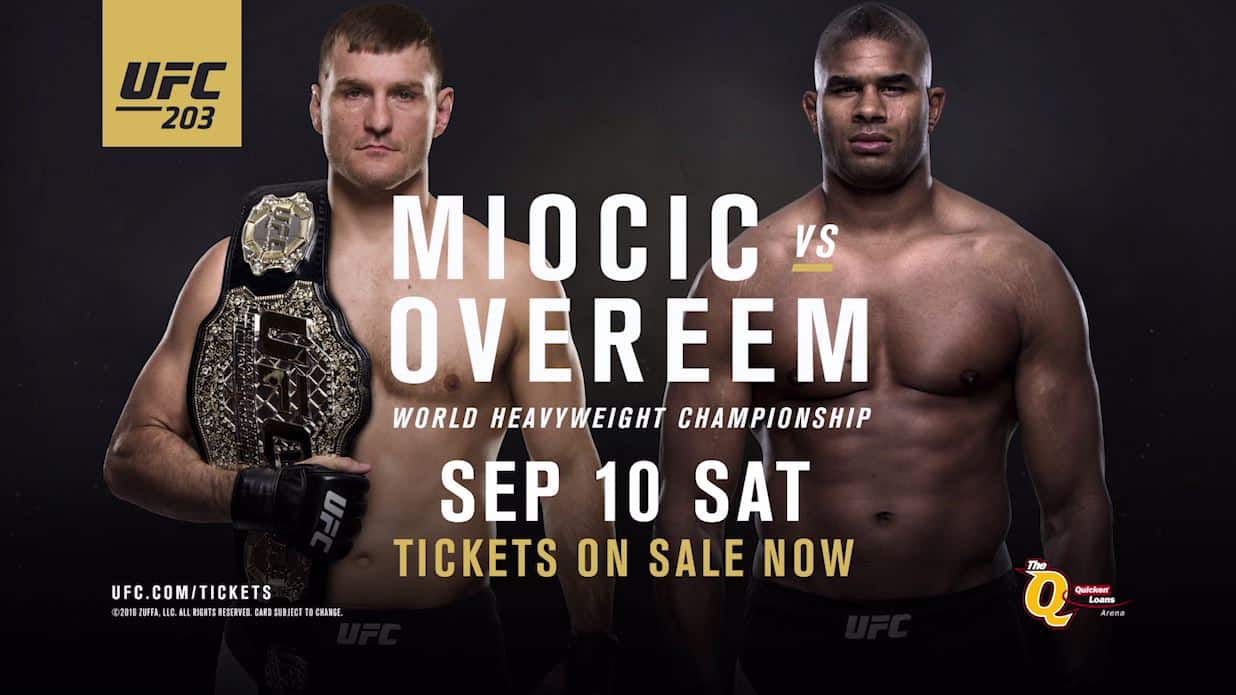 UFC 203
During fight week it was apparent that UFC 203 from Cleveland, Ohio, was going to be a weird one.
Malfunctioning elevators at the Wyndham Hotel led to several UFC staff getting stuck in one as the fighters weighed in, while Alistair Overeem was also briefly trapped, which led to him being fined for being late onto the scales.
Worse still, after the weigh-ins ended, several fighters on the card including Fabricio Werdum and Urijah Faber got into an elevator, only for a cable to snap, sending them plunging down to the basement.
Thankfully most of the fighters emerged unscathed, but C.B. Dollaway suffered permanent damage to his neck and lower back and had to pull out of his fight.
The event saw the debut of former WWE superstar CM Punk, who had been never fought before but had been training for several years for this moment, only to instantly be taken down and submitted by the 2-0 Mickey Gall.
Meanwhile, Travis Browne asked for a timeout while fighting Fabricio Werdum due to a gruesome broken finger, which technically should have led to a TKO stoppage, yet after a brief pause, the fight continued.
Afterwards, Browne's coach Edmond Tarverdyan started yelling at Werdum, who push-kicked him and got into his fighting stance, though officials rushed in before a full-on brawl broke out.
To cap it all off, Stipe Miocic KO'd Alistair Overeem in the first round, only for 'The Reem' to adamantly protest in his post-fight interview that his opponent had tapped earlier due to a guillotine choke.
In a painfully awkward sequence, Joe Rogan then made the obviously concussed Overeem watch repeated highlights of that moment on the big-screen to confirm that nothing of the sort had actually occurred.