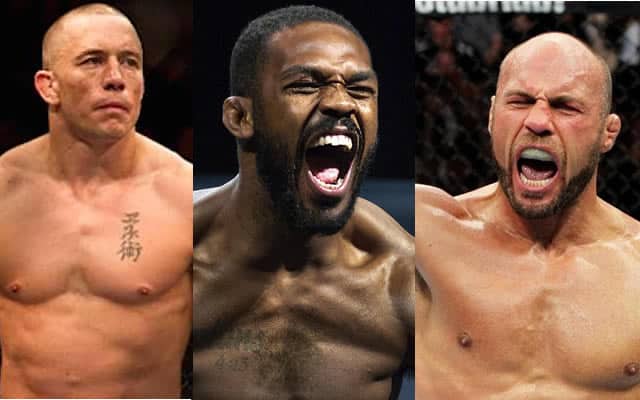 Over the course of its 23 years in existence, the UFC has become the ultimate proving ground in the sport of mixed martial arts, building a rich history along the way.
With that in mind, we decided it would be a good idea to delve deep into the record books in search of some of the greatest accomplishments in the Octagon over the years, including discovering which fighter enjoyed the longest title reign, who compiled the longest winning streak, and who's knocked out more opponents than anybody else in the history of the sport.
We'll also look at other record breakers too, so if you've ever wondered who the tallest fighter to ever set foot in the Octagon was, who was the oldest (hint: it's not Randy Couture), or just want to know who banked the biggest pay cheque, then we've got you covered!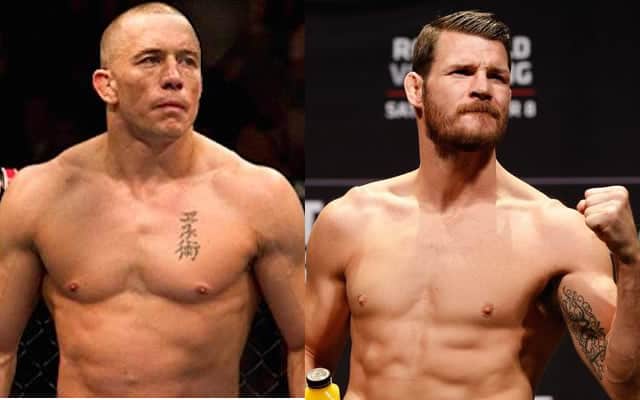 Most UFC Victories
Georges St. Pierre / Michael Bisping: 19 UFC wins each
GSP and Michael Bisping currently share the honor of having the most wins inside the Octagon, with both having had their hands raised on no less than 19 occasions over the course of their UFC runs.
GSP's storied UFC career began at UFC 46 in January of 2004, notching up a unanimous decision victory against Karo Parisyan.
He's since gone on to defeat the likes of Matt Hughes (twice), BJ Penn (twice), Nick Diaz, Johny Hendricks and Carlos Condit, compiling an impressive 17-2 Octagon record overall.
Bisping initially burst into the UFC by winning The Ultimate Fighter Season 3, with a TKO victory over Josh Haynes marking his official Octagon debut.
Bisping's overall UFC record of 12-7 isn't quite up their with GSP, but he's currently enjoying his most successful run yet at the age of 37, defeating the legendary Anderson Silva and then producing a shock TKO victory against Luke Rockhold to become the UFC's middleweight champion.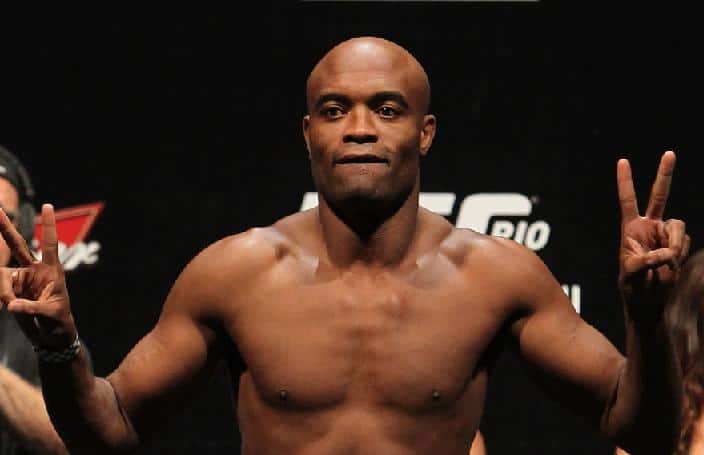 Longest Winning Streak
Anderson Silva: 16 fights
When it comes to winning streaks, no one can hold a candle to former middleweight champion Anderson Silva.
'The Spiders' winning streak began with his UFC debut, defeating Chris Leben by a first round KO back at UFC Fight Night 5 in 2006.
Fighting predominantly at middleweight, where he became a long-reigning champion, with the occasional move up to light-heavyweight, Silva's winning streak would go on for a total of 16 fights, spanning a seven year period, before finally suffering a TKO loss to Chris Weidman in 2013.
The closest fighter to Silva's record at the moment in time is Jon Jones, who has racked up 13 wins in a row, but with his immediate future hanging in the balance due to a possible two year suspension, the Brazilian's record is safe for now.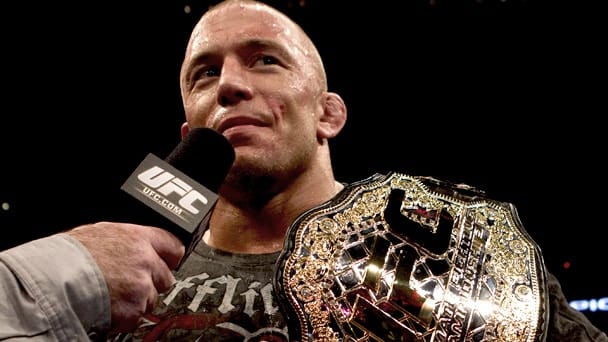 Most Title Wins
Georges St-Pierre: 12 fights
Canadian superstar has tasted victory in title fights more than any other fighter in the history of the UFC.
Despite that, his first ever title fight against Matt Hughes at UFC 50 in 2004 was actually unsuccessful, losing by armbar in the first round.
That didn't deter St-Pierre however, and he'd go on to beat Hughes twice, and between two separate title campaigns he'd compile a total of 12 victories.
Looking at the championship tally from a different angle, Anderson Silva still holds the record for the most consecutive title defenses, claiming 10 in a row, while GSP had 9.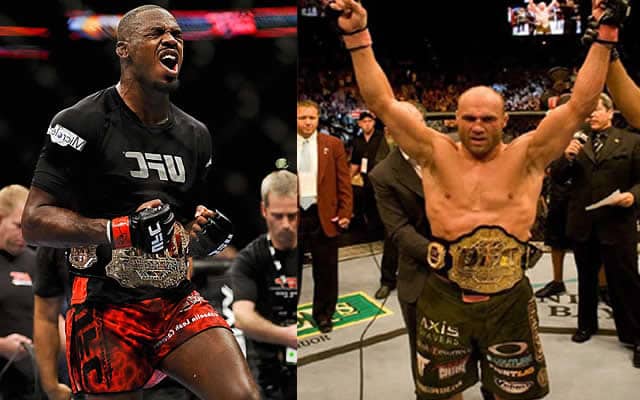 Youngest & Oldest Champions
Jon Jones – 23 years old
Randy Couture – 45 years old
Two former UFC champions hold the distinction of being the youngest and oldest ever UFC fighters to lift a title.
At one end of the spectrum there's Jon Jones who lifted the light-heavyweight title aged just 23 years and 244 days old, defeating Mauricio 'Shogun' Rua by third round TKO at UFC 128.
At the opposite end of the range, 'The Natural' Randy Couture came out of retirement to fight for the heavyweight title against Tim Sylvia at the ripe old age of 43.
Despite being completely dwarfed by 'The Maine-Iac', Couture lived up to his 'Captain America' nickname by dominating the fight to seize the title.
He'd then defeat Gabriel Gonzaga, and remained champion until November of 2008, by which point he was 45 years and 147 days old.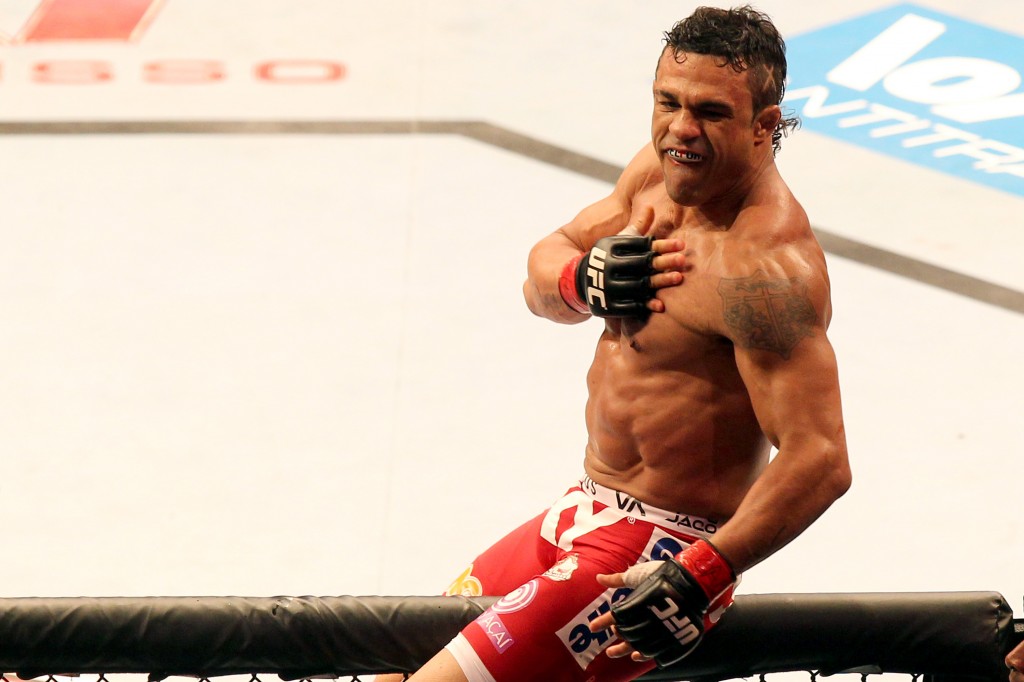 Most UFC Knockouts
Vitor Belfort: 12 finishes by knockout
When it comes to stoppages due to strikes, Vitor Belfort truly lives up to his 'Phenom' nickname, with a total of 12 in the UFC.
Belfort's UFC career all the way back in 1997 and he immediately displayed his propensity for violent outcomes, TKO'ing both Tra Telligman and Scott Ferrozzo in less than two minutes combined to win the UFC 12 heavyweight tournament.
His first fight at light-heavyweight saw a classic 44 second TKO destruction of Wanderlei Silva in 1998, and he also proved to be a buzzsaw in the middleweight ranks too later in his career, including an infamous spell in which he recorded three head kick knockouts in a row against Michael Bisping, Luke Rockhold and Dan Henderson.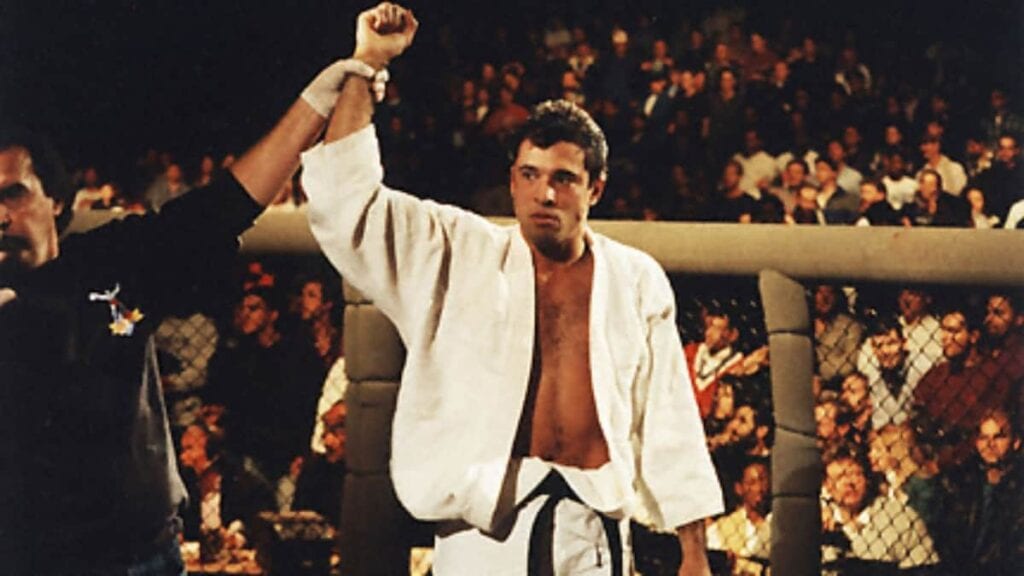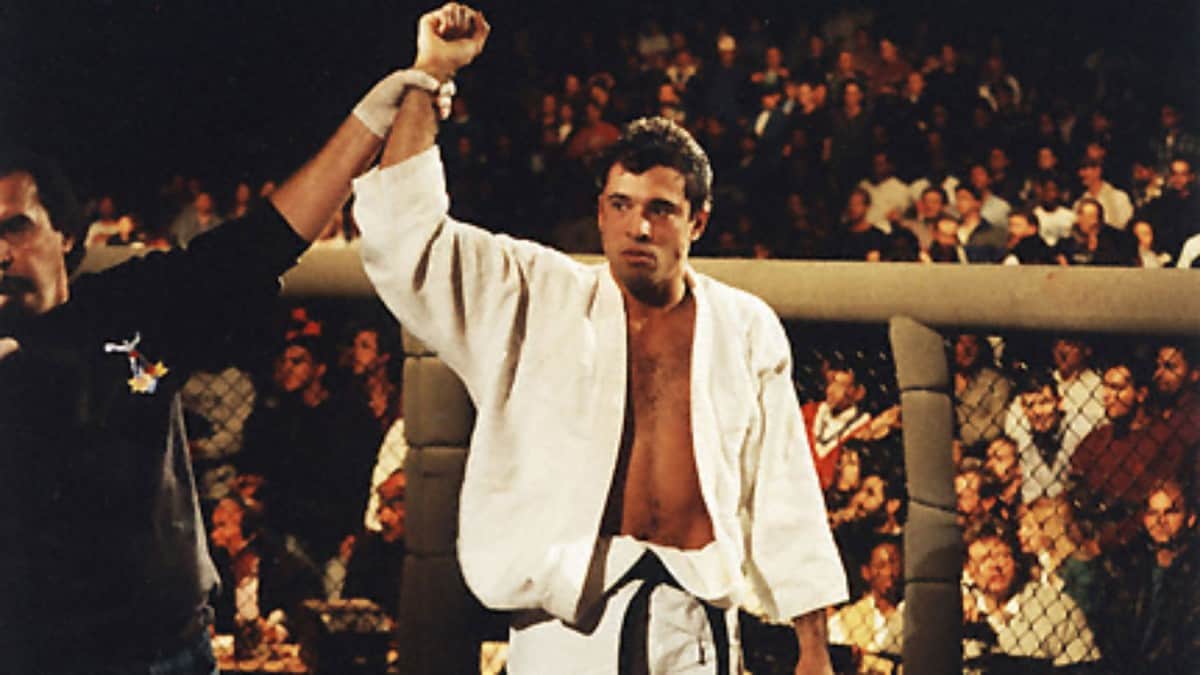 Most UFC Submissions
Royce Gracie: 11 finishes by submission
It's only fitting that the man who holds the record for the most submission in UFC history was the iconic fighter who first proved how deadly Brazilian Jiu-Jitsu could be in the Octagon – Royce Gracie.
Gracie's submission victories against opponents of all shapes, sizes and styles en-route to winning the one-night tournament at UFC 1 in 1993 is the stuff of legend, and helped ensure that BJJ would become a crucial component of any self-respecting MMA fighter, even to this day.
Gracie's total of 11 submission finishes came in an unbroken chain from UFC 1 through to UFC 4, including a flurry of rear-naked chokes, armbars, lapel chokes and a triangle choke in their for good measure.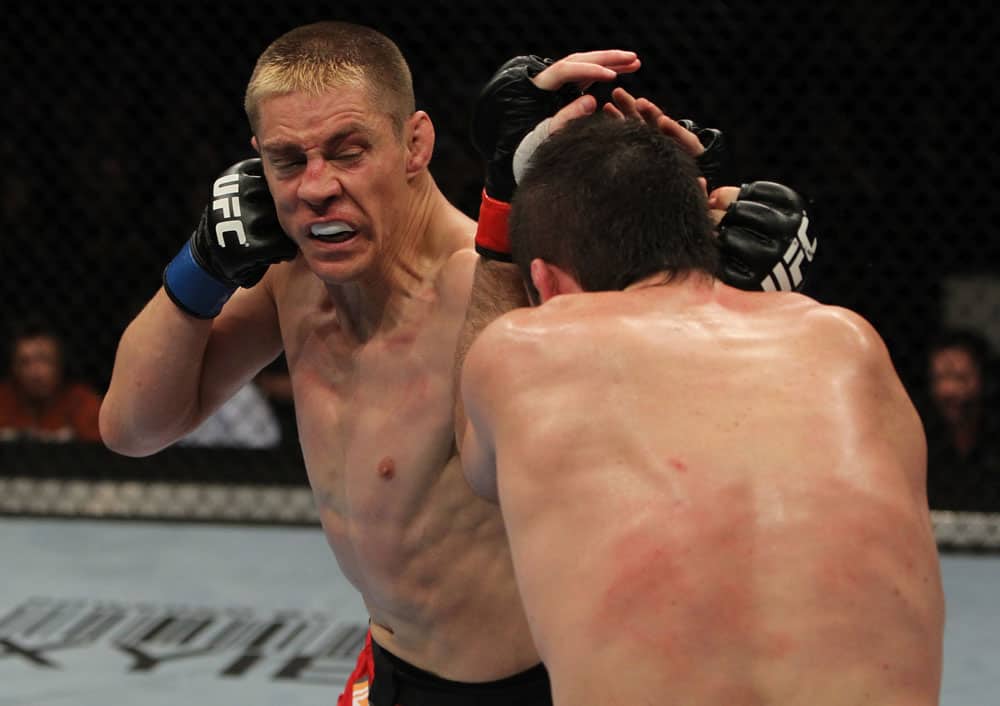 Fastest Finish
Duane Ludwig Vs Jonathan Goulet – 6 seconds
JJust seconds into their bout at UFC Fight Night 3 in 2006, Duane Ludwig clocked the onrushing Jonathan Goulet with a single right hand that sent him face first onto the canvas.
The referee, Mario Yamasaki immediately rushed in to end the fight, pushing Ludwig away and then several seconds later signalled that the fight was over.
The finish was recorded at 11 seconds, but many observers believed that the timekeeping was inaccurate, and that the stoppage had in fact came much earlier – only six seconds into the fight – which would have been a record.
It wasn't until six years later that UFC president Dana White finally set the record straight, confirming after video analysis that Ludwig's finish came 6.06 seconds into the bout, beating out Chan Sung Jung's 6.26 second finish of Mark Hominick and Todd Duffee's 7.56 second finish against Tim Hague.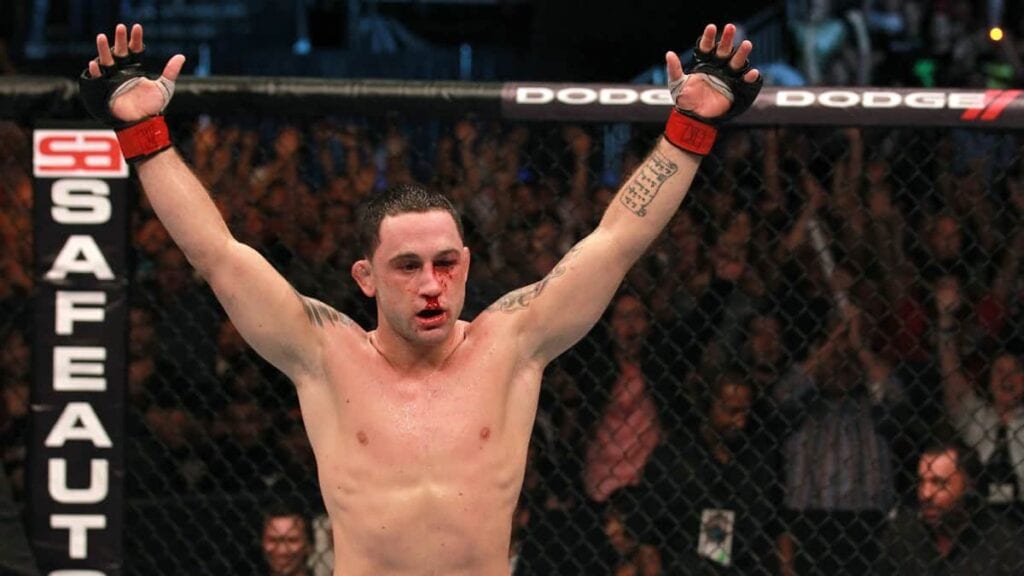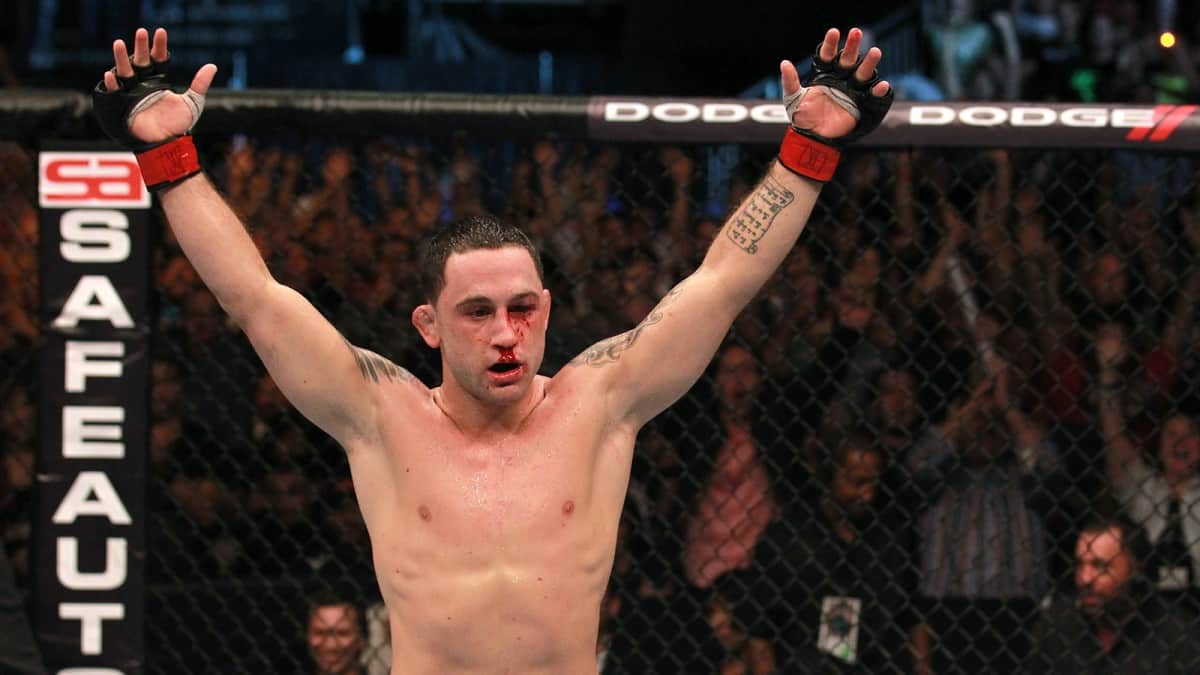 Most Time Spent In The Octagon
Frankie Edgar: 6hrs 2mins 51 secs
No one has spent longer fighting in the Octagon than former lightweight champion Frankie Edgar.
With a UFC career spanning 20 fights so far, Edgar has spent no less than 6hrs 2mins and 51 seconds in the Octagon, racking up 14 wins along the way.
It's 'The Answer's' tendency to fight to the final bell that sets him in pole position here, having gone to the scorecards a total of 13 times.
Georges St-Pierre isn't too far behind though, having spent 5hrs 28mins and 12 seconds fighting, including 12 decisions.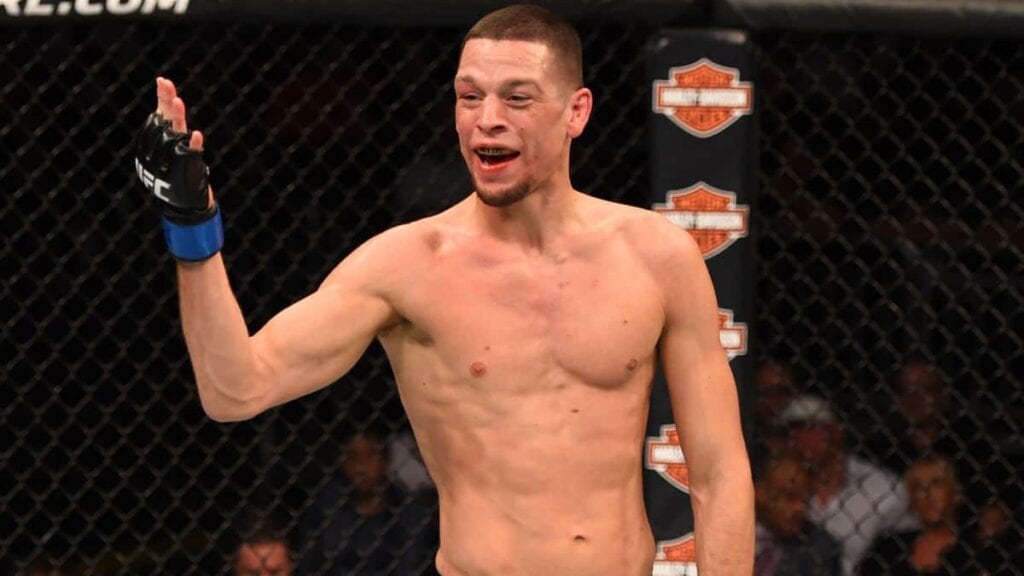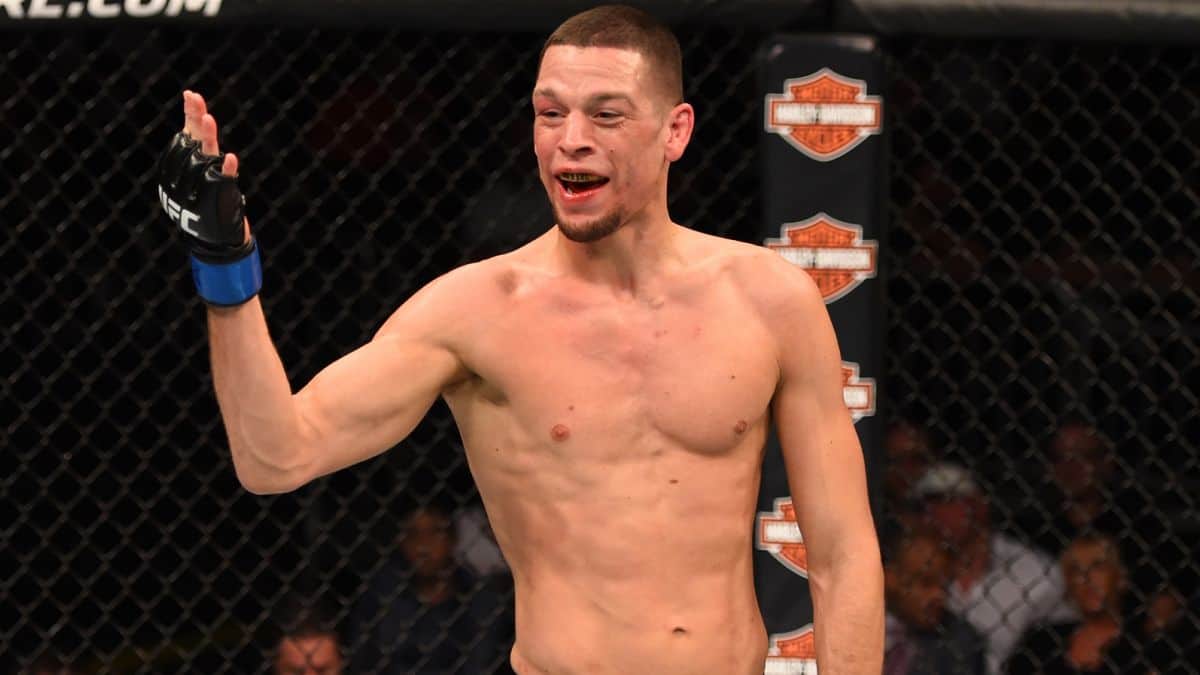 Most Bonus Awards
Nate Diaz / Joe Lauzon: 15 awards
One of The current kings of the post-fight bonus is Nate Diaz, who's collected an impressive 15 during his UFC run.
'Fight Of The Night' award make up the lions share of those awards, with a total of 8 serving as a clear indication that Diaz is a fighter that's always entertaining to watch.
Despite his love of throwing hands, Diaz only has one 'Knockout Of The Night' award, while his jiu-jitsu prowess has led to five 'Submission Of The Night' awards, including his most famous of all – a rear-naked choke against Conor McGregor at UFC 196 earlier this year.
Also earning 15 bonus awards to his name is Joe Lauzon, another veteran campaigner who always delivers, win, lose or draw.
Lauzon's record is similar to Diaz, with seven 'Fight Of The Night' awards and six 'Submission Of The Night' bonuses making up the majority of his impressive haul.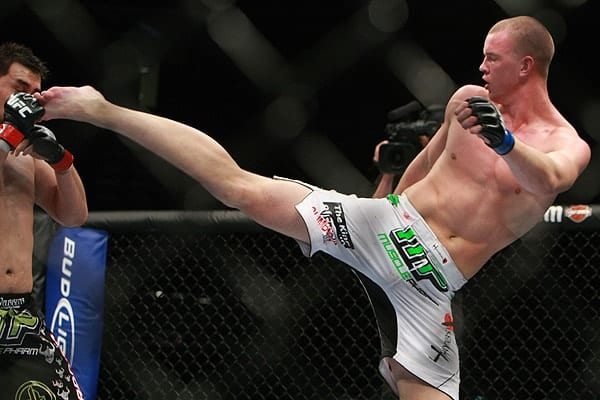 Tallest Fighter
Stefan Struve: 7ft tall
Current UFC heavyweight fighter Stefan Struve is aptly named 'Skyscraper', as at 7ft tall he towers over everyone else in the division, both past and present.
Coincidentally, it's another Dutchman, Semmy Schilt, aka 'Hightower' that's next on the list, with the former UFC heavyweight measuring just below his fellow countryman at 6ft 11" tall.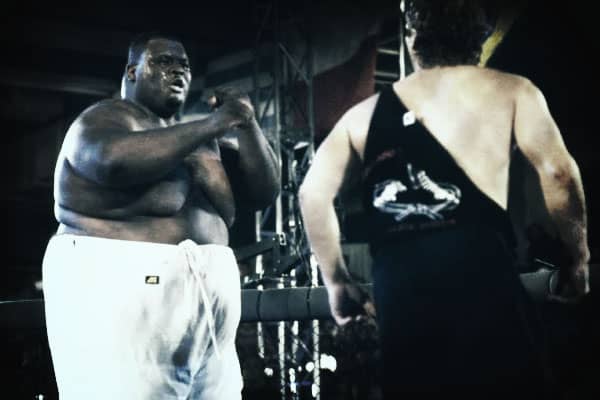 Heaviest Fighter
Manny Yarborough – 600lbs
When it comes to the heaviest fighter ever in the UFC, there's no contest.
The late Manny Yarborough tipped the scales at an Octagon-busting 600lbs for his one and only bout at UFC 3 in September of 1994.
Despite officially being recognised as the heaviest living athlete by the Guiness Book Of Records, Yarborough still suffered a first round TKO loss to the Keith Hackney, who was some 400lbs lighter than him.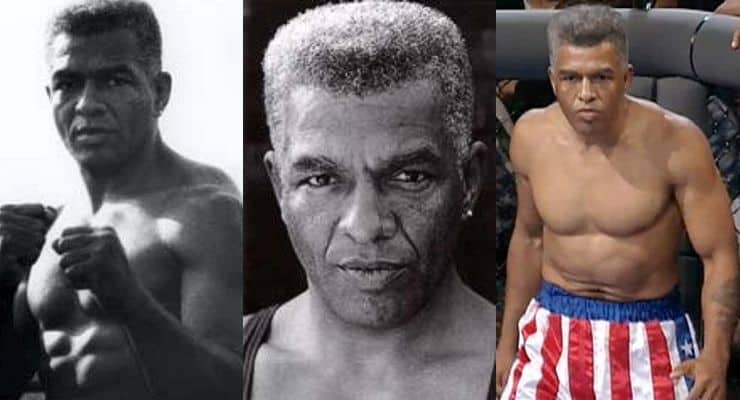 Oldest Fighter
Ron Van Clief – 51 years old
A celebrated martial artist pioneer in his heyday, who was nicknamed 'Black Dragon' by the one and only Bruce Lee, the sport of MMA almost arrived too late for Ron Van Clief.
However, the life-long martial artist couldn't resist the urge to compete in the Octagon, and so, at 51 years young, he signed up to fight at UFC 4 against Royce Gracie.
Van Clief broke his ankle a week before the fight, but showed up anyway, only to become the latest victim of Gracie's famous submission prowess in the opening round.
Nevertheless, that single fight ensured that even to this day, Van Clief remains the oldest fighter ever to compete in the UFC.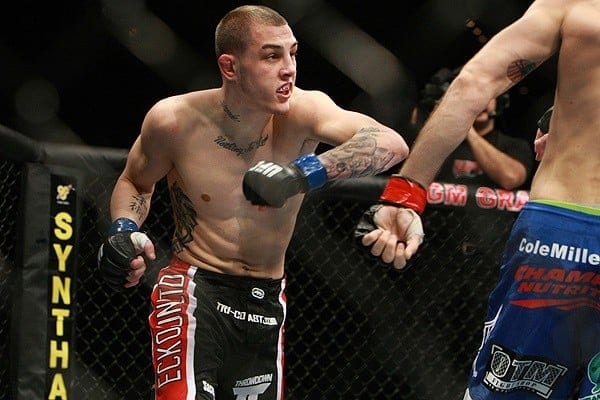 Youngest Fighter
Dan Lauzon – 18 years old
Dan Lauzon remains the youngest fighter ever to set foot in the Octagon at the tender age of 18 years old.
'The Upgrade' went up against Spencer Fisher in his debut, at UFC 64: Unstoppable in October of 2006, losing out by TKO late in the first round.
Lauzon fought a total of three times in the organization, but was unable to find the same level of success as his older brother Joe Lauzon in the Octagon.
UFC 2 fighter Sean Daugherty also made his one and only Octagon appearance as an 18 year-old, losing out to Scott Morris in just 20 seconds by way of a guillotine choke.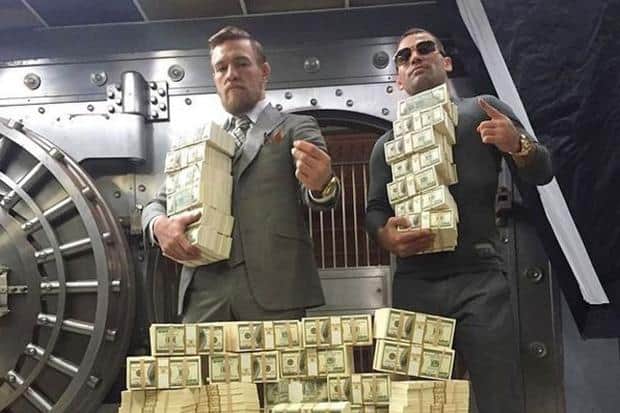 Highest Basic Salary
Conor McGregor – $3 million
While fighters overall pay cheque resulting from an event always remains undisclosed due to any potential cut of the pay-per-view revenue being kept private, every fighter on a card's basic salary is disclosed after each show.
The highest basic salary record has increased rapidly in recent times, and indeed has changed hands several times in 2016 alone, with Conor McGregor initially being the first to breach the $1 million barrier at UFC 196 in March.
Brock Lesnar outdid him soon after with a $2.5 million payday at UFC 200 in July, only for McGregor to then top that by banking $3 million for his rematch with Nate Diaz ( who also earned a cool $2 million) at UFC 202 in August.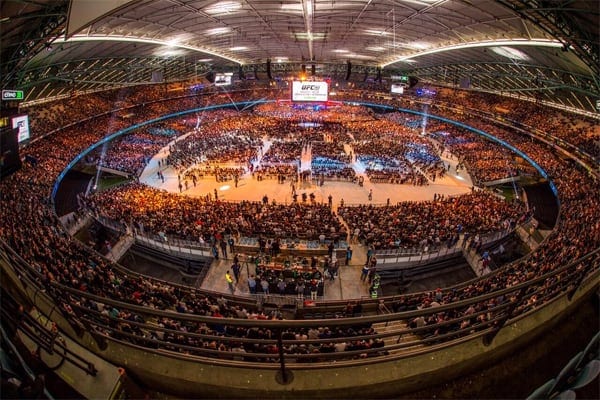 Largest Attendance / Overall Gate
UFC 193: Rousey Vs Holm – 56,214
UFC 128: GSP Vs Shields – $12,075,000
When it comes to attendance records, it's the UFC's few stadium shows that rule the roost, with UFC 193: Rousey Vs Holm at the Etihad Stadium in Melbourne, Australia in November of 2015 drawing the biggest crowd to date – 56,214.
That beat out the previous high mark, UFC 128: GSP Vs Shields at the Rogers Center in Toronto in 2010 by the narrowest of measures, squeezing in just 400 more fans.
However, UFC 128 still holds the overall gate record, which stands at a whopping $12,075,000, far higher than UFC 193, which raked in $6,800,000.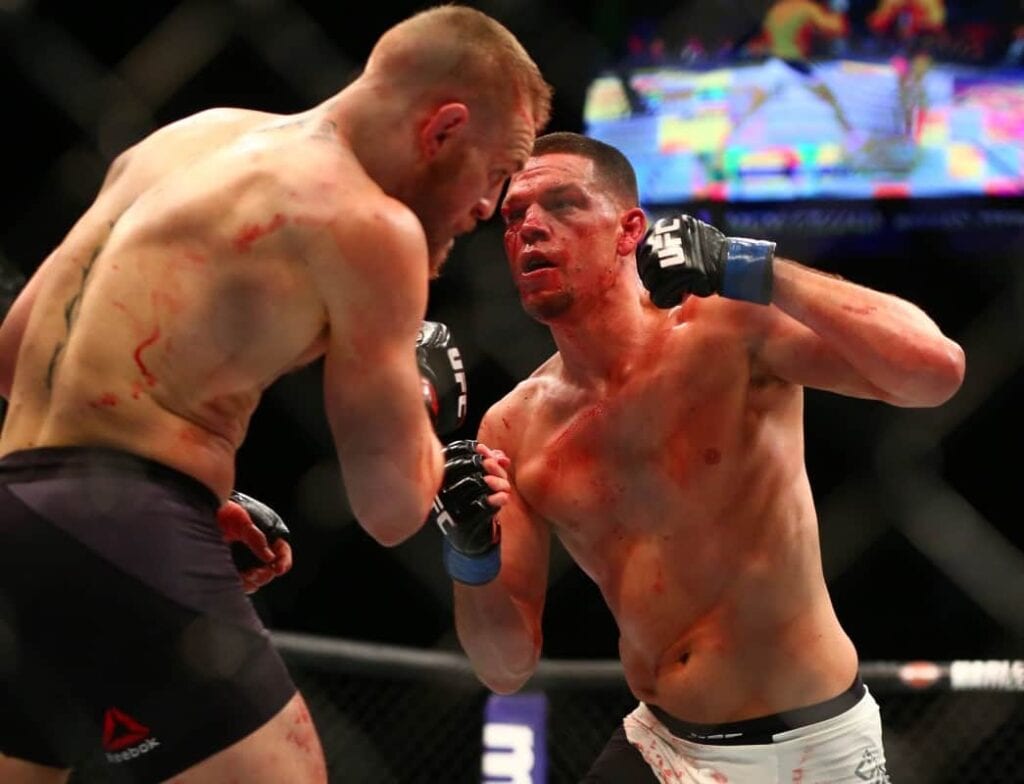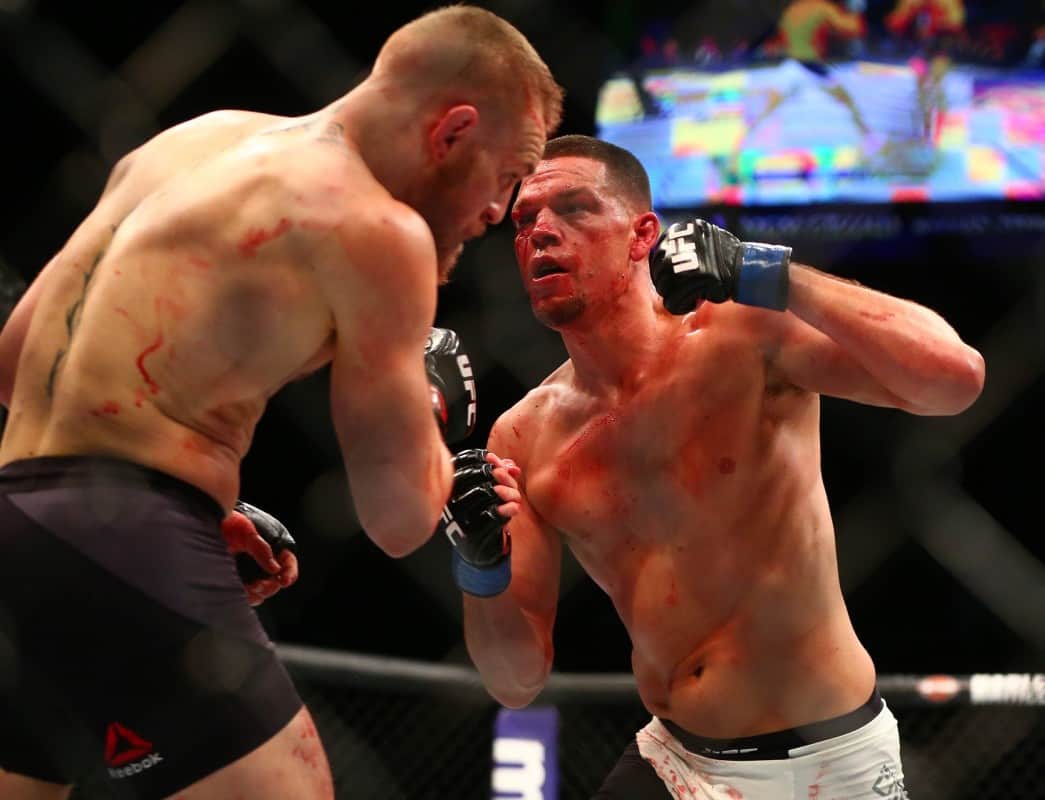 Most Pay-Per-View Buys
UFC 196: McGregor Vs Diaz – 1.6 million+
For many years the historic UFC 100 event in the summer of 2009 stood out from the crowd as the biggest pay-per-view in UFC history, reportedly delivering in the region of 1.6 million buys.
However, after Conor McGregor's first blockbuster fight with Nate Diaz at UFC 196 in March of 2016 was rumoed to have delivered in the region of 1.5 million buys, 'The Notorious' began claiming that he now held the pay-per-view record, even suggesting that it was actually did 400,000 buys more than UFC 100.
Since the UFC never gives out official PPV numbers, that led to people questioning whether McGregor's claims mean that UFC 196 did 1.9 million buys, or if perhaps UFC 100 hadn't sold as many PPV's as had originally been claimed in the media.
Truth be told, no one knows for sure, but in the build-up to McGregor's rematch with Diaz at UFC 202, Dana White did confirm that UFC 196 does currently hold the pay-per-view record.