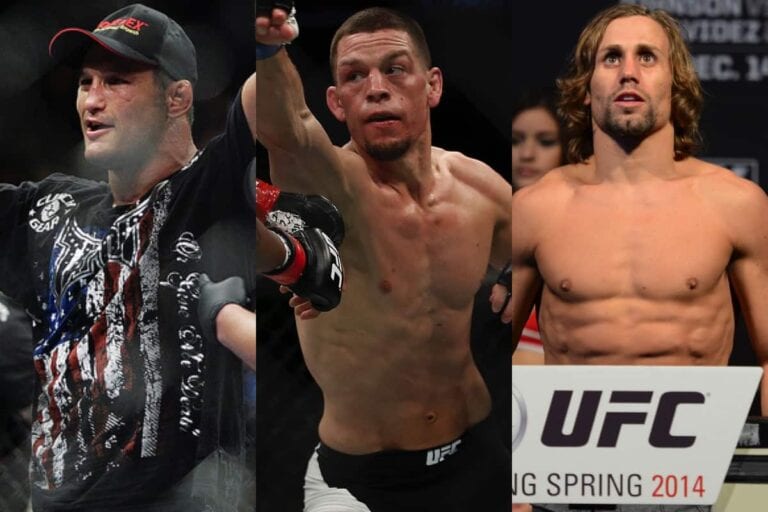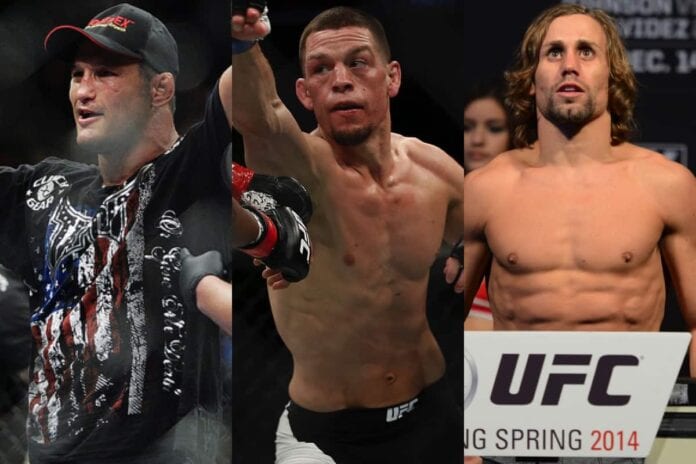 Throughout the nearly 23-year history of the UFC, there's been an elite group of champions that truly define both their weight class and era with unique and transcendent skills. Names like Anderson Silva, Georges St. Pierre, Jon Jones, Randy Couture, and Matt Hughes have all made their mark upon MMA as one of the greatest champions of all-time.
However, there is also another group of fighters who, while no doubt world-class and among the best of their respective eras, simply could not rise above the truly game-breaking champions above them to win the belt. Some of them were ousted by the legends of the fight game, and others never got the title shot.
Regardless, these fighters will go down as solid and effective in their own right, but just not good enough to be called UFC champion (at least not yet for some). Let's take a look at the best fighters to never win a UFC championship.

12: Mirko 'Cro Cop' Filipovic:
The Croatian Pride FC Open-Weight Grand Prix champion came to the UFC amidst a ton of hype in 2007, but he failed to capitalize on that in a big way. After a tune-up win over Eddie Sanchez, Cro Cop went into his UFC 70 heavyweight title eliminator against Gabriel Gonzaga only one win away from a shot at UFC gold.
He became one of the UFC's most aired highlights instead, as Gonzaga floored him with his own move, the vaunted left high kick. From there, Crop Cop would go on to get cut by the UFC following a three-fight losing streak to Frank Mir, Brendan Schaub, and Roy Nelson. He would later return to the Octagon to avenge his loss to Gonzaga with a vicious TKO in 2015, but his career was later marred when he retired after admitting to using human growth hormone.

11.) Wanderlei Silva:
Like Cro Cop, Wand came to the UFC amidst a steamrolling hype train after decimating the Pride ranks for years. His run in the Octagon was much less fruitful, and much more controversial, however, as he lost three of his first four bouts to Chuck Liddell, Quinton 'Rampage' Jackson, and Rich Franklin.
"The Axe Murderer" would rebound with knockout wins over Cung Le and Brian Stann later in his UFC career, but those would pale in comparison to the controversial ending to his UFC tenure.
Matched up with hated rival Chael Sonnen on The Ultimate Fighter: Brazil, Wand would go on to forever disgrace himself when he ran from a random drug test, ruining his UFC 175 bout with 'The American Gangster" (who also failed for a litany of substances), circumstances that he is still fighting to this day.

10.) Jon Fitch:
Smothering wrestler and AKA stalwart Fitch was a long-standing frontrunner in the UFC's welterweight division for years, playing second fiddle to only Georges St. Pierre at 170 pounds. But he could never beat 'GSP,' getting dominated by the Canadian champion at UFC 87.
He would go 5-0(1) over his next six fights, but never got a title shot after Johny Hendricks knocked him out in an incredible 12 seconds at 2011's UFC 141. Fitch then beat Erick Silva and got dominated by Demian Maia, a defeat that surprisingly earned him his walking papers and a reason Fitch is currently involved in the anti-trust lawsuit against the UFC.
He recently won the vacant World Series of Fighting (WSOF) welterweight title over Joao Zeferino, but Fitch was never able to win UFC gold despite his long run near the top.

9.) Hector Lombard:
Lombard rolled into the UFC in 2012 with a huge hype train and a huge paycheck as Bellator middleweight champion, but results just haven't matched the expectations that were laid out for "Lightning" (now "Showeather"). He lost a debated split decision to Tim Boetsch in his UFC 149 debut, and showed the fearsome power he was expected to bring when he knocked out Rousimar Palhares in Australia later that year.
From there a decision loss to Yushin Okami persuaded him to move down to welterweight, where he quickly became a popular pick to get a title shot following wins over Nate Marquardt and Jake Shields. However, that all came to an end when he tested positive for performance-enhancing drugs following his UFC 183 decision win over Josh Burkman, and his brutal TKO defeat at the hands of Neil Magny in March sealed his fate in the welterweight arena.
Lombard will now move back to 185 pounds, but he has quite the uphill battle if he plans to become UFC champion now.

8.) Chael Sonnen:
The self-proclaimed "Bad Guy" was involved in one of the biggest and most buzz-worthy feuds of all-time, but unfortunately he failed to win the belt in both instances.
We're talking about his long-standing rivalry with all-time great middleweight champion Anderson 'The Spider' Silva of course, a heated pairing that will go down as one of the greatest in UFC history. Sonnen largely hyped their first bout at UFC 117 singlehandedly as Silva spoke little English at the time, and he also very nearly took 'The Spider's' long-held belt at fight time, too.
Battering a supposedly injured Silva with Silva with a relentless onslaught of takedowns and ground and pound, Sonnen nearly had the title in his grasp going into the fifth round. However, Silva persevered like the true champion he was and submitted 'The American Gangster' with an emphatic triangle choke in one of the greatest middleweight title bouts ever. People often fail to remember that Sonnen tested positive for elevated testosterone levels almost 17 times that of a normal man, so he wouldn't have retained the belt if he had won it anyway.
The rematch at UFC 148 two years later was hardly as climactic, as Sonnen controlled the first round with his wrestling but made a damning mistake when he threw an ill-advised spinning backfist in the second, opening the door for Silva to land a huge knee and finish the fight with strikes on the ground.
From there, Sonnen would go on to mixed results until his career unceremoniously came to an end following his UFC 175 drug scandal opposite Wanderlei Silva.

Of all the fighters that are still currently fighting on this list, perhaps none is at a more elite level than Benavidez is. However, the fact that his main rival Demetrious Johnson is arguably the most dominant fighter in the sport continues to hold him back from getting the recognition he deserves.
Benavidez fought 'Mighty Mouse' to a close split decision loss in 2012, and he has only lost to Johnson in his flyweight UFC stint, winning all nine of his other bouts. But the most telling bout of that streak was a monstrous one-punch knockout by Johnson at 2013's UFC on FOX 13, a loss that is undoubtedly holding him back from getting another title shot despite the fact that he's racked up five straight wins in a shallow division.
Benavidez is undoubtedly the second best flyweight in the world; he just can't seem to get past "Mighty Mouse." It would be a shame to not see him get a third try, so all he can do is continue winning the fights he's handed.

6.) Nick Diaz:
Diaz is a fan favorite, a former champion in another promotion who was built up to be almost unstoppable at 170 pounds. Scott Coker's billing worked, but it has been a very rocky return to the UFC for the oldest Diaz brother.
A lot of that has been because of his trouble with marijuana, which recently got him an unprecedented five-year suspension (it was later reduced to a year-and-a-half). Yet at the heart of the matter, Diaz simply hasn't won a UFC fight since he battered a clearly past-prime lightweight in B.J. Penn back in 2011. He lost an incredibly controversial split decision to Carlos Condit for the interim welterweight title at UFC 143, and he dropped two decisions to greats Georges St. Pierre and Anderson Silva (the latter of which was changed to a no contest after "The Spider" tested positive for multiple performance-enhancing drugs).
He's now set to return this August, and he will most certainly be asking for the big fights that his younger brother Nate is now participating in. With no wins for over four years, he doesn't deserve them, but his name will always keep him in the title mix at 170. If he ever wins the title is up to him, but his track record might suggest he'll come up short.
He's still one of the best to have never won a UFC title.

5.) Kenny Florian:
No one on this list tried to win a belt in more weight classes than Florian, who fought from middleweight all the way down to featherweight in his nearly seven-year UFC career.
Now an integral member of FOX Sports' "UFC Tonight" broadcast team, Florian came up short against Sean Sherk, B.J. Penn, and Jose Aldo in his three bids for UFC gold. He won 12 of his 14 other UFC bouts, but the title bids he lost are unfortunately what define Florian's legacy.
He fought some of the best at several different weights during his time in the Octagon, but he just couldn't pull out a victory to win the belt at any one weight class. An injury ended his career early, but Florian deserves recognition for fighting in four divisions and having success.

4.) Nate Diaz:
After spending much of his career in the shadow of his older brother Nick (who is also on this list), Diaz is arguably the most popular fighter to have never won a UFC belt right now.
Obviously that's largely due to his huge UFC 196 win over Conor McGregor, and Diaz is headed for another huge payday when he rematches 'The Notorious' in the head-scratching main event of July's UFC 200. Diaz will collect his second massive payday there, and it's lead him to proclaim that title shots are "fairy tales" in the UFC, so he might not ever try to work his way back up that ladder again.
He got a shot at former champion Benson Henderson in 2012 after working his way up against the best, and although he was dominated by 'Smooth' then and current champion Rafael dos Anjos in 2014, he's one of the most well known fighters in the UFC without a belt, so obviously he is doing something right – titles or not.

3.) Michael Bisping:
Regardless of if you love or hate him, there's no denying the fact that 'The Count' has the longest UFC tenure in history without a title fight.
He thinks that he deserves one after defeating Anderson Silva by a close and very controversial decision in his backyard of London this February, but with a three-fight win streak consisting of only decisions (and close ones at that), fans aren't exactly clamoring to see him fight for the belt anytime soon. Add in the fact that he lost a brutally one-sided fight to current champion Luke Rockhold in 2014, and 'The Count' has a tough case to make for his long-awaited shot at gold.
But as one of the most loyal UFC competitors for the better part of the last decade, he may just get it if he can secure one more high-profile win to strengthen his case. It may have to be in a more convincing rematch with 'The Spider,' however.

2.) Urijah Faber:
With wildly successful runs as both WEC and KOTC champion and his own gym, it's easy to see that 'The California Kid' is one of the most recognizable fighters in MMA.
Yet he's currently lost an incredible six straight title fights, including three in the UFC, and there is understandably doubt about whether or not he'll ever reach the pinnacle of the elite. In fact, all of Faber's losses except for his 2015 loss to Frankie Edgar were in title fights. It's hard to say he chokes looking at his overall record otherwise, as he's finished the opposition in an incredible 26 of his 33 wins.
He's also a face of the lower weight divisions in the UFC, so while he may appear to show some minor signs of slowing down after a 10-year run at the top, he'll also be close to the title in the UFC bantamweight division. 'The California Kid' will get his latest – and perhaps last – chance to secure a UFC title when he faces Dominick Cruz in their rubber match at June 4's UFC 199.

1.) Dan Henderson:
There's one singular fighter who can outrank Urijah Faber as the best UFC fighter to never hold the title, and that's former Pride FC welterweight and middleweight champion Dan Henderson.
'Hendo' did win the UFC 17 Middleweight Tournament, but he never won UFC gold despite facing Anderson Silva for the middleweight championship and Quinton 'Rampage' Jackson for the light heavyweight title. Following his all-time classic with Mauricio 'Shogun' Rua at UFC 139 in 2011, Henderson was set to take on Jon Jones in the main event of UFC 151 but had to withdraw, inciting a windfall that lead to the outright cancellation of the event.
The 45-year-old 'Hendo' just hasn't been the same since that 15-month layoff, dropping six of his last eight bouts. But even despite the downswing, 'Hendo' is simply a legend who won a myriad of title belts in other promotions and was willing to fight anyone at anytime – which was never more apparent than when he knocked out all-time great heavyweight Fedor Emelianenko in July 2011.
His classic knockout of Michael Bisping at UFC 100 could go down as the most-aired knockout in MMA history.
He'll go down as one of the greatest of all-time, and it's shame that 'Hendo' never won a UFC title.