Marcus Almeida AKA Buchecha – Black Belt BJJ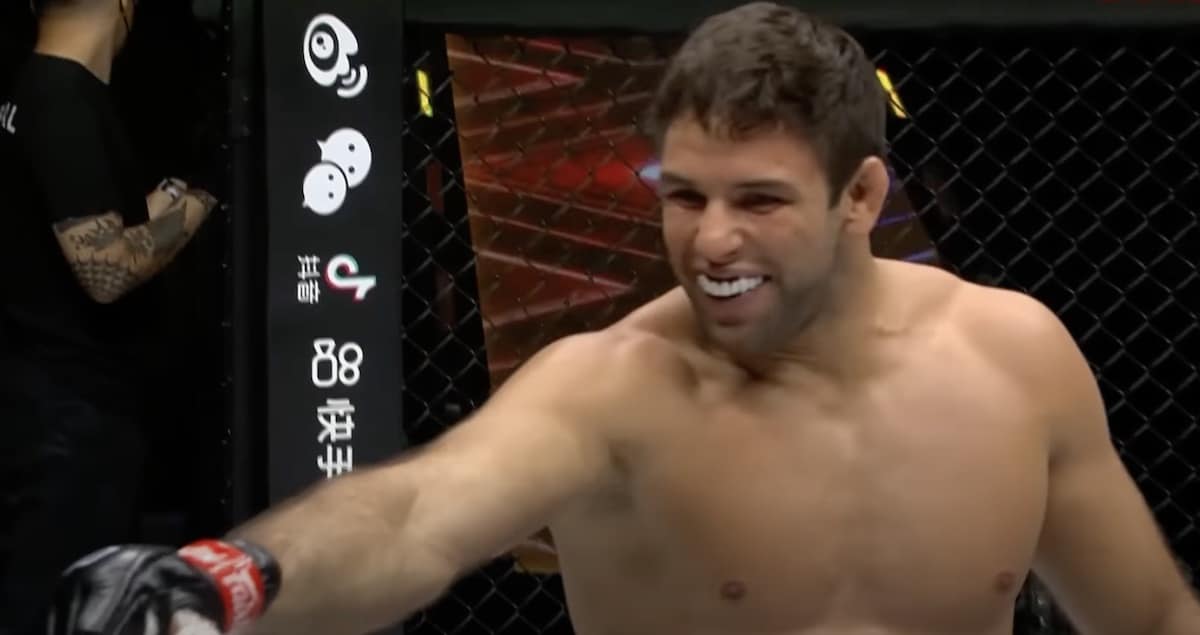 Name: Marcus Almeida
Nickname: Buchecha
DOB: January 8th, 1990
Academy: American Top Team
Affiliation: Checkmat BJJ
Instructor: Rodrigo Cavaca
Championships: 13x IBJJF Champion 2x ADCC Champion, 4x IBJJ No-Gi World Champion
MMA Record: 4-0
Over the last decade, there has not been an athlete as dominant as Marcus Almeida also known as Buchecha. Buchecha is one of the most decorated grapplers of all time and now he's now dominating in MMA.
Here is everything you need to know about Marcus Almeida. Everything from how he got started in BJJ, became one of the most successful grapplers ever, and his transition to MMA.
Marcus Buchecha's Start In Jiu Jitsu
Marcus Almeida grew up in the small town of Sao Vicente close to the city of Santos in Sao Paulo. Like most Brazilian kids, Almeida had dreams of becoming a top athlete in soccer, but he wasn't very good.
Instead of soccer, Marcus would take up surfing and would get pretty good. Not at a competitive level, but passionate to the point that he still surfs during his free time till this day.
Almeida would discover Jiu Jitsu when he was fourteen years old. At first, Marcus was actually forced to start JIu Jitsu against his will.
His sister was the first in the family that started training and their father was protective of her. At first, their father would accompany Marcus' sister to her classes and began taking classes himself. Then their father would make Marcus start taking Jiu Jitsu classes.
The instructor of the Almeida family was former world champion Rodrigo Cavaca. It would be Cavaca that gave Marcus the nickname "Buchecha" that means chubby cheeks in Portuguese.
Cavaca immediately saw potential in Almeida from the start as he was big and strong for his age. Buchecha would start to pick up Jiu Jitsu quickly.
Almeida Earns His Black Belt and Moves to the US
Marcus Almeida would be immediately successful at the lower BJJ ranks. He would win every major title in Brazil from white belt to brown belt.
Then after winning the Mundial in 2010, Cavaca would award Almeida with his black belt. His father would also get his black belt shortly after his son earned his black belt.
After earning his black belt, Buchecha would move to the US with his instructor and teammate Thiago Argao. For a short time, they joined Roberto "Cyborg" Abreu and formed a team called "The Avengers."
A super team that was made of some of the best young athletes of the era. But shortly, the team would fizzle and Buchecha would return to Brazil in 2011.
After a brief stay at home, Marcus Almeida would return to the US in 2012 to coach and train full-time. This was the time that Almeida would evolve into an elite BJJ athlete.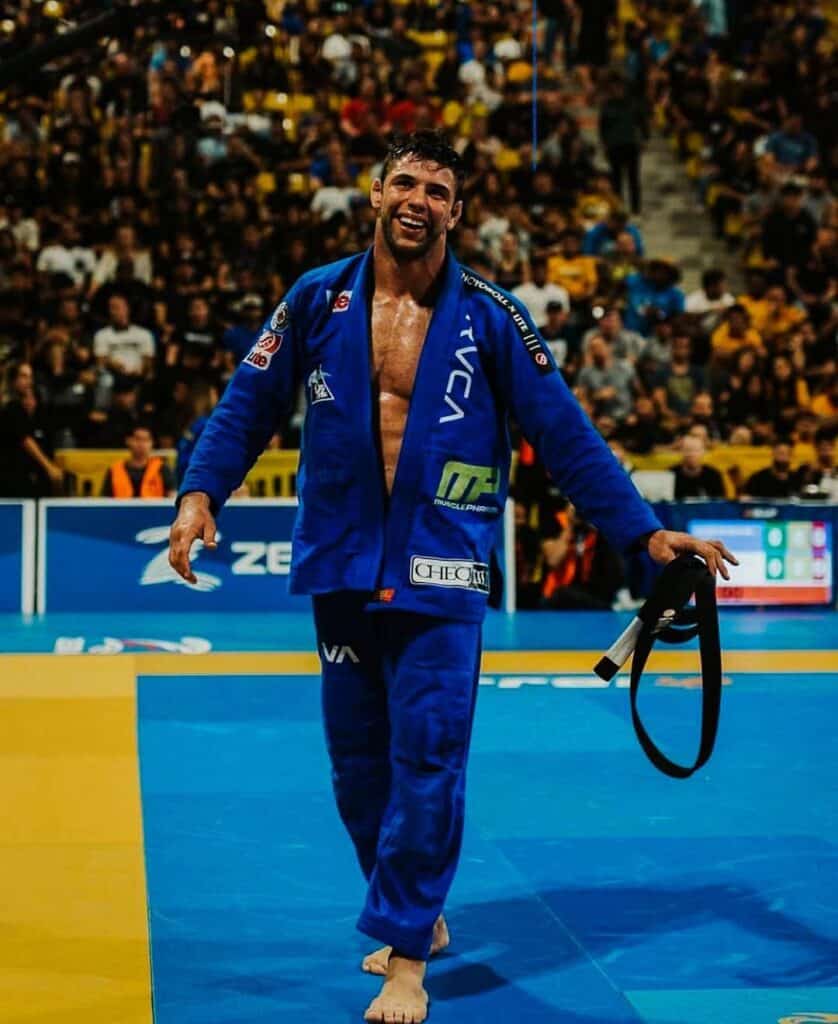 Marcus Almeida's IBJJF World Championships
In Marcus Almeida's first two years as a black belt, he competed in the IBJJF No-Gi World Championships. Earning double gold in 2010 and 2011, which would become the norm in Almeida's competitive career in the Gi.
IBJJF Championship 2012
Buchecha would compete in his first IBJJF Worlds event in 2012. He would compete in the super heavyweight championship and absolute division.
In his weight class, Marcus Almeida would be dominant in his debut. Beating former world champions Marcio Cruz and Leo Leite to win his first world title, but he wasn't done there.
Almeida would also clean out the competition in the absolute division. Beating some all time greats in Bernardo Faria, Rodolfo Veira, and Leo Nogueira to win his first double gold in Gi.
IBJJF Championship 2013-2015
Marcus would return to the IBJJF Worlds event in 2013 and was still unbeatable. The only person that scored on him in the 2013 world championship was Bernardo Faria in the absolute semifinals. This would be Almeida's second double gold performance.
In 2014, earned his 3rd double gold at worlds in a row. This time, he would beat everyone in his division by submission.
Marcus would come up short of winning double gold at Worlds in 2015. After winning his division, he would be upset by Ricardo Evangelista, who he beat multiple times prior.
IBJJF Championships 2016-2019
After not earning double gold for the first time in his career in 2015, Buchecha would come back with a vengeance. He would submit all, but two opponents by armbar to win his fourth double gold world championship.
In 2017, he would earn his fifth double gold at Worlds beating many top athletes like Erberth Santos, Mahamed Aly, and Leandro Lo.
Buchecha would've won his sixth double gold at IBJJF World in 2018, but he forfeited the finals match. His longtime friend, Leandro Lo injured his shoulder in the semifinals. Almeida didn't want to fight his injured friend and forfeited the match to his friend.
But in his last Worlds event in 2019, Almeida would win in his classic fashion. Finishing his Gi career with another double gold performance.
Putting his total at 6 double gold world championships and 19 in total including his No-Gi world titles. Marcus Almeida would close out his BJJ career with a record of 128-13-1.
Marcus Buchecha Almeida's ADCC Championships
On top of winning multiple IBJJF World titles in Gi and No-Gi, Marcus Almeida also won two ADCC world titles. One of only a handful of grapplers to ever accomplish this feat.
ADCC Championship 2013
In the same year Almeida won double gold at IBJJF Worlds for the second time, he won his first ADCC title. Submitting three of his four opponents in the 99+ kg division to earn his first gold medal.
He would nearly earn double gold, but lost to Cyborg Abreu in a rematch in the absolute finals.
ADCC Championship 2017
Buchecha would return to ADCC in 2017 to compete in his second ADCC event. Once again, Almeida was the favorite to win the 99+ kg division and didn't disappoint.
He would beat former champion Orlando Sanchez and long time rival Cyborg en route to winning his second ADCC title. But the double gold in ADCC would elude him once again as he was submitted by Felipe Pena in the semifinals.
His last ADCC appearance in 2019 would be a disappointing showing for Marcus. In this ADCC event, he would win either his division or the absolute division. Losing to Kaynan Duarte in the 99+ kg and Gordon Ryan in the absolute finals.
Marcus Buchecha Almeida's Transition To MMA
In 2020, Marcus Almeida would transition to MMA. He would begin training at American Top Team. Immediately after making his transition to MMA public, Almeida signed a long term contract with One Championship.
After the Covid-19 lockdown, Buchecha would make his MMA debut in 2021. Fighting fellow Brazilian, Anderson Da Silva and beating Silva in the first round by north-south choke.
Three months later, Almeida would have his second MMA bout against Korean fighter Kang Ji Won. Quickly taking Won to the ground and submitting him with an RNC.
Then six months later, Almeida would earn the first TKO win of his career over Simon Carson.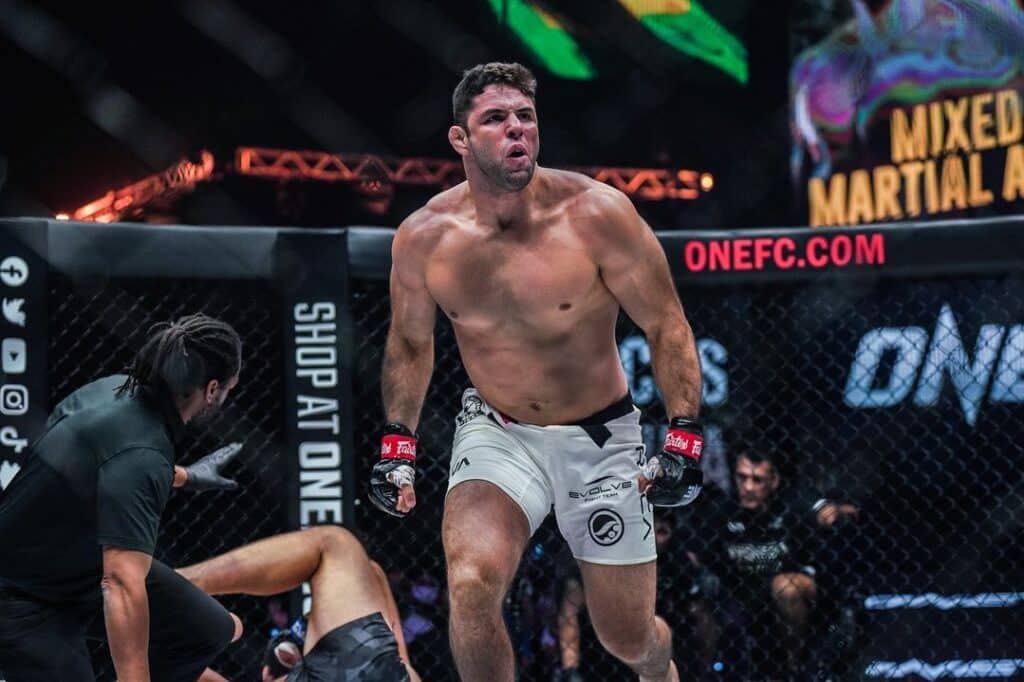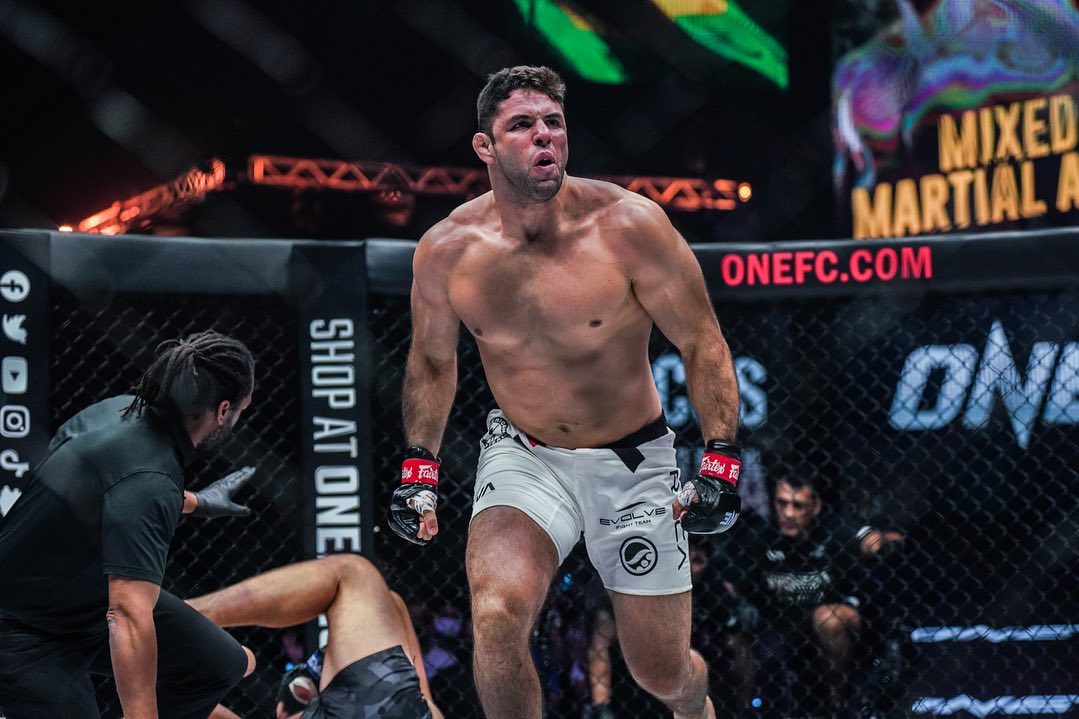 Almeida's Last Win and Dedication to Leandro Lo
In August 2022, Marcus Almeida would compete in his fourth MMA bout against Kirill Grishenko. Almeida would fake a takedown and attack Grishenko with a heel hook and force him to submit in the first minute.
After the match, an emotional Almeida took the mic and dedicated the win to his late friend Leandro Lo. He wanted to initially pull out of the fight, but he knew Lo would not have wanted him to pull out of the fight. Saying that they were fighters and they fight.
Marcus Almeida's Fighting Style
In Jiu Jitsu, Marcus Almeida is nearly as complete a grappler as there has ever been. Almeida is good to great in every aspect of grappling.
But what Buchecha is most known for is his double leg takedown and back takes. He submitted numerous world champions with ease from the back with various Gi chokes and RNCs.
Almeida is also known for having a decent leg lock game. Particularly being an expert at the toe hold.
In MMA, no heavyweight fighter in the world can match the skill of Buchecha on the ground. If he gets his opponent to the mat, the fight is all, but surely over.
Right now, Almeida is currently working on his striking game. If he can develop a good striking game, he will most likely become an MMA champion.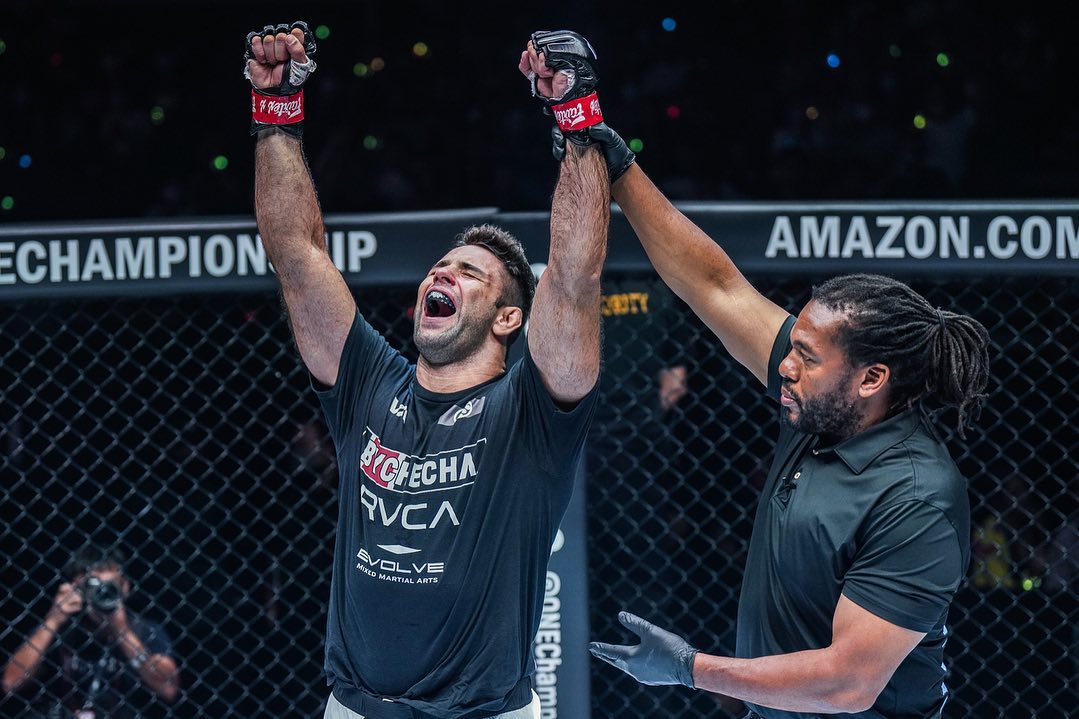 What's Next For Buchecha?
Marcus Almeida has already accomplished everything he could in Jiu Jitsu. Buchecha now has his sights set on becoming a world champion in MMA.
A goal that Almeida can no doubt achieve giving his track record as a multi time Jiu Jitsu champion. He is already considered one of the all time great grapplers of all time. If Buchecha can win championships in MMA, he'll easily be considered one of the all time great combat sports athletes ever.