| | |
| --- | --- |
| Name: | Roberto Abreu |
| Other Names: | Roberto de Abreu Filho |
| Date of Birth: | December 20th, 1980 |
| Place of Birth: | Campo Grande, Brazil |
| Nickname: | Cyborg |
| Sport: | BJJ |
| Academy: | Fight Sports HQ |
| Team: | Fight Sports Miami |
| Height: | 5 ft 11 in (1.80 m) |
| Weight: | 222 lb (101 kg; 15.9 st) |
| Weight Class: | Ultra-Heavyweight |
| Championships: | 6x IBJJF No-Gi Champion, ADCC Champion, Masters World Champion |
Roberto Cyborg Abreu has been one of the most successful heavyweight grapplers over the last two decades. He has done it in his long career and even into his 40s, Cyborg shows no signs of slowing down.
Here is everything you need to know about Roberto Cyborg Abreu. Detailing his journey to becoming a multi time world champion and forming one of the world's best BJJ teams.
Roberto Abreu's Entry Into Jiu Jitsu
Roberto Areu grew up in the Brazilian state of Mata Grosso do Sul. He was introduced to the art of Jiu Jitsu when was in his early teens.
A friend of Roberto challenged him to a play fight and being the bigger kid, he gladly accepted. But Abreu would be in for a surprise as his smaller friend would submit him multiple times in a few minutes.
Abreu couldn't believe it and he asked his friend how he did it and they said Jiu Jitsu. This led Roberto to joining his friends academy that was owned by Carlson Gracie black belt Claudionor Cardoso.
Just two weeks into his training, Roberto would compete in his first BJJ tournament and win. This feeling of victory would be contagious for Roberto Cyborg Abreu and would lead him to a 20+ year career.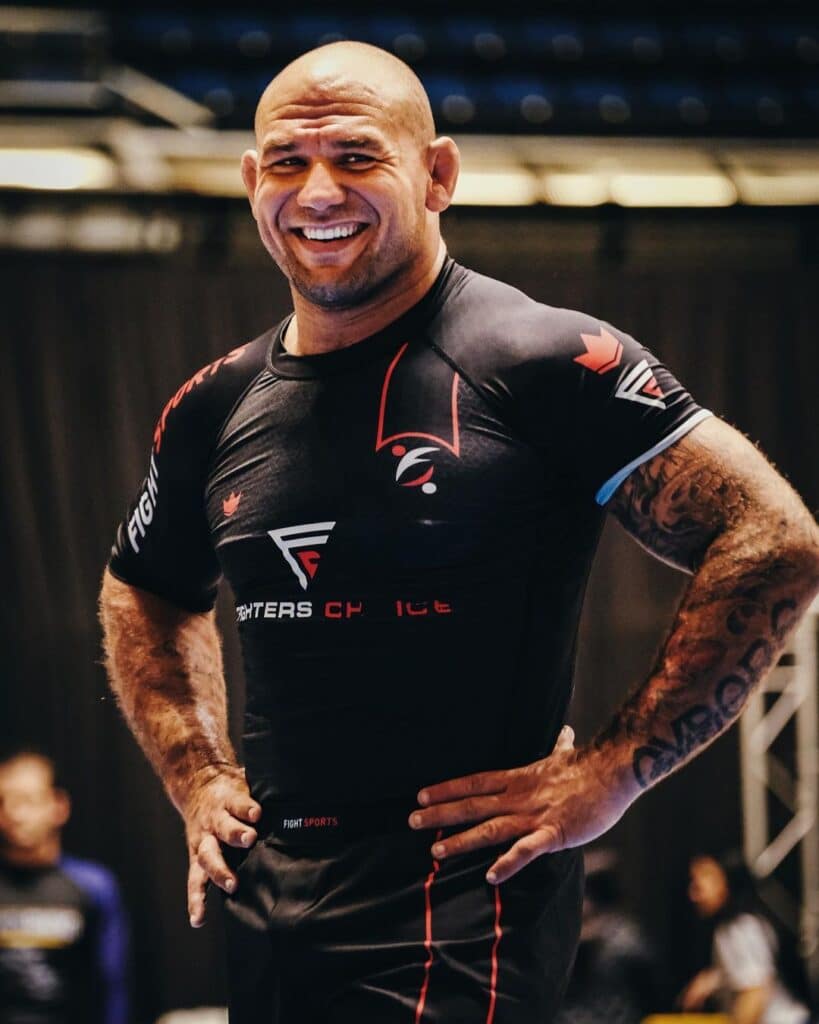 Roberto Abreu's Severe Car Accident
In 2000, when Cyborg was just a blue belt, he was in a near fatal car accident that would severely injure him. Leaving his left arm shattered, which took over 300 stitches, and various bolts to put back together. To this day, Abreu still has glass in his arm.
The doctor told Roberto that he would probably never use his arm again, let alone practice Jiu Jitsu. But Roberto would prove that doctor wrong and rehab to get back on the mat.
Just four months after the accident, Roberto took 2nd place at the Brazilian nationals. Due to his resilience, Abreu would be given the nickname Cyborg.
Roberto Abreu's Early Travels
After his accident, Roberto Cyborg Abreu would dedicate his life to learning and competing in BJJ competitions. He would often travel to Rio de Janeiro and train in bigger Jiu Jitsu academies.
During his travels, he developed a strong bond with Francisco Albuquerque, who owned Nova Geracao. Their friendship was so good that Abreu would open his own school as a purple belt that was an affiliated school.
Cyborg Abreu would only stay as a purple and brown belt for a total of nearly 20 months. His obsession with Jiu Jitsu would lead to him winning nearly every Brazilian championship at these levels.
Albuquerque would then award Cyborg with his black belt on December 20th, 2004.
Roberto Cyborg Abreu's No-Gi World Championships
Roberto is most known for his prowess in No-Gi, where he has won most of his world titles. Here is a breakdown of his 6 IBJJF No-Gi World Championships.
No-Gi Worlds 2010
2010 was the year that Abreu started his reign of terror within No-Gi Jiu Jitsu. In that year's No-Gi World Championship, Abreu would earn his first and only double gold at worlds.
He smashed through the competition in Cyborg fashion with takedowns and relentless pressure. Beating top grapplers like Lucas Leite, JT Torres, and Fabricio Camoes.
No-Gi Worlds 2011-2012
In the 2011 IBJJF No-Gi Worlds, Abreu would successfully repeat as No-Gi world champion. Beating both of his opponents by submission with an armbar and his patented reverse triangle.
Then in 2012, Abreu would repeat as No-Gi world champion for the third year in a row. Easily beating his opponents without getting a point scored on him.
No-Gi Worlds 2017 & 2021
After his win in 2012, Abreu would come up short at No-Gi Worlds for the next four years. Roberto would end his four year drought in 2017.
But it wouldn't be an easy fight to earn his fifth No-Gi world title. He would have a battle with tough grappler Joao Rocha, where neither grappler would score on the other. Abreu would edge out Rocha by earning an advantage in the last second to win his fifth world title.
Then after this win, Abreu would go another three years without winning a No-Gi world title. Roberto Cyborg Abreu would end the drought by dominating at the 2021 No-Gi World Championships.
Not getting a single point scored on him and beating top grapplers like Victor Hugo.
Cyborg's Career in ADCC
Where Cyborg really made a name for himself was at the 2013 ADCC Championship. He came up short in his previous two appearances losing both to Fabricio Werdum, but 2013 was his year.
Early on, it looked like Cyborg Abreu would win the 99+ kg division. Unfortunately, Roberto would lose to friend Marcus Almeida in the semis and have to settle for another third place medal.
But he would come back with vengeance in the absolute division. Roberto would place through his bracket beating Garry Tonon, Kamil Huminski, and Keenan Cornelius to meet Buchecha in the finals.
This time, Roberto Cyborg Abreu was ready for his friend and had the match of his career. Beating the seemingly unstoppable Buchecha 10-0, which no other grappler had accomplished.
Earning his only ADCC title, which is the highmark of Cyborg's career.
Roberto Abreu Wins Masters World
During Abreu's career, he would win numerous world titles in No-Gi. But a world title in the Gi had also evaded Roberto his entire career as a competitor.
This was until 2018, when Cyborg ended the drought and won the Masters BJJ World Championship. The only major world title that Roberto Cyborg Abreu has one in the Gi during his long and storied grappling career.
The Formation of Cyborg's Fight Sports
Aside from being one of the top grapplers for the last two decades, Roberto Cyborg Abreu also formed a world class BJJ affiliation. Here is the story of how Abreu would found Fight Sports Club.
The Avengers
In 2010, while living in the US, Abreu would make his first attempt at creating a BJJ superteam. He would join forces with Rodrigo Cavaca and Marcus "Buchecha" Almeida.
They would form a team that was known as "the Avengers." For about a year, this coalition of young BJJ athletes looked like an unbeatable force.
During the year that the three were a team, they would all win world championships. Abreu and Buchecha would both win No-Gi world titles and Cavaca would win the 2010 IBJJF Championship.
Unfortunately, the three would go their separate ways as Buchecha and Cavaca would return home to Sao Paulo.
Abreu and Wagner Rocha Form Fight Sports
After the Avengers team disbanded, Abreu would continue to train with longtime friend and UFC vet Wagner Rocha. The team would join together to form their own BJJ team in Miami, Florida.
They would call their academy Fight Sports club. Thanks to the success of both grapplers, Fight Sports would become a full blown affiliation.
Rocha would open his own Fight Sports academy shortly after and black belts under both men would also create affiliate schools. Fight Sports has now become one of the top BJJ affiliations in Florida.
Today, there are numerous Fight Sports affiliate Jiu Jitsu schools within the US and Brazil.
Fight Sports' Young Stars
Abreu's Fight Sports has been able to hone the talents of numerous young grapplers in recent years. The affiliation has produced three of the youngest and most talented rising stars in the sport of Jiu Jitsu.
Mica Galvao, Diogo "Baby Shark" Reis and Fabricio "Hokage" Andrey. All of which have won world championships before the age of 25 and will win many more in the future.
Roberto Cyborg Abreu's Grappling Style
Robero Cyborg Abreu is a beast of a man and one of the most impressive athletes to compete in grappling. His takedown ability is that of a national level collegiate wrestler, as well as his takedown defense.
This impressive wrestling ability, conditioning, and speed of a lightweight has led Cyborg to winning numerous world championships.
Abreu is also incredibly well versed off of his back. He is known for inventing his patented tornado guard. A powerful variation of half guard that various sweeps have been developed from.
Having this well rounded grappling game is what helped Cyborg become a multi time champion in Jiu Jitsu.
What's Next For Roberto Cyborg Abreu
Roberto Cyborg Abreu has accomplished every possible thing he can as an athlete and coach in Jiu Jitsu. He has won every major championship and helped form one of the top BJJ affiliations in the world.
But even though Roberto Abreu has accomplished all of this, he is not slowing down. At 42, Cyborg is still one of the world's best grapplers and will look to continue vying for world titles.