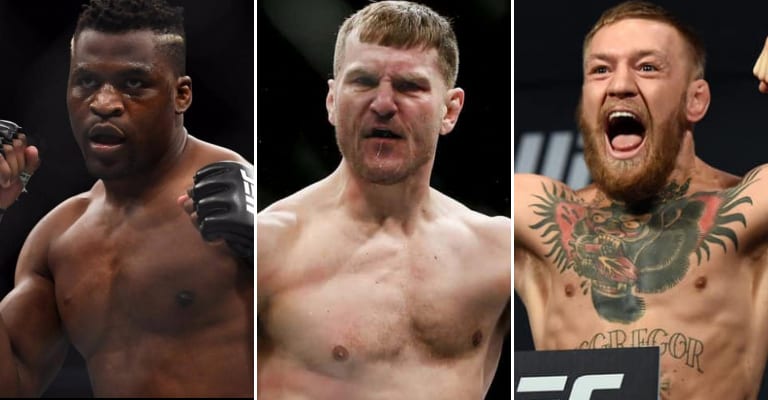 The sport of mixed martial arts (MMA) continues to evolve at a rapid pace, with its combatants become more well rounded, skilled, and dangerous with each passing day.
That's resulted in a new era of frighteningly efficient knockout artists, men and women who can put even the most skilled opponents to sleep with power punches the likes of which represent the full adaptation of modern MMA.
The UFC has always been about thunderous, entertaining knockouts, but it could and should be argued that the best knockout hitters of today can stop fights better than any previous iteration of the sport for obvious reasons.
With that in mind, we took a look at the 12 hardest hitters in the UFC today.
Enjoy.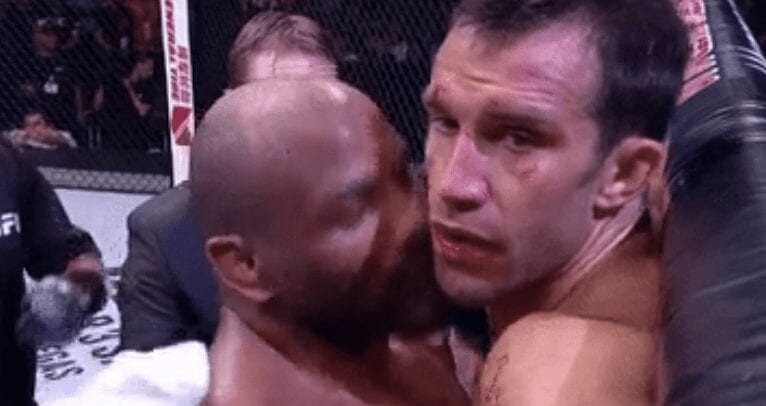 Yoel Romero:
This top-ranked UFC middleweight has had ample opportunity to become a UFC champion, but lost twice to current middleweight titleholder Robert Whittaker and also missed weight prior to his brutal knockout of Luke Rockhold in what would have been an interim title bout at March's UFC 221.
Much more controversy has followed "The Solider of God" throughout his UFC tenure as well, but his jaw-dropping knockout ability simply can't be denied. Romero has stopped seven of his nine UFC wins by some form of knockout, and they're almost always brutal. His devastating stoppages of Rockhold, Chris Weidman, and Lyoto Machida gives him a trio of KOs over former champions, and there's a case to be made for him being the most frightening knockout artist in the UFC today.
Waiting opponents out and finding an opportunity to land a perfect knee, punch, or elbow, Romero lulls his opponents to sleep while figuring out their tendencies before ending the fight in shocking fashion, and for that, he deserves to kick off this list.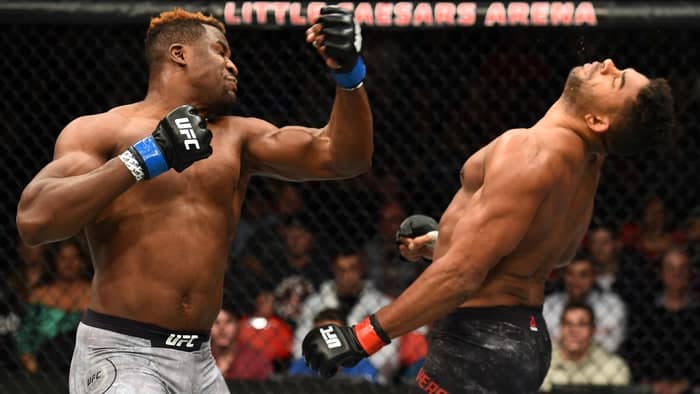 Francis Ngannou:
'The Predator' was fast-tracked to a UFC title shot earlier this year after securing five knockout wins in his first six UFC fights.
Although he lost a one-sided decision to current heavyweight champ Stipe Miocic at January's UFC 220, there's no shame in that as Miocic is arguably the best heavyweight in UFC history, and Ngannou still maintains his position as one of if not the most powerful knockout sluggers in the UFC right now.
He proved that with his already-legendary uppercut win over Alistair Overeem at last year's UFC 218, and after he set the world record for recorded punching power at the UFC Performance Institute, there's no denying that Ngannou is one of the most fearsome knockout artists the sport has ever seen, let alone in the UFC right now.
In fact, there's only one man who can lay claim to actually challenging 'The Predator' in terms of recorded punching power, and he's next up on our list…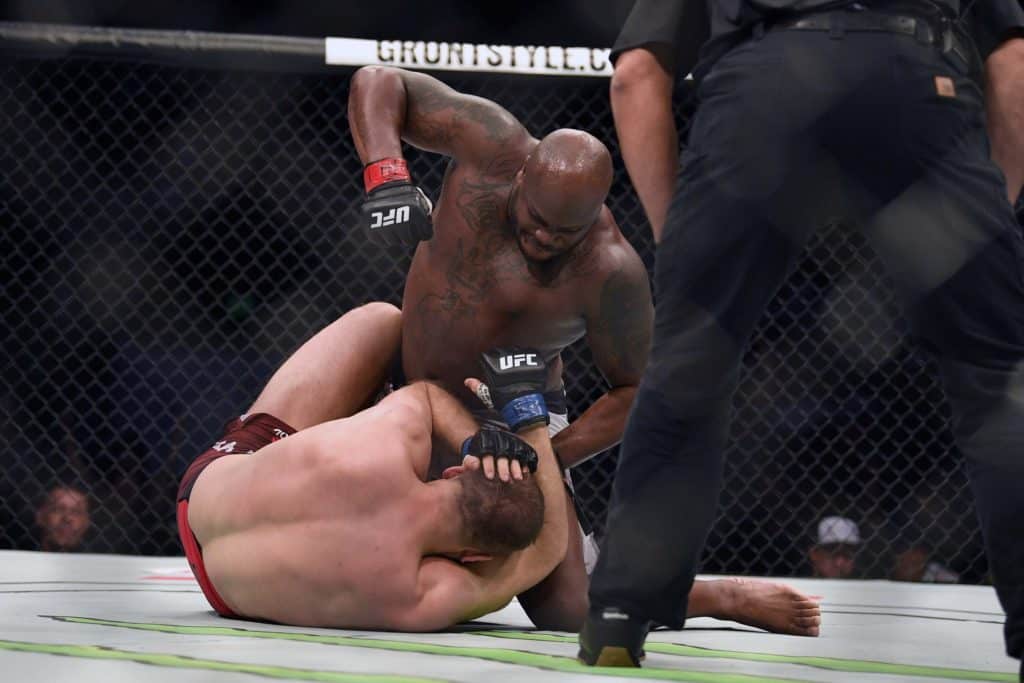 Derrick Lewis:
Not to be outdone by Ngannou heading into their anticipated showdown at July 7's UFC 226 pay-per-view, 'The Black Beast' has racked up a shocking resumé of knockouts of his own.
Lewis has won 17 of his 19 total MMA victories by way of knockout, and he's also the only fighter to challenge Ngannou in terms of overall measurable punching power, recently setting the all-time record on "UFC Tonight's" punching power machine.
The metrics used to measure power on that machine and at the UFC Performance Institute are different, so there's no certain winner of that battle, but two things are certain: Lewis is one of the most fearsome knockout artists in the UFC right now, and his upcoming bout with Ngannou is sure to be pure fireworks.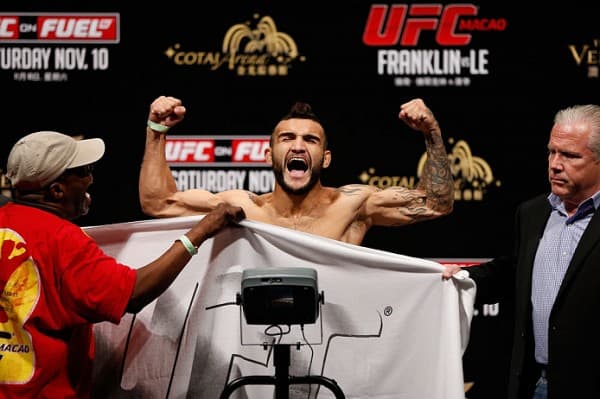 John Lineker:
Shifting from the truly massive heavy hitters in the UFC heavyweight division to those with comparable power down in the lower weight classes, Lineker kicks off a run of heavy-handed bantamweights on our list.
The accurately nicknamed "Hands of Stone" has 14 knockout wins in 31 total MMA victories, an excellent rate for a man fighting a good part of his career at flyweight. But just a look at the stats does not do Lineker justice, as he's intent on throwing down in all-out slugfests each and every time out to the cage. He also brings a chin of stone, as he's never been knocked out in five career losses as well.
Lineker may just be the most exciting fighter in the lower weight classes, and even though he may struggle with faced with more technical, elite challengers like current champion TJ Dillashaw, there's no doubting that Lineker brings some of the most frightening pound-for-pound striking power in all of MMA.
As a pure fight fan, one can only imagine what would go down if he faced the next man on our list…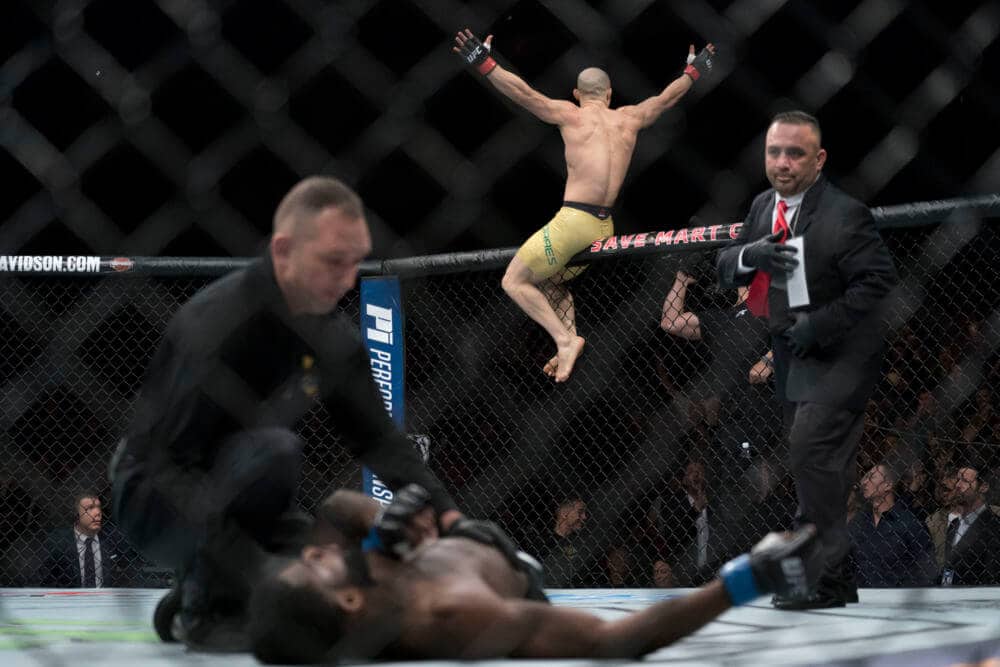 Marlon Moraes:
This next bantamweight on our list of the UFC's hardest hitters arguably has the most momentum in a stacked, talented bantamweight division right now.
The former World Series of Fighting (WSOF) champ has a stellar 21-5-1 record with 10 knockout victories to his credit, and although he faltered to longtime top contender Raphael Assuncao in his UFC debut, Moraes has bounced back with two of the most powerful knockouts you'll ever see at 135 pounds over Aljamain Sterling and Jimmie Rivera.
Against both top East Coast challengers, Moraes sent notice that he is perhaps the scariest knockout striker in the division. He nailed Sterling with a brutal knee that was so powerful Sterling had to be taken out of the cage on stretcher, and he stopped Rivera's night extremely early with a vicious switch kick stoppage in only 33 seconds at UFC Utica.
A title shot could (should) be on the horizon for this ultra-exciting Mark Henry product, but with the next fighter up on this list already occupying that spot, maybe an all-out brawl with Lineker would be an excellent option for 'Magic.'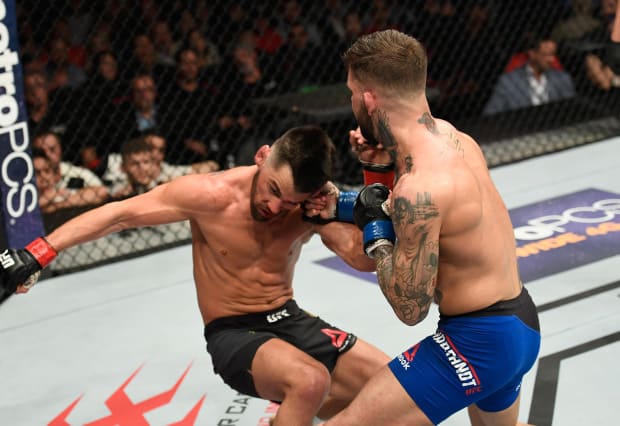 Cody Garbrandt:
After steamrolling his way to a bantamweight title shot with four knockouts in his first five UFC bouts, 'No Love' has lost a bit of momentum after losing the belt to champ TJ Dillashaw late last year.
True, he's without a knockout since August 2016, but they are tough to come by when you are battling the cream of the 135-pound crop like Dillashaw and former champion Dominick Cruz.
Regardless, Garbrandt no doubt possesses some of the best knockout ability in a division suddenly full of that, and he could easily still be champion if he had a few seconds more to potentially stop Dillashaw after rocking him at the end of the first round of their first bout.
He'll rematch 'The Viper' at August's UFC 227, and with nine knockouts in 11 total wins, another highlight reel finish is always just one shot away for 'No Love.'
With our trio of elite bantamweight knockout artists out of the way, let's move on to a name that undoubtedly deserves to be on any list of MMA's top power hitters.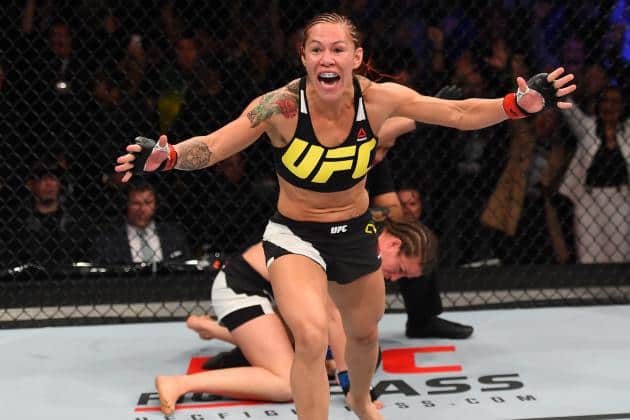 Cris Cyborg:
This woman obviously needs no introduction, as the current UFC and former Strikeforce and Invicta FC women's featherweight champion has long been arguably the most dominant fighter in MMA relative to their competition.
She has an amazing 17 knockouts in 20 total wins, and is so powerful and so feared that it seems her opponents are often beaten before they set foot in the cage. That's the mark of a true legend of the fight game, and Cyborg has built up the resume to boast exactly that.
The UFC created a division for her and she lacks a true challenge, which may hold her back from obtaining pound-for-pound great status as many argue she's just too big and too strong for the smaller opponents she faces. No matter what the details may be, however, you can make a case for Cyborg being the most feared and devastating knockout artist in MMA today, and certainly the best ever in women's mixed martial arts.
Now, for a featherweight of a different kind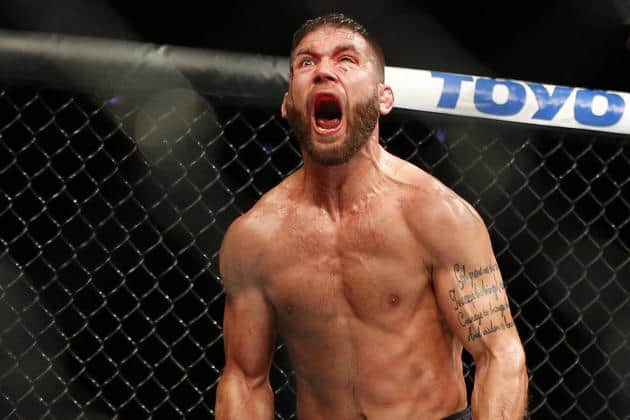 Jeremy Stephens:
This longtime veteran made his UFC debut back in 2007, and while he had an up and down run fighting the best of the best at both lightweight and featherweight, "Lil' Heathen" recently found his stride at 145 with two straight brutal stoppage victories over Josh Emmett and Doo Ho Choi.
With 18 knockouts in 28 total wins, Stephens is treading close to a title shot if he can get past all-time great former champion Jose Aldo this summer, and based on Aldo's recent track record of knockout losses, that is a result that simply can't be ruled out for the Iowa-bred striker.
He comes to fight in his usual all-out style every time out to the cage, and while it's been to his detriment in the past, right now it's working to the tune of some devastating KOs.
If he keeps it up, we'll all know "who the fook" he is and the infamous quote levied at Stephens by the megastar next up on our list could be rendered false.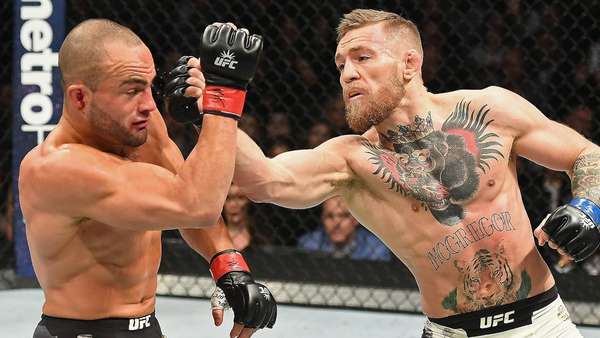 Conor McGregor:
Of course, it wouldn't be a list of knockout strikes without McGregor, as the former UFC lightweight and featherweight champion has won an efficient 18 of his 21 total wins by T/KO.
It's been quite awhile since we've seen the Irish megastar knock anyone out in the UFC or even compete, as he's failed to defend either of his belts since first winning the 145-pound title from Jose Aldo in December 2015 and spent all of 2017 participating in a boxing match with Floyd Mayweather.
However, few if any fighters bring the kind of pure fight-ending power McGregor offers with his trademark straight left hand. It's a weapon so powerful and effective that it seems to be the doom of almost all of his UFC opponents except Nate Diaz, and even the notoriously iron-chinned Diaz was repeatedly dropped by it in their rematch at UFC 202.
After losing to Mayweather in the boxing ring, McGregor then went off the rails in his highly publicized UFC 223 attack in April, leaving him caught up in an ongoing court case that's left his fighting career in limbo for the time being. He's rumored to be facing current lightweight champion Khabib Nurmagomedov in his UFC return, but that's far from becoming official as of today.
Love him or hate him, McGregor's pure knockout power simply cannot be denied as among the best in the sport and UFC history.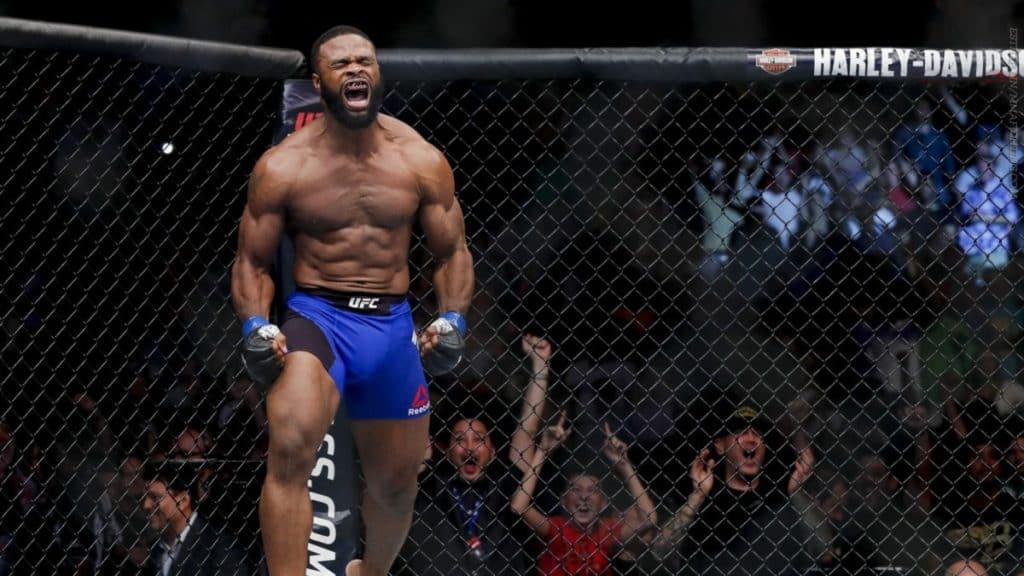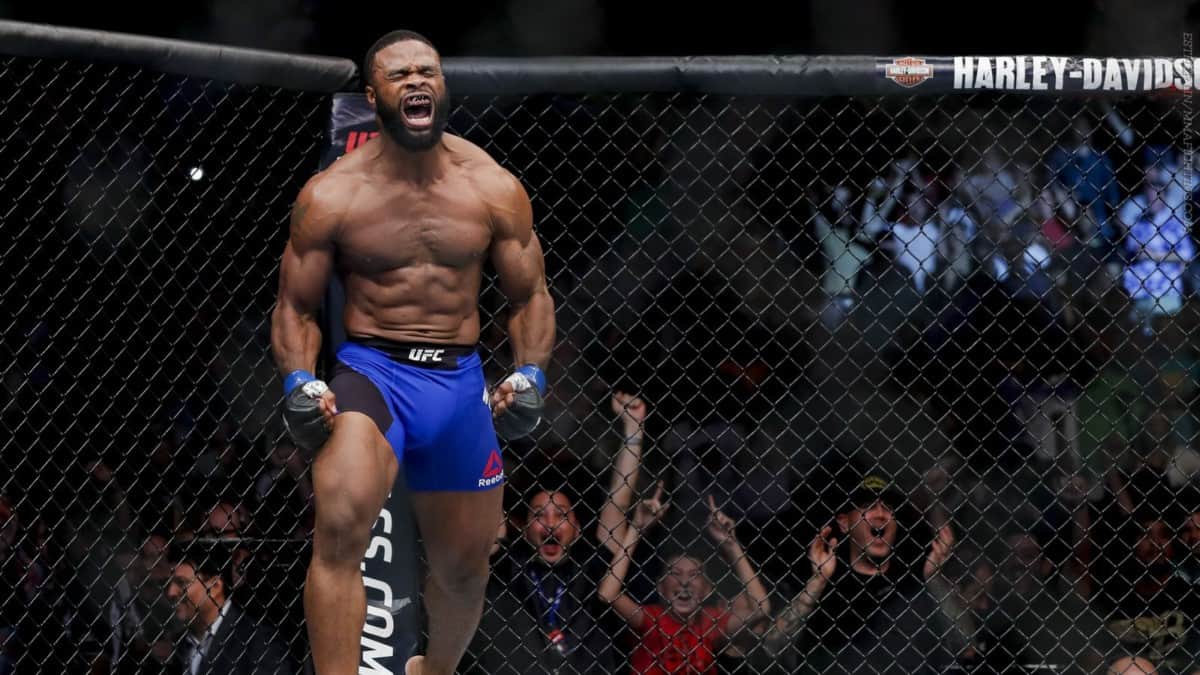 Tyron Woodley:
UFC welterweight champion Woodley has earned a reputation as a boring fighter after snore-worthy bore fests against Stephen 'Wonderboy' Thompson and Demian Maia in his last two bouts, but that short-sighted sample does not do the champ's overall body of work justice.
He may be without a knockout since July 2016, but it cannot be denied how frightening Woodley's power truly is when he hits his mark. His brutal knockouts of Robbie Lawler, Josh Koscheck, and Jay Hieron all come to mind, and while he doesn't have the sheer knockout ratio of other men on this list, Woodley has the power to easily shut off anyone's lights at 170 pounds.
That skill will be put to the test in his perceived title unification bout against new interim champion Colby Covington, with whom he has both history and bad blood.
It should be a match-up to follow and follow closely. Now, on to our next hard-hitting champion…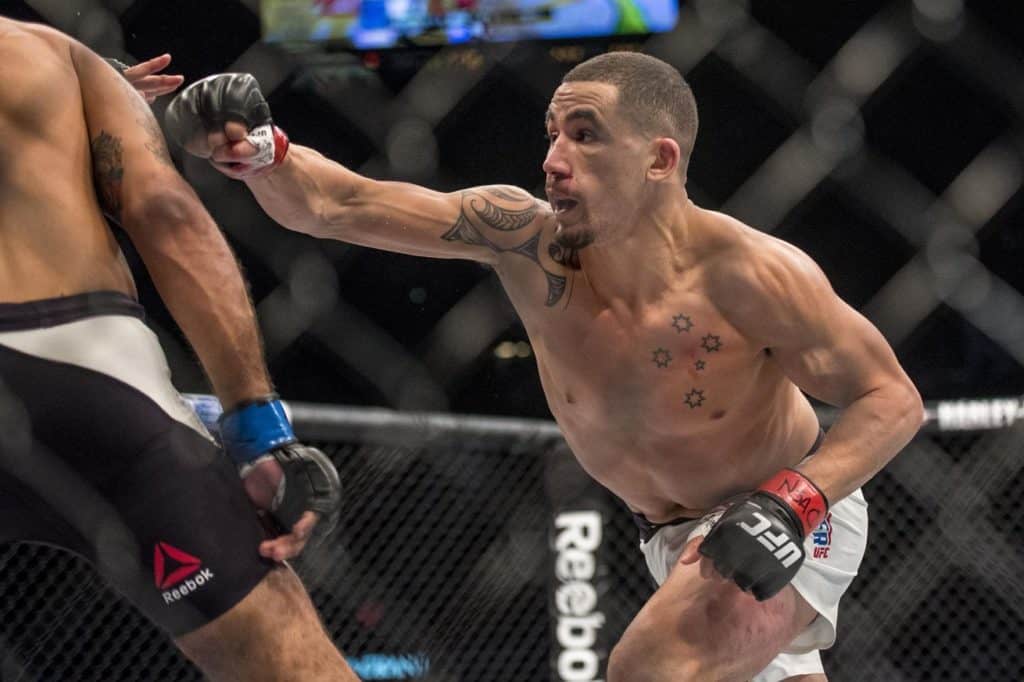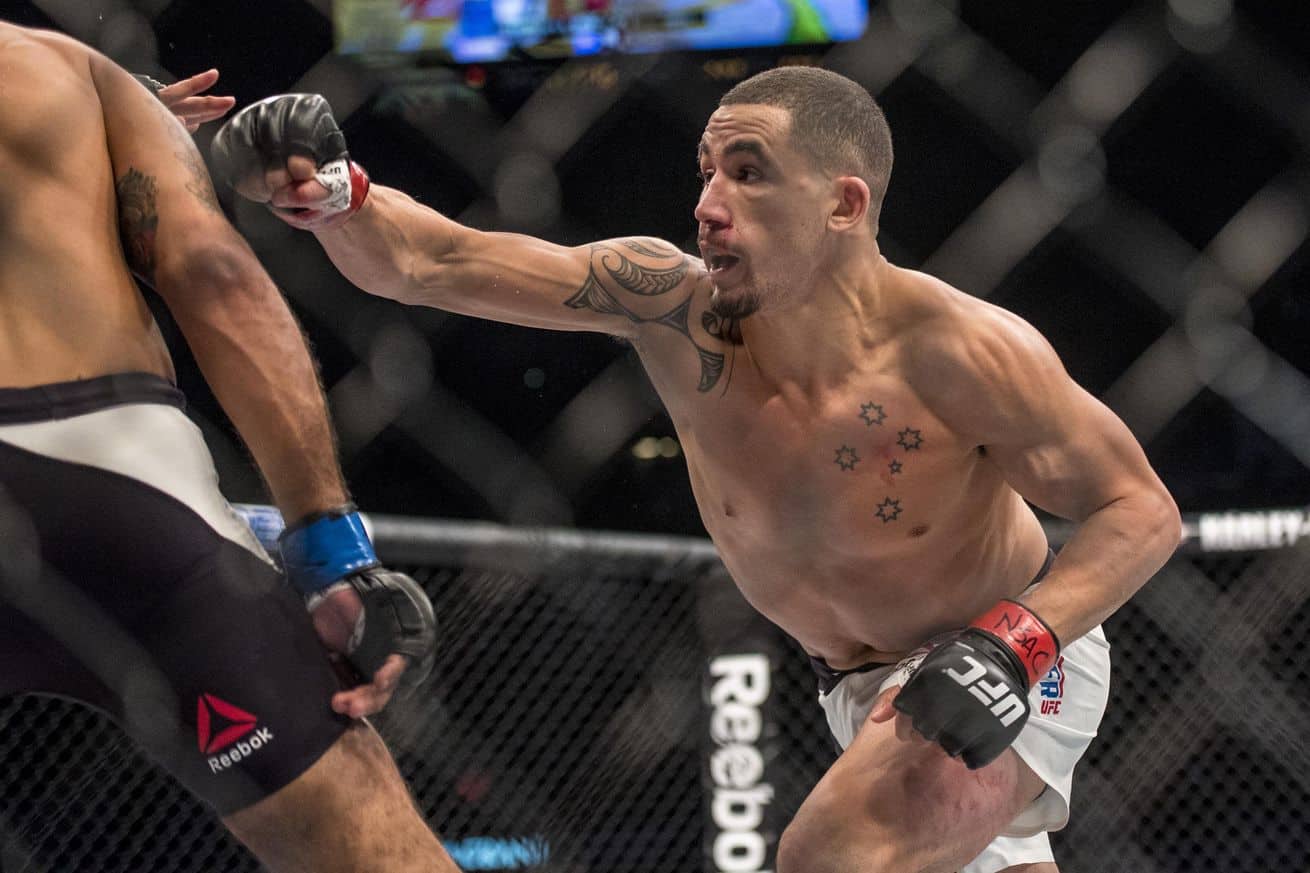 Robert Whittaker:
You may claim that middleweight champion Whittaker doesn't have the all-out fight-ending power of his rival Yoel Romero, whom he's beaten twice in the last 11 months, and it would be hard to argue with you in a certain sense.
However, Whittaker brings a different kind of knockout power to the cage, one that's propelled him to 9 knockouts in his 20 overall wins. His is a much more technical brand of KO ability, one where he can finish his opponents with kicks or punches early in the fight or after wearing them down with his precise high-volume style.
Recent TKO wins over Jacare Souza and Derek Brunson where he used his trademark left high kick to finish the two tested veterans are a testament to this fact, and Whittaker has looked the part of champion during his peerless 8-0 run to the gold at middleweight, a streak that's featured four knockout wins.
Whittaker is a threat to knock out his opponent any time he steps into the cage – that much is true. But he doesn't have the sheer fight-stopping ability of the top man on our list, because no one does…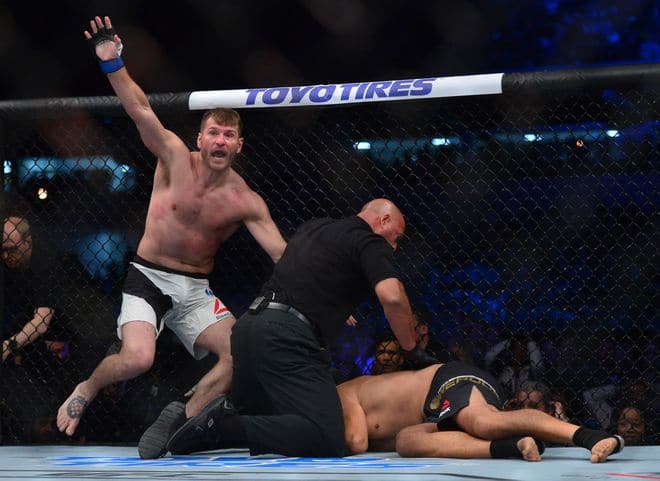 Stipe Miocic:
The No. 2-ranked pound-for-pound fighter in MMA and arguably the best heavyweight in the history of the UFC, current UFC heavyweight champion Miocic stands alone on the mountaintop of the UFC's biggest and most dangerous division.
He recently stopped the bulldozing hype train of Francis Ngannou, and while he may have won that fight by one-sided decision, Miocic knocked out his five previous opponents, an alarming feat considering he was battling the best heavyweights in the world. Overall, he boasts nine knockouts in 20 overall MMA victories.
The Cleveland, Ohio-based firefighter remains ground despite his lofty status as a possible GOAT, but in terms of this list, he's simply the most dangerous knockout artist in the UFC today. He can finish the fight at any time and has shown the ability to fight through big shots from his opponents to come back and finish them with ruthless efficiency.
For that reason (among many others), Miocic has deservedly earned his spot at the top of the UFC's best power hitters.
Thanks for reading our breakdown, and let us know who ranks highest on your own list of knockout sluggers in the comments below!