Five Reasons Demetrious Johnson Still Isn't The GOAT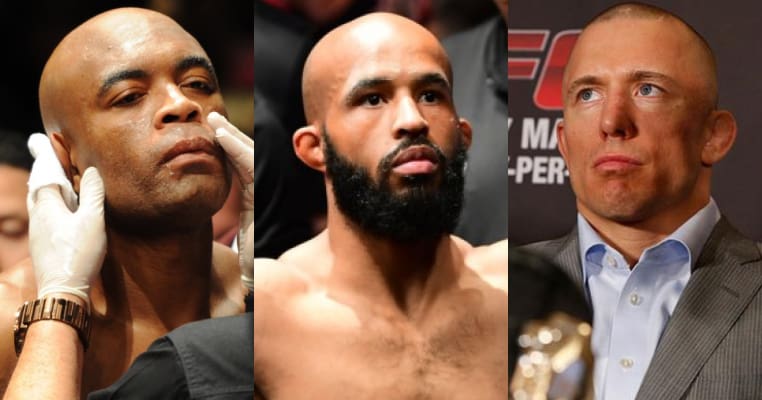 Last night (Sat. April 15, 2017) at UFC on FOX 24 from Kansas City, Missouri, UFC flyweight champion Demetrious Johnson furthered his case for being the greatest mixed martial artist of all time, when he defeated Wilson Reis via third-round submission to defend his 125-pound title for a record tenth consecutive time.
"Mighty Mouse' tied the record held by former UFC middleweight champion Anderson Silva. Although Johnson has looked dominant for the past few years as the undisputed champion at 125 pounds, there are still a few clear reasons why we still can't consider him the greatest of all time (GOAT) quite yet.
Here are LowKickMMA's top five reasons that Johnson still is not the greatest MMA fighter of all-time.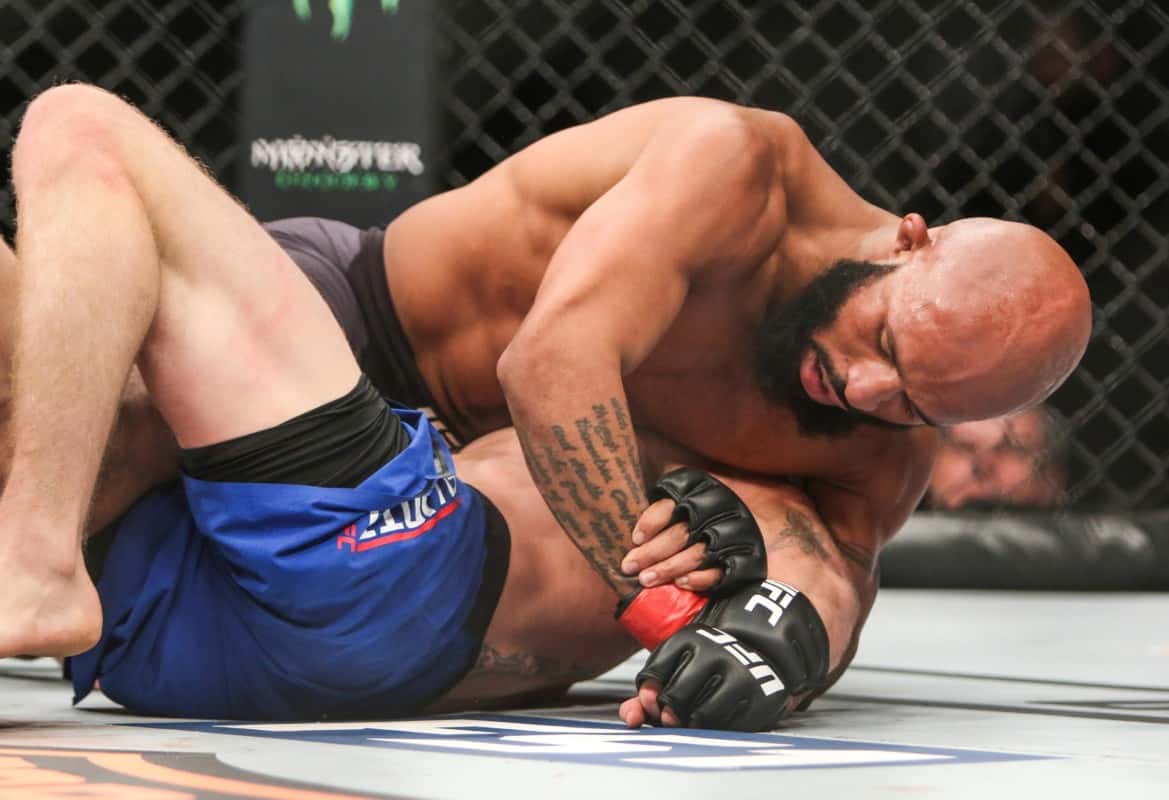 5. Level Of Competition
Racking up 10 consecutive title defenses in no easy task; however, Johnson's level of competition isn't exactly up to par with those that he battles with for the moniker of greatest of all time.
Many of the names in the flyweight champ's list of victims don't necessarily stick out to anyone; such as John Moraga, Ali Bagautinov, Chris Cariaso, a young Kyoji Horiguchi, Tim Elliott, and Wilson Reis. Moraga is currently on a three-fight losing streak and is now ranked outside of the top ten.
Bagautinov has lost three of his last four Octagon appearances and is no longer with the UFC. He has not participated in MMA competition since November of 2016 when he suffered a unanimous decision loss to Kyoji Horiguchi.
Cariaso always had a very up-and-down career at 125 pounds, and lost two more back-to-back fights following his loss to Johnson before calling it a career in October of 2015. Kyoji Horiguchi was handed a shot at Johnson's throne after three Octagon wins against lackluster competition, not to mention 'The Supernova' was extremely young when he took on 'Mighty Mouse.'
Horiguchi has since decided not to renew his contract with the promotion and instead does his work for RIZIN nowadays. Elliott suffered a three-fight losing streak before being cut by the UFC in 2015. He went on to lighter competition under the Titan FC banner and returned to an unsuccessful title challenge against Johnson.
And last but not least we have Reis, whom Johnson made easy work of yesterday, and whose only notable win heading into his title bout on a three-fight win streak was against No. 8-ranked Dustin Ortiz.
This level of competition is just not quite up to the caliber for a fighter whom could be considered the GOAT.
Click Next To Continue
4. Georges St-Pierre
When the conversation of GOAT begins to float about, one name that never fails to be mentioned is that of former welterweight champion Georges St-Pierre.
St-Pierre ruled the 170-pound division in dominant fashion, earning wins over the likes of Matt Hughes, BJ Penn (twice), Matt Serra, Thiago Alves, Jake Shields, Carlos Condit, Nick Diaz, and Johny Hendricks. That is certainly a track record worthy of being considered one of the greatest of all time.
'Rush' was able to rack up a 12-fight win streak that included nine successful consecutive title defenses, and could have earned more had he not decided to retire from MMA competition following his razor-thin win over Hendricks in 2013. Now St-Pierre has the itch to get back into the ultimate proving ground and fight once more, but this time he's attempting to do it in the 185-pound weight division.
If 'GSP' is able to become one of the few men to have ever held titles in two difference weight classes, he'll silence the conversation for GOAT.
3. Anderson Silva
If you ask MMA fans who the greatest fighter of all-time is, you'll more often than not get Anderson Silva as your answer – and for good reason.
Silva, as we noted before, previously held the record for most consecutive title defenses in UFC history before Johnson tied him last night. Not only did 'The Spider' defeat some of the best competition the world of MMA had to offer such as Rich Franklin, Dan Henderson, Patrick Cote, Forrest Griffin, Demian Maia, Chael Sonnen, Vitor Belfort, and Stephan Bonnar – but he finished nearly all of his fights.
The Brazilian earned finish wins over all of the names previously listed with the exception of Maia, who he defeated via unanimous decision. Silva fell on hard times after back-to-back losses to Chris Weidman, a unanimous decision loss to Michael Bisping, and a decision loss to Daniel Cormier on short notice.
Silva showed why he is one of the most respected fighters in the history of the sport after Jon Jones was forced out of his bout with Cormier at UFC 200. The former middleweight king stepped in on just two days notice to take on the champion at 205 pounds and save the biggest card of the summer.
2. Jon Jones
When it comes to having the stiffest level of competition and being an extremely dominant champion, look no further than Jon Jones.
Jones has earned victories over the likes of Ryan Bader, Shogun Rua, Rampage Jackson, Lyoto Machida, Rashad Evans, Vitor Belfort, Chael Sonnen, Alexander Gustafsson, Glover Teixeira, Daniel Cormier, and most recently the heavy-handed Ovince Saint Preux. "Bones' can finish a fight anywhere at anytime, given his extremely unorthodox style of striking, and will submit the best of Brazilian jiu-jitsu black belts due to his sheer size and frame alone.
The level of competition for any champion has yet to be matched by Jones' extensive resume, and the fact that the former 205-pound kingpin has finished the majority of those names only adds to his case for being the GOAT. If it wasn't for the string of out-of-competition issues Jones has seemed to be finding himself in lately, this may not even be a topic of discussion.
Jones and Johnson have sat atop the pound-for-pound rankings for the better part of their careers; however, Jones has always put on more of a show and his title fights are much more anticipated than Johnson's – which leads us into our next and final point…..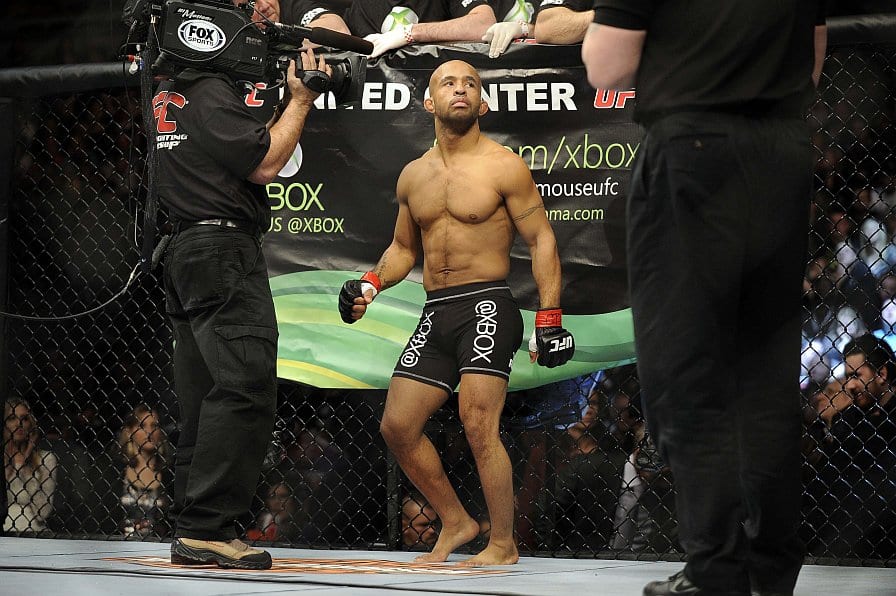 1. Lack Of Hype & Attention
Whether it's right or wrong, Demetrious Johnson isn't a fighter that you can stick at the top of a pay-per-view (PPV) card and expect him to pack the house.
A large part of that is due to the lack of competition that 'DJ' has faced over the years, not to mention that the casual fan can't sit back and enjoy his flawless technique that seems to be the downfall of all that step into the octagon against him.
Johnson for some reason just hasn't resonated with enough fans to click the 'Order' button on their remote to pull in the numbers that his fellow champions such as Conor McGregor, Jon Jones, Ronda Rousey, and Georges St-Pierre have in the past. For this very reason Johnson is often the headliner of a free card on live TV as he was last night against Reis.
When 'Mighty Mouse' does compete on PPV cards, he often does so in the co-main event. Johnson has had a handful of PPV headliners in the past, and the numbers that seem so important in today's money-driven UFC landscape simply were not there.
Overall, it's apparent that when it comes to PPV numbers and hype behind fights, Jon Jones, Georges St-Pierre, and Anderson Silva have the peerless flyweight champion beat.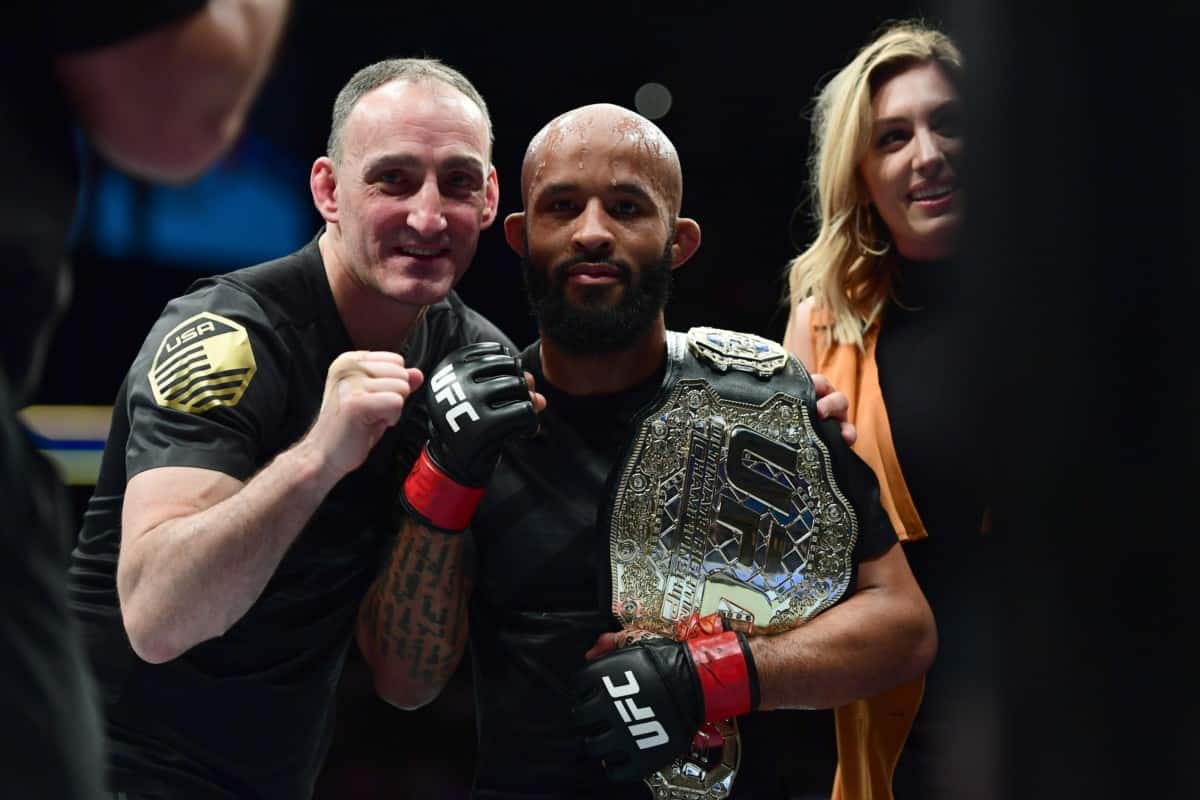 There Is Still Hope
Not all hope is lost for Johnson's bid for GOAT.
If 'Mighty Mouse' is able to surpass Silva's record for consecutive title defenses that will certainly strengthen his case. With nothing left to do at the 125-pound weight class after that, Johnson could attempt to go after another title by moving up in weight.
It has been long discussed for Johnson to step up to his former home of the 135-pound division and attempt a run at that title as well. Currently that belt is held by the heavy-handed 135-pound champ Cody Garbrandt, who is set to defend his title against TJ Dillashaw at UFC 213. Either match-up would prove to be an interesting one for the flyweight champ.
What are your thoughts? Is Johnson already the greatest mixed martial artist of all time? Or does he have a ways more to go before being deserving of that moniker?