Over his entire mixed martial arts (MMA) career, the ground game of featherweight champion Conor McGregor has always come into question with every defeat, and even every victory. "The Notorious One's" current professional MMA record currently sits at 19-3, with each loss coming by submission.
McGregor suffered his first ever MMA loss against Artemij Sitenkov via kneebar in June of 2008. Two years later, McGregor met fellow Irishman Joe Duffy and lost the fight to an arm-triangle choke early in the first round.
These two losses fueled McGregor, who knew he would need to improve on his ground game in order to succeed at the next level. The Irishman would go on to earn his brown belt in jiu-jitsu under SBG head coach John Kavanagh.
The UFC received its first taste of McGregor's ground game in August of 2013 against fellow featherweight contender Max Holloway. McGregor dominated Holloway on the ground and cruised to an easy unanimous decision victory, however, it was later revealed McGregor injured his knee in the bout and fought the majority of it with the torn ACL.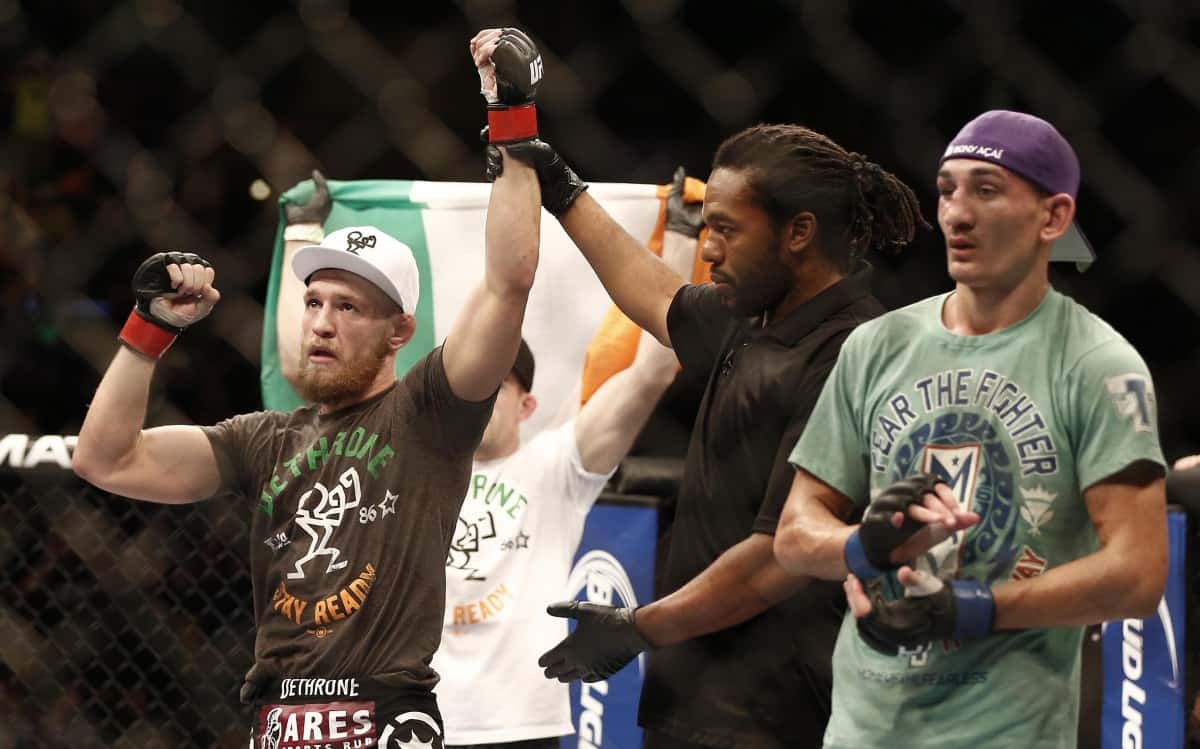 This proved to make his performance on the ground all that much more impressive. It also it left the lingering fact that we hadn't seen his ground game while at one hundred percent. It should also be noted that Holloway isn't known to be a ground fighter.
The Hawaiian currently only has a blue belt in jiu-jitsu as opposed to McGregor's brown belt. The MMA world finally got a true look at McGregor's ground game when he took on Chad Mendes at UFC 189.
Mendes completely dominated McGregor on the ground, bludgeoning him with ruthless elbows and cutting him open for the first time in the Octagon. But Mendes was unable to keep up the grinding pace, which McGregor capitalized on and KO'd Mendes in the closing moments of the second round.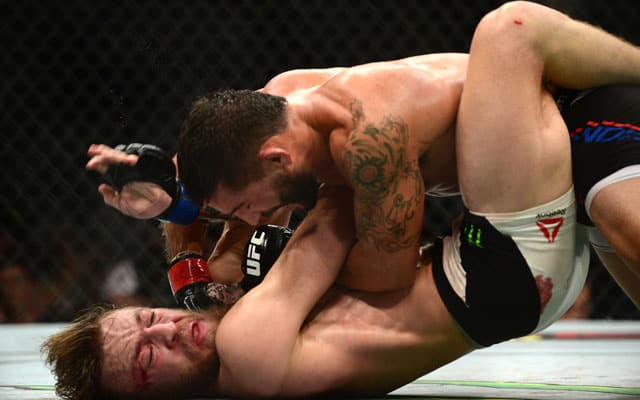 Mendes was taking McGregor down at will and exposed major holes in the Irishman's game, but it was later revealed McGregor fought through the bout with an injured knee and was again not competing at one hundred percent.
Finally, on December 12, 2015, the long-awaited bout between longtime featherweight king Jose Aldo and Conor McGregor would take place, and we would finally get a glimpse of McGregor's true skills against an elite opponent.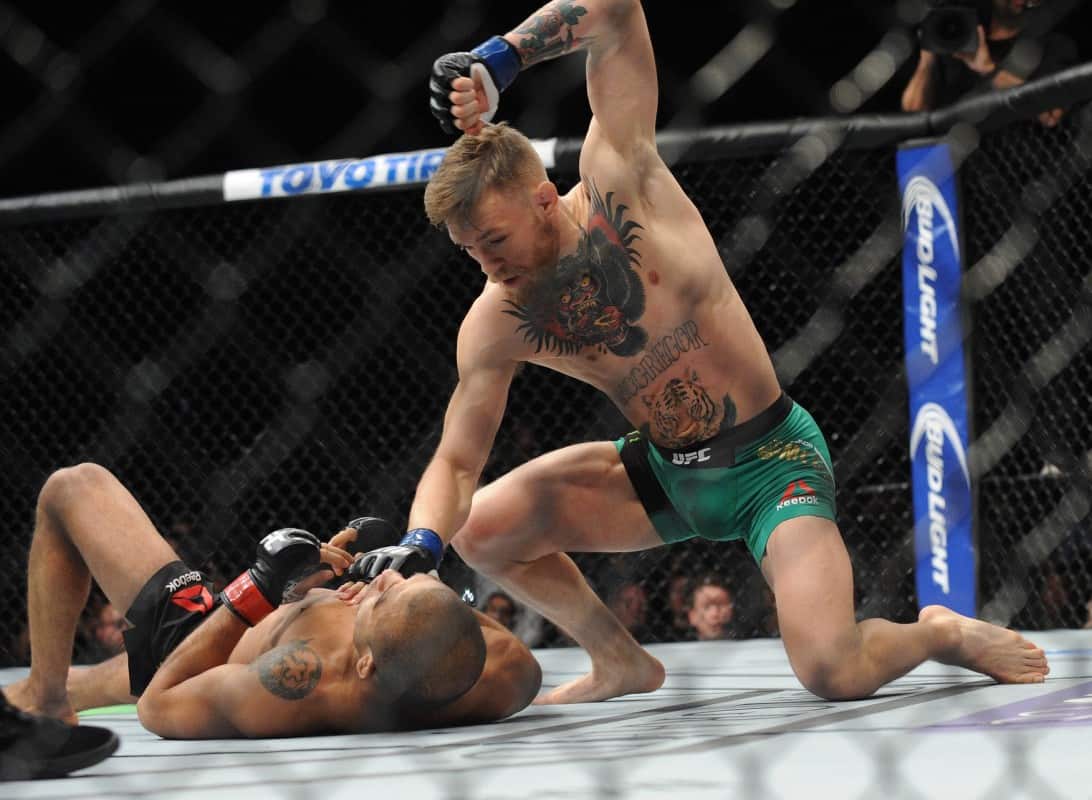 Not quite though, as McGregor starched Aldo with a clean left hand to the chin in only thirteen seconds, ending the Brazilian's decade of dominance.
McGregor would then decide to make the jump to lightweight to take on the 155-pound king Rafael Dos Anjos, in attempt to become the first two-weight champion and defend both title simultaneously. Leading up to the bout, top lightweight contender Eddie Alvarez believed he had the recipe to success against the Irishman:
"For me, it's a very simple fight for RDA to win, but he needs to implement a ground attack. If he don't, I honestly feel like he can get knocked out, just like the other guys Conor was able to knock out. But he can't allow it to be mostly of a striking," Alvarez said to MMA Fighting's Ariel Helwani on The MMA Hour.
"I hate when guys who are from a BJJ background and a good wrestling background abandon their whole base and their whole fundamental because a lot of guys around them are telling them that they're really good strikers.
"I hope RDA doesn't do that. I hope he sticks to what he's good at and wins the fight in a dominant fashion the way he can, the way I feel like a lot of guys can that aren't doing it against Conor.
There's a simple way to win against this guy and nobody seems to be doing it. It's really frustrating to watch," Alvarez said.
"The guy hasn't been in the fight we need to see him in, nobody's implemented an attack and when someone does, it's over. This whole show's over. The whole goddamn spectacle's over. I don't know why no one's doing it. It's very frustrating."
While Alvarez's words of wisdom may have served RDA well, the opportunity was stripped after the Brazilian pulled from the bout with a broken foot. RDA's late replacement was Gracie jiu-jitsu black belt Nate Diaz, forcing McGregor to make the jump from 145 pounds to 170.
Diaz would go on to defeat McGregor via rear-naked choke in the second round. McGregor dominated Diaz in the first round and the majority of the second, until the Irishman failed to respect Diaz's power and was wobbled by a quick 1-2 combination from the Stockton native.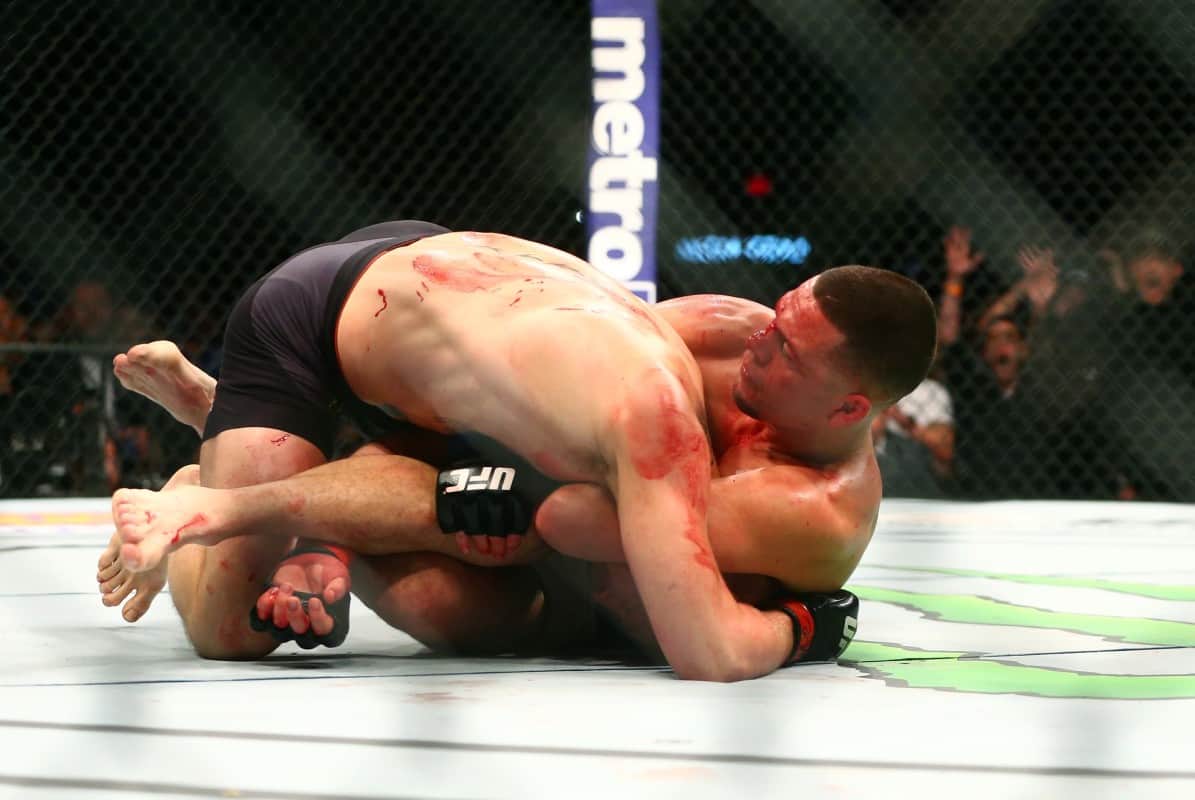 McGregor couldn't recollect himself and shot a telegraphed takedown on Diaz, who took over from there, locking in the choke. Now, McGregor is obviously nowhere near as skilled as Diaz on the ground, however McGregor was not completely able to intelligently fight on the ground in his dazed state.
While we haven't seen much of Conor's jiu-jitsu in the octagon, those who have speak very highly of it. McGregor's fellow SBG teammate Gunnar Nelson is a BJJ black belt under Renzo Gracie and trains with "Notorious" regularly.
BJJ expert Eddie Bravo spoke on The Joe Rogan Podcast about McGregor's jiu-jitsu, "He has the mentality to get really, really good at jiu-jitsu. And I'll tell you why," Bravo said.
https://www.youtube.com/watch?v=XlxaaGs-tHQ
"I'm teaching class one fucking day, maybe six months ago, maybe eight months ago. I'm looking over at the bag in the corner, someone's punching a bag in the corner and I'm teaching class.
And I look over and say 'Is that fucking Conor McGregor? Hitting a bag in my gym?' So I walk over, it's the first time I ever met him, and I say 'Hey what's up, I'm a fan', and all that shit.
And I said 'Hey I'm just teaching, you know?', and he says 'Oh okay I just needed a bag to hit, I was down the street at a hotel doing UFC shit.'
So I go back to class and within three minutes he shows up on the mat and just says, 'Where are your best guys?'. And I said 'Oh, okay' so I hooked him up with my best guys, and he just wanted to go with all my best guys. And nobody does that, not a lot of UFC guys do that," Bravo said.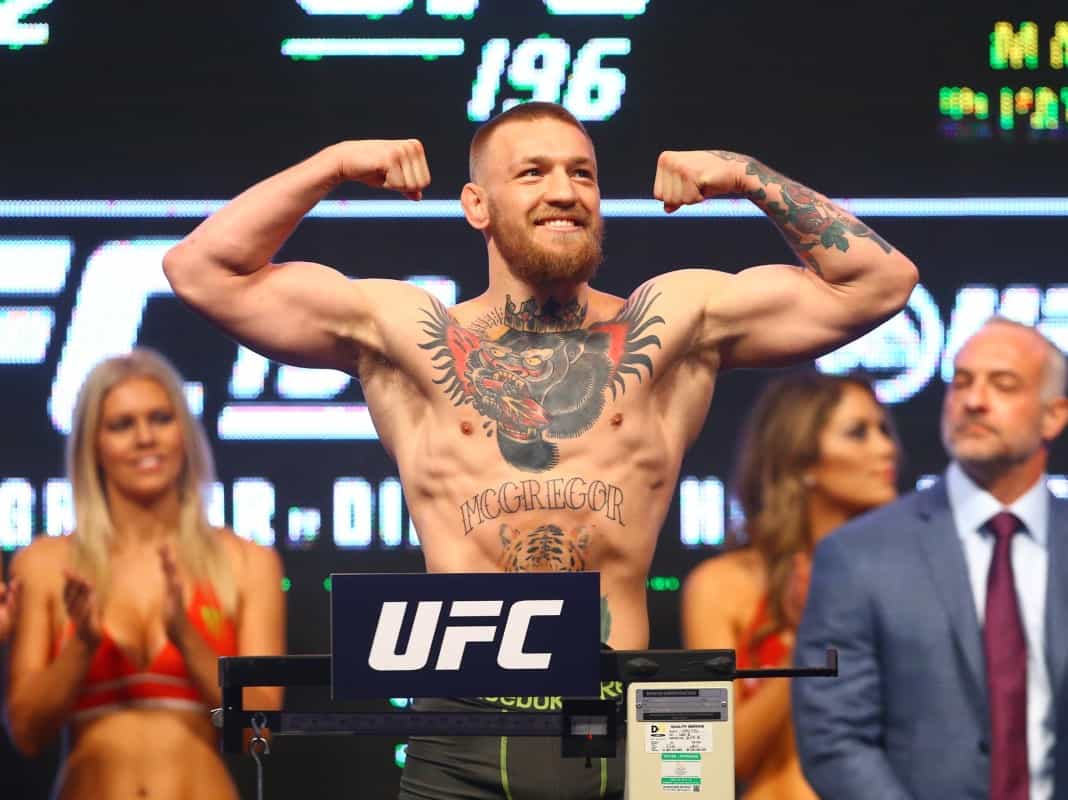 With UFC 200 looming and a potential rematch with Diaz on the horizon, it's unlikely we see McGregor taking the fight to the ground again.
However, a return to featherweight and potential lightweight debut poses problems for the Irishman against the elite grapplers of the UFC. Can McGregor evolve his game to compete with the upper echelon grapplers of the UFC, or will this be the demise of "The Notorious One"?