With 2017 now rapidly drawing to a close, our thoughts now start to focus in on the major match-ups that could well be on the horizon in the year to come, so join us as we delve into 10 UFC fights that must happen in 2018.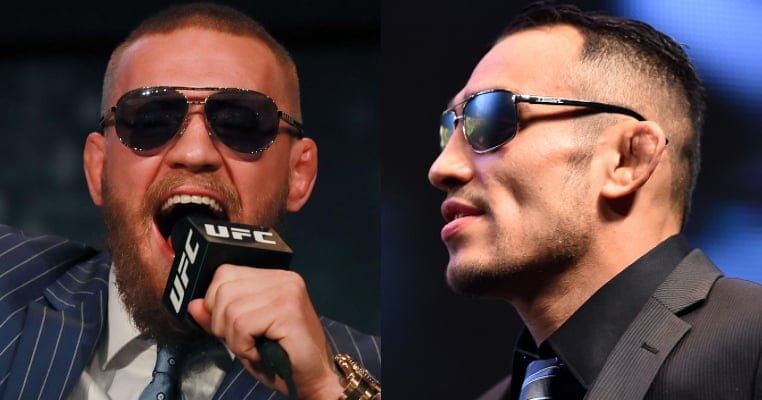 Conor McGregor vs. Tony Ferguson
The UFC's biggest star didn't register a single fight in the Octagon in 2017, instead focusing on a money-spinning boxing debut against Floyd Mayweather, so it's of paramount importance that he gets back where he belongs next year.
Thankfully all the indications are that McGregor agrees and is ready to return to the sport that made him one of the sporting world's biggest superstars.
At this stage, McGregor can fight anyone he wants, but for the good of the sport, the only one that should be considered for his comeback is a lightweight title unification bout with interim champ Tony Ferguson.
Sure, a trilogy fight with Nate Diaz would likely draw bigger at the box office, but 'The Notorious' has reached a level where blockbuster numbers are all but guaranteed anyway, regardless of who he is facing.
With 10 wins in a row Ferguson has more than earned the right to fight the PPV king, and from a stylistic standpoint, it's an outstanding match-up that will restore order to the top end of a division that has been left in limbo for the past 13 months.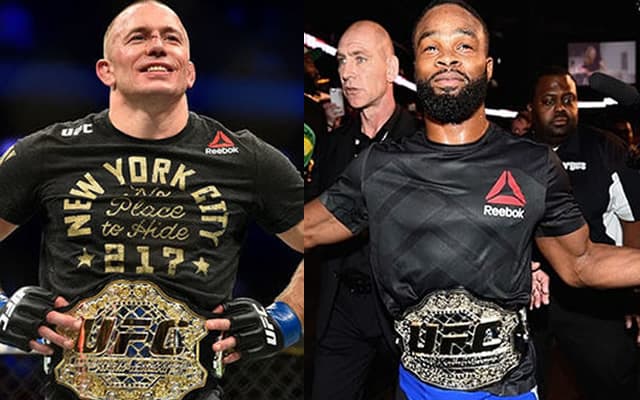 Georges St-Pierre vs. Tyron Woodley
Georges St-Pierre proved that he's still a major force to be reckoned with by choking out Michael Bisping to claim the middleweight title at UFC 217, while PPV sales in the region 875,000 buys showed he remains one of the biggest draws in the UFC.
However, St-Pierre has quickly abandoned the 185-pound division by vacating his title, and after being diagnosed with ulcerative colitis in the weeks following the fight it's now uncertain whether he'll ever fight again.
Hopefully, he does decide to continue competing as there's still unfinished business left for him to tackle back in the 170-pound welterweight division that he once ruled.
GSP vacated the 170-pound belt back in 2013 after a 12-fight winning streak, so it would be fascinating to see how he would cope in the present day division against current champion Tyron Woodley, who has been actively seeking a blockbuster fight during his title reign.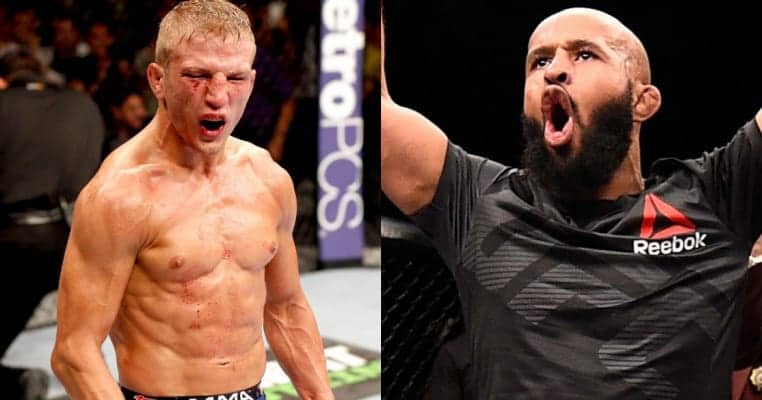 Demetrious Johnson vs. TJ Dillashaw
If Dana White had his way, then this mouth-watering match-up would already have taken place in 2017, but long-time flyweight champion Demetrious Johnson turned down the opportunity to fight bantamweight star TJ Dillashaw and opted for a lower-key fight with Ray Borg instead.
In hindsight that's actually worked out in the UFC's favor as heading into 2018, there's now even more interest in their potential super fight given that Dillashaw recently reclaimed the bantamweight title, which would make a showdown with Johnson a champion vs. champion affair.
Johnson has also now achieved his goal of racking up the most consecutive title defenses in UFC history (11), so there's really no excuse not to accept the fight with Dillashaw, who is willing to drop down to 125lbs to make it happen.
'Mighty Mouse' is already officially ranked as the No.1 pound-for-pound fighter in the sport, but having increasingly been forced to scrape the bottom of the barrel to find new challengers in his division, this is the fight he needs to silence any remaining doubters, as well as being his best chance of finally becoming a draw on pay-per-view.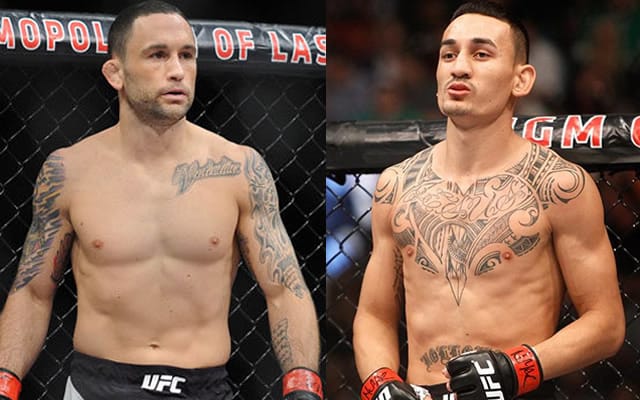 Max Holloway vs. Frankie Edgar
Featherweight champion Holloway was originally supposed to fight Edgar at UFC 218 earlier this month until the title challenger pulled out injured and Jose Aldo stepped in on short notice instead.
Holloway then put on another striking masterclass to defeat Aldo for the second time in the space of a year, taking his unbeaten run to 12 fights, while also securing his place as one of the top five pound-for-pound fighters in the sport today.
Moving into 2018 the fight with Edgar remains the match-up to make as the former lightweight champion has only ever lost to Aldo during his time in the featherweight ranks and has defeated a laundry list of top contenders like Chad Mendes, Urijah Faber, Cub Swanson, Yair Rodriguez and Jeremy Stephens.
Given that 'Blessed' has also emerged victorious against a whos-who of the division, a savvy veteran like Edgar, whose ground game is as good as his stand-up, seems like he is well-placed to try to find 'The Answer' to defeating the Hawaiian star.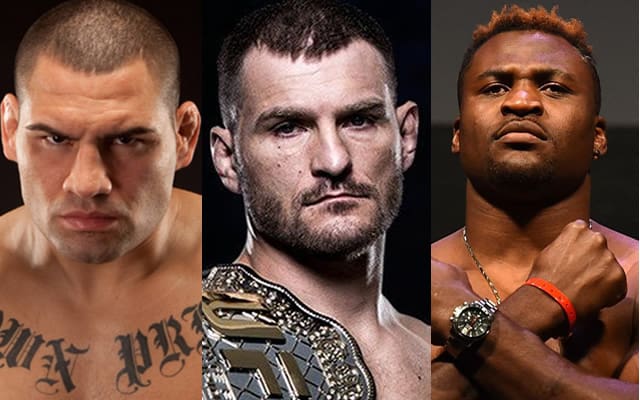 Stipe Miocic/Francis Ngannou vs. Cain Velasquez
The UFC has beaten us to the punch with one of the fights that must happen in 2018 as heavyweight sensation Francis Ngannou was recently booked to fight the current champion Stipe Miocic in January.
The other big news in the division lately is that former divisional kingpin Cain Velasquez is now back in training after yet another long spell on the sidelines injured that saw him skip the entire 2017 campaign.
Honestly, one of the fights that must happen in the coming year is just Velasquez fighting against anyone with a pulse as he's now 35 years old and another 12 months without seeing one of the best heavyweights of all-time compete would be deeply troubling.
Let's stay positive though, and ideally with a tune-up fight under his belt first, having the winner of Miocic Vs Ngannou fight a healthy Velasquez would bring a level of competition and excitement to the heavyweight ranks that we haven't seen in years.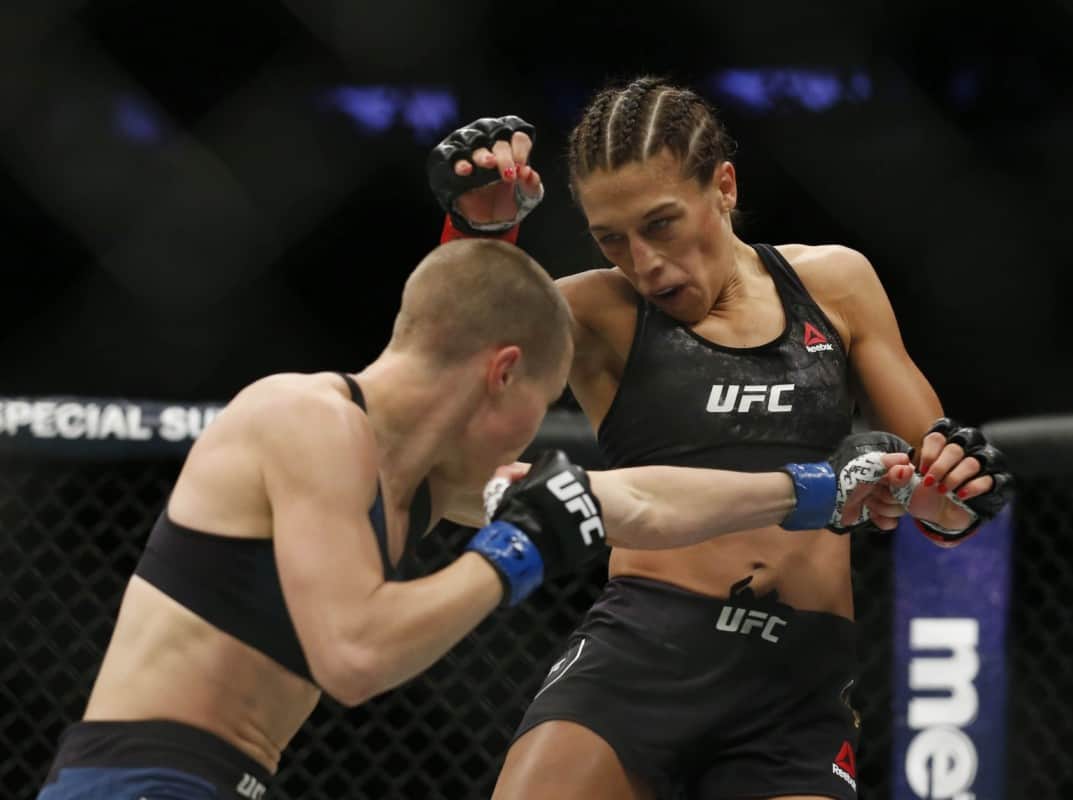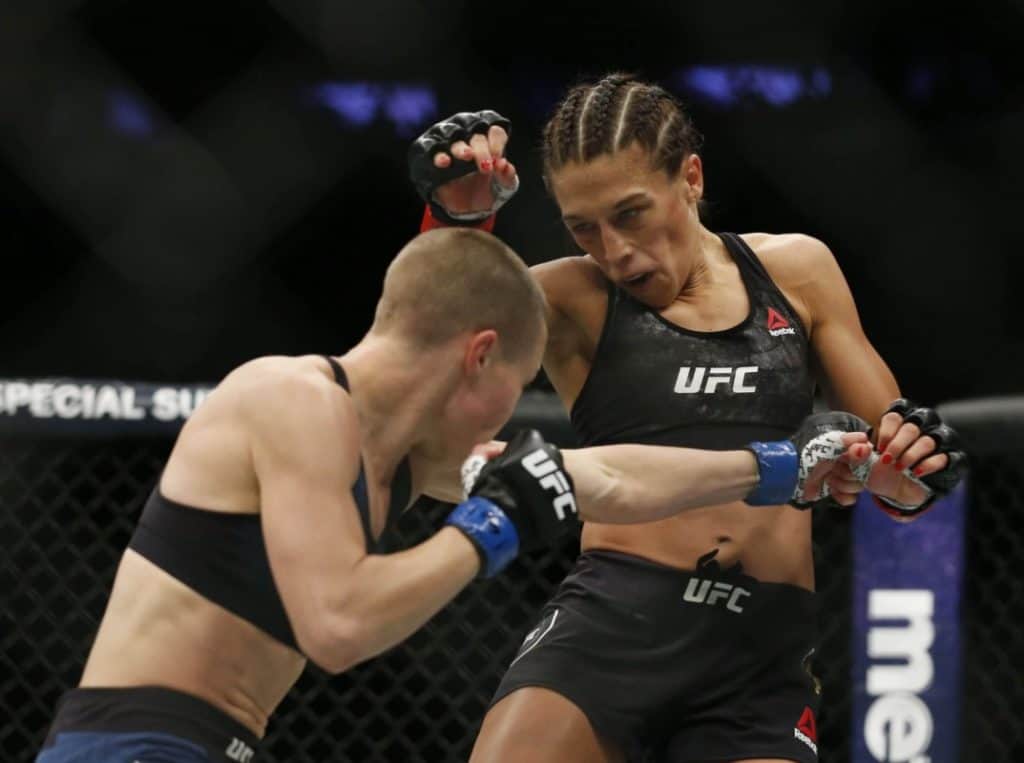 Rose Namajunas vs. Joanna Jedrzejczyk II
If longtime strawweight champion Joanna Jedrzejczyk had successfully defended her title against Rose Namajunas at UFC 217 last month then the stage would surely have been set for a move up to the newly formed flyweight division to challenge her old Muay Thai rival Valentina Shevchenko.
However, 'Thug' Rose's stunning first-round upset against the Polish star has completely altered the script, and now there's a whole new layer of intrigue at the top end of the 115-pound division.
Given how dominant Namajunas looked during her three-minute dismantling of Jedrzejczyk there is a case to be made that the former champion shouldn't get an immediate rematch, and there are other good fights to make with the likes of Jessica Andrade, Claudio Gadelha, and Tecia Torres instead.
That being said, having wielded an unbeaten 14-0 record prior to her loss, including five successful UFC title defenses, Jedrzejczyk deserves a chance at redemption and it would be fascinating to see whether it was just a case that the Polish star had underestimated her opponent, or if at 25 years old, Namajunas can definitively prove that she has now blossomed into the fearsome fighter that many observers had believed she could be.
There's only one way to know for sure, and the sooner the better.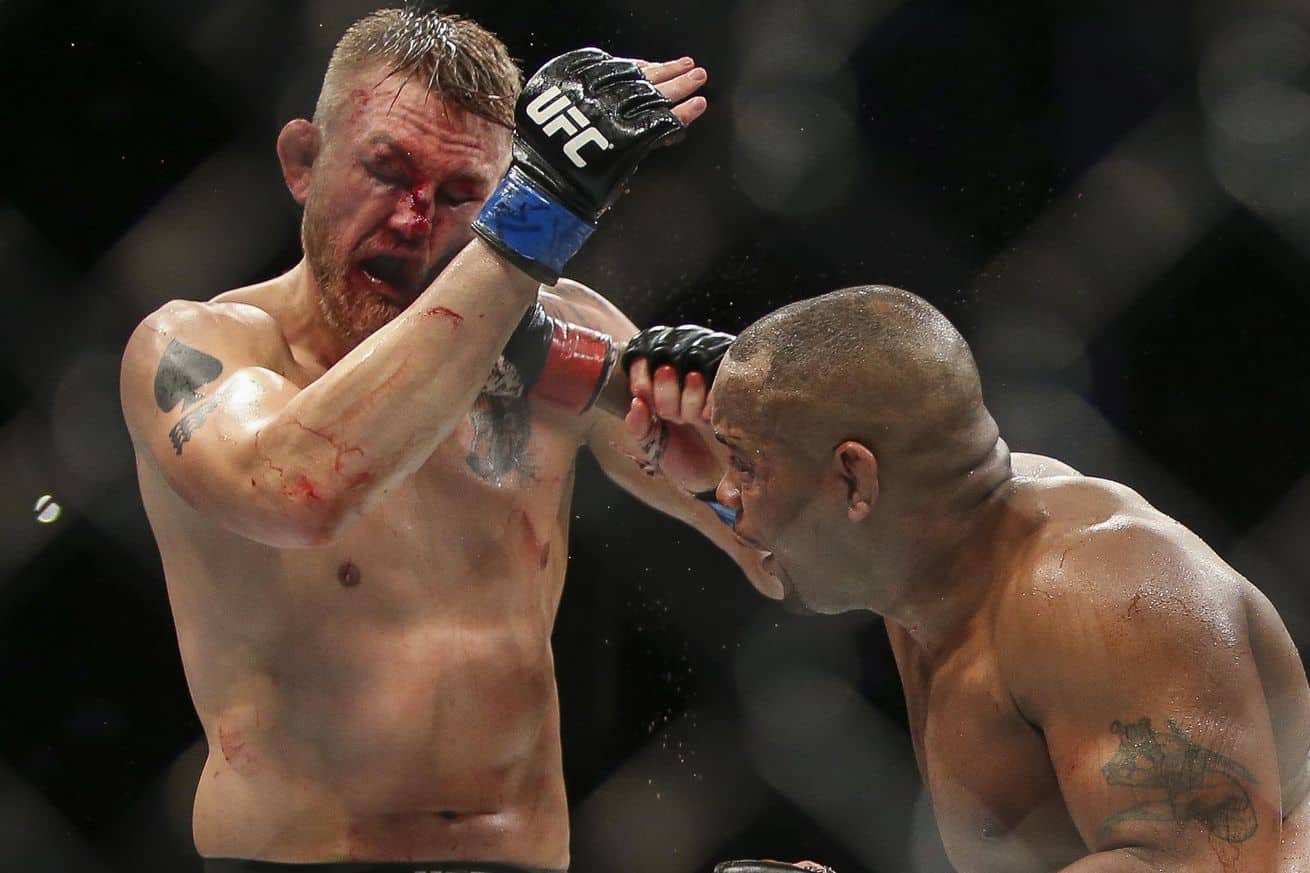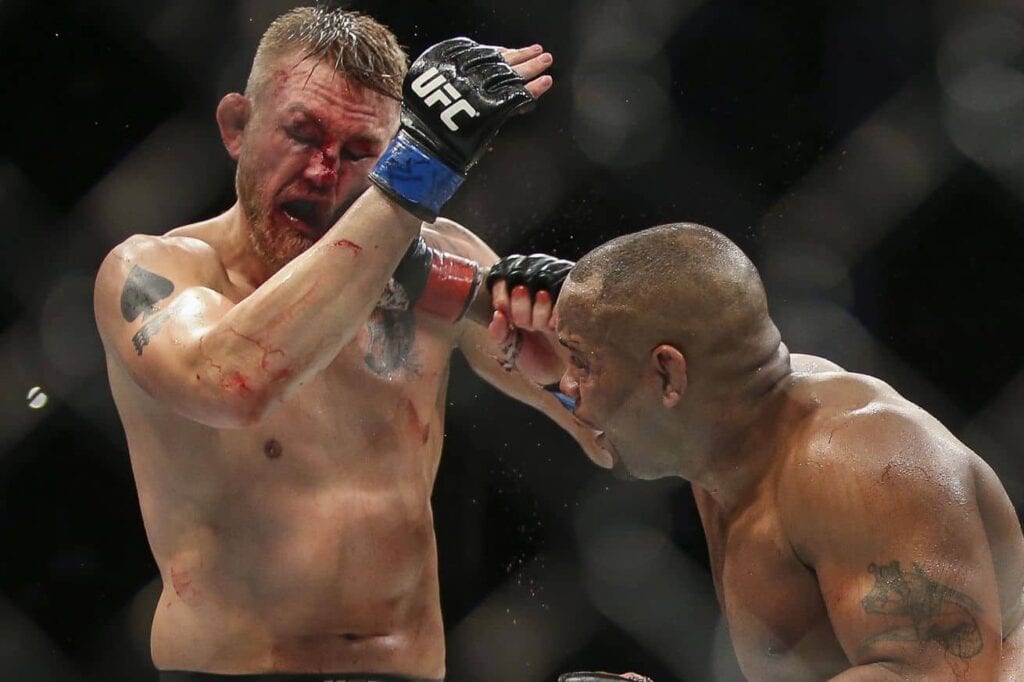 Daniel Cormier vs. Alexander Gustafsson II
With troubled former titleholder Jon Jones having been stripped of his title again earlier in 2017, the UFC's light-heavyweight division is in a strange spot heading into the new year, with Daniel Cormier having retaken the title, despite coming off a KO loss, while the list of top contenders looking to face him feels underwhelming.
However, there is one potential match-up for Cormier that stands out instantly as the fight that needs to happen in 2018, and that's a rematch with current No.1 contender Alexander Gustafsson.
Their previous encounter at UFC 192 in November of 2015 was very closely contested, as evidenced by the split decision verdict in Cormier's favor.
Since then Gustafsson has rebounded with two victories, including a vintage display en-route to KO'ing Glover Teixeira in Sweden back in May.
As such there's good reason to make this fight again, and the result would either confirm beyond any real doubt that Cormier is the dominant force in the division (excluding Jon Jones) or alternatively would result in a feel-good story with Gustafsson finally winning the title at the third attempt.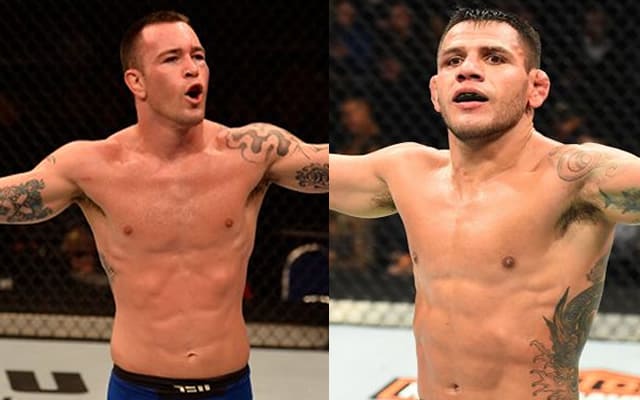 Rafael Dos Anjos vs. Colby Covington
Heading into 2018, the welterweight division is looking in good shape, and not just because former kingpin Georges St-Pierre is possibly on the verge of returning to the fold.
In recent times new viable title contenders have emerged in the weight class, including former lightweight champion Rafael dos Anjos, who has defeated a string of respected opponents like Tarec Saffiedine, Neil Magny, and ex-titleholder Robbie Lawler in the space of just seven months to force his way into the title picture.
Meanwhile, Covington has compiled a five-fight winning streak that includes wins over the likes of Dong Hyun Kim and Demian Maia, while also having gained attention for his outspoken antics, including making disparaging remarks about RDA's homeland of Brazil.
As a result, RDA and Covington now occupy the No.2 and No.3 spots respectively on the welterweight ladder, and given the momentum they both have heading into the new year, they would appear to be heading towards a collision course in the Octagon that would have major implications at the top end of the division in 2018.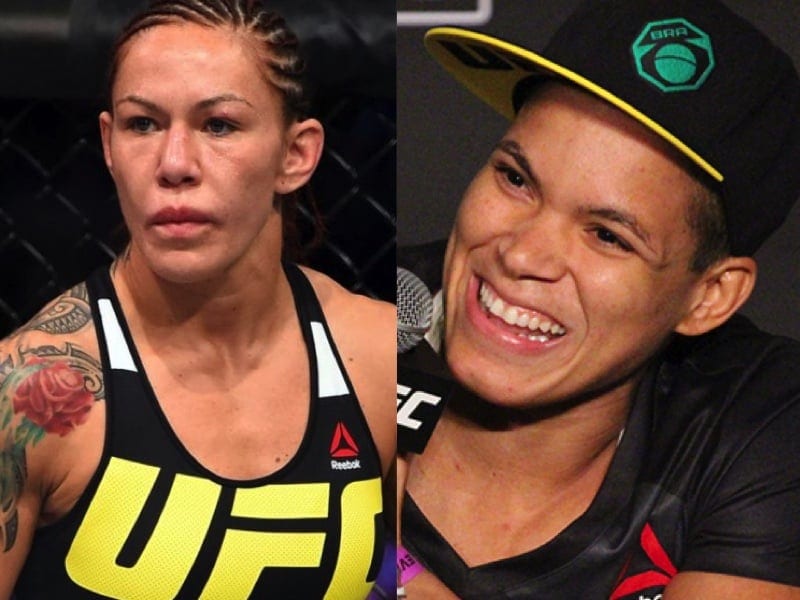 Cris Cyborg vs. Amanda Nunes
As the scariest woman in all of MMA, UFC featherweight champion Cris 'Cyborg' Justino's biggest problem seems to be finding quality opponents who are brave enough to face her.
In all fairness, she does already have one lined up for her next fight, with former bantamweight champion Holly Holm set to battle against her in the main event of UFC 217 event on December 30th.
That's a good fight and a big test for 'Cyborg', but if she can emerge victorious, then an even better stylistic match-up could follow.
Current bantamweight champion Amanda Nunes has blown through the biggest challengers her division has to offer with her speed, pace and ability to finish fights both on the feet and on the mat, and as such she would present a formidable challenge to 'Cyborg' and provide the kind of fireworks that the upcoming fight with the naturally more cautious Holm may potentially miss out on.
Admittedly, both fighters have expressed a reluctance to go up against each other in the Octagon, but having not ruled it out completely, there's still a good chance this super fight could occur in 2018.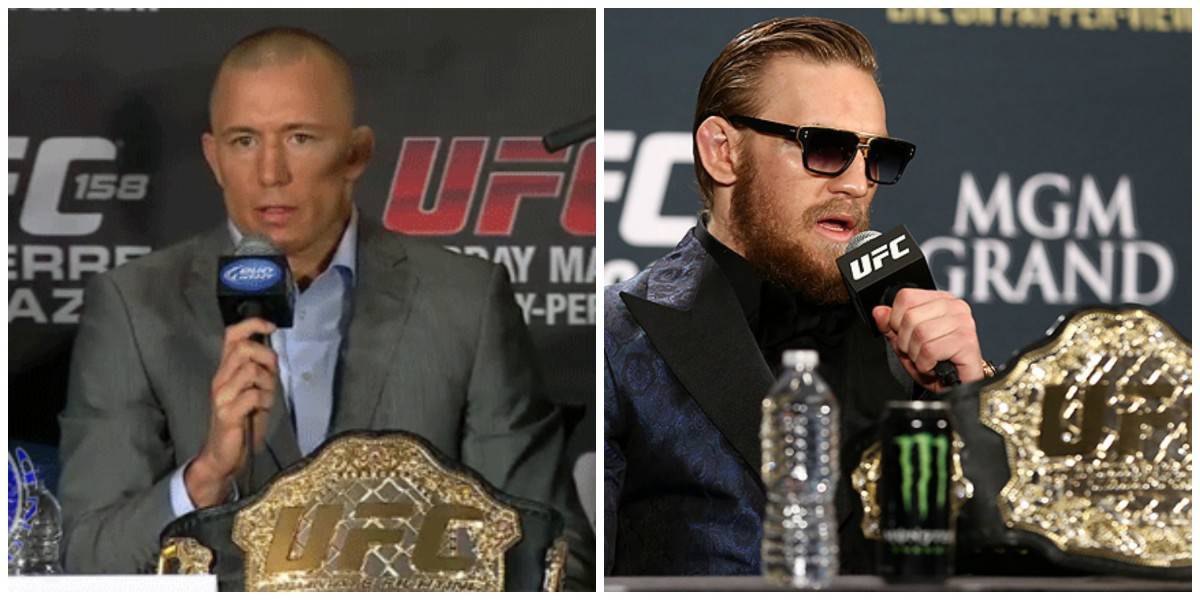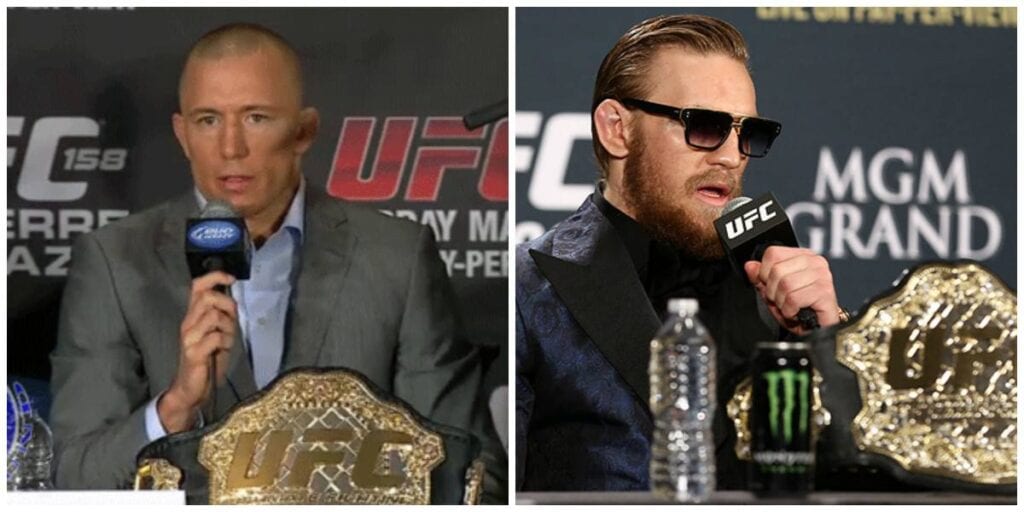 Conor McGregor vs. Georges St-Pierre
Earlier in this article we suggested possible title fights for both McGregor (Tony Ferguson) and Georges St-Pierre (Tyron Woodley) that should happen in 2018.
Dreaming big, if (and it really is a big 'if') they both emerged victorious from those title bouts then that would lay the foundations for what could become the biggest UFC fight of all-time by the end of the year.
With a 155-pound title defense under his belt, McGregor would be free to push up to challenge St-Pierre for his newly reclaimed 170-pound title, and together with the two superstars' combined drawing power that would surely provide all the ingredients for a historic, record-breaking night on pay-per-view.
Given that it remains unclear just how much longer both fighters plan to continue competing before hanging up their gloves, if there's a chance to make a fight of this magnitude in the coming year then the UFC should grab it with both hands and make 2018 a year that lives long in the memory.