When the UFC debuted on a fateful November day in Denver back in 1993, the opportunity for martial artists to display their hand-to-hand combat skills like never before was created in a unique and, at the time, shocking style.
Although MMA has thankfully underwent countless changes and improvements since that day, the time that has passed has also obviously allowed a number of talented fighters to separate themselves from the pack in terms of their groundbreaking and effective skills inside the cage.
Every fighter gets the job done differently in the Octagon, but for the purpose of this piece, we're going to focus on those who have piled up what the crowd usually wants to see, knockout finishes. Let's give respect to the MMA legends that have racked up the most T/KOs in UFC history.
Here they are….

Honorable Mentions: Junior dos Santos/Gabriel Gonzaga/Roy Nelson – 7 T/KOs:
Heavyweight bruisers dos Santos, Gonzaga, and Nelson are tied for the 11th spot with seven T/KO wins apiece.
Dos Santos understandably gets the nod for his knockout wins over the likes of Fabricio Werdum, Cain Velasquez, and Mark Hunt, but both 'Napao' and 'Big Country' have knocked out their fair share of heavyweights.
Nelson shut out the lights of Antonio Rodrigo Nogueira, Mirko 'Crop Cop' Filipovic, Matt Mitrione, Stefan Struve, and Cheick Kongo, while Gonzaga stopped a bit lesser quality of opponent in Shawn Jordan and Chris Tuchsherer, in addition to having quite possibly the most iconic heavyweight KO of all time when he shocked Cro Cop with his own move, a left head kick, at UFC 70 back in 2007.

10.) Matt Mitrione – 8 T/KOs:
It's hard to believe that 'Meathead,' The Ultimate Fighter (TUF) 10 veteran who is now a free agent following his incredibly brutal and controversial eye poke loss to Travis Browne at UFC on FOX 17, is quietly a member of this illustrious list, but he is.
The fleet of foot heavyweight has 8 total T/KO finishes, with his main victims listing as Gonzaga, Jordan, Derrick Lewis, Joey Beltran, and why not – even Kimbo Slice.
Time will tell if he ever gets another chance to add to his UFC knockout total.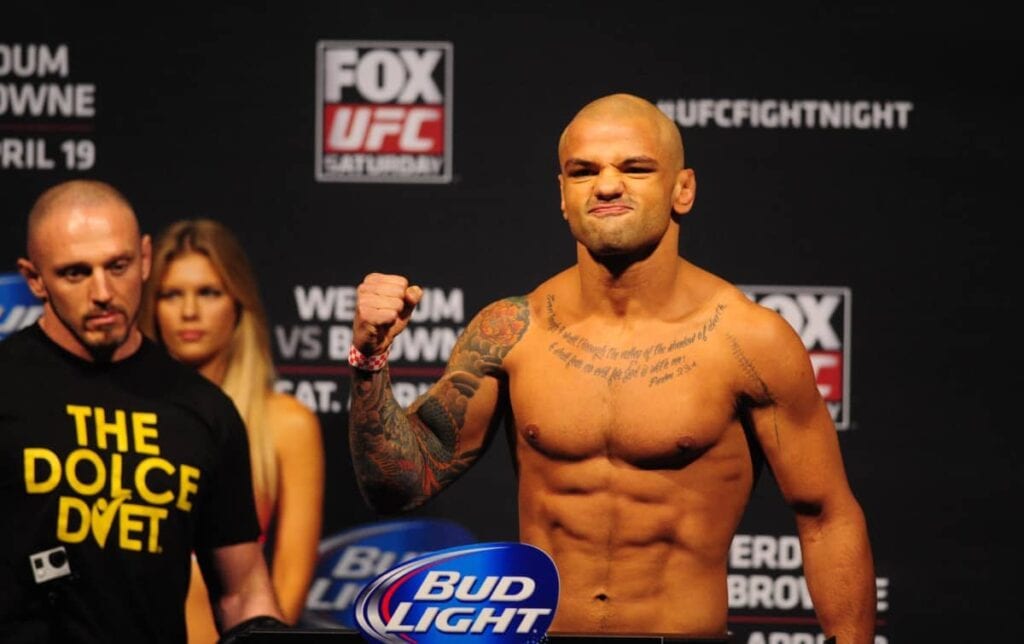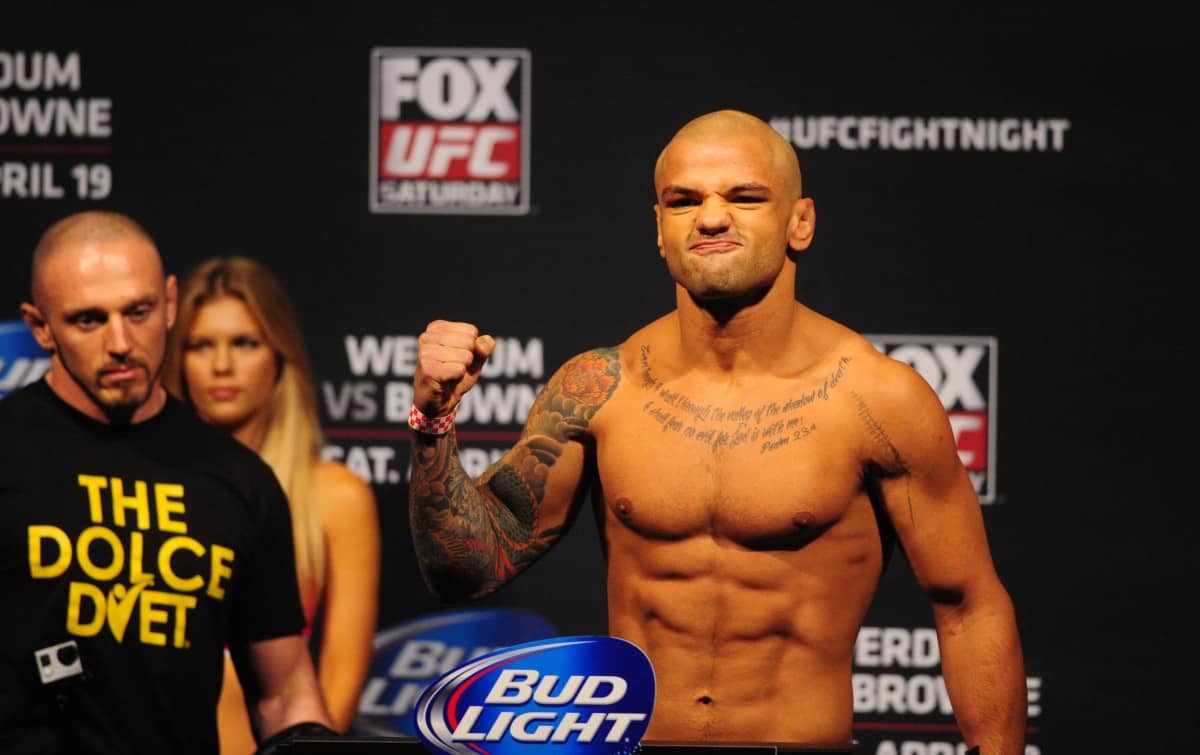 9.) Thiago Alves – 8 T/KOs:
Alves is a former welterweight title challenger who made his debut in 2005 and has racked up an impressive 8 T/KO finishes in the Octagon thanks to his brutalizing style of Muay Thai kickboxing.
He has some big names on that list, as well, with his most famous knockout his UFC 85 stoppage of legendary former champion Matt Hughes. He also finished Chris Lytle and Karo Parisyan by T/KO. Alves' most recent knockout was a come-from-behind stoppage of retired 26-year old former contender Jordan Mein.

8.) Matt Brown – 9 T/KOs:
The grueling, grinding fighting style of 'The Immortal' has already lead to an impressive 9 T/KOs in the Octagon, a number he's certainly looking to add to as one of the top-ranked 170-pound fighters in the world.
Brown picked up several of his knockout wins during his tepid seven-fight win streak from 2012-2014, knocking out Erick Silva, Mike Pyle, Mein, Mike Swick, and Chris Cope.
Not exactly a murderer's row of top-level welterweights, but a great accomplishment in and of itself.
Brown will look to make it an even 10 knockouts when he attempts to stifle the all-time great Brazilian jiu-jitsu of Demian Maia this May.

7.) Michael Bisping – 9 T/KOs:
Although he's unfairly earned the moniker of being a point fighter who rarely finishes a bout, longtime middleweight Michael Bisping actually has 9 T/KO stoppages in the UFC, good for sixth on the list of most all-time.
'The Count' will look to make it 10 when he steps into the Octagon for by far the biggest bout of his career versus longtime former champ Anderson Silva on February 27 from London. Bisping's KO wins haven't exactly been over the greatest middleweights, as his biggest knockout is most likely his UFC Fight Night 48 TKO of former Strikeforce champion Cung Le.
Bisping has also knocked out Jason 'Mayhem' Miller, Jorge Rivera, Denis Kang, and Elvis Sinosic, and it could be argued he'd have even more if he hadn't been made to face a veritable laundry list of former TRT and/or anabolic steroid users.
Still, 'The Count' has had a good UFC career and isn't finished just yet.

6.) Rich Franklin – 9 T/KOs:
A rarely talked-about legend of MMA in his own right, Rich "Ace" Franklin ranks up high on this list for good reason, as he's finished some of the game's best in his heyday.
His best knockout is his UFC 115 stoppage of all-time great Chuck Liddell, the fight that sent 'The Iceman' into a merciful retirement. But he also owns highlight knockout wins over Ken Shamrock, Evan Tanner, Nate Quarry, and Matt Hamill.
Unfortunately Franklin may go down in UFC history as the man whom Anderson Silva beat to win the middleweight title, but it's clear that 'Ace' also deserves his due as one of the best knockout artists in UFC history.

5.) Cain Velasquez – 9 T/KOs:
The oft-injured Velasquez is unfortunately known more for his disappointing inactivity due to injury these days, but during his prime fighting years, the former heavyweight champ deservedly earned his moniker as the 'Baddest Man on the Planet".
He's earned 9 of his 11 total UFC wins by T/KO, and his brutal defeats of Brock Lesnar, dos Santos, Rodrigo Nogueira, Antonio "Bigfoot" Silva, and "Big" Ben Rothwell certainly ranks him as one of the best heavyweights of all-time.
If he could only stay healthy and truly reach that lofty title, then Velasquez' massive potential will have been fulfilled.
Hopefully he can, but with one fight (a submission loss to Fabricio Werdum at UFC 188) since October 2013, Velasquez may have to change a lot of things about his training to reach his full potential in MMA.
That doesn't seem like something he's willing to do at this point.

4.) Andrei Arlovski – 9 T/KOs:
The fan favorite from Belarus ranks as the third former heavyweight champion on this list, and indeed his knockouts have elicited quite the crowd response.
Arlovski recently completed an improbable career resurgence by successfully returning to the UFC with knockout wins over 'Bigfoot' Silva and Travis Browne in what might be the most exciting one-round fight in UFC history at UFC 187.
His bid for a nostalgic title shot was unfortunately cut short when he was stopped by Stipe Miocic at UFC 195, but his past knockouts over Tim Sylvia, Vladimir Matyushenko, Paul Buentello, Justin Eilers, and 'Cabbage' Correira, in addition to his recent streak, have him ranked as one of the top power hitters to step into the Octagon.

3.) Chuck Liddell – 10 T/KOs:
As the greatest UFC light heavyweight champion ever before Jon Jones came along, 'The Iceman' steamrolled a path through multiple contenders with his electric knockouts that helped send the UFC into the mainstream back in 2005-2007.
His most notable T/KOs came over archrival and former champion Tito Ortiz, whom he stopped twice at UFC 47 and UFC 66, respectively, and he also beat another all-time great when he stopped Randy 'The Natural' Couture twice at UFC 52 and UFC 57.
The UFC Hall of Famer has since accepted a position as an exec with the UFC, and can be found at every big event in Las Vegas getting as almost as animated as he did during his lengthy and historic career.
Sure to go down as one of the game's greats, Liddell also knocked out Renato 'Babalu' Sobral twice, Jeremy Horn, and Vernon White.

2.) Anderson Silva – 11 T/KOs:
Now we're getting up into truly elite territory, as MMA legend Anderson 'The Spider' Silva just recently saw his knockout record of 11 fall to the man who occupies the top spot on this list.
Regardless, 'The Spider' was simply up there with the best of all-time during his prime, knocking his opponents out before they even set foot in the cage. His dodging, twirling jab (!) knockout of Forrest Griffin at UFC 101 is the stuff of highlight reels and legends, as is his emphatic front kick KO of Vitor Belfort at UFC 126.
His list of legendary T/KOs doesn't stop close to there, however, as Silva also knocked out Rich Franklin with arguably the two most devastating displays of Muay Thai in MMA history. In addition, he also destroyed Chris Leben with an unreal combo in his UFC debut, and who could forget his UFC 148 rivalry and TKO win over Chael Sonnen?
Surprisingly, Silva hasn't won a UFC fight since his TKO stoppage of Stephan Bonnar at 2012's UFC 153, but it's clear that he'll go down as one of the best knockout artists in MMA history no matter what happens in his UFC Fight Night 83 bout against Bisping and beyond.

1) Vitor Belfort – 12 T/KOs:
Knocking out Dan Henderson with a devastating and precise head kick last November (his second such win over an aging 'Hendo' in as many years), 'The Phenom' overtook the top spot for most T/KOs in UFC history with 12.
He's far from the hulking young beast that debuted with two knockouts of Tra Telligman and Scott Ferrozzo to win the UFC 12 Heavyweight Tournament in 1997, and followed that up with a 52-second KO of knockout legend Tank Abbott at UFC 13, but he's amazingly still one of the top middleweights in the world.
Belfort further etched his name into UFC history when he bum-rushed eventual Pride great Wanderlei Silva with a historic 44-second KO at UFC Brazil, a clip that has been played on UFC highlight reels as much, of not more, than any other.
He also won the light heavyweight title with a TKO stoppage at UFC 46, but lost the belt back to 'The Natural' at UFC 49 before dropping a split decision to Tito Ortiz at UFC 51.
From there, Belfort's career took various twists and turns, yet he always found his way back to the Octagon, and he always found a way to knock opponents out cold.
Belfort returned to the world's biggest MMA promotion in 2009 when he knocked out fellow legend Rich franklin at UFC 103 and Yoshihiro Akiyama in 2011, and then his scope of exposure really took off.
But it was for all the wrong reasons.
It's unfortunate that Belfort will largely be remembered for his TRT-fueled 2012-2013 run where he knocked out Michael Bisping, Luke Rockhold, and Henderson with three vicious head kicks in a row to earn a title shot that came at May 2015's UFC 187. Belfort was the subject of countless criticism towards MMA, and indeed his failed random drug test for elevated testosterone in February 2014 ultimately lead the UFC and NSAC's decision to ban TRT for good.
A controversy about his near-submission win over Jon Jones at UFC 152, where he allegedly failed another drug test but was allowed to fight in order to save the card anyway, has further marred his legacy, but overall, "The Phenom" simply has the most T/KOs in UFC history whether you agree with it or not.
Set to face Ronaldo "Jacare" Souza on May 14 from Brazil, Belfort could add another alarming title shot to his resume more than 19 years after his UFC debut by scoring his thirteenth knockout.