We had an incredible night of fights last night (Sat. July 27, 2019) at the UFC 240 pay-per-view (PPV).
The show featured a featherweight world title bout between two fo the best in the world. Also, fight fans witnessed the return of Cris Cyborg, who came off the first loss of her MMA career since making her professional debut. The show featured some extraordinary performances from the fighters, and we have compiled a list of five fights to make after their showings.
Where do the winners go from here? Where do the losers go from here? There were so many great performances that made it made it tough to only pick five. We at LowKickMMA have decided on the five best matchups to make after this tremendous night of action.
Check them out below:
Hakeem Dawodu (10-1-1) vs. Gavin Tucker (11-1)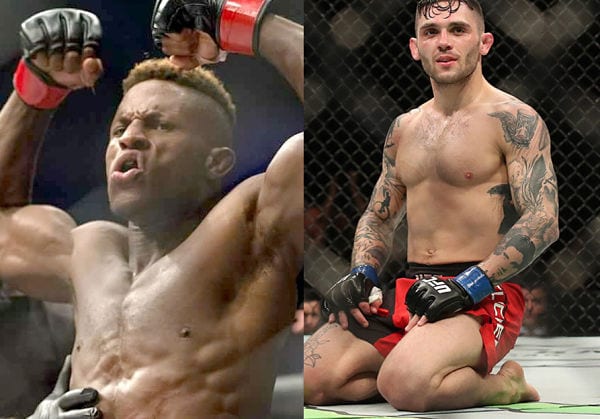 The first matchup is a bout between two of last night's winners in Hakeem Dawodu and Gavin Tucker. Both guys are great strikers, and both earned finishes in the third round of their respective bouts. Tucker had a great performance against the much bigger man in Seung Woo Choi, defeating the Korean via submission to improve his UFC record to 2-1. Tucker has a very interesting style, he throws a wide variety of strikes, and is fun to watch. He's quite flashy and has a compact frame for the 145-pound division.
Dawodu improved his UFC record to 3-1 last night with a victory over Japanese prospect Yoshinori Horie. After a frustrating first round, "Mean" Hakeem adjusted and started putting his strikes together. Horie was constantly moving throughout round one, making it nearly impossible to get a hit on him, and perhaps even took that round from the 28-year-old favorite.
Dawodu came out in rounds two and three with a much better plan of attack, along with Horie starting to tire a little. The former kickboxing champion hurt Horie with knees to the body, and when Horie would cover his body, Hakeem would go to his head with elbows. It was a beautiful performance on his part. Toward the end of round three, Dawodu landed a combination that ended with a head kick, thus resulting in the finish. Dawodu was perhaps looking at a 10-8 round three, but he got the stoppage via TKO in the third and final round.
Both Tucker and Dawodu defeated Asian prospects last night, and both scored their first finishes inside the Octagon. They have the same amount of MMA fights, similar records, and a similar amount of experience in the UFC. This would be the perfect matchup to see who should have a number next to their name in the months to come.
Arman Tsarukyan (14-2) vs. Alexander Hernandez (11-2)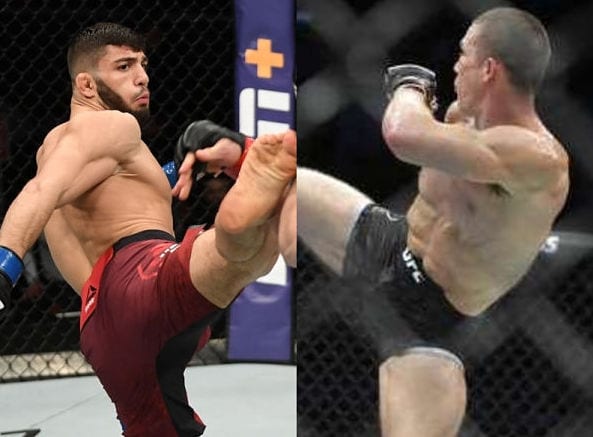 Initially, a matchup between Tsarukyan and Gregor Gillespie sounded like it would be a great fight, but why rush Tsarukyan so quickly? He's only 22-years-old, and Gillespie is finally starting to be recognized as one of the best in the world, certainly one of the premier wrestlers in the sport. Instead, why not give him one of last weekend's winners in Alexander Hernandez? Another young and talented prospect that also fought, and defeated, Tsarukyan's opponent, Olivier Aubin-Mercier via unanimous decision.
Tsarukyan got the eyes of the MMA community on him in his UFC debut against Islam Makhachev, a fight he kept competitive throughout. To be able to keep up with Makhachev on the ground like that, it was impressive. He actually out-struck Makhachev 60-47, and scored a lone takedown on the top 15 lightweight, but of course, ultimately lost the fight.
The 22-year-old rebounded last night with a victory over a very talented fighter, the TUF Nations finalist, Olivier Aubin-Mercier. It may not have been the most entertaining fight, but it was quite impressive. It's not easy to out-grapple a guy like Mercier, who's a BJJ brown belt and Judo black belt. "OAM" is now on a three-fight losing streak, but don't let that fool you, he's a stud.
As for Tsarukyan, a matchup with the 26-year-old Hernandez makes a good amount of sense. Both have similar styles; they're both pretty good on the feet, and great on the ground. Not only are they great wrestlers, but they're both very high-level scramblers. Each of them knows how to get on top at all costs, it'd be very interesting to see how that'd work out for each of them if pitted against one another.
These two also have quite similar frames, with Tsarukyan standing at 5'7" with a 72.5" reach, and Hernandez standing at 5'9" with a 72" reach. Again, this would be a great, and very telling matchup to see who should have a number next to their name in the months to come.
Geoff Neal (12-2) vs. Abdul Razak Alhassan (10-1)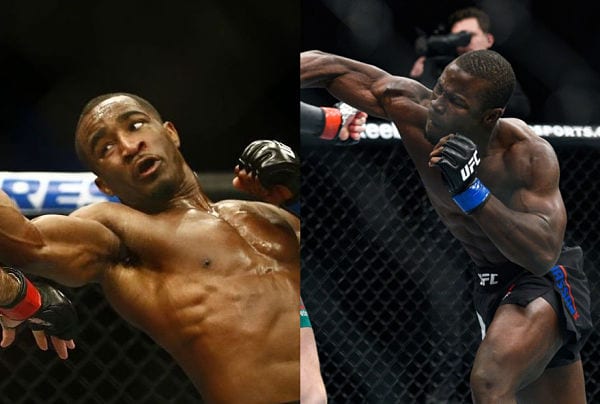 Geoff Neal looked great last night against the very dangerous Niko Price. "The Hybrid" can get the finish from really anywhere. He can submit you from the top or bottom, he can knock you out on his feet, he can knock you out off his back – he's an opportunistic and dangerous competitor. Neal was able to get the TKO finish with his ground-and-pound, considering Price didn't answer many of the shots he was hit with.
Neal's coaches kept calling for him to pass Price's guard, but why? He was having so much success there. He was so accurate, his ground-and-pound isn't something we've really seen much of from him, but he's great at it.
Alhassan hasn't fought in nearly a year pending some legal issues, but was given permission to remove his ankle bracelet in November of last year, so he should be able to compete. "Judo Thunder" was the last man to defeat Price, before last night of course, and did so by KO early in round one. Alhassan holds a black belt in Judo, and all ten of his wins are via knockout, with his lone loss via split decision. If the 33-year-old can come back to the Octagon, this fight seems very fitting.
Why not match up a brutally powerful judo black belt like Abdul Razak Alhassan against a slick and accurate striker like Geoff Neal? This would be a great fight between two very dangerous men. Alhassan is 4-1 in the UFC compared to Neal at 4-0, along with a Contender Series win. With Neal standing at 5'11" with a 75" reach and Alhassan standing at 5'10" with a 73" reach, who would win this matchup between these two dangerous knockout artists?
Amanda Nunes (18-4) vs. Cris Cyborg (21-2) 1 NC II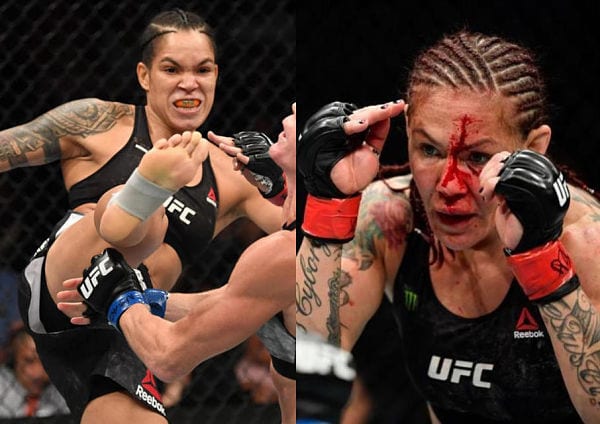 After winning all three rounds against her counterpart Felicia Spencer last night, there's really only one fitting fight to make for Cris Cyborg, and that's a rematch with "The Lioness" Amanda Nunes. We got to see Cyborg overcome some adversity last night, as the tough-as-nails Spencer opened up a cut on her head early on, and kept up the pressure throughout the whole fight. She fought a woman that really wanted it last night, and still had the will to pull out the victory.
Cyborg was the favorite going into her first fight with Nunes, but we all know what happened there. How would a rematch be different? If Cyborg can go into the rematch not looking to throw down, but to strike efficiently and tactically, she may have a much better chance at victory.
Nunes seemed much faster than Cyborg when they fought, and she most likely is, but that could have been because Cyborg got tagged a lot before she got KO'd. After getting tagged, she likely saw red. It was almost like watching one of Cody Garbrandt's recent fights. If Cyborg actually fights with her skillset rather than relying on her physical attributes, it may go differently.
Cyborg was wearing a "Nunes vs. Cyborg II, January 2020" shirt after her win. Let's see if that's what's next. Of course, she'd first have to strike a deal with the UFC, as her fight with Spencer was the final bout on her UFC deal.
Max Holloway (21-4) vs. Alexander Volkanovski (20-1)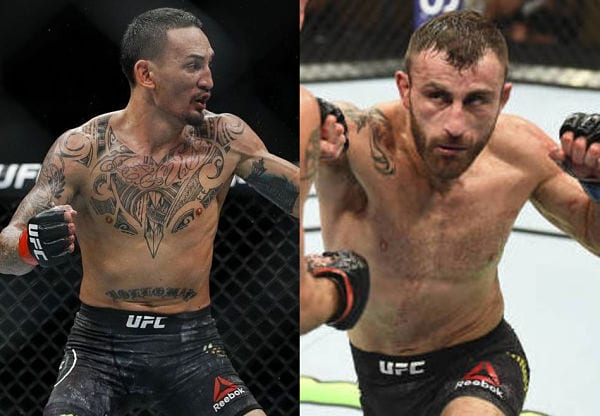 Of course this would be the last fight on this list, it's the fight that absolutely needs to be made. Alexander Volkanovski has been nothing short of astounding in his MMA and UFC career thus far. Max Holloway bested his opponent, former UFC lightweight champion Frankie Edgar, last night over the course of five rounds. "Blessed" showed he can hang with the best wrestlers in the sport, and showed he can also hang with the most well-rounded fighters in the sport.
Alexander Volkanovski used to weigh upwards of 230 pounds and now fights at 145 pounds. The power and strength he must have from that alone is pretty crazy. Mix that up with all of his skills, and you have a very dangerous human being to defend your title against.
Holloway is of course the taller man, as he usually is, but gives up the reach advantage to Volkanovski. ""The Great" has fought in eight title fights, and won all of them, including six different titles across three weight classes. At just 5'6", to win titles at welterweight, lightweight, and featherweight, is an incredible accomplishment. He also went 4-0 as an amateur at middleweight.
The No. 1-ranked Volkanovski has a 71.5" reach as opposed to the champion's 69". For being five inches shorter, that could be a huge factor in this fight. Not to mention the fact that he's used to carrying around so much more weight, and doesn't have a problem making the featherweight limit.
Volkanovski's only loss was in his fourth professional fight, and he won his first belt in just his second professional appearance. In his third professional bout, he won another belt via TKO in round four. It's crazy to have that kind of experience so early on in one's career.
We all knew "The Great" was good, but we didn't know he was actually 'great' until UFC 232 when he TKO'd Chad Mendes in the second round. He's got a hell of a chin too, as he got rocked by Mendes' best shot, who hits like a truck, and came back in that same round to get his own knockout finish. Along with his universally scored 30-27 victory over Jose Aldo in Aldo's hometown of Rio, we're finally starting to see what he's capable of.
As for the 27-year-old champion, we know what he's capable of. Will he continue his dominance at 145 pounds, or will a new champion reign supreme? Hopefully, this fight goes down at UFC 243 in Melbourne, Australia.
The potential for the event is massive; with names like Kai Kara-France, Dan Hooker, Tai Tuivasa, Megan Anderson, Jim Crute, and perhaps Tyson Pedro on the roster. Max Holloway versus Alexander Volkanovski as the co-main event to Robert Whittaker versus Israel Adesanya in the main event would be massive, to say the least.
Who would win this epic showdown between two of the best fighters on the planet, and two of the biggest featherweights out there?