Israel Adesanya News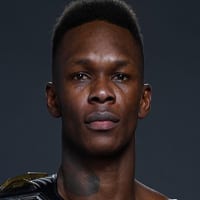 DOB: July 22nd, 1989
Birthplace: Lagos, Nigeria
Nickname: Stylebender
Gym: City Kickboxing
Style: Kickboxing
Weight Class: Middleweight
Championships: UFC Middleweight Championship
Stylebender finds martial arts
Israel Adesanya was the oldest of five siblings born in Lagos, Nigeria. His parents wanted him to have a better life, so they looked to relocate from Nigeria, when he was young.
They settled in Rotorua, New Zealand, when he was 10. Adesanya was really interested in anime and martial arts wanting to train and be like the characters in Naruto. Also since he was bullied for being an immigrant, Israel wanted to learn to defend himself. 
Stylebender first TaeKwondo as a kid, but got injured. He started training kickboxing when he was 18 being inspired by Tony Jaa in Ong-Bak. 
In 3 years, he earned an amateur kickboxing record of 32-0. When he was 21, he moved to Auckland and began training with City Kickboxing.
Stylebender's kickboxing career
Before getting into MMA, Israel had quite a career competing in professional kickboxing. Accumulating a record of 75-5 in 8 years.
He primarily fought in China and New Zealand before becoming the first New Zealander to sign with Glory Kickboxing. 
In his kickboxing career, Stylebender won 4 different kickboxing tournaments with the last being the Glory middleweight tournament. Winning the middleweight championship in the final.
Israel would fight in 2 more kickboxing fights before he stopped competing in kickboxing and focused on MMA.
Israel Adesanya's early MMA career
While Stylebender's primary focus was kickboxing, he'd also sporadically compete in MMA. His first pro MMA fight was in 2012 and won by first round TKO.
Much like with his early kickboxing career, Israel Adesanya would fight primarily in New Zealand and China. Amassing a record of 11-0 from 2012-2017 with all KO/TKOs within the first 2 rounds.
Stylebender enters the UFC
With an impressive 11-0 MMA record and being a former Glory middleweight champion, Israel was welcomed into the UFC.
He made his promotional debut at UFC 221 in Perth, Australia. Stopping Rob Wilkinson with strikes in the 2nd round.
Israel would continue winning, beating his next two opponents in the prelims before fighting a top 5 opponent. His first real test came against top prospect Derek Brunson.
Adesanya used his superior striking to finish Brunson at the end of the 1st round.  Israel would then have a dream matchup facing his idol Anderson Silva next. Winning that fight by decision to put him in line for a title fight.
Interim title and unification bout
The then middleweight champion Robert Whitaker was on the shelf with an injury. So an interim title match was made putting Stylebender against Kelvin Gastelum.
They would have a fight of the year candidate match pushing each other to their limits. Israel dropped Kelvin a record 4 times in the fight before winning the decision and the interim title.
Six months later, he would have a unification bout with the division champion Robert Whitaker. Israel Adesanya would knock out the champion in the 2nd round to become the undisputed middleweight champion.
Stylebender's title defenses
Israel's first title defense came against feared fight Yoel Romero. Due to both men being counter fighters, there wasn't as much action as expected in their match. Stylebender would win a decision to set up his next fight against Paulo Costo. 
There was a lot of hostility and personal attacks between the two leading up to the fight at UFC 253. Adesanya would dominante the Brazilian finishing Costa with strikes to defend the title and stay undefeated.