Cris Cyborg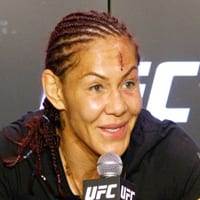 DOB: July 9th, 1985
Birthplace: Curitiba, Brazil
Nickname: Cyborg
Gym: RVCA Training Center
Style: Muay Thai
Weight Class: Featherweight
Championships: UFC Women's Featherweight Champion, Bellator Women's Featherweight Champion, Invicta FC Featherweight Champion, Strikeforce Women's Featherweight Champion
Cyborg gets recruited to Chute Boxe
Before getting into MMA, Cris Santos was a national level handball player in Brazil. A Chute Boxe trainer in Curitiba saw her playing and thought she would do well in MMA.
The trainer convinced her to begin training and she was immediately hooked. Santos grew a passion for training and wished to compete.
Cyborg's early MMA career
Cris began her MMA career in Curitiba, where she had her first 5 fights. She was inexperienced in her first fight and lost by kneebar.
The loss would turn out to be her last loss for a very long time as she evolved into an elite fighter. Winning her next 4 fights before making her US debut in EliteXC.
Cyborg's US introduction
In 2008, Cyborg made her US debut on an EliteXC card against Shayna Baszler. Winning the fight by TKO in the second round.
She would have one more fight in the company before it closed, winning by decision.
Cyborg vs Carano
With women's MMA still being new, Cyborg was the most feared fighting within the women's division. In her debut with Strikeforce, she would go against the then face of women's MMA Gina Carano.
She would overpower Carano, battering her and finishing the fight in the first round. Winning the Strikeforce Women's Featherweight Championship.
Cyborg would defend the belt twice and have 1 no contest before the company was bought out by the UFC.
Cyborg's Invicta run
At first the UFC did not want to sign Cyborg, so she would sign with women's MMA promotion Invicta FC.
Santos would finish all 5 fights she had within the promotion by strikes. Winning the title in her 2nd fight with Marloes Coenen and defending the belt 3 times.
Cyborg's UFC run
The UFC finally came around and signed Cyborg and she had her UFC debut in her hometown of Curitiba. Her first fight would be a 140lb catchweight fight against Leslie Smith.
After a tough weight cut, Cyborg overcame diminishing her body to win by 1st round TKO. She'd have one more catchweight bout in her next fight and also win that match by TKO.
The UFC finally decided to make a women's featherweight division and Cyborg would fight for the title. She'd have a match against Tonya Evinger and batter her to win the belt with a 3rd round TKO.
In her next fight she would have an anticipated bout against former bantamweight champ Holly Holm. Cyborg would control Holm throughout the fight and win a decision.
Cyborg vs Nunes
After both Cyborg and bantamweight champ Amanda Nunes ran through their division, the UFC made this match. Cris was the heavy favorite going into the fight and most assumed she'd retain her title.
Nunes shocked the world knocking out Cyborg and winning the featherweight title becoming a 2 division champ. Cyborg would have one more fight in the UFC before leaving due to unhappiness with how the company treated her.
Cyborg in Bellator
Cyborg then found herself in Bellator MMA with her first fight for the title against champ Julia Budd. She, as expected, controlled the fight  and finished Julia Budd by TKO in the 4th round.
Winning her 4th title with 4 different promotions. She would defend the belt against Arelene Blancowe winning by RNC.