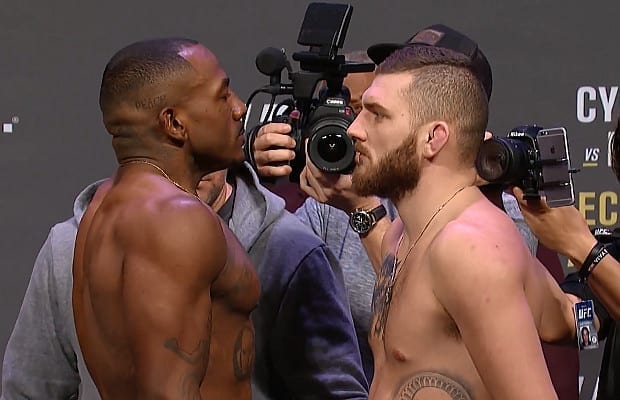 It's once again fight day here at LowKickMMA, and the talent on display tonight (Saturday, December 30th, 2017) will come from in the form of UFC 219. Headlining the card are Holly Holm and Cris Cyborg, but there's a whole bunch of great fights also taking place on the preliminary section of the card.
Michal Oleksiejczuk vs. Khalil Rountree in a light heavyweight closes the preliminary card on FOX Sports 1. In round 1, Rountree opened up with a body kick then a left hook. Rountree was swinging for the fences. Oleksiejczuk was bleeding from his right temple. Oleksiejczukshot in for a single leg takedown and got it. Rountree went for a guillotine choke but Oleksiejczuk got out of it. Rountree got to his feet and locked in the choke again but Oleksiejczuk got out of it once again. Rountree landed some more big shots then a knee strike. Rountree is now bleeding and heavily breathing. Oleksiejczuk started pouring on the strikes. Oleksiejczuk was being techinical with his attack. In round 2, Rountree was trying to get a second wind but Oleksiejczuk continued to keep the pressure on him. Oleksiejczuk worked over the body with hooks as he continues to soften up his opponent. Rountree was exhausted at this point. He would save up energy and let it go in a combo. As Joe Rogan put it, Rountree is a good minute and half fighter. In round 3, Oleksiejczuk took him down to begin the round and got full guard. Oleksiejczuk worked him over with strikes from top position. Oleksiejczuk got his back and pulled him back to the ground. Oleksiejczuk worked him over with strikes from side control. The judges gave the win to Oleksiejczuk by decision.
Myles Jury vs. Rick Glenn is next in a featherweight bout. In round 1, The southpaw Glenn tries long kicks to start things off. As Glenn tries to wade in, Jury clinches up and turns him against the cage. They jockey for position. Glenn catches a body kick and threatens a takedown but Jury starts lacing up a D'Arce and Glenn bails out. Nice Jury right hand. In round 2, A left hook lands for Jury as Glenn tries pushing forward. Glenn ties up against the cage but can't get anything going. Glenn tries catching a kick, Jury kicks out and rolls away. They're tied up on the cage with Jury trying to take the back. Glenn fends him off, has a takedown stuffed. Jury is looking for his own takedown now. He gets a body lock and takes Glenn down, immediately to mount. Briefly looks for arm-triangle. Glenn tries scrambling up, Jury threatens to get full back mount but Glenn blocks the second hook. Jury on top in guard now. In round 3, they trade in the pocket while Jury continues to press the action. Jury clinches with him up against the fence and lands a few knee strikes. Glenn was working over the body of Jury with kicks. Jury scored a takedown late in the round to finish it out. Jury picked up the decision win.
Marvin Vettori vs. Omari Akhmedov is next in a middleweight bout. In round 1, Omari opens with a snappy inside leg kick on the southpaw Vettori. He then misses on a pair of them. Vettori straight left lands. The Italian pressuring. Vettori is getting bombed on whenever he plants his feet. Vettori tries a single, Omari shakes him off and lands a counter right hook. Vettori lands another knee and now he lands several hard straight shots. Akhmedov pushes forward and turns Vettori's head with a stiff hook. Vettori is showing off a chin to eat these flush shots. Just under a minute left, Omari shoots but gets stuffed. Pace slows down the stretch. In round 2, Akhmedov lands several vicious inside leg kicks, then a big right. Vettori trying to pressure. Akhmedov shoots, Vettori grabbed a kimura on the way down. Vettori transitions to a triangle, looking tight. Akhmedov pulls his head out and now he's on top in guard. Vettori kicks away and gets up. Jump knee, cross land for Akhmedov. Both guys looking tired. Akhmedov partially lands a spinning back fist, inside leg kick. Vettori comes back with his own kicks to the body, clinches up but can't get anything done. Omari landing hard but Vettori still there. Both guys look gassed. In round 3, Vettori starts with a body kick. Omari winging telegraphed haymakers that Vettori mostly avoids. He charges forward and flurries on Omari. Akhmedov eats the shots, stands there and grins bloodily. Vettori lands a knee. They clinch up briefly. Vettori avoids a hook and lands a 3-piece counter. Vettori is teeing off on a completely gassed Akhmedov. Omari gets a brief respite when his mouthpiece comes out. They both SWING, land more often than not. Vettori is landing a lot this round but still eating a few too many power shots. Head kick, left hand land for Vettori. He tries tying up but can't get Omari down. The judges ruled this a majority draw.
Louis Smolka vs. Matheus Nicolau in a flyweight bout opens the FOX Sports 1 preliminary bouts. In round 1, Nicolau tags an on-coming Smolka with a cross. Nicolau switches briefly to southpaw. Smolka blocks some shots on his guard but a left hook drops him. Smolka doesn't seem rocked but Nicolau is working to pass his guard. Nicolau in side, threatening to take the back. Smolka up. Long front kick by Smolka. Nicolau crushes him with overhand right, left hook. Smolka drops and Nicolau jumps on an arm-triangle. Smolka guts it out and he's back on his feet! He's so tough but Nicolau so much faster and harder hitting. In round 2, Smolka body kicks and ducks under the hook counter. Front kicks, long cross, and body kick for Smolka. Nicolau rocks Smolka with another left hook. Smolka is bleeding next to his right eye. He's trying to stay at kicking distance to avoid those brick fists from Nicolau. Smolka trying to out-volume Nicolau now that he's seen the pocket is not going to work for him. Can't help himself wading in at times though. Nicolau jabs the body at range and left hooks Smolka whenever he's in range. Smolka slightly outlanding Nicolau but the Brazilian landing much harder. In round 3, Smolka kicking to all levels and throwing hands. Nicolau catches a kick and sweeps the leg. On top briefly, lets Smolka up. Nicolau continues going to the body with jabs and now kicks. Smolka tries to wade inside and Nicolau ducks under for an easy takedown. Half guard. Smolka gets space and upkicks before hopping up. Nicolau meets him with a left hook to the body. Nicolau briefly threatens another shot. Smolka is still trying to move forward, lands a nice body kick. Nicolau clinches and easily trips him down. Lands some ground and pound as Smolka scrambles. The judges gave the win to Nicolau.
The only the UFC Fight Pass prelims is Tim Elliott vs. Mark De La Rosa in a flyweight bout. In round 1, Elliott doesn't waste much time shooting after De La Rosa tries coming forward behind a 1-1-2. Elliott avoids the guillotine by passing to side. De La Rosa reclaims guard and shifts his hips for an armbar. Elliott is stacking him, stands, and tries slamming out. No good. Second slam works. De La Rosa shifts his hips again for armbar but Elliott feeds him a pair of hammerfists with out getting himself caught again. De La Rosa fights off the guillotine. Elliott briefly takes the back. De La Rosa briefly on top before Elliott scrambles back on top. In round 2, De La Rosa shoots and Elliott snares him in an anaconda right away. De La Rosa escapes, nearly gets put in a top-side crucifix. Elliott punching from guard now. Elliott with the D'Arce choke.
Here are the results:
PRELIMINARY CARD (FOX Sports 1/8 p.m. ET)
Light Heavyweight: Michal Oleksiejczuk def. Khalil Rountree via unanimous decision (30-27, 30-27, 30-27)
Featherweight: Myles Jury def. Rick Glenn via unanimous decision (30-27, 30-27, 30-27)
Middleweight: Omari Akhmedov and Marvin Vettori fight to majority draw (28-28, 29-28, 28-28)
Flyweight: Matheus Nicolau def. Louis Smolka by unanimous decision (30-26, 30-26, 30-25)
PRELIMINARY CARD (UFC Fight Pass/7:30 p.m. ET)
Flyweight: Tim Elliott def. Mark De La Rosa by submission (anaconda choke) at 1:41 of Round 2
If you enjoyed this story, please share it on social media!