This Saturday night (February 11, 2017), the UFC is back on pay-per-view (PPV) with UFC 208 from the Barclays Center in Brooklyn, New York.
The event, while not wholly gathering a ton of mainstream attention in MMA, will still go down in history due to the fact that the fist-ever UFC women's 145-pound champion will be crowned when former women's bantamweight champion Holly Holm meets undefeated kickboxing sensation Germaine de Randamie in the main event.
The co-main event presents a potentially hard-hitting slugfest as well when longtime former middleweight champion Anderson Silva returns against bulldozing force Derek Brunson. UFC 208 has certainly had its fair share of criticism for the handling of the women's featherweight title picture, but nevertheless, the potential for some great MMA action still awaits.
Find out whom we picked to win the main bouts at UFC 208 below.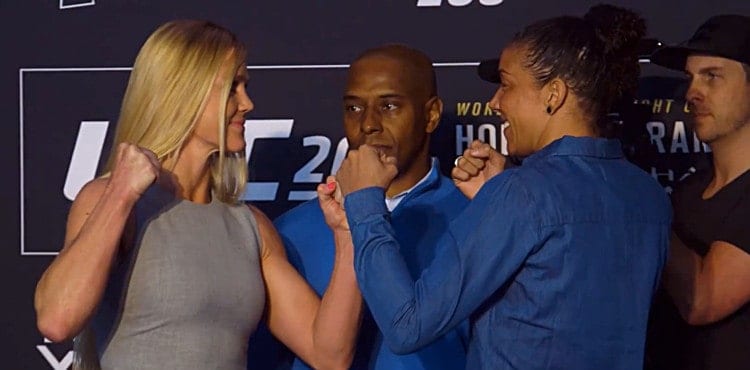 Holly Holm vs. Germaine de Randamie:
Mike Drahota:
I've seen many picking Holm based on her superior level of UFC competition and more active schedule compared to de Randamie's, and I understand where those picks are coming from. However, I just don't think we've ever really seen Holm do anything but play it safe outside of her defining win over Ronda Rousey, and it was clear she had Rousey hurt early on in that bout. There's no doubting her world-class boxing skills, and de Randamie will certainly provide more opportunities for her to counter-strike than her last opponent, fellow counter-striker Valentina Shevchenko, did, but I'm not convinced Holm has the power or will to let it all hang out and truly put on a show for fans. De Randamie is truly a dark horse here; and one with arguably an equally decorated background in Muay Thai compared to that of Holm in boxing. I think de Randamie makes this fight ugly in the clinch and puts Holm in some bad spots. De Randamie by fourth-round TKO.
Rory Kernaghan:
Although de Randamie has some very nice striking, I don't see Holm dropping her third fight in a row. 'The Preacher's Daughter' is about as seasoned a striker as you'll get in the MMA world. Although I can't imagine a devastating head kick KO like we saw against Ronda Rousey, I do think Holm will control the action. 'The Preacher's Daughter' has been fighting higher caliber competition, and has the nice, rangy counter striking to frustrate "The Iron Lady." Holm by decision.
Mike Henken:
I expect this fight to play out on the feet, although it is a difficult one to predict for me. Holm, the former UFC bantamweight champion, is a decorated former boxer and kick boxer, while de Randamie's strength lies in her Muay Thai. Neither fighter relies much on her grappling, although I'd expect Holm to be more well rounded in that area given the fact that she trains with highly-touted head coach Greg Jackson. "The Preacher's Daughter" has lost two straight since winning the 135-pound title in Nov. 2015, but de Randamie has faced few fighters of Holm's caliber in mixed martial arts. I expect the former champion to be the more experienced fighter and to be more acclimated to the pressure of headlining an event and fighting for a title. Of course anything can happen in a bout between two strikers, but I'm going to go with "The Preacher's Daughter". Holm by unanimous decision.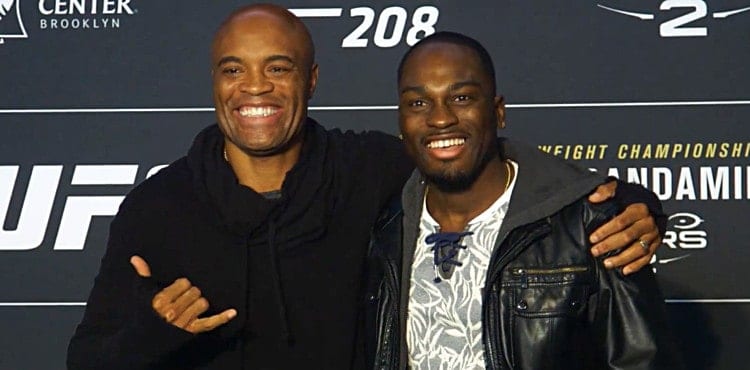 Anderson Silva vs. Derek Brunson:
Mike Drahota:
This is truly a hard fight to predict for me, because while it's nearly impossible not to root for the legendary Silva, he's clearly seen better days in his illustrious career (it would impossible not to be in that spot at 41 years). However, I also think his demise has been greatly exaggerated, as he's lost to only champions during his streak of four losses and one no contest, and he also was close to knocking out the middleweight and light heavyweight champions in under six months. Not bad for an old man.
But he's tasked with a bulldozing one-man wrecking crew in Brunson, a power slugger who's said he's going to fight much more patiently after losing an all-out brawl to Robert Whittaker last November. His style is both tailor-made for Silva's lethal counterstriking and his kryptonite, as we can't be sure where the aging fighter's chin is truly at. That makes this an unpredictable and potentially scintillating bout to be certain; one where I can't help but feel 'The Spider' has one last run in him. I think he can still catch Brunson rushing in. Silva by second-round TKO.
Rory Kernaghan:
Predicting Anderson Silva's fights used to be quite simple. Back when 'The Spider' was king of the middleweight division, he was almost like the neighborhood bully who grew quicker than the rest of the kids. Since Weidman, it's been anyone's bet, and Brunson has some very threatening tools. Capable of using his wrestling as well as KO power in the hands, Brunson could very well seal Silva's retirement. Obviously the stand-up is where Silva wants to keep this, but he very nearly came unstuck against Bisping, who rocked and dropped the ex-champ numerous times. Gut feeling pick from me, Brunson with a heart-wrenching knockout in round one.
Mike Henken:
Although I'll admit that I'm a lifelong Silva fan, I'm not oblivious as to where he's at during this stage of his career. The 41-year-old former champion hasn't won a fight since 2012, and he's lost four of his last five bouts. His chin has clearly deteriorated over time, which may be an issue against the heavy hitting Brunson. Silva has also had issues stopping takedowns, which Brunson could use to advantage. At the end of the day, however, I'm going to pick "The Spider" The Brazilian will certainly need to avoid the takedown as well as the big shots, but Brunson has tended to get wild in the past. Silva has always had success as a counterpuncher, using his speed and incredible timing to catch fighters charging in, which is what I expect to see here. Silva by second-round TKO.