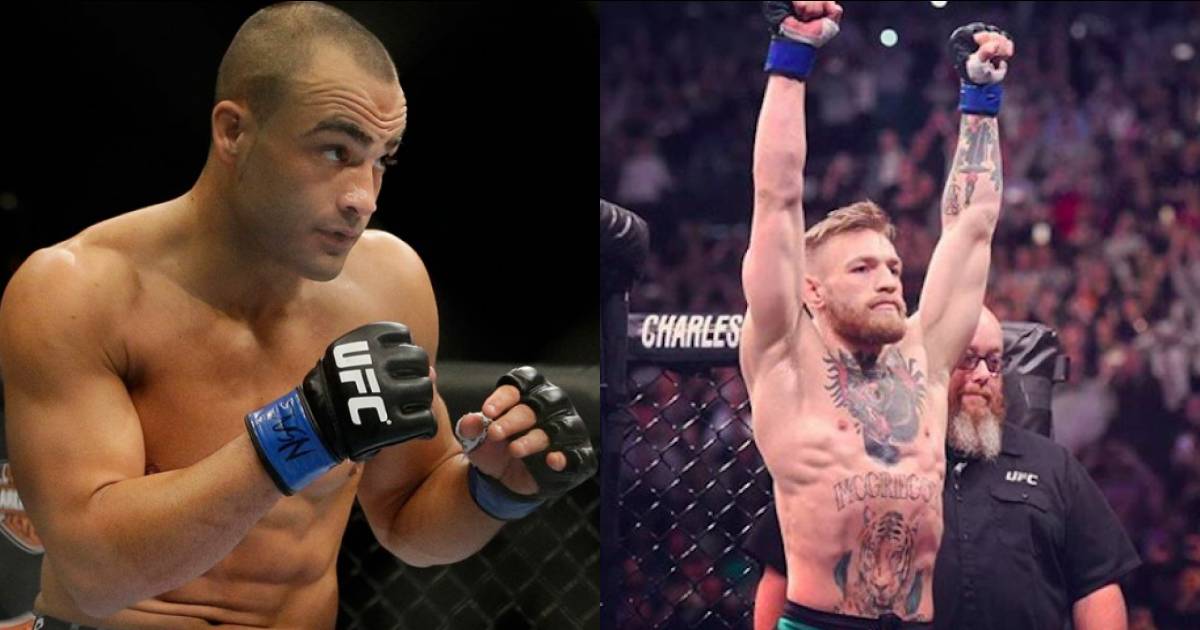 The most stacked card in history is here.
Blowing previous mega-cards UFC 200 and UFC 202 out of the water in terms of potential excitement, high-level competition, big names, and high stakes, UFC 205 will be the promotion's inaugural foray into New York City. The blockbuster event will emanate Saturday November 12, 2016, from Madison Square Garden in New York, NY.
The headliner will see the biggest draw in the sport today, Conor McGregor, seeking to make history. The current undisputed featherweight champion, the 'Notorious' one will attempt to dethrone current lightweight champion Eddie Alvarez. If he is successful, he will become the first simultaneous two-division title-holder in the history of the Ultimate Fighting Championship. The hard-nosed Alvarez will be making his first defense of the title in the money fight of his choosing. He last appeared in July, when he ripped the belt from Rafael dos Anjos.
The main card also features two other title fights. First, Joanna Jędrzejczyk will look to defend her title for a fourth time when she goes toe to toe with fellow Polish striker Karolina Kowalkiewicz. Then welterweight champ Tyron 'The Chosen One' Woodley will square off with consensus number one contender Stephen 'Wonderboy' Thompson.
The rest of the main draw will see New York native Chris Weidman lock horns with Cuban wrestling dynamo Yoel Romero and former bantamweight champion Miesha Tate warring with Raquel Pennington.
Read on for a breakdown of every scrap on the main card.

Lightweight Championship: Eddie Alvarez vs. Conor McGregor
McGregor came to power in the featherweight division as an unrelenting pressure fighter, but he has shown his talent as a multi-faceted striker by implementing a counterstriking game in his fight with Aldo and his rematch with Diaz. Against everyone else, he presses forward behind digging front kicks, spinning back kicks, and long punches until his prey has his back to the cage. With his foe cornered, McGregor can unleash his dynamite straight left. If Alvarez gets antsy and charges forward to try to give himself some space, Conor can hit the counter left hook that felled Aldo. McGregor has other, more exotic techniques at his disposal as well, but he will probably eschew throwing them because they will sap his energy and leave him open to takedowns.
Alvarez has excellent boxing himself, portrayed most obviously in his title-winning performance against dos Anjos. But he has always been a heavy hitter. His right hook and overhand pack big power. At range 'The Underground King' has good head movement, but it can fall by the wayside when he throws down in the pocket. This means he tends to get tagged in a lot of his fights. But he has always shown a near-superhuman ability to recover. Witness the massive elbow he ate from Gil Melendez in the first round of their fight. And yet he came back and won the next two rounds, despite having only one eye to see out of. Firas Zahabi, who did an excellent breakdown of this fight that I encourage you to check out, compared Alvarez's chin to Nate Diaz's.
One thing Alvarez has looked vulnerable to lately is leg kicks. In his lone UFC loss, Cerrone chopped him down by the third round. The only reason Alvarez saw the final bell of that fight was because Cerrone elected to jump into Eddie's guard for the final minute instead of making him stand back up on his badly damaged legs. McGregor used the technique quite a bit in the Diaz rematch, but the fact that he could barely walk afterward tells you how comfortable he is relying on them. Eddie isn't as susceptible to leg kicks as Diaz, so I don't think they will play a significant role.
That leaves wrestling and the ground game. This is where Alvarez can really make hay. The Philadelphian has proven an adept, if not overpowering, wrestler. McGregor showed in his fight with Max Holloway that he can wrestle a bit himself, but takedown defense is still viewed as his Achilles heel. Chad Mendes had more success than anyone not named Diaz against McGregor, and he did it pinning him to the canvas. Conor was only able to get up in the second round after Mendes fished for the neck from the top and tried pulling guard to finish. This is the avenue Eddie needs to pursue.
Cardio is the final piece of the puzzle, and it should be clear cut who has the advantage in that department. Alvarez has gone the full five rounds on several occasions and hasn't fallen off dramatically. McGregor gassing after eight minutes was the story in the first Diaz fight, and the same thing happened in the second go-round. Kudos to the Irishman for gutting out an awful third and coming back to take the pivotal fourth. But that's a concern McGregor needs to address longterm if he's going to stay at the top of the shark tank lightweight division.
The Pick: McGregor is lethal, especially early. Eddie will have to be careful not to rush in and overextend the way Aldo did. But the defending champion has a more consistent, implementable path to victory in my opinion. If McGregor wins, it will likely be by knockout in the early rounds. He showed huge guts coming back to take the fourth against Diaz, but Alvarez is going to be able to push him and wear him down with wrestling in a way Nate couldn't. Alvarez knows he's in a huge spot here with the potential to become a massive star the way the younger Diaz did. He's not going to let that slip away without at least trying the smartest gameplan. That means wrestling Conor early and often to wear him down.
Alvarez will be in danger early whenever the two are at boxing range. McGregor's length and probable power advantage make him a live wire there. But after Conor gets tired, he loses significant pop in his hands. That will enable Eddie to open up more as the fight deepens, mixing in his boxing to start scoring and doing damage. Just as it was hard to imagine Conor's last fight going the distance (it's a testament to both guys' chins that it did), I don't see this one hearing the final bell. Unlike Nate, Alvarez's wrestling will prevent him from taking so much damage early, so he'll be fresher than McGregor in the later rounds. Conor showed amazing grit in his last fight, but cardio is still a major concern for him, and Alvarez seems tailor-made to exploit it. Alvarez by 4th-round TKO is the pick.
Next Fight: Tyron Woodley vs. Stephen Thompson

Welterweight Championship: Tyron Woodley vs. Stephen Thompson
'The Chosen One' is trying to defend his title for the first time since he took it by bludgeoning Robbie Lawler senseless at UFC 201. He'll look to do the same against karate stylist and all-around nice guy Stephen 'Wonderboy' Thompson.
Since relying on his wrestling to win decisions in his Strikeforce days, Woodley has developed his striking to be a potent, if not altogether consistent, threat. He has built it around his other-worldly explosiveness. The same explosiveness that saw him fell the legendarily tough Lawler with one overhand right. He has also done the trick to Jay Heiron, Josh Koscheck, and Dong Hyun Kim. Woodley doesn't look very comfortable in the pocket, so he wants to be all the way out or all the way in. When's at long-range, he can sprint forward, throw a couple range-finding straight punches that also serve to get his foe's hands out of position, and then come around with his thunderous overhand.
But if he can't land the kill shot, Woodley struggles to produce consistent output. He has been outstruck twice in the last year and a half, first by Rory MacDonald and then by Kelvin Gastelum. He escaped the latter with a split decision. His leg kicks are as powerful as his right hand, and so is his wrestling. When pressured, Woodley can fall back on his wrestling. And he can do the same if he misses with that sudden burst of offense. He can simply crash forward into wrestling mode. For this reason, Woodley likes to have his man backed near the fence before he charges.
He will be trying to corral the striking whiz in Thompson. 'Wonderboy' is an unorthodox striker by MMA standards, which makes him difficult to prepare for and adjust to in a fight – he utilizes so many techniques that are uncommon in MMA gyms. That starts with his wide karate stance and low hands. These serve to help him maintain distance while simultaneously baiting opponents in. Thompson's hands are ready to counter, and because he holds them low, they come from angles his adversary isn't used to. The South Carolinian is known for his kicks, but his hands have been extremely impressive in his last few outings. He battered MacDonald and Johny Hendricks as they tried to close the distance on him.
But of course, Thompson's striking relies on his legs as well. 'Wonderboy' switches stances frequently, but he is right leg dominant with his attacks from either stance. From southpaw, he uses a lot of front leg side kicks to all levels, while from the orthodox stance, he throws more traditional round kicks. His unusual stance, diverse and devastating arsenal, and sharp footwork make Thompson phenomenal at controlling the distance.
In his lone UFC loss, Thompson was thoroughly outwrestled by Matt Brown, but he has clearly worked hard to shore up that hole in his game. Since then, he has shucked off every attempt, and he has been facing increasingly good wrestlers in Patrick Cote, Jake Ellenberger, Hendricks, and MacDonald.
The Pick: Woodley is absolutely capable of ending this fight with one clean punch. He has power to rival light heavyweights. But Thompson is a hard man to hit cleanly, and Woodely's relative lack of volume means he won't have many opportunities. Thompson also won't wade forward into Woodley's reactive shots the way Carlos Condit did, so the champion getting his wrestling going seems unlikely. Woodley undoubtedly has a chip on his shoulder, so if he wins, he's spitting in all our faces. But there's a reason he wanted a money fight first, and it's because 'Wonderboy' is a tough stylistic matchup. Thompson wracks up points over five increasingly one-sided rounds to take a decision.

Strawweight Championship: Joanna Jędrzejczyk vs. Karolina Kowalkiewicz
This should be a blistering standup affair. Neither woman uses wrestling offensively much at all, and both have pretty solid defense. Kowalkiewicz showed she is really dangerous in the clinch in her last fight with Rose Namajunas, savaging her with knees to the body. A fellow Muay Thai practitioner, Jedrzejczyk is no slouch there herself, with knees and slashing elbows. But at boxing range, I really favor the champion. She has shown that she is at another level than anyone else at strawweight at boxing range. Her hand speed, footwork, and combinations are all outstanding.
Kowalkiewicz isn't the same offensive force in that range, and her defense isn't nearly as tight. The challenger also arm punches a lot, not getting her whole weight into her shots. She's not bad by any means, but Rose was having a lot of success countering her low hands and lack of head movement. Jedrzejczyk should be able to do even better.
The Pick: Both women are very tough, so this should go into the later rounds, at the least. Kowalkiewicz will have her moments, just as Letourneau did – Jedrzejczyk doesn't have impenetrable defense herself and doesn't mind slugging it out a bit. But Joanna Champion is too much for Karolina, and she takes a unanimous decision.
Next Fight: Chris Weidman vs. Yoel Romero

Middleweights Chris Weidman vs. Yoel Romero
Weidman is the last man standing on the New York card from the Serra-Longo team that was supposed to be rolling deep at Madison Square Garden. Al Iaquinta, Aljamain Sterling, and Gian Villante are nowhere to be found. But the 'All-American' is still here, albeit without the belt he'd hope to be defending at MSG. With Rockhold injured, a win could see him jump in front of Jacare and be the next man to face Bisping.
He'll have a very dangerous opponent in front of him in Romero. The former Cuban Olympic wrestler is a freakish athlete, even at 39. His power and explosiveness, whether striking, wrestling, or in transitions, is something to behold. The southpaw has dynamite in his left hand and kick. And the crushing right hook he landed on Tim Kennedy in the third round of their controversial encounter was the beginning of the end for the former Army Ranger. Romero is light and bouncy his feet before exploding forward. But he usually only throws one punch at a time.
Despite his wrestling pedigree, Romero is not a top-control specialist. When he is on top he wants to rain down crushing ground and pound with punches and elbows. But this preference for striking means opponents have space to scramble. Also, the Cuban's takedown defense is surprisingly not air-tight. Several opponents have been able to take him down, but holding him down has proven just about impossible. His ridiculous strength and athleticism give him the ability to just hulk out of bad positions if technique won't work.
Romero's most glaring flaw is his gas tank. As Rogan and Goldberg are so fond of pointing out, being a muscle-bound freak requires a lot of oxygen. This means Romero goes through stretches of inactivity, or just outright gasses if he can't get a respite. This is what Weidman will need to exploit.
This looks like a more difficult version of Weidman's bout with Vitor Belfort. Weidman will have to withstand the blitzes of firepower, but if he can drag the fight into deep water, he'll start to take over. Romero isn't as easy to break as Belfort the moment he is planted on his back, but when his cardio goes he becomes more and more a sitting duck.
Weidman is a pressure fighter, through and through. His All-American wrestling pedigree means he's comfortable crashing into the clinch if his striking takes him there. He won't find the sledding easy there against Romero, at least early on. Weidman is a powerful and damaging striker at range, particularly with his kicks, so he'll want to put volume on Romero to sap his gas tank as quickly as possible. The New York native is a great grappler, but he likely won't be able to put those skills to use until the later rounds.
The Pick: Both Weidman and Romero last fought at UFC 194 in December. Weidman's layoff is the product of a neck injury and subsequent surgery, so that is a concern with him. Romero's layoff is due to positive test for a banned substance, but he was among the first to successfully get his suspension reduced with the "tainted supplement" defense. Weidman's neck is a real concern, but his toughness should allow him to weather the early storm from Romero. He has to survive some precarious moments, but Weidman gradually takes over down the stretch for a third round TKO.
Next Fight: Miesha Tate vs. Raquel Pennington

Women's Bantamweights Miesha Tate vs. Raquel Pennington
Pennington is an exciting and improving fighter. Since debuting in the big show coming off the 18th season of TUF, Pennington has gone 5-2. One loss, a split decision to Jessica Andrade, she avenged decisively. The other was a split decision to former champion Holly Holm. She's due for a step in competition, and she gets in the form of the ultra tough and gritty Tate.
'Rocky' is a boxer-puncher who is comfortable in all phases and ranges. Her striking at distance is built around her solid hands. Pennington strings punches together well, and she is comfortable throwing down in the pocket if her foe wants to try that tack. When the pocket closes, Pennington can show off perhaps her best skill set, her clinch fighting. Fighting in a phonebooth, Pennington is active and diverse in her attack. Knees, elbows, and punches all make appearances, and her toughness allows her outpace and out-gut her opponents in that grueling kind of battle.
Pennington is also an adept wrestler from the clinch. It is not her strongest suit, as she often finds herself fending off guillotines the moment the fight hits the mat, but is among her developing skills. But if she can get on top, her ground and pound is punishing. Her takedown defense isn't ironclad, but she has good get-ups against the cage. If planted, 'Rocky' is active from her back, looking to create space, sweep, or submit using butterfly hooks or a high guard. Pennington is an opportunistic submission threat in transitions as well.
She will need to remain active on the bottom, because Tate figures to try to put her there. The former champion comes from a wrestling background, but her tenacity and diversity when she gets her hands on someone are still surprising. She was able to largely out-grapple former Olympic silver medalist Sara McMann, took down Ronda Rousey in their rematch, and won the title by dominating Holly Holm on the ground. 'Cupcake' is an excellent scrambler, very often finding herself in top position even after being taken down. And despite being only a purple belt in BJJ, her submissions are a real threat. It is a rare fight that she doesn't put her foe in a precarious position.
So while she's an ace on the ground, Tate is more of a "technical brawler" on the feet, as Matt Brown might say. She has an unfortunately tendency to eat heavy leather early before getting in gear, and that proved her undoing in losing her belt to Amanda Nunes. The Brazilian never let her back into the fight. If Tate can turn it into a brawl, she can usually show out. Her toughness can take her a long way, and if she winds up swinging herself into the clinch, so much the better.
The Pick: Despite all the improvements she is making, I don't see Pennington consistently winning rounds off of Tate. She doesn't have the shocking power of Nunes to get her out of there early. 'Rocky' might be the crisper boxer, but Tate tends to be all the way out before closing the distance behind an overhand. From there she can slug it out inside or clinch up and then start looking for trips. That's how I see things playing out. 'Cupcake' sticks to Pennington, drags her down, and makes her fight off her back. Tate doesn't lose that kind of fight. She wins a unanimous decision.