Top 10 Most Destructive Weapons In MMA History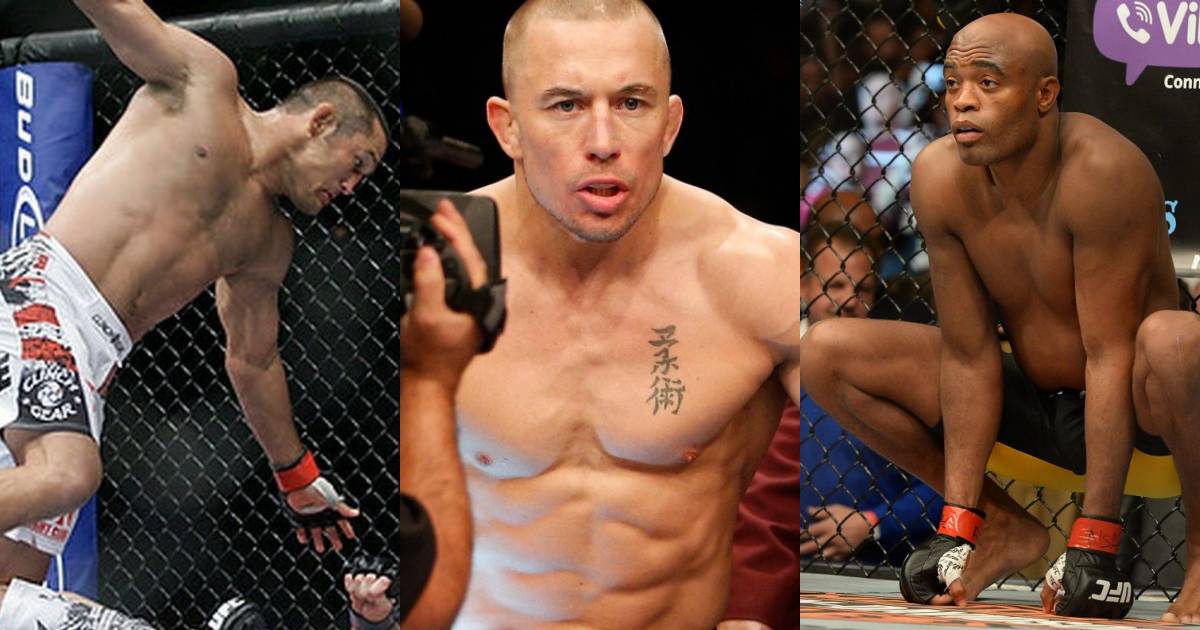 With Dan Henderson's retirement fight at UFC 204 now in the rear-view mirror, fight fans will never again see an H-Bomb detonated in the cage. 'Hendo' had two more left in him at 46 years of age, and they nearly nabbed him a UFC belt in the final fight of his storied career.
Thinking about that legendary right hand, LowKickMMA decided to chronicle the ten most devastating weapons in MMA history. From concussive strikes to venomous grappling to unstoppable techniques, this list includes some of the most successful – and most feared – men and women in the sport.
Read on for our top 10 most destructive weapons in MMA history.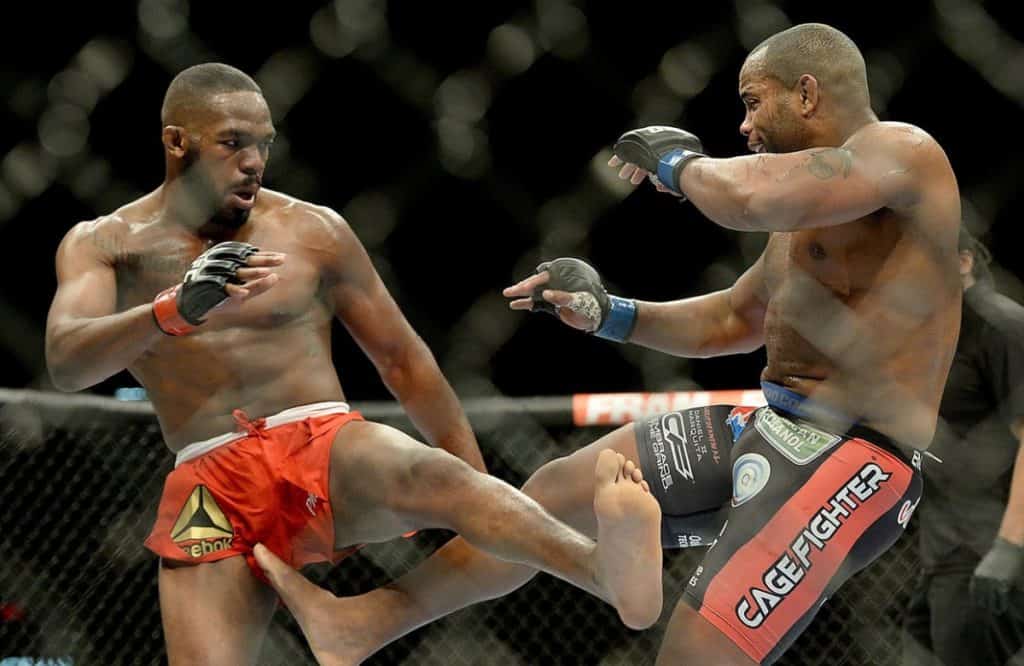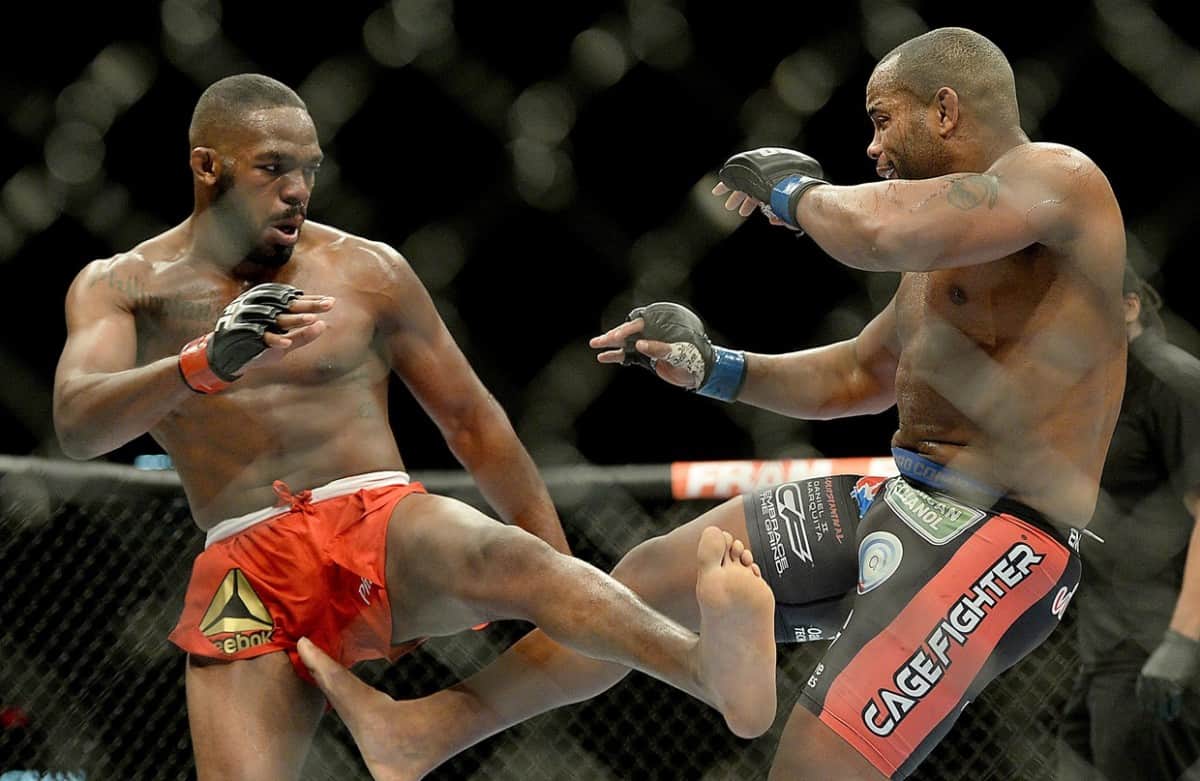 10. Jon Jones' Oblique Kicks
The troubled former UFC light heavyweight champion has never suffered a true loss in MMA competition. Boasting one of the longest reaches in the UFC, his success can be attributed in large part to the magnificent way in which he uses it. While other long and tall fighters like Stefan Struve have had trouble establishing the jab and maintaining distance, Jones is a master of both. The list of powerful strikers Jones has neutralized is a long one, including Quinton 'Rampage' Jackson, Mauricio 'Shogun' Rua, 'Suga' Rashad Evans, Vitor Belfort, and Glover Teixeira.
Along with his jab, the trademark tool Jones uses to keep heavy-handed foes at bay is the oblique kick. A devastating attack to the lead leg of the opponent, either right at the knee or just above it, the oblique kick does several things for Jones. First, it makes foes extremely tentative to close the distance. And second, it is a devastating strike in its own right. Joe Rogan has repeatedly commented during broadcasts that many feel it is a dirty technique that should be banned. Unlike a leg lock, which a fighter can tap to, the man standing across the cage from Jones cannot tap before serious damage is done to his extremity. 'Bones' hasn't finished a fight with the technique, but after his fight with Jones at UFC 135, 'Rampage' said his knee was never the same.
Joe Rogan has repeatedly commented during broadcasts that many in MMA feel it is a dirty technique that should be banned. Unlike a leg lock, which a fighter can tap to, the man standing across the cage from Jones cannot tap before serious damage is done to his extremity. 'Bones' hasn't finished a fight with the technique, but after his fight with Jones at UFC 135, 'Rampage' has said his knee was never the same.
Jones self-destructive behavior outside the Octagon has been as damaging to his career as his trademark kick is to his opponents. He is currently awaiting a hearing on the results of a positive test for estrogen blockers that saw him pulled from headlining UFC 200.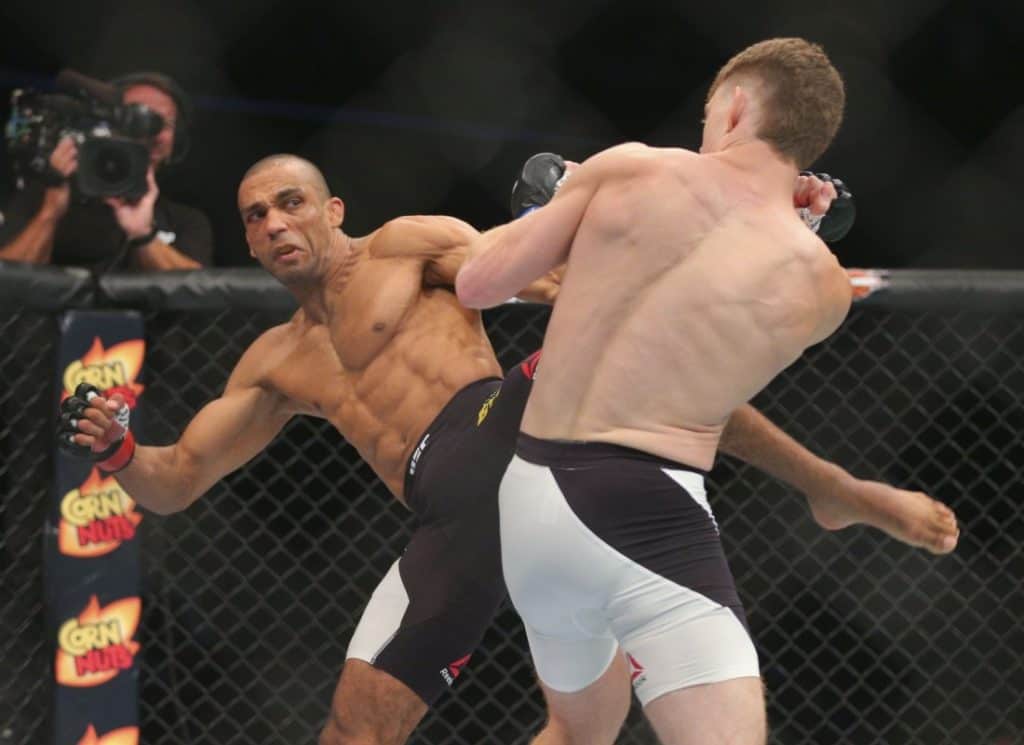 9. Edson Barboza's Kicks
One of the fastest and most feared strikers in UFC history, Brazilian Muay Thai ace Edson Barboza is renowned particularly for his kicks. Barboza set off a fad among MMA fighters when he landed the first spinning wheel kick knockout in UFC history – a feat that has since been duplicated by the likes of Junior dos Santos and Vitor Belfort. His one-strike knockout of Terry Etim will play on highlight reels as long the medium exists.
Barboza is also the only fighter in UFC history to end two fights due to leg kicks. He stopped Mike Lullo in his UFC debut at UFC 123 in November 2010 before repeating the trick against Rafaello Oliveira nearly three years later at UFC 162.
Even when he is not stopping fights with kicks, he is doing cringe-worthy damage with them. Barboza will rake the body and legs of his opponents, turning their ribs and thighs purple. And his athleticism is truly something to behold, as the chiseled lightweight can snap off a kick at any level without telegraphing it, and instantly retract it to reestablish his base.
Now a bonafide top ten 155-pounder, Barboza trains out of Ricardo Almeida BJJ in Robinsville, New Jersey, alongside former lightweight champion Frankie Edgar. The Brazilian dynamo is coming off the two biggest wins of his career. He decisioned former champion Anthony Pettis at UFC 197 in April 2016, and then did the same to former Strikeforce titleholder and two-time UFC title challenger Gilbert Melendez at UFC on FOX 20 three months later.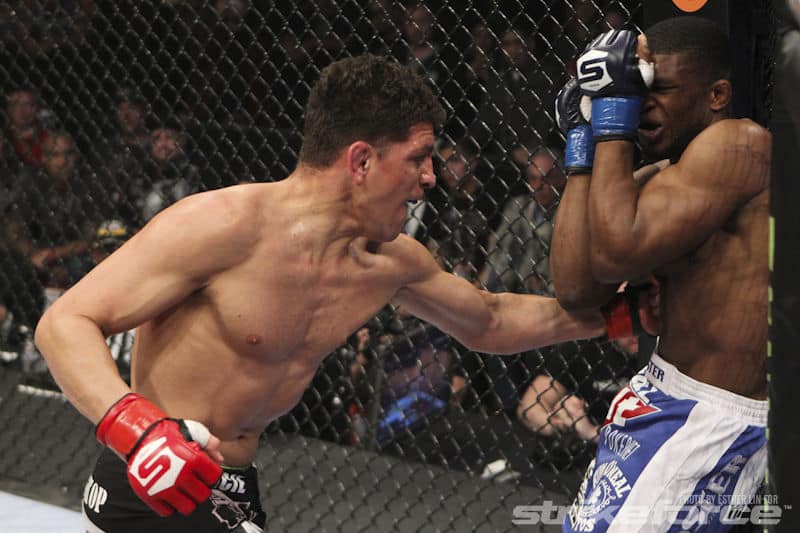 8. Nick Diaz's Volume Punching
Few men in the sport of MMA can string punches together, and with such devastating effect, as Nick Diaz. Coming into the sport as a hard-nosed grappling specialist representing Cesar Gracie Jiu-Jitsu, the elder Diaz quickly made it known that he could strike a bit too. Just ask Robbie Lawler.
Without a wrestling base to help set up his lethal submission attack, Diaz has had to rely on his boxing for much of his career. If the fight goes to the floor in a Nick Diaz fight, it is often the result of a battered opponent desperately looking for refuge on the mat. They rarely find it.
Diaz never eschews a brawl, confident that his bottomless gas tank and iron chin will carry him through. In fact, he seeks out slugfests. Like his younger brother Nate, Nick utilizes a style that favors volume over power, allowing him to disguise more damaging blows within the constant stream of punches he touches opponents with. Unlike Nate, though, a more patient out-fighter, Nick will march relentlessly forward. This style has given fight fans slugfests for the ages, like his wars with Paul Daley, Takanori Gomi, and KJ Noons.
The Stockton native last saw action at UFC 183 in Janurary 2015, losing a decision to the inimitable Anderson Silva. The result was later overturned when Silva failed a post-fight drug test. Diaz tested positive for marijuana metabolites himself, and recently finished an 18-month suspension.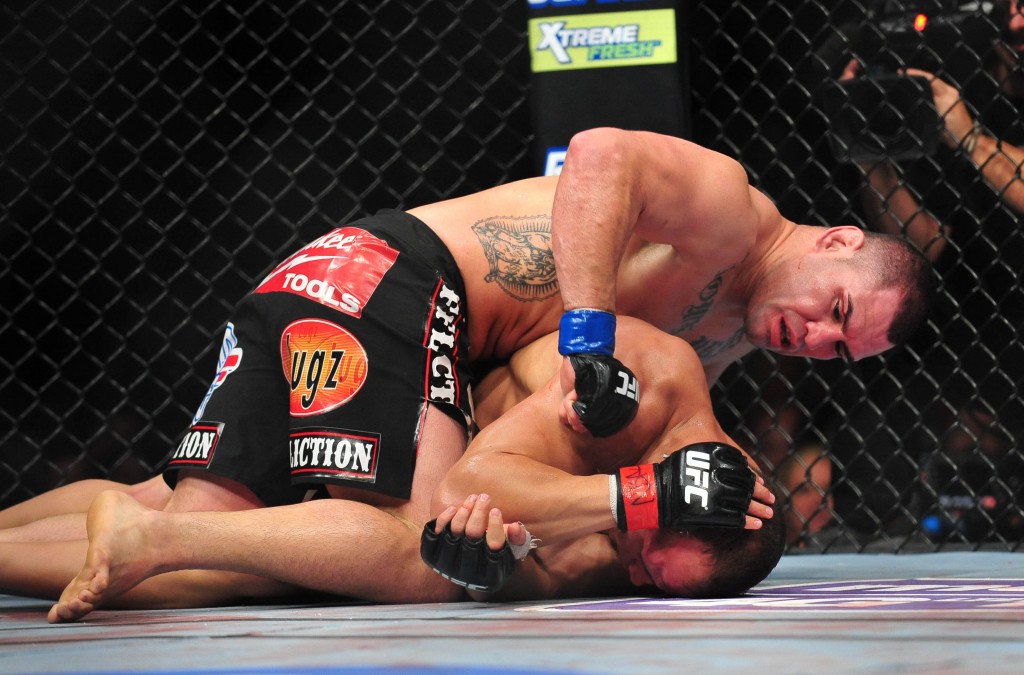 7. Cain Velasquez's Cardio
'Cardio' Cain is back.
Many in the MMA community made mock of Cain Velasquez after he gassed uncharacteristically in his title defense against Fabricio Werdum at UFC 188 in Mexico City. With the fight at extremely high altitude, it seemed as though Velasquez was not adequately prepared for the thin air. Arriving a few weeks early to acclimate himself, his opponent, Fabricio Werdum, apparently was. And so 'Sea Level Cain' became the newest MMA meme to make the internet rounds.
At UFC 200 this past July, however, Velasquez reestablished himself as a dominant physical force capable of maintaining a blistering pace his foes simply cannot match. He took apart Travis Browne in under one round under a vicious salvo of ground and pound. In doing so, Velasquez distanced himself a little further from his disappointing performance at UFC 188.
If the original version of Velasquez has indeed returned, he makes for a nightmare matchup for anyone at heavyweight. Unlike nearly all of his contemporaries, Velasquez can wrestle and throw punches for five hard rounds. Along the way, he almost inevitably breaks his heavyweight brethren, a division not known for its cardio. He has put two all-time beatings on fellow heavyweight great Junior dos Santos and carved up most other opponents inside the distance, including Antonio Silva (twice), Brock Lesnar, Antonio Rodrigo Nogueira, and Ben Rothwell.

6. Cro Cop's High Kicks
"Right leg: hospital; left leg: cemetery."
Those six words sum up the destructive nature of Mirko 'Cro Cop' Filopovich's head kicks. They also speak to the fear those kicks engendered in his contemporaries.
The high kicks of the Croatian striker have been on highlight reels for over a decade, as Cro Cop cut his way through nearly all of Pride's heavyweight division. His signature technique took out Igor Vovchanchyn, Alberto Rodriguez, Aleksander Emelianenko, and Wanderlei Silva.
Though he came up short in bids for Pride's heavyweight title, Cro Cop took home the 2006 Open-Weight Grand Prix championship, a tournament with one of the most stacked fields of talent in MMA history.
Filopovich's UFC tenures did not live up to the considerable hype he had built for himself in Pride, but he remained a dangerous and marketable fighter. An anti-doping violation seemed to force his retirement, but Cro Cop has reemerged in Japan under the Rizin banner. He is set to rematch Wanderlei Silva on December 29 as part of their own open-weight tournament.

5. Ronda Rousey's Armbar
It was once as inevitable as night following day.
The 'Rowdy' one defeated her first 11 foes – three amateur and eight professional – by armbar. Only the last one, Miesha Tate in their rematch at UFC 168 in December 2013, made it out of the first round.
Ronda Rousey came to prominence in Strikeforce on the back of her dominant in-cage performances and charismatic personality. With her first four professional victories coming in less than a minute, two of them in the Strikeforce cage, Rousey challenged Tate for the women's bantamweight title on March 3, 2012. It took her a little longer, but she once again executed her trademark submission 4:27 into round one, breaking Tate's arm in the process.
She would defend the Strikeforce title one time, against Sarah Kaufman, again by sub-60 second armbar, before the division was annexed into the UFC with the rest of the Strikeforce roster. Victories via her signature move would follow against Liz Carmouche and Tate in their rematch.
Knockout victories started to come for the powerful former Olympic judoka, but she did the trick one more time against Cat Zingano at UFC 184, albeit with a straight armbar in the midst of a wild scramble. That 14-second victory cemented Rousey as a seemingly unconquerable force.
That proved untrue when Rousey was brutally knocked out by Holly Holm at UFC 193 in November 2015. But her impressive accomplishments and dominant performances cannot be written off. Rousey will return to challenge for the title against newly crowned champion Amanda Nunes at UFC 207 on December 30.

4. Georges St. Pierre's Jab
The Montreal native has a case as the greatest mixed martial artist of all time.
Georges 'Rush' St. Pierre's run of dominance from 2005 to 2013 had only two bumps in the road: his shocking knockout loss to Matt Serra at UFC 69, and his final pre-hiatus fight with Johny Hendricks at UFC 167. He still won the latter. That nearly eight-year stretch saw him lay waste to one of the deepest divisions in the sport. Along the way, he stopped Frank Trigg, Sean Sherk, Matt Hughes (twice), Matt Serra in their rematch, and BJ Penn, while utterly stifling Jon Fitch, Thiago Alves, Dan Hardy, Josh Koscheck, Jake Shields, Carlos Condit, and Nick Diaz. A more impressive resume may not exist.
Early in his career, GSP relied on his insane athleticism to beat opponents. Always well-rounded, his blast double leg came to be the standard by which all other wrestlers were judged. This despite lacking any kind of amateur wrestling pedigree. But his final run of nine straight title defenses came to be defined more and more by his unbeatable jab.
Perhaps more aware of his own mortality after the Serra loss, 'Rush' began fighting in a way that kept him as safe as possible. Snapping off a near-constant stream of stinging jabs was a significant part of that gameplan.
As with Jones' oblique kicks, the technique upset his foe's rhythm and made them hesitant to close the distance. While jabs are not necessarily known for doing tons of damage on their own, St. Pierre proved his was not to be trifled with by smashing Koscheck's orbital bone in their title fight.
St. Pierre has been out of action since eking out his final title defense in November 2013, but rumors of a return have swirled for months. The latest reports have the Canadian legend linked to a fight with fellow all-time great Anderson Silva, possibly at UFC 206 in Toronto.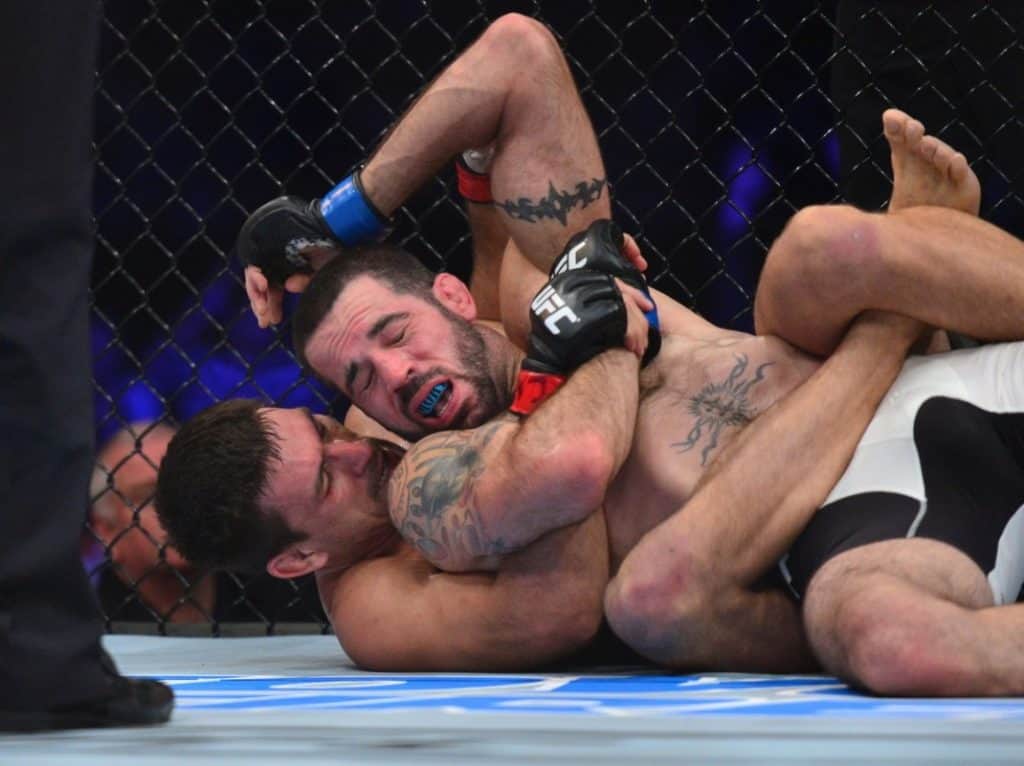 3. Demian Maia's Jiu-Jitsu
Demian Maia seems to be hitting his stride at 38 years of age.
The long-time Brazilian Jiu-Jitsu black belt has always been known for his elite grappling skills. A gold medal at the Abu Dhabi Combat Club World Submission Wrestling Championships will do that. Maia also won his first five UFC fights by submission. But it is his most recent run at 170 pounds that has cemented him as perhaps the best jiu-jitsu practitioner in the UFC.
It is not just that Maia is submitting opponents, it is the ease with which he dominates them on the mat. His methodical and seemingly unstoppable approach has seen him submit Neil Magny, Matt Brown, and Carlos Condit, while utterly stifling fellow decorated grappler Gunnar Nelson, in the past 14 months.
His newfound success can be attributed in large part to his underrated and improved wrestling, which allows him to implement his jiu-jitsu game. Now able to take down foes with ease early in each round, Maia has absorbed a total of 13 significant strikes in his last four fights combined.
Following his impressive performance over Condit, Maia is the number one contender in waiting, and should fight the winner of UFC 205's Tyron Woodley versus Stephen Thompson welterweight title fight.

2. Anderson Silva's Accuracy
'The Spider' had to make the list.
Perhaps no fighter in MMA history has engendered the sort of fear and intimidation than Silva did in his prime. A lethal striker at all ranges, the former long-time UFC middleweight champion dispatched foes with an ever-expanding arsenal of finishing moves.
So without one singular technique that he used again and again, Silva's pinpoint accuracy makes the cut here. 'The Spider's' timing and reflexes made him difficult to pin down, and even more so because he could counter so effectively and viciously. Think of his knockout of James Irvin off a caught kick, the way he utterly clowned Forrest Griffin with a jab while backing up, and the front kick to the face that put down Vitor Belfort.
The X-Gym and Team Nogueira standout could be just as deadly when he led the dance. The upward elbow with which he dispatched Tony Fryklund just before entering the UFC put him on hardcore fans' radar if he had not been there before. His utter destructions of Chris Leben and Rich Franklin (twice) with knees from the Thai plum made opponents think twice about getting anywhere near him. And his jumping knee to Stephan Bonnar's solar plexis and the high kick that set up his submission of Dan Henderson let foes know that he was just as dangerous at range.
While he has fallen on hard times of late as he enters his 40's, Silva still holds the record for consecutive title defenses with ten. He last appeared as a late notice fill-in for Jon Jones at UFC 200 against Daniel Cormier in a light heavyweight bout. Silva next appearance could come in a possible super fight against Georges St. Pierre.

1. Dan Henderson's "H-Bomb"
It is the only technique on this list with its own name. That should be enough to convey its legendary status.
During his power-punching heyday in Pride, his second and third UFC tenures, and in Strikeforce, Henderson was always a force to be reckoned with. And that fact came down to one thing: the right hand he kept cocked at his chin like a bazooka.
The H-Bomb detonated on a who's who of three divisions. Along the way, 'Hendo' captured the Pride welterweight and middleweight titles and the Strikeforce light heavyweight strap. He remains the only man to hold major championships in two divisions simultaneously. Renzo Gracie, Akira Shoji, Murilo Bustamante, Ryo Chonan, Akihiro Gono, Wanderlei Silva, Michael Bisping, Mauricio 'Shogun' Rua, Renato Sobral, Fedor Emelianenko, 'Feijao' Cavalcante, and Tim Boetsch all felt the concussive force of Henderson's right hand.
As he continued to compete into his 40's, Henderson's once-iron chin began to deteriorate and his athleticism began to wane. He remained dangerous to the very end, nearly capturing an elusive UFC title in his final fight. He dropped newly minted champion Michael Bisping in both the first and second rounds with that fabled right hand. But it was not enough to sway the judges, as Bisping defended his belt with a closely contested unanimous decision.
Henderson will go down as one of the top ten best MMA fighters of his generation, and perhaps of all time. Despite never hoisting a UFC belt, the list of men he fought in multiple weight classes over a nearly two-decade long career is unimpeachable. His place in history is secure because of that greatest of MMA weapons: the H-Bomb.