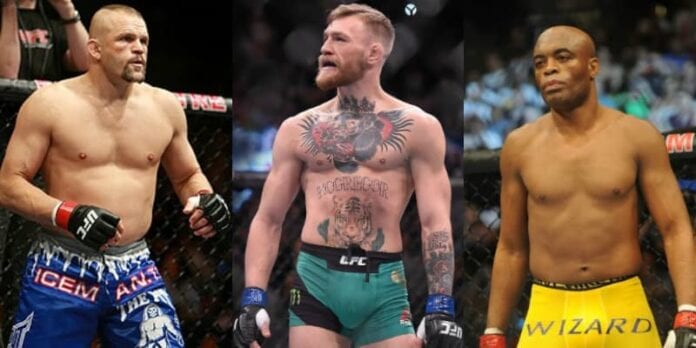 Many times in UFC history, there've been exciting, entertaining fights that warrant a second bout. Whether it was due to a controversial ending, a close call that needed more closure, or the initial loser simply fighting his way back to a second fight with the best, these rematches have paved a path for some of the most storied rivalries in MMA history.
It's those rivalries between the top fighters of the world's biggest fight promotion that have created such a connection between the athletes and the feverous fans that would never miss any time they stepped into the cage.
These rematches deserve to be looked back upon with reverence for the history of the fight game. Here are the biggest rematches in UFC history: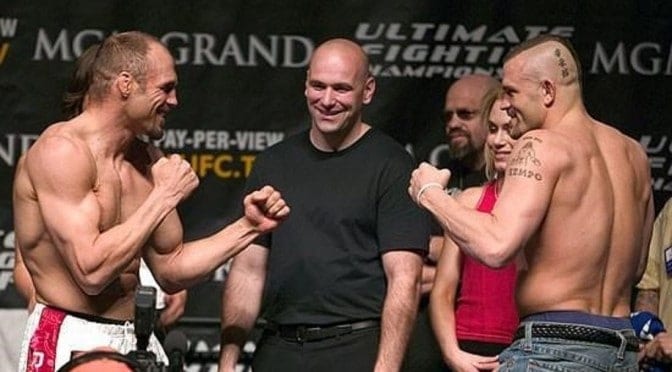 Randy Couture vs. Chuck Liddell II – UFC 52
In the early days of the Zuffa era, former light heavyweight champion Chuck "The Iceman" Liddell was the face of the UFC, a fan favorite, and without question one of the promotion's biggest stars. Another name that could fall into this category would be former UFC heavyweight and former UFC light heavyweight champion Randy "The Natural" Couture which is why it was so exciting when the two first met at UFC 43 in June 2003.
Heading into the first meeting, which was contested for the interim 205-pound title, Liddell was riding a 10-fight win streak. He owned a 12-1 professional record at the time, and had never been stopped via strikes. It was Couture, however, that prevailed on fight night, and he gave Liddell a taste of his own medicine, scoring a TKO victory over "The Iceman" in the third round.
Liddell won three of his next four bouts after UFC 43, setting up one of the most intriguing rematches in the history of the sport between two iconic legends. Couture's 205-pound strap was on the line in the rematch at UFC 52 in April 2005 after the two spent the months prior coaching opposite each other on The Ultimate Fighter (TUF), and Liddell made a statement, scoring a knockout victory in the opening round to become the undisputed titleholder.
Chuck Liddell vs. Tito Ortiz II – UFC 66
Like many of the rematches on this list, this one between light heavyweight greats Chuck "The Iceman" Liddell and Tito "The Huntington Beach Bad Boy" featured one of the most iconic rivalries in sport history. At one point, the two were friends until Liddell worked his way towards a shot at Ortiz's then-held 205-pound strap. "The Iceman" then accused Ortiz of ducking him, and the fight was delayed, but the two finally met for the first time at UFC 47 in April 2004 where Liddell smashed Ortiz in the second round with a brutal fight-ending barrage.
"The Huntington Beach Bad Boy" blamed an eye poke for his defeat, and the rivalry only seemed to heighten after the first fight. The rematch was set for UFC 66 in December 2006, and it was even deemed by UFC commentator Mike Goldberg as the 'biggest' fight of all-time. Ortiz would end up lasting until the third frame this time, but Liddell once again put him away with strikes.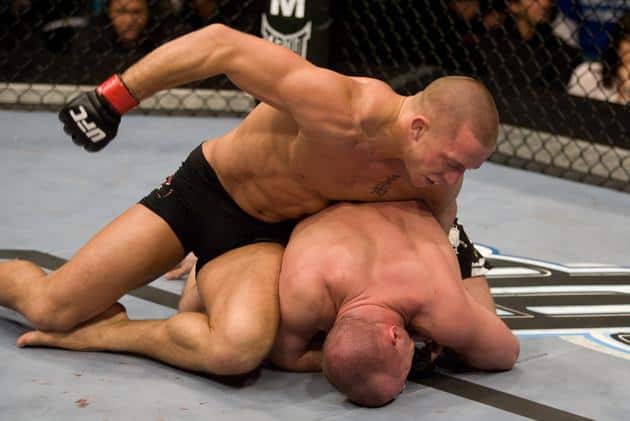 Matt Serra vs. Georges St. Pierre II – UFC 83
At this point in time, it's clear that former longtime welterweight kingpin Georges St. Pierre is the greatest 170-pounder of all-time, and one of the greatest fighters of all-time period. When he faced off with Matt Serra for the first time at UFC 69 in April 2009, he was only one fight removed from winning the title, but he was still a massive favorite nonetheless. Serra, however, shocked the world, scoring a stoppage victory over GSP in what has turned out to be one of the biggest upsets in sport history.
Given the surprising nature of the first bout, a rematch was needed, and it would go down at UFC 83 in April 2010. All eyes were on St. Pierre leading up to the bout, as fight fans wondered if the first bout was truly a fluke. "Rush" proved himself in the rematch, finishing Serra in the second frame to unify the UFC welterweight championship.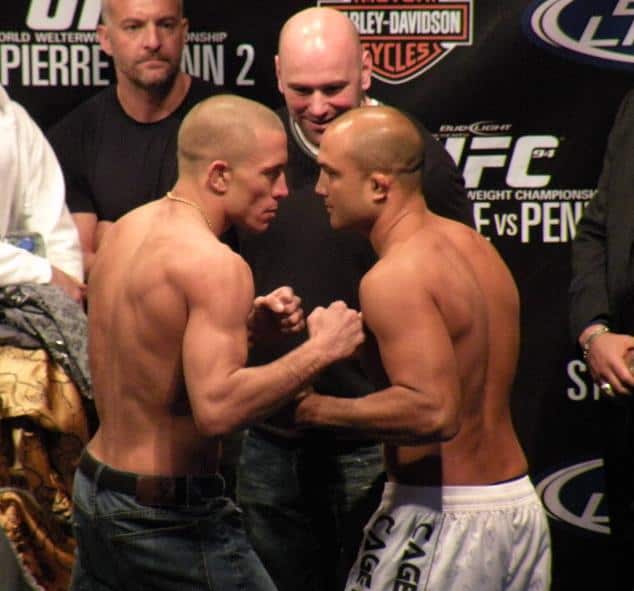 Georges St. Pierre vs. BJ Penn II – UFC 94
Shortly after losing a split decision to Georges St. Pierre at UFC 58: USA vs. Canada in March 2006, legendary former champion BJ "The Prodigy" Penn dropped back down to 155 pounds and became the UFC lightweight champion. Penn defended his title one time against Sean Sherk before jumping back up to 170 pounds to once again challenge GSP.
For the first time in promotional history, two champions were set to do battle with one man (Penn) attempting to become the first UFC fighter to simultaneously hold two titles at one time. In addition to this backstory, the nature of the first fight, along with the existing USA vs. Canada feature left St. Pierre vs. Penn II as one of the most anticipated rematches of all-time.
Ultimately, Penn's bid at making history faltered when St. Pierre won the bout via TKO due to a corner stoppage.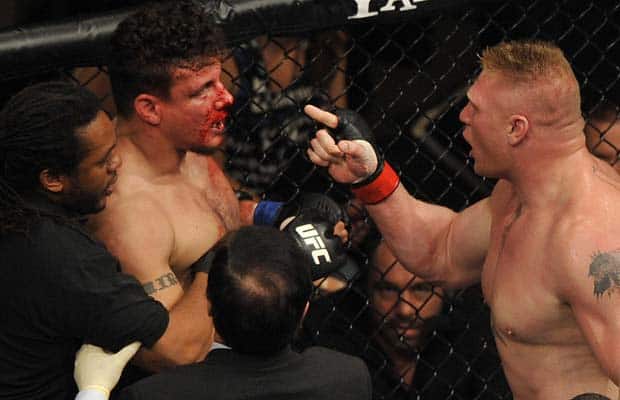 Brock Lesnar vs. Frank Mir II – UFC 100
Brock Lesnar is without question one of the biggest stars in UFC history, yet his Octagon debut didn't go as planned, when he was submitted by former champion Frank Mir in the first round of their fight at UFC 81. After losing to Mir, Lesnar won back-to-back fights over Heath Herring and Randy Couture to become the heavyweight champion, an accomplishment that only increased his star power.
Lesnar and Mir had a tremendous amount of bad blood between them, and the two were booked to rematch at UFC 100 in July 2009, one of the most monumental UFC events to date. Lesnar had something to prove, and he would get his chance to do so at a mega event, making his rematch with Mir one of the most exciting of all-time.
In the end, Lesnar battered Mir, scoring a second-round TKO victory.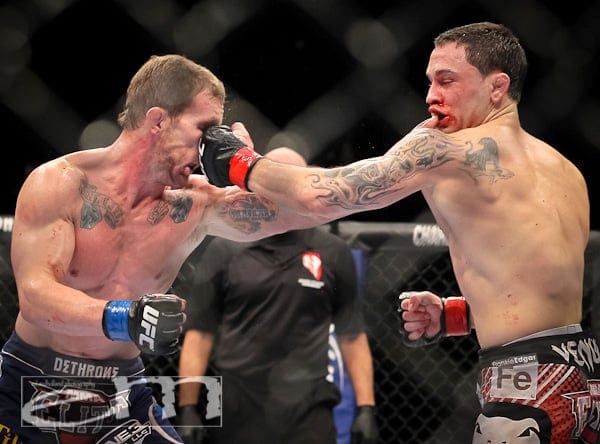 Frankie Edgar vs. Gray Maynard II – UFC 125
When Frankie Edgar and Gray Maynard first met in April 2008, "The Bully" scored a unanimous decision victory over "The Answer". Edgar, however, would then go on to rattle off five consecutive victories to become the UFC lightweight champion while Maynard would also compile a five-fight winning streak, setting up an intriguing rematch for the 155-pound strap.
Both men had something to prove, as Edgar was out to avenge a loss and prove his championship worth, while Maynard was bothered by the fact that a man he had beat not too long ago was wearing the divisional crown. The rematch, which took place at UFC 125 in January 2011, drew excitement from fans, and it delivered, as it turned out to be a five round war that garnered 'Fight of the Night' honors as well as 'Fight of the Year' honors.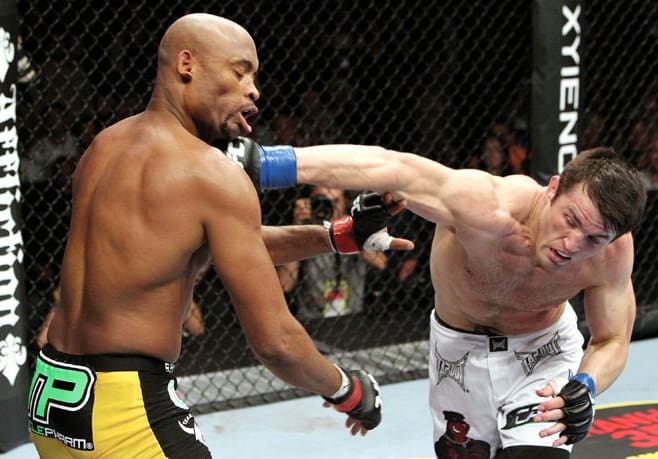 Anderson Silva vs. Chael Sonnen II
Before a noteworthy Irishman came along, Chael Sonnen was regarded as the most iconic trash talker in UFC history, and fans must look no further than his legendary rivalry with former longtime 185-pound king Anderson Silva to see some of his best verbal shots. The two first fought at UFC 117 in August 2010. The build-up was fantastic, but the fight was even more memorable.
Heading into the bout, Silva had won 11 straight bouts, and had defended his middleweight championship an impressive six straight times. Silva, however, was then dominated by Sonnen for the better part of five rounds. "The American Gangster" repeatedly took "The Spider" down and buried him with ground and pound. Sonnen was just minutes away from securing the title before Silva locked in a triangle choke near the tail end of the final round to pull off one of the craziest comeback victories of all-time.
The ending of the first fight left fans begging for a rematch, and the rivalry between the two along with Sonnen's trash talk only increased the excitement. At UFC 148, however, Silva made a statement, putting Sonnen away in the second round of the rematch.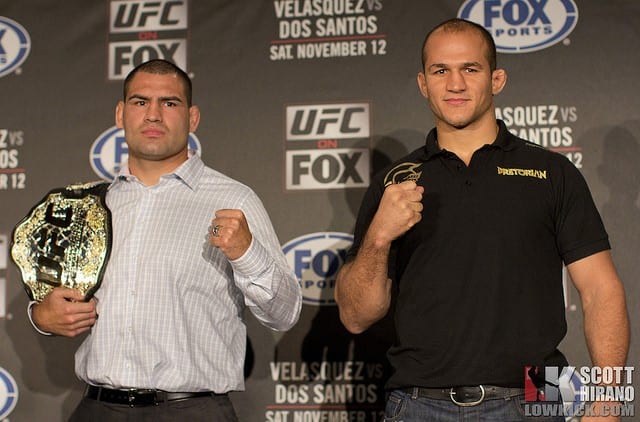 Junior Dos Santos vs. Cain Velasquez II – UFC 155
Heading into his main event bout with Junior Dos Santos at UFC on FOX 1 in November 2011, then champion Cain Velasquez owned a perfect professional record of 9-0, and had run a demolition course through the UFC's 265-pound class. Many were already considering him to be amongst the best heavyweights of all-time, but then one punch quickly changed everything. Dos Santos drilled Velasquez with a monstrous right hand in the very first round to steal the crown.
Velasquez bounced back quickly with a devastating stoppage victory over Antonio "Bigfoot" Silva, setting up a rematch at UFC 155 in 2012 to determine who truly was the baddest man on the planet. Velasquez left no doubt the second time around, absolutely destroying JDS over the course of five rounds in one of the most one-sided beat downs in company history.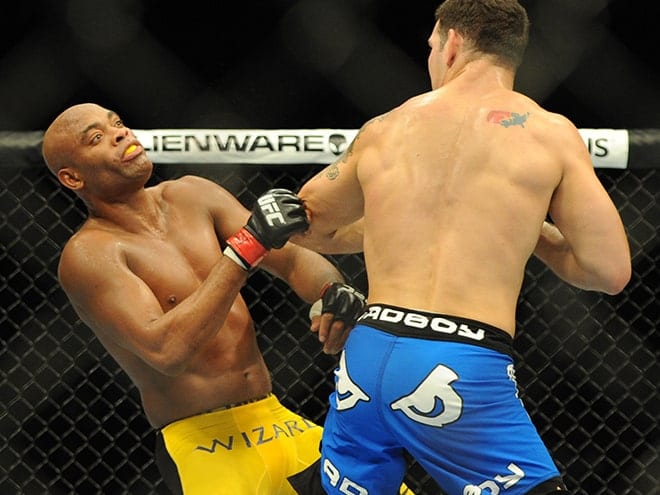 Chris Weidman vs. Anderson Silva II –UFC 168
While many felt as if Chris Weidman had the tools needed to dethrone Anderson Silva at UFC 162, no one had expected what was coming. Heading into the contest, Silva had defended his title a record setting 10 times while riding a record setting 16-fight UFC win streak.
On that night in 'Sin City', however, his reign would come to an end when he became too cocky and left his hands down, taunting Weidman. Weidman reacted perfectly, smashing Silva's chin with a brutal left hand that left "The Spider" staring up at the bright lights.
Many had wondered if Weidman was simply that good, or if Silva's 'clowning' allowed the New York native to get the job done. This curiosity set the stage for a massive rematch that took place at UFC 168 in December 2013. Unfortunately, the rematch ended in horrific fashion, as Silva suffered a gruesome leg injury, but it remains as one of the most anticipated of all-time.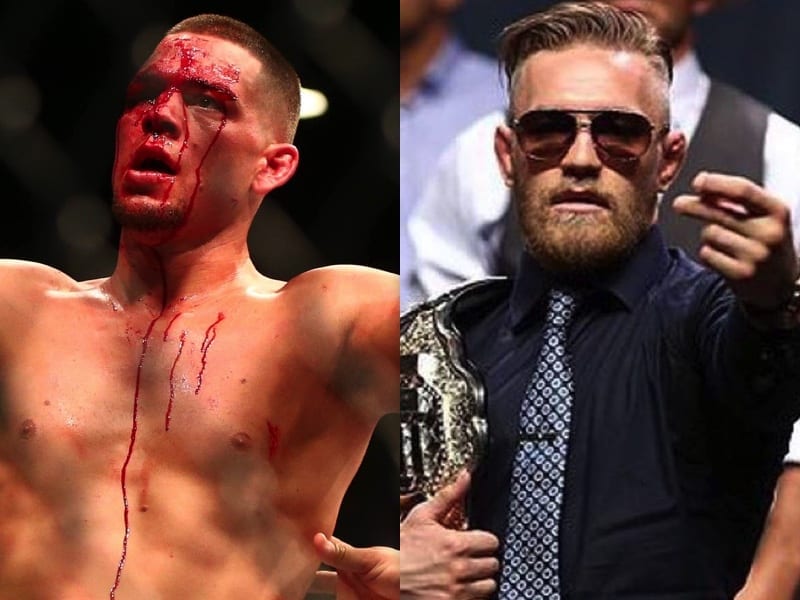 Nate Diaz vs. Conor McGregor II – UFC 202
As mentioned earlier on in this list, this weekend's UFC 202 card will be headlined by a blockbuster rematch between Nate Diaz and reigning 145-pound king Conor McGregor, two of the most outspoken fighters in the sport.
Earlier this year, McGregor attempted to make history when he signed on to challenge then 155-pound champion Rafael dos Anjos at March 5's UFC 196. Dos Anjos, however, was forced out of the bout just over a week prior, leaving McGregor without an opponent. It was Diaz who ended up stepping up on short notice, and the two quickly made the fight a must see attraction after just a few press conferences.
When fight night came, Diaz shocked the masses, submitting McGregor in the second round. After the bout it was made clear that McGregor was obsessed with receiving a rematch with the Stockton Bad Boy, and the two were quickly booked to fight at UFC 200, although McGregor was pulled from the card after refusing to comply to his promotional requirements, which seemed to only build the fight more.
Now, the two are just days away from meeting again, and the score will be settled. Which fight do you feel is the most anticipated rematch in UFC history?