Uriah Hall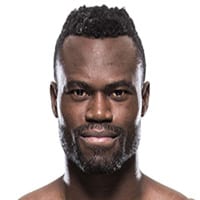 DOB: July 31, 1984
Birthplace: Spanish Town, Jamaica
Nickname: Primetime
Gym: Fortis MMA
Style: Kickboxing
Weight Division: Middleweight
Championships: Ring of Combat Middleweight Champion(2x)
Uriah's immigration to the US
Uriah grew up in Spanish Town, Jamaica and lived there until he was 13. He then immigrated to Queens, New York when he was 13.
Hall had a tough upbringing being an immigrant and was constantly bullied throughout his teen years.
At 16, Hall looking to learn how to defend himself, he began training at Tiger Schulmann's Mixed Martial Arts. At Tiger Schulmann's, he trained there for years earning a 2nd degree black belt Kyokushin Karate.
World Combat League
Before getting into MMA, Hall started out competing in kickboxing. For a brief time, he competed in Chuck Norris' World Combat League.
Uriah was part of the New Jersey Tigers and competed at 195lbs. After the promotion ended, he quickly turned to MMA.
Hall's early MMA years.
Hall began his MMA career in New Jersey based MMA promotion Ring of Combat and also fought in one of the early Bellator MMA events.
He would go 3-0 winning the RoC middleweight title before losing it to future UFC champ Chris Weidman. Hall would lose again in his next fight to another future UFC vet Constance Phillipou.
Then after losing 2 in a row, Hall would go on to win 3 straight and win back the middleweight title. One of those wins would be against future One FC champ Aung La N Sang.
The Ultimate Fighter
After boosting his record to 7-2, Hall got on The Ultimate Fighter: Sonnen vs Jones season. Hall was the highlight of the season as he landed a devastating spinning hook kick KO on Adam Cella. Probably the most memorable KO in TUF history.
After his highlight reel knockout, Hall would finish his next two opponents. Punching his ticket to the finals against Kelvin Gastelum. A fight he would lose by split decision, but still earned a UFC contract.
Hall's UFC run
Hall has been fighting in the UFC since 2012 winning a little bit more than half of his fights. After the TUF finale, Hall would lose his next fight by split decision, but win his next 3 fights. Two of those wins included a TKO over UFC vet Chris Leben and a decision win against future contender Thiago Santos.
Uriah would lose his next bout against former title contender Rafael Natal, but would have two wins by TKO after. Including a flying knee knockout of future Bellator champion Gegard Mousasi.
After the biggest win in his career, Uriah would lose his next 3 fights all to top 5 fighters in the division. Future champion Robert Whitaker, Derek Brunson, and Gegard Mousasi in a rematch.
After losing these three, Uriah would go 3-1 in his next four fights before fighting legend Anderson Silva. This was the biggest fight in Uriah's career fighting an all time great in his last UFC bout.
Hall would go on to finish the legend by strikes in the 4th round.