It took six years, but the UFC paid back Calgary MMA fans in a big way with last night's (July 28, 2018) UFC on FOX 30.
Dana White has made many off-handed promises that he hasn't seen through to the end. So when White vowed to come back to Calgary in a big way next time in hopes of redemption for what many people consider the worst UFC event in history, the Canadian faithful didn't exactly hold their breath. Little did they know, however, this would be one of those promises that White would see through to the end, and in his promised big way.
UFC on FOX 30 lived up to the hype and then some. Every one of 13 fights delivered in its own way. Whether liver kicks are your thing or you prefer a good old fashion slobber knocker, UFC on FOX 30 had something for everyone.
We here at LowkickMMA are pragmatists, and so we strive to make your life as an MMA fan a little easier. That's why we compiled our list of the seven biggest takeaways from an insane UFC on FOX 30.
Our list starts here: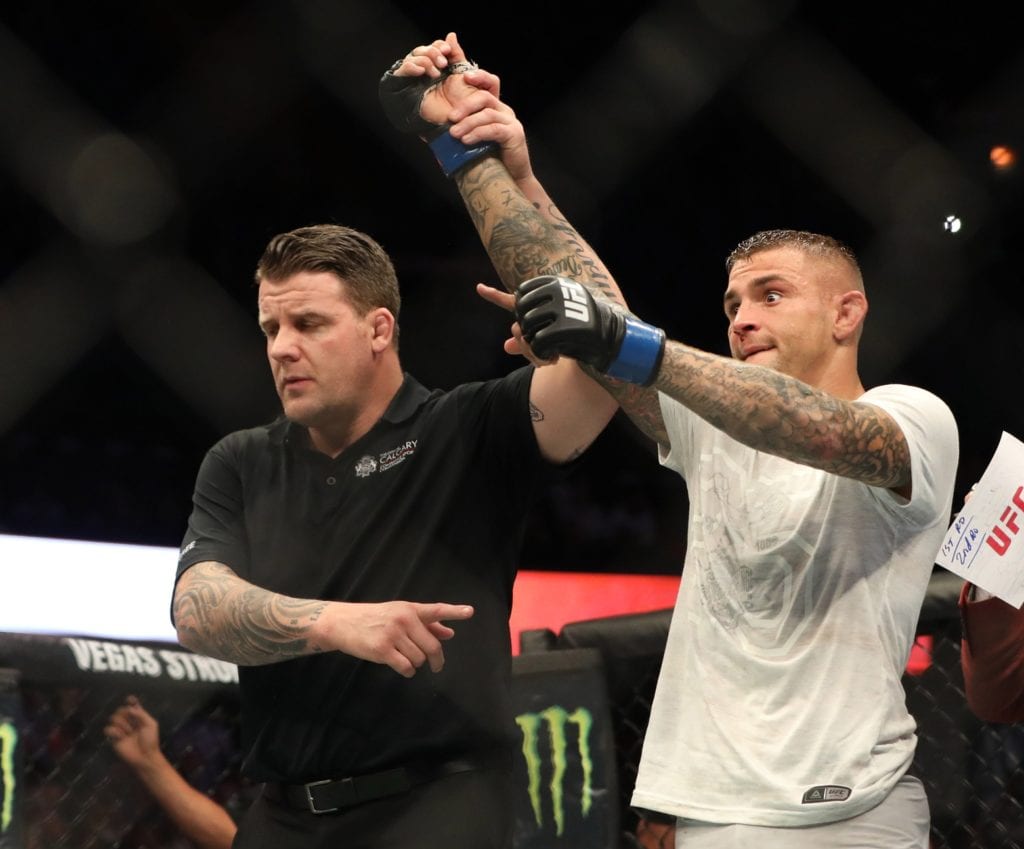 Dustin Poirier "should" be next to challenge for the lightweight title:
Dustin "The Diamond" Poirier melted Eddie Alvarez in their main event rematch and in so doing cemented himself as the #1 contender to Khabib Nurmagomedov's title.
Poirier turned pro back in 2009 and made his octagon debut just two years later at UFC 125 in January of 2011. "The Diamond" fought and won three times in 2011, the final time being at the massive UFC on FOX 1 card. Poirier has sure come a long way.
Few fighters have demonstrated the ability to continually evolve in the ever-changing world of MMA as Poirier has. Although his fundamental game has mostly stayed intact, the American Top Team (ATT) fighter continues to add to his "Thug-Jitsu" base, making him a serious contender in the deepest division of the sport.
Poirier's KO of Alvarez did more than end their rivalry. It's performances like that that earn title shots, and that's exactly what "The Diamond" is expecting for his next fight.
If he actually gets it another story altogether, but with eight wins in his last nine fights against the 155-pound elite, he most certainly deserves it.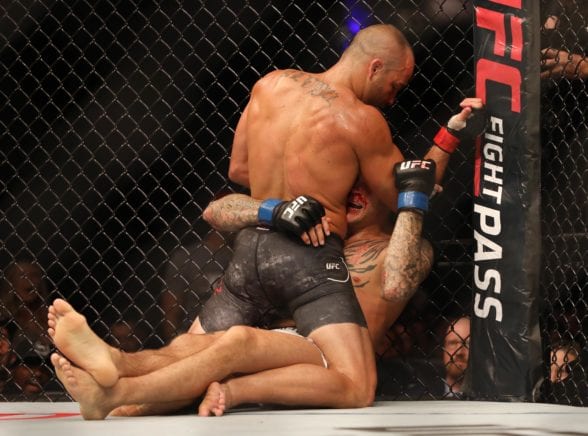 Eddie Alvarez is a crafty veteran – perhaps too crafty:
Say what you will about "The Underground King" Eddie Alvarez, but be sure to include sly old dog in your job description.
Alvarez reached deep into his bag of tricks in his rematch with Poirier, but in the end, the self-proclaimed 'world's most violent man' didn't have enough pressure to break "The Diamond".
These two first faced off at UFC 211, a fight that was entertaining until the very end. The fight ended in controversy when Alvarez kneed Poirier illegally in the second round, robbing the fans, himself, and Poirier of a possible FOTY candidate in the process.
Poirier was vocal about his feeling on the matter, saying afterward that he believed Alvarez knew exactly what he was doing when he threw the fight-ending illegal knee.
Alvarez would only perpetuate the myth that he is a "dirty fighter" in their rematch at UFC on FOX 30. The crafty veteran was reprimanded for grabbing the cage, gouging the ear of Poirier, and would ultimately lose positional advantage due to throwing an illegal 12-to-6 elbow that would cause the former champion to be subsequently knocked out by Poirier.
Begging the question: What has Alvarez risked fights he may have been able to win due to simple disregarding of the rules?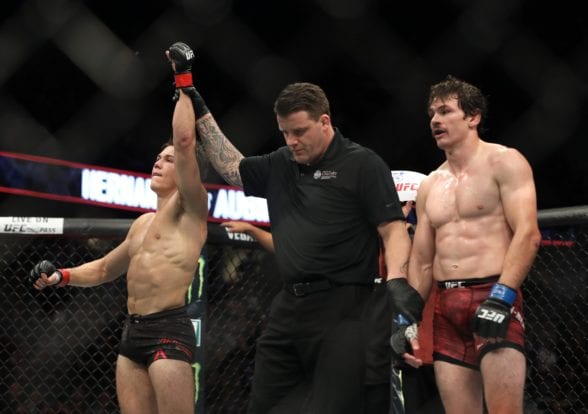 Alexander Hernandez is for real:
Alexander "The Great" Hernandez is as good of a 25-year-old prospect as there is in MMA right now.
Hernandez is a perfect 2-0 inside the octagon after a hard-fought victory over an extremely tough, durable Olivier Aubin-Mercier at UFC on FOX 30.
The San Antonio, Texas native, was able to dominate the bigger Aubin-Mercier for the majority of their 15-minute contest, winning his eighth straight in the process.
Where does Hernandez go from here? With wins over Beneil Dariush and now OAM, one could only think a top 15-ranked opponent is next for this young lightweight fighter.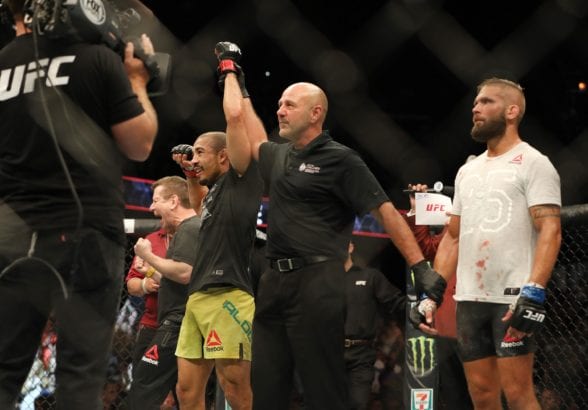 Jose Aldo isn't done just yet:
Often known as the "King of Rio," the former long-reigning featherweight champion was the King of Calgary last night (July 28, 2018) at UFC on FOX 30, as he did what few fighters have – went toe to toe with Jeremy Stephens and prevailed in a slugfest.
The last few years have been difficult ones for the Brazilian legend. After first defending the title at UFC 129 and ultimately defending it seven times, Aldo would drop three of his next four fights, beginning with a 13-second KO loss to Conor McGregor at UFC 194 at Madison Square Garden.
Aldo rebounded with a solid performance against Frankie Edgar at UFC 200. But subsequent back-to-back losses to current champion Max Holloway would once again bring into question the Brazilian's life expectancy at 145 pounds.
"Junior" answered those questions in a big way with a win over previously surging veteran Stephens in their co-main event fight, leading some people to wonder: Does Max Holloway simply have Aldo's number?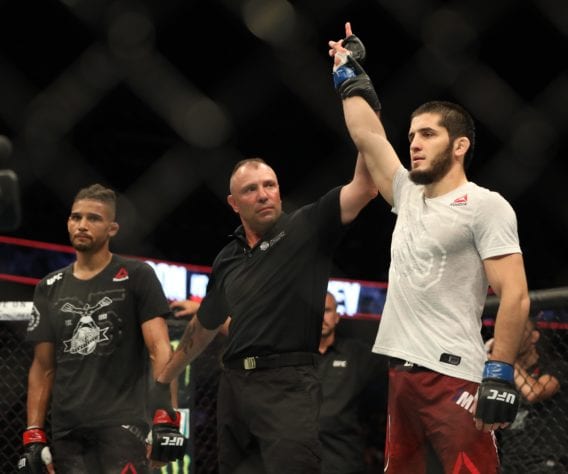 Islam Makhachev is the next Russian phenom:
There is a new Dagestani fighter on the lightweight scene.
Makhachev is still a bit of an unknown to the casual fan. But rest assured, the diehard fans have been hip to his game for some time.
At 26 years old, Makhachev is on the cusp cracking the top 15 in the lightweight division. His systematic beat down of Kajan Johnson netted him a first-round submission victory via armbar, improving the young fighter's win streak to four straight in the process.
Is there room for two elite Dagestani fighters competing in the UFC's 155-pound division? Time will tell.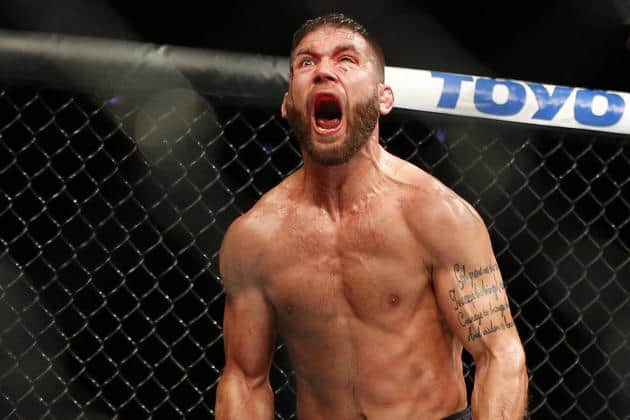 Jeremy Stephens is a slightly better version of Justin Gaethje:
Heading into his co-main event fight against Aldo, Stephens' gameplan was no secret. "Lil Heathen" wanted to draw Aldo into an emotional fistfight.
Surprisingly enough, the former featherweight champion obliged and promptly ended the American's night in the very first round. A perfectly-placed pair of body shots would be Stephens' undoing on this night.
2018 has been a rebound year for "Lil Heathen." No other UFC veteran has seen quite the rebirth to their career like Stephens has these last 12 months. But has Stephens hit his ceiling?
Stephens' heavy-handed in your face style of fighting isn't conducive to career longevity, so it's a miracle he's been able to last as long as he has. Just ask fellow UFC fighter Justin Gaethje, whose fighting style is a near carbon copy of "Lil Heathen's." Fighters like Gaethje and Stephens are no doubt fan favorites, but pure toughness and grit will only take you so far in MMA.
Technique often trumps toughness. It will be interesting to see where Stephens goes from here.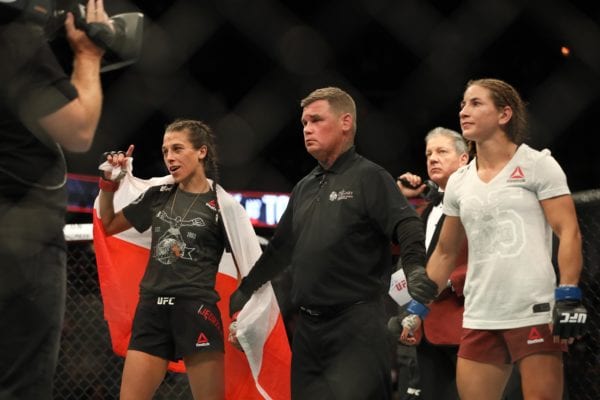 Joanna Jedrzejczyk vs. Rose Namajunas 3, please:
Joanna Jedrzejczyk could be the best fighter in the world that doesn't have a UFC title to prove it.
The former strawweight queen only strengthened her position as the No. 1 contender with a unanimous decision victory over Tecia Torres at UFC on FOX 30. Jedrzejczyk wasted little time in her post-fight speech proclaiming that she is the "real champion" calling for a third fight with champion Namajunas in the process.
Trilogies are rare in mixed martial arts, and even less likely when the champion has already beaten a would-be challenger twice. That being said, this is an exception to the rule.
Jedrzejczyk is the clear-cut No. 1 contender in the 115-pound division, and quite honestly, the only fight that makes sense for the UFC to book going forward.
Like Aldo and Holloway before, it's possible that Namajunas just has Jedrzejczyk's number. Even so, that's the fight the fans want to see and the fight the fans deserve.