Justin Gaethje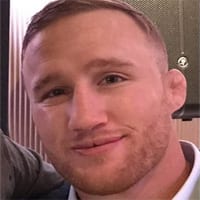 DOB: November 14th, 1988
Birthplace: Safford, Arizona
Nickname: The Highlight
Gym: ONX Sports
Style: Wrestling/Kickboxing
Weight Division: Lightweight
Championships: Interim UFC Lightweight Champion, WSOF Lightweight Champion
Gaethje's wrestling career
Gaethje started wrestling when he was just four years old. Through his deduction, he would become an all american high school wrestler. Winning the Arizona state wrestling championship two times, while in high school.
With a successful high school wrestling career it would earn Gaethje a division 1 scholarship to Northern Colorado University. There he would become an all american again and be in the top 10 in his weight class throughout his college career.
Gaethje's early MMA days
As a freshman Gaethje would train wrestling with multiple MMA fighters like Clay Guida, Donald Cerrone and Georges St Pierre. He became interested in the sport and asked his coaches if he could pursue MMA.
Justin would begin his amatuer MMA career while still wrestling for NCU. With no striking skills, Gaethje would go 7-0 using his wrestling to dominate his opponents.
As a pro early on, Gaethje would fight primarily in Colorado and his home state of Arizona. Going 7-0 and winning 6 of the fight by TKO or submission.
WSOF
Before getting into the UFC, Gaethje started to make his name in the World Series of Fighting promotion.
He would win all 10 of his fights within the promotion and win the promotions lightweight championship. This included multiple TKO wins and two by leg kick finishes.
Gaethje enters the UFC
With an impressive 17-0 record, Gaethje came into the UFC with a lot of buzz. Many assumed that he'd immediately get in the top 5 of the lightweight division.
Gaethje would stop Michael Johnson with strikes in his promotional debut. Setting up a big fight with former champ Eddie Alvarez.
Coming into the UFC, Gaethje's goal was to have absolute wars with the best fighters in the world. This was the first as he and Alvarez would go back and forth exchanging huge shots.
Alvarez would come out on top KO'ing Gaethje with a knee handing him his first ever loss. Not discouraged at all, Gaethje was happy to have a war with Alvarez.
He would get his wish in his second fight having another war with Dustin Poirier. Gaethje would almost knock Poirier out multiple times, but would get knocked out in the fourth round.
Gaethje's run to the title
After a talk with his longtime coach Trevor Wittman, Gaethje decided he needed to make a change. In order to win a UFC championship, he would have to fight smarter and stop getting into slugfests with his opponents.
This paid off for Gaethje as he would look sharper in his next 3 three fights. Winning all by KO using sharper technique.
Gaethje vs Ferguson
With champ Khabib unable to fight due to Covid restrictions this set up a short notice match between Gaethje and Ferguson. This would be for an interim title.
Gaethje would have the best performance of his career landing clean strikes and eventually stopping Ferguson in the 5th. Winning the interim lightweight title.
Gaethje vs Khabib
Winning the interim title would set up a fight with the reigning champ Khabib Nurmagomedov. Unfortunately for Justin, he would be controlled in this fight and eventually be put to sleep with a triangle choke.