Charles Oliveira & Justin Gaethje Share a Humble Moment Backstage After UFC 269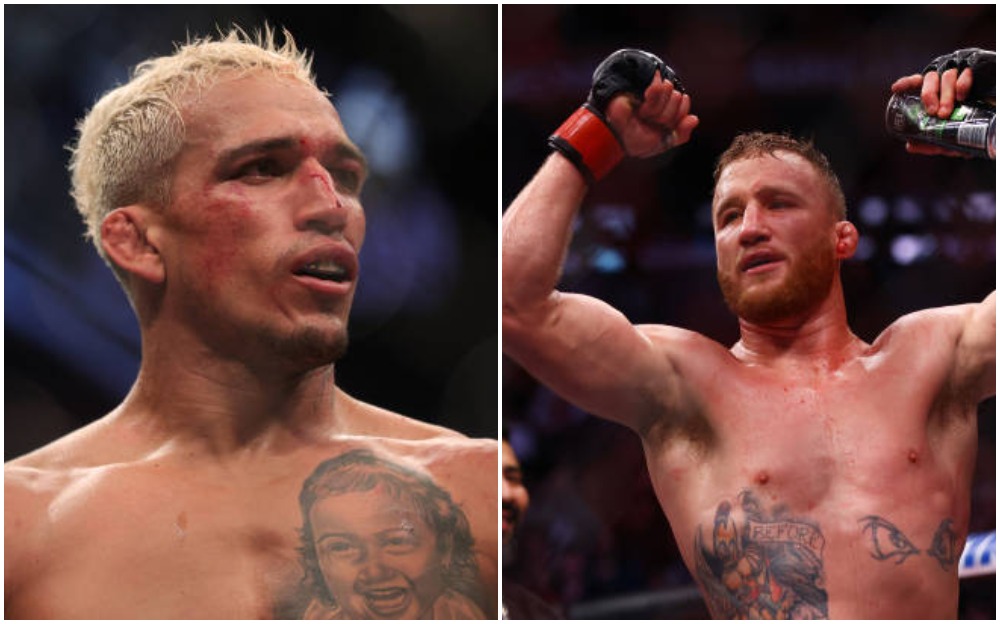 Defending lightweight champion Charles Oliveira and Justin Gaethje share a mutual moment of respect after the UFC 269 main event.
Charles Oliveria shut down the doubters who questioned his championship status last night at UFC 269, stopping No.1 contender Dustin Poirier via submission by rear-naked choke in round three to make his first successful title defence.
In May, the Brazilian won the vacant belt at UFC 262 when stopping newcomer Michael Chandler via TKO. A fight that didn't seem to impress 'The Highlight' Justin Gaethje, who shortly after made the headlines calling 'Do Bronx' a 'quitter' while questioning the thirty-two-year-olds heart.
Gaethje, who was also in attendance at UFC 269 in Las Vegas, tipped his hat off to Oliveira for the outstanding victory over an in-form Dustin Poirier and left the Brazilian with some admirable words.
"Cheers, man! That was f*****g awesome, man. Honestly, it was awesome. That was f*****g absolutely beautiful. Nothing but respect. Thank you. Yeah, you deserve it man." – Justin Gaethje said.
Watch the interaction between Charles Oliveira and Justin Gaethje below:
Dana White Confirms Justin Gaethje Gets the Next Shot at Charles Oliveira
At the post-fight press conference UFC President, Dana White confirmed that Justin Gaethje would get the next crack at Charles Oliveira for lightweight gold.
Last month, Justin Gaethje threw down in Madison Square Garden, New York, in his fight of the year contender with Michael Chandler. In what was three rounds of pure carnage, Justin Gaethje left the Octagon with a unanimous decision victory and one step closer to regaining a second opportunity to compete for the lightweight belt.
Here's what Dana White had to say about Justin Gaethje and the next title shot:
Although Justin Gaethje has never been crowned the undisputed champion, he has been within touching distance when capturing the UFC interim championship with a dominant outing over Tony Ferguson at UFC 249 in May of last year. However, he could not unify the official title when handed a humbling defeat to Khabib Nurmagomedov at UFC 254 in October 2020.
Can Justin Gaethje attain UFC gold in his second attempt, or will Charles Oliviera continue to cement his legacy within the division?